Audit reports do not contain the claim by Facebook page Silent No More PH that Mocha Uson and Alan Peter Cayetano had 'unliquidated funds' before they resigned from PCOO and DFA, respectively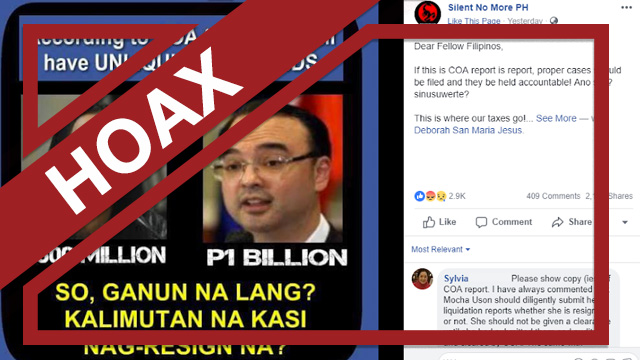 Claim: According to Commission on Audit (COA) reports, former Presidential Communications Assistant Secretary Margaux "Mocha" Uson and former Foreign Affairs Secretary Alan Peter Cayetano had P600 million and P1 billion unliquidated funds, respectively, before they resigned from their posts this year.
Known opposition Facebook page "Silent No More PH" posted the claim on October 11. The post garnered at least 2,900 reactions, 409 comments, and 2,154 shares.
The post did not cite or link to any COA report.
This claim was sent by a reader.
Rating: FALSE

The facts: COA did not flag such unliquidated funds.
An unliquidated fund is an amount spent that is not backed up by a receipt.
For Uson's supposed P600-million unliquidated fund, there are no mentions of this in COA's 2017 annual audit report on the Presidential Communications Operations Office (PCOO).
There are, however, "cash advances (CA) that were not liquidated within the due dates" and "cash advances granted despite the non-liquidation of CAs" by the PCOO, as noted by COA in its 2017 audit report on the PCOO. This means a total of 24 CAs were granted but liquidated "beyond the prescribed dates of liquidation" which is December 31, 2017. Five Accountable Officers were also granted CAs despite having unliquidated CAs previously.
The P600-million figure might have come from a report by tabloid Hataw! Dyaryo ng Bayan that ran the headline "P647.11 milyon hinahanap ng COA, Usec ng PCOO nagresign" on May 9.
The tabloid report was referring to the anomalies flagged by COA regarding PCOO's P1.67-billion budget for the 2017 ASEAN Summit.
In a May 11 Philippine News Agency (PNA) report, PCOO Audit team Supervising Auditor Edna Salaguban said in a letter to former Communications Usec Noel Puyat that COA "(does) not have any knowledge on an ongoing investigation of a P647.11 million fund." This was also reported by Inquirer on May 18. 
Puyat had officially resigned on May 30 and denied any anomalies in the spending of the ASEAN Summit budget. He added that there were an unspent P600 million in the ASEAN budget but PCOO has returned it to the National Treasury.
For Cayetano's alleged P1-billion "unliquidated fund," there are no mentions of this in COA's 2017 annual audit report on the Department of Foreign Affairs. In the COA report's Observation and Recommendations section, there were no significant findings on unliquidated funds. Cayetano assumed office as DFA Secretary in May 2017.
COA, nonetheless, flagged DFA's unremitted P9.776 million aid for overseas Filipino workers and typhoon victims in its 2017 audit report.
There was, however, a 2018 P1-billion Assistance to Nationals (ATN) fund Duterte approved on August 22, 2017.
In a May 18 Abante report, Lawyer Bruce Rivera asked Cayetano about the status of the ATN fund.
Any financial anomaly of government agencies and offices in 2018 will be reflected in COA's 2018 audit reports, which will be published in 2019.
Uson has resigned on October 3 after lawmakers, citizens' groups and Uson's own colleagues at the PCOO called on her to step down or for President Rodrigo Duterte to fire her. She then filed a bid to run as a party-list representative in the May 2019 polls.
Cayetano resigned on October 9 to run for Taguig congressman in the 2019 elections.
This is the second misleading claim of Silent No More PH. On July 2, the page posted misleading "Build, Build, Build" figures. — Miguel Imperial/Rappler.com
Keep us aware of suspicious Facebook pages, groups, accounts, websites, articles, or photos in your network by contacting us at factcheck@rappler.com. Let us battle disinformation one Fact Check at a time.