ABS-CBN's loss was for the entire 2020, not a four-month period
At a glance
Claim: Media and entertainment network ABS-CBN's P13 billion loss happened in only a span of four months.
Rating: FALSE
The facts: ABS-CBN's loss, which amounted to about P13.5 billion, was for the entire 2020.
Why we fact-checked this: The claim was made in a video by the YouTube channel "Showbiz Fanaticz" on June 13, with 57,591 views, as of writing.
At a glance
On June 13, YouTube channel "Showbiz Fanaticz" posted a video with the title: "JUST IN: ABSCBN, MULING KINARMA NG MALUGI NG P13B SA LOOB LAMANG NG 4 NA BUWAN| ANGEL at COCO, IYAK!" (JUST IN: ABSCBN, STRUCK BY KARMA AGAIN WITH LOSS OF P13B IN ONLY FOUR MONTHS| ANGEL at COCO, CRY!)
The beginning of the video states that the losses were incurred in one quarter instead of four months: "Ito ang kapapasok lamang na balita na umani ng samu't-saring reaksyon nang ilabas ang exclusive statement ng ABS-CBN management na mahigit na sa 13 bilyong piso ang nalulugi ng TV station sa loob lamang ng first quarter ng 2021."
(This news just came in, sparking various reactions when ABS-CBN management released an exclusive statement that the TV station has lost more than P13 billion in just the first quarter of 2021.)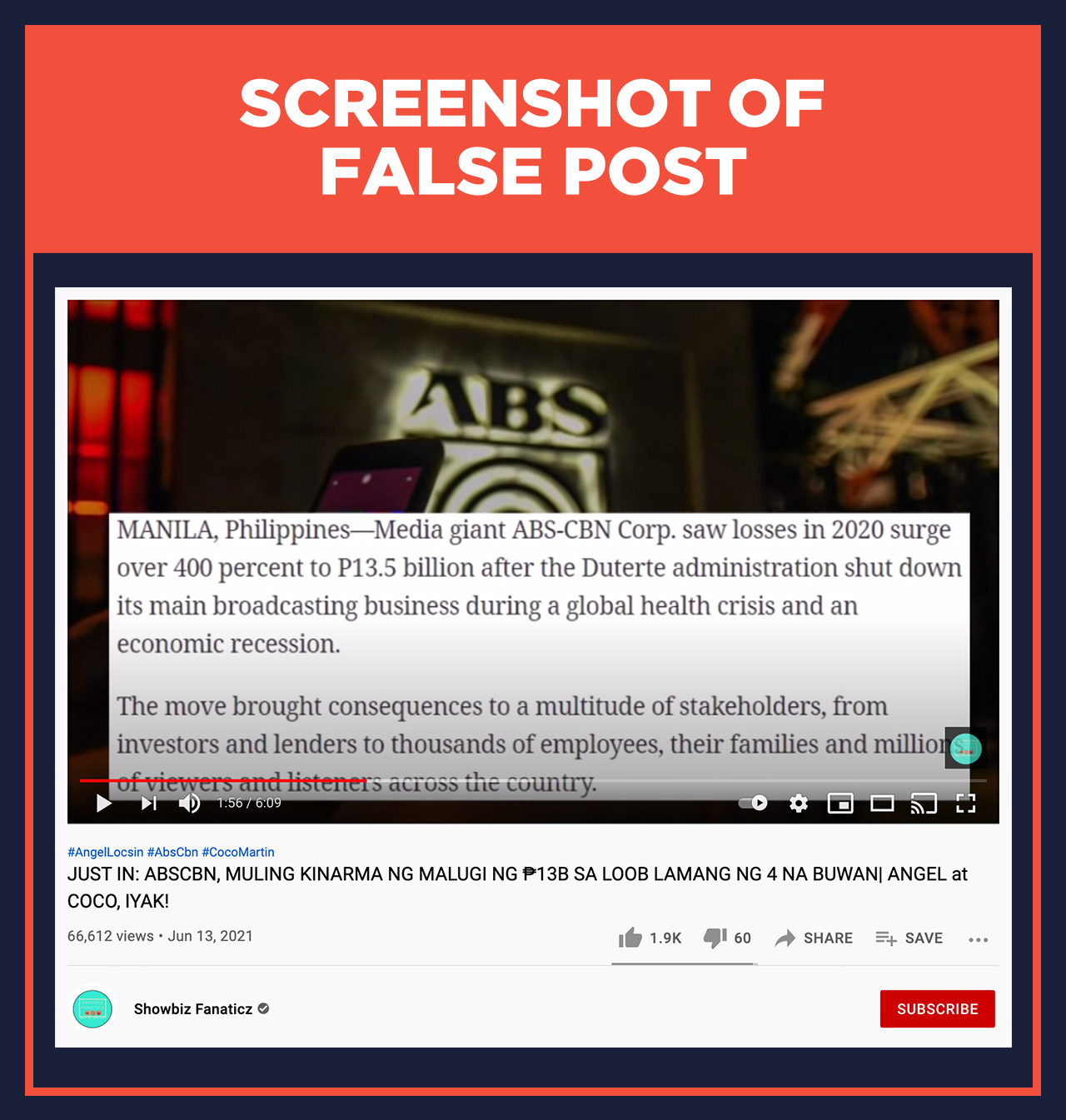 The video also cited a June 8 article from Inquirer.net by Miguel Camus titled, "ABS-CBN loss hits P13.5B after Duterte shutdown campaign amid pandemic, recession."
As of writing, the video has 57,591 views.
The claim is false.
The loss by ABS-CBN, which amounted to P13.5 billion as mentioned in the Inquirer.net article cited in the video, was for the entire 2020, not over a three-month or four-month period, as claimed by "Showbiz Fanaticz." The article says, "Media giant ABS-CBN Corp. saw losses in 2020 surge over 400 percent to P13.5 billion after the Duterte administration shut down its main broadcasting business during a global health crisis and an economic recession."
A Rappler article on June 8 also said the P13.5 billion loss was for the entire 2020, not for a four-month period or one quarter. (READ: ABS-CBN sinks into the red as losses mount to P13.5 billion in 2020) 
The figures above, including the "Net Income (Loss)" of P13.531 billion for 2020, can be seen in ABS-CBN's Annual Report for 2020, on page 62 of 311. 
Other sources of the P13.531 billion figure for the entire 2020 include Wall Street Journal Markets under "Consolidated Net Income" and Philippine Stock Exchange Electronic Disclosure Generation Technology (PSE EDGE) under "Net Income/(Loss) After Tax".
Rappler has fact-checked "Showbiz Fanaticz" many times before. – Percival Bueser/Rappler.com
Percival Bueser is a graduate of Rappler's fact-checking mentorship program. This fact check was reviewed by a member of Rappler's research team and a senior editor. Learn more about Rappler's fact-checking mentorship program here.
Keep us aware of suspicious Facebook pages, groups, accounts, websites, articles, or photos in your network by contacting us at factcheck@rappler.com. Let us battle disinformation one Fact Check at a time.