The photo is from a theater performance during the school's graduation ceremony in 2017
At a glance:
Claim: A photo proves that Alternative Learning Center for Agricultural and Livelihood Development (Alcadev) teaches Lumad children how to become members of the New People's Army (NPA). Alcadev teacher Chad Booc supposedly admitted to it as well.
Rating: FALSE
The facts: The photo is of a theater performance held at the 2017 graduation ceremony of Alcadev. Booc is a mathematics teacher.
Why we fact-checked this: This post has 413 reactions and 586 shares as of writing. It was identified by CrowdTangle on Tuesday, February 23, as over-performing on Facebook.
Complete details:
On Monday, February 22, Facebook page "Pinoy Exposé" posted a picture of an Alternative Learning Center for Agricultural and Livelihood Development (Alcadev) graduation ceremony and encircled men with guns on the graduation stage. An image of Alcadev teacher Chad Booc was superimposed on this, and a speech bubble implied that Booc admitted to Alcadev teaching Lumad children how to become New People's Army (NPA) members.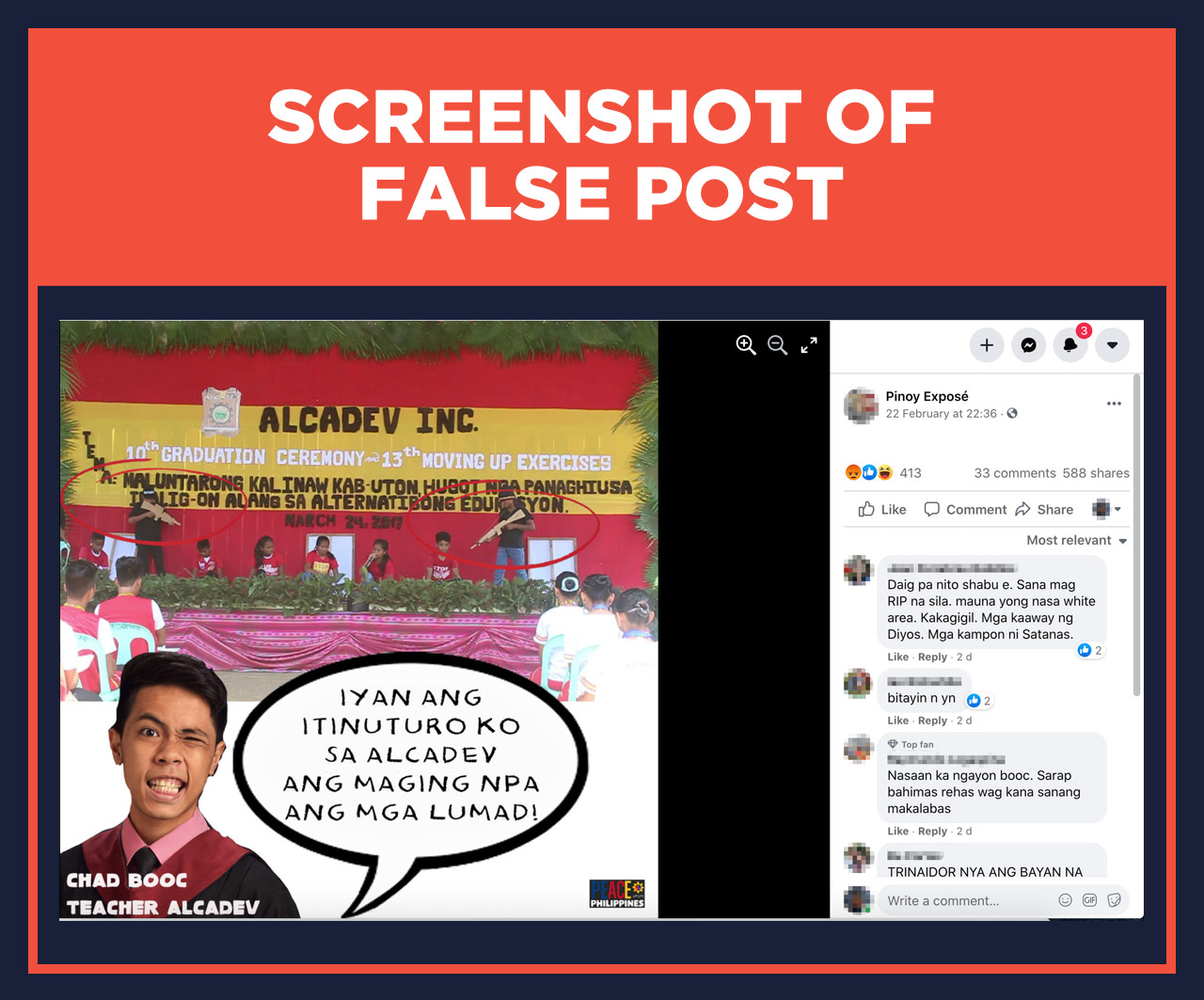 The page "Pinoy Exposé" describes itself as "a fact finding society aimed at revealing the truth and exposing facts behind all the lies."
This post was identified by CrowdTangle on Tuesday, February 23, as over-performing on Facebook. As of writing, the post has 413 reactions, 33 comments, and 586 shares.
This claim is false.
A reverse image search shows that the photo of the graduation ceremony is actually taken from a 2017 theater performance entitled, Ang Bangugot. This was performed on stage during Alcadev's 2017 graduation and moving up rites.
The performance by the Lumadnong Teatro is about the 2015 Lianga massacre, wherein Alcadev's school director and two community leaders were killed by a paramilitary group in Lianga.
Alcadev is a Lumad school in Surigao del Sur that provides alternative education to indigenous students. The school offers an agriculture-focused education, teaching students about sustainable farming practices. The school is privately-operated, but government-regulated.
Chad Booc has been a volunteer mathematics teacher for Alcadev since 2016. He was arrested on February 15 with 6 others in the University of San Carlos in Cebu after police raided one of the university's retreat houses. The police accused him and those arrested of training Lumad children to be communist combatants.
As of writing, Booc and the other individuals are still detained, and have been sued in Davao del Norte. Booc is one of the petitioners in the anti-terror law case, along with former senatorial candidate Samira Gutoc.
From March to May 2020 alone, the Save our Schools (SOS) Network documented 32 attacks on Lumad schools, including harassment and intimidation, forced closures, illegal arrests, and aerial bombings. Lumad schools have been targets of a military vilification campaign that claims they are being used as recruitment and training centers for communist rebellion.
In May 2020, project coordinator for Alcadev Maricres Pagaran was tagged as a "communist recruiter." Pagaran denounced this accusation, saying that it was a desperate attempt to red-tag her and further justify worse attacks in the future. – Therese Litonjua/Rappler.com
This article was written by a Rappler volunteer or intern and reviewed by a member of Rappler's research team and a senior editor. Learn more about Rappler's internship program here.
Keep us aware of suspicious Facebook pages, groups, accounts, websites, articles, or photos in your network by contacting us at factcheck@rappler.com. Let us battle disinformation one Fact Check at a time.