Filipinos can get cash aid from the emergency subsidy program through GCash, PayMaya, RCBC, Robinsons Bank, Starpay, and UnionBank
Claim:
All those who registered for the government's emergency subsidy program (ESP) via the ReliefAgad app will have to claim their cash aid via GCash, regardless of the payout method they selected in the app.
"Lahat po ng nag-register sa ReliefAgad, sa GCash 'nyo na makukuha lahat kahit ang nilagay 'nyo ay cash, Palawan, PayMaya, Cebuana, at kung ano man ang inyong nilagay… Lahat po sa GCash na lang ipapadala," read a post from Facebook page "Dswd Sap 2nd Tranche Update."
(For all those who registered in ReliefAgad, you will all get your aid from GCash regardless of whether you chose cash, Palawan, PayMaya, Cebuana, or whatever you selected… Everything will be coursed through GCash instead.)
The post said if you do not have a GCash account, there is no need to create one as GCash will send a confirmation text with a reference number. That reference number will be used in the cash out process, which may be availed in Puregold, Tambunting, Palawan, or "even in a shop" that has GCash cash out as an option.
The beneficiary just needs to present the GCash reference number and a valid ID.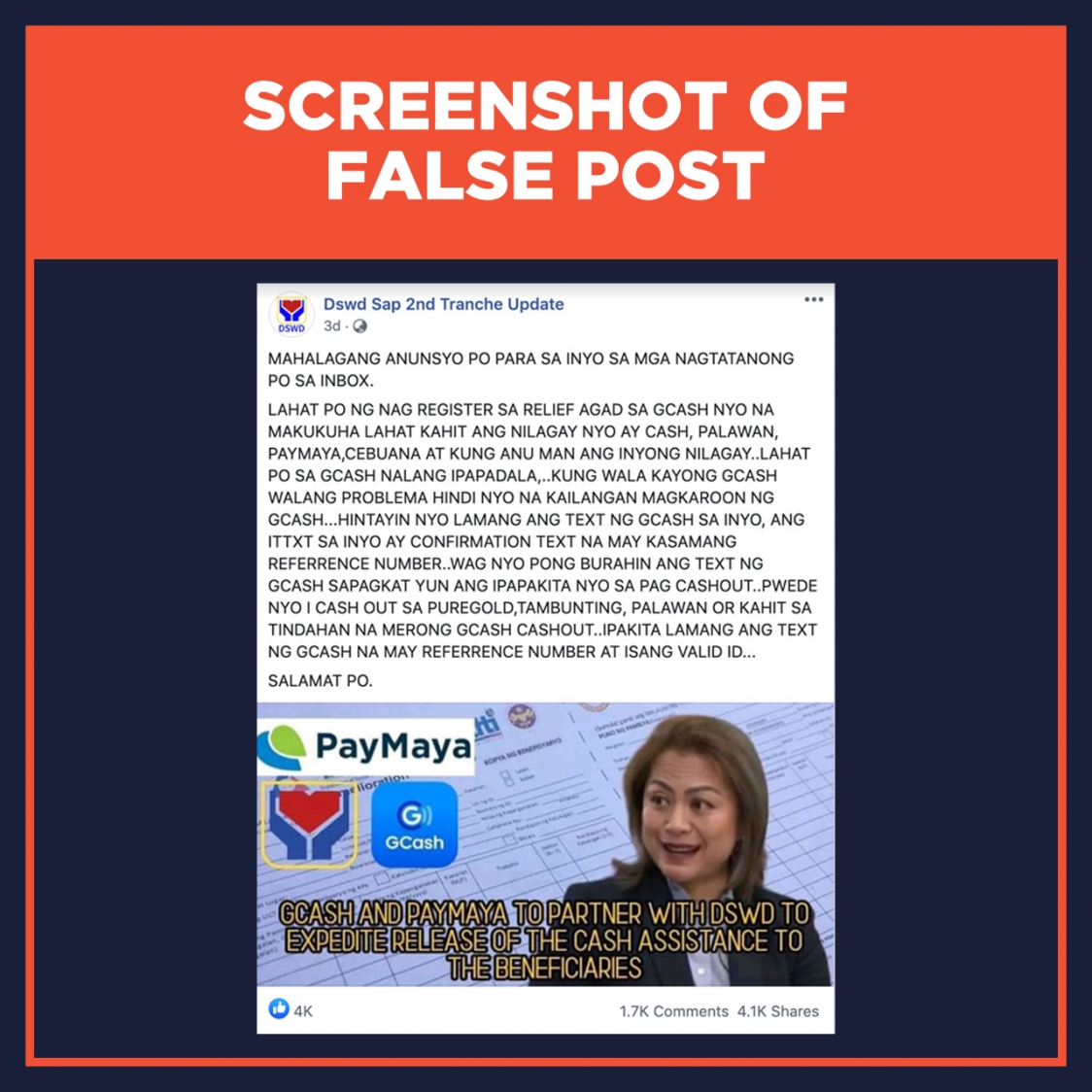 Rating: FALSE
The facts:
GCash is only one of the payout methods through which ESP beneficiaries can avail of their subsidies.
The Department of Social Welfare and Development (DSWD), the ESP's lead implementing agency, named the following partner financial service providers (FSPs) for the program: GCash, PayMaya, RCBC, Robinsons Bank, Starpay, and UnionBank.
Maricel Deloria, assistant director of the DSWD's program management bureau, said in a July 21 press briefing that beneficiaries will be informed by the FSPs via text message if their subsidies are ready to be claimed. Different localities have different FSPs assigned to them.
DSWD Spokesperson Irene Dumlao, who appears in the photo of the post, confirmed to Rappler that "Dswd Sap 2nd Tranche Update" is not an official page of the agency.
GCash issued an advisory on July 19 warning the public of a scam that involves people pretending to assist in distributing subsidies but will ask for account details and mobile personal identification number (MPIN).
– Michelle Abad/Rappler.com