This is AI generated summarization, which may have errors. For context, always refer to the full article.
This is a manipulated photo, and the case and branch numbers on the sign are taken from a rebellion charge against former senator Antonio Trillanes IV
Editor's Note: Altered photo/video is a newly-implemented rating on Facebook that flags images, video, or audio content "edited or synthesized beyond adjustments for clarity or quality, in ways that could mislead people." This rating does not include media excerpts or media taken out of context.
Claim:
Kabataan Representative Sarah Elago has a mugshot after she was supposedly booked for being a recruiter for the New People's Army (NPA).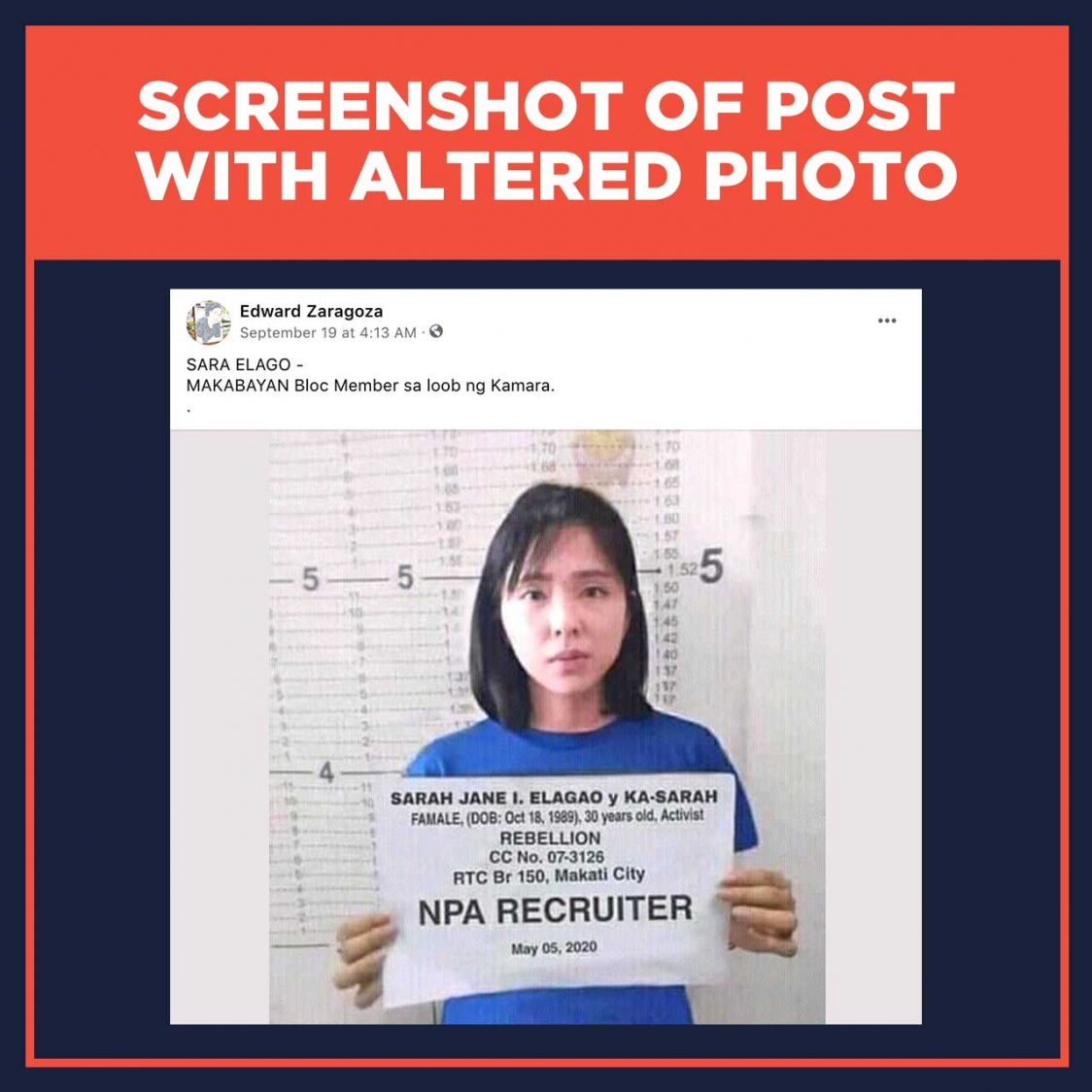 This claim was flagged by Facebook Claim Check, a tool that detects dubious posts on the platform.
Rating: ALTERED PHOTO
The facts:
This is a manipulated photo. The case number and branch number in the sign was from a rebellion charge against former senator Antonio Trillanes IV.
In the supposed mugshot, the sign – dated May 5, 2020 – contained supposed details of Elago's case such as the case number and the assigned regional trial court branch (RTC) in Makati City. The sign also had the words "NPA recruiter."
Upon searching, the case number on the sign, CC No. 07-3126, is actually the case number for the rebellion charge against Trillanes. The former senator was arrested for this in September 2018.
The RTC branch in the manipulated sign, Makati RTC Branch 150, also matches the RTC branch that issued the arrest warrant against Trillanes.
The fake mugshot of Elago had made the rounds on social media months before and is being recirculated in September. The photo had already been fact-checked by Agence France-Presse (AFP) and Vera Files in June.
To add, AFP found that the source of Elago's image in the altered image was a photo where she held a sign in support of press freedom and the release of detained journalists.
Elago is often targeted as a subject of disinformation on social media. Rappler has fact-checked other fake quotes, manipulated images, and misrepresented photos used against the lawmaker. – Loreben Tuquero/Rappler.com
Keep us aware of suspicious Facebook pages, groups, accounts, websites, articles, or photos in your network by contacting us at factcheck@rappler.com. Let us battle disinformation one Fact Check at a time.