While the Cebu-Cordova Link Expressway and the Tarlac-Pangasinan-La Union Expressway were completed under Duterte's presidency, these projects were started during previous administrations
At a glance
Claim: The Cebu-Cordova Link Expressway (CCLEx) and the Tarlac-Pangasinan-La Union Expressway (TPLEx) are accomplishments of the Duterte administration.
Rating: MISSING CONTEXT
The facts: The CCLEx was proposed in 2014. The TPLEx was inaugurated in 2013.
Why we fact-checked this: Several readers emailed the Facebook post to Rappler. As of writing, the post has over 4,600 likes, 1,400 comments, and 32,000 shares.
Complete details
A post containing over 60 photos of infrastructure projects, which are claimed to be the accomplishments of President Rodrigo Duterte under the administration's Build, Build, Build program circulated on Facebook. The photos include the CCLEx and TPLEx.
The Facebook post was shared on June 14, 2020, and has gained 4,600 likes, 1,400 comments, and 32,000 shares, as of writing. Several readers emailed the claim to Rappler for verification.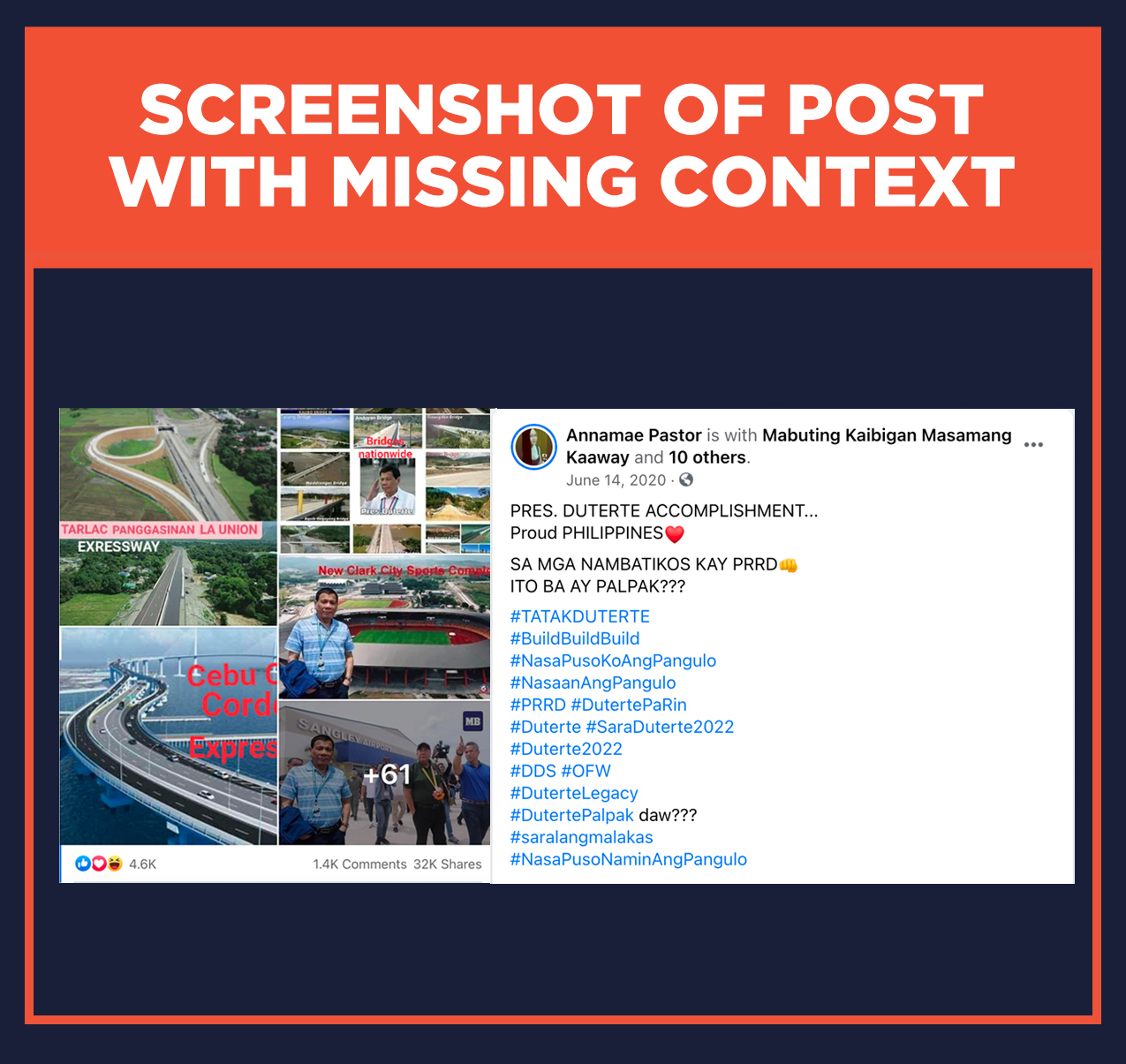 The claim is missing context.
While it was Duterte who led the ceremonial groundbreaking of CCLEx in 2017, the project is an infrastructure development that started under the administration of then-president Benigno "Noynoy" Aquino III.
The Metro Pacific Tollways Corporation proposed the project in 2014 under a joint venture agreement and public-private partnership project with the local government units of Cebu City and the municipality of Cordova. Although the concession agreement for the CCLEx was signed in 2016, the cooperation period is agreed to be for 35 years beginning in 2015.
Meanwhile, the construction of TPLEx was already underway in January 2010 during the term of then-president Gloria Macapagal Arroyo. It was funded by the SMC TPLEX Corporation through the build-operate-transfer basis.
The expressway's Tarlac City-Gerona section was officially opened in October 2013 and was extended to Paniqui where Aquino formally inaugurated its opening in December of the same year.
TPLEx was one of the infrastructure projects Aquino had hoped to be finished by the end of his term. – Juanch Belisano/Rappler.com
Juanch Belisano is a Rappler intern. This fact check was reviewed by a member of Rappler's research team and a senior editor. Learn more about Rappler's internship program here.
Keep us aware of suspicious Facebook pages, groups, accounts, websites, articles, or photos in your network by contacting us at factcheck@rappler.com. Let us battle disinformation one Fact Check at a time.