COA recommended four courses of action to the PNP to ensure that they were getting its value for money. A year after, it noted that A year later, COA noted that these recommendations were fully implemented by the PNP.
At a glance
Claim: The Commission on Audit (COA) did not recommend charges against those responsible for the Mahindra vehicles purchase.
Rating: MISSING CONTEXT
The facts: COA recommended four courses of action to ensure that the Philippine National Police was getting value for its money.
Why we fact-checked this: The post containing this claim garnered 7,300 reactions and 1,700 shares as of writing.
Complete details
On August 23, Facebook page "Luminous by Trixie Cruz-Angeles and Ahmed Paglinawan" said that COA did not recommend charges for those responsible for the purchase of Mahindra patrol vehicles by the Philippine National Police (PNP).
The post read, "Pero (But) no charges were recommended by COA for those responsible for the grossly disadvantageous purchase of vehicles that were barely used. Imagine how the PNP operatives had to work without usable cars?"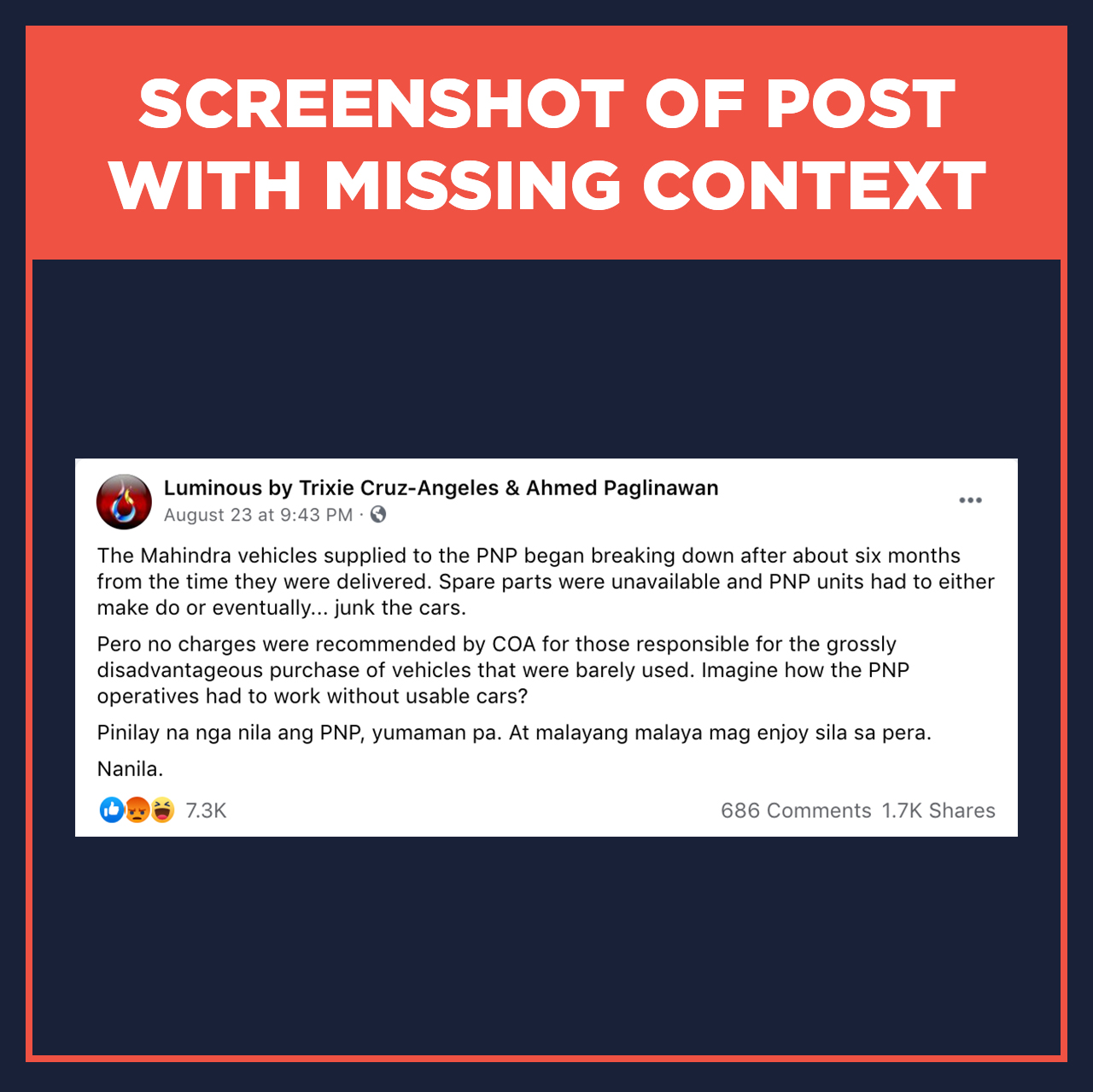 This lacks context.
In its 2017 annual audit report on the PNP, the COA flagged the purchase in 2015 of over 2,000 Mahindra jeepney vehicles worth P1.89 billion.
According to the report, the PNP failed to conduct an operational needs assessment prior to acquisition. The standards set for the vehicle purchase were also too low, and COA noted that regional offices' earlier complaints of high fuel consumption, slow acceleration, and rusty engines were not considered.
In the PNP's 2017 annual audit report, COA recommended four courses of action to ensure that the PNP was getting the vehicles' value for money:
Conduct an operational needs assessment.
Publish a memorandum detailing the minimum specifications for future purchases.
Engage in the Procurement Service of the Department of Budget and Management (DBM) for lesser-used supplies
Require monthly reports from the regional offices that received the vehicles.
A year later, COA noted that these recommendations were fully implemented by the PNP.
Columbian Autocar Corporation (CAC), the company that closed the deal with the PNP through the DBM, said in a report that it had serviced 1,645 out of the PNP's 2,045 units from 2018 to 2020 for free. Ninety percent of the vehicles were still in good condition, as of October 2020.
CAC also said that they awarded a "goodwill warranty" to 474 units that were out of warranty and it maintained a spare parts stock worth P30 million for the PNP units.
Rappler has fact-checked a post by "Luminous by Trixie Cruz-Angeles & Ahmed Paglinawan" in the past. Read: FALSE: PNoy responsible for Sanchez's possible release due to RA 10592). – Tatiana Maligro/Rappler.com
Tatiana Maligro is a Rappler intern. This fact check was reviewed by a member of Rappler's research team and a senior editor. Learn more about Rappler's internship program here.
Keep us aware of suspicious Facebook pages, groups, accounts, websites, articles, or photos in your network by contacting us at factcheck@rappler.com. Let us battle disinformation one Fact Check at a time.