The medical and research facility did not release the list attributed to it
Claim:
The Johns Hopkins University released an advisory about COVID-19. It had 17 bullet points of information about the virus that causes the disease and how to prevent it.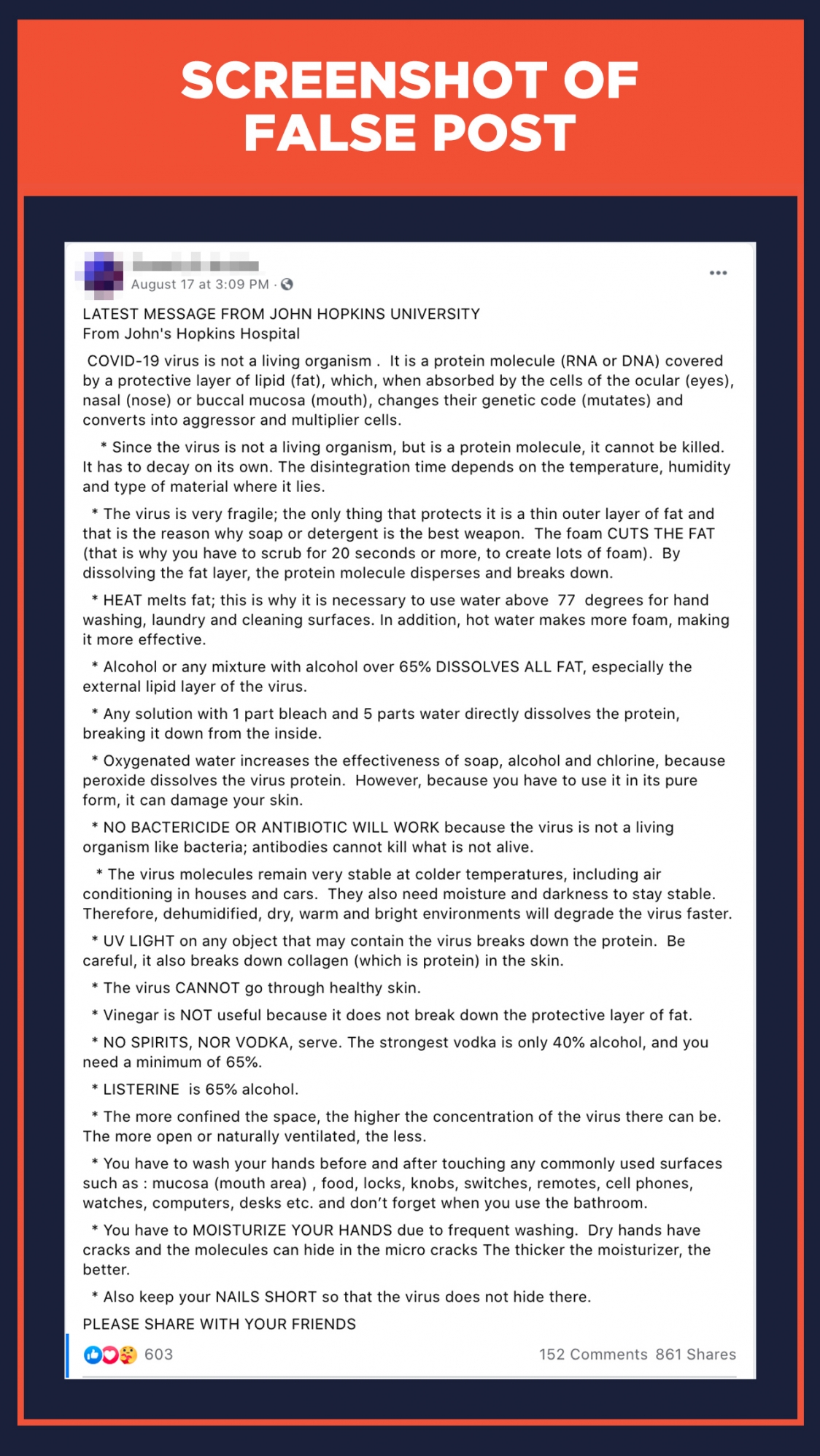 Claim check, Facebook's monitoring tool, flagged two posts shared in August that contained the same message. As of writing, these posts had 1,533 combined shares, 1,284 reactions, and 156 comments. A reader also emailed Rappler a link to a post in March containing the same list for verification.
Rating: FALSE
The facts:
The Johns Hopkins University did not release the list. Some details mentioned in the list are also inaccurate.
In a report published on April 4, the Johns Hopkins University said the circulating message "has no identifiable connection" to the medical facility and that it lacks credibility. Johns Hopkins also advised readers to always go to its official channels to find reliable information about COVID-19, such as the university's coronavirus resource center and the official coronavirus landing page of Johns Hopkins Medicine.
Among the inaccurate claims listed is that Listerine contains 65% alcohol. On the company's official website, it said that no Listerine product can kill the virus that causes COVID-19. "Only some Listerine mouthwash formulations contain alcohol, and if present is only around 20% alcohol," the company said. It added that Listerine mouthwash is not intended to be used as a hand sanitizer or disinfectant.
The list also claimed that the novel coronavirus "needs moisture and darkness to stay stable." But while there are studies that suggest the virus thrives in dry air with low humidity, the World Health Organization said the evidence so far shows it can be transmitted in all areas regardless of climate.
In March, fact-checking website Snopes labeled the same list as "misattributed." – Pauline Macaraeg/Rappler.com
Keep us aware of suspicious Facebook pages, groups, accounts, websites, articles, or photos in your network by contacting us at factcheck@rappler.com. Let us battle disinformation one Fact Check at a time.
More fact checks about COVID-19: