The video of Senator Leila de Lima was taken in May 2016, at a post-election event in Quezon City, not New Bilibid Prison
At a glance:
Claim: Jailed senator Leila de Lima sang "Careless Whisper" by George Michael during a concert at Bilibid Prison, according to a video on YouTube.
Rating: FALSE
The facts: The video wherein De Lima sang "Careless Whisper" was taken in May 2016 at Saint Charbel Executive Village.
Why we fact-checked this: This claim has been fact checked before and continues to be re-shared. The video with this claim has 10,165 views as of writing.
Complete details:
A video on the YouTube channel "jams uy" claimed that Senator Leila de Lima sang George Michael's "Careless Whisper" at a concert in the New Bilibid Prison (NBP).
De Lima was arrested in February 2017 over drug charges. She was allegedly linked to the drug trade in the NBP when she was justice chief, supposedly to fund her 2016 senatorial campaign. She was acquitted on Wednesday, February 17, of one of those charges, but continues to be detained.
The channel "jams uy" has 11 subscribers only, but the video has 10,165 views. Rappler spotted this YouTube link being shared in a comment on a Facebook post.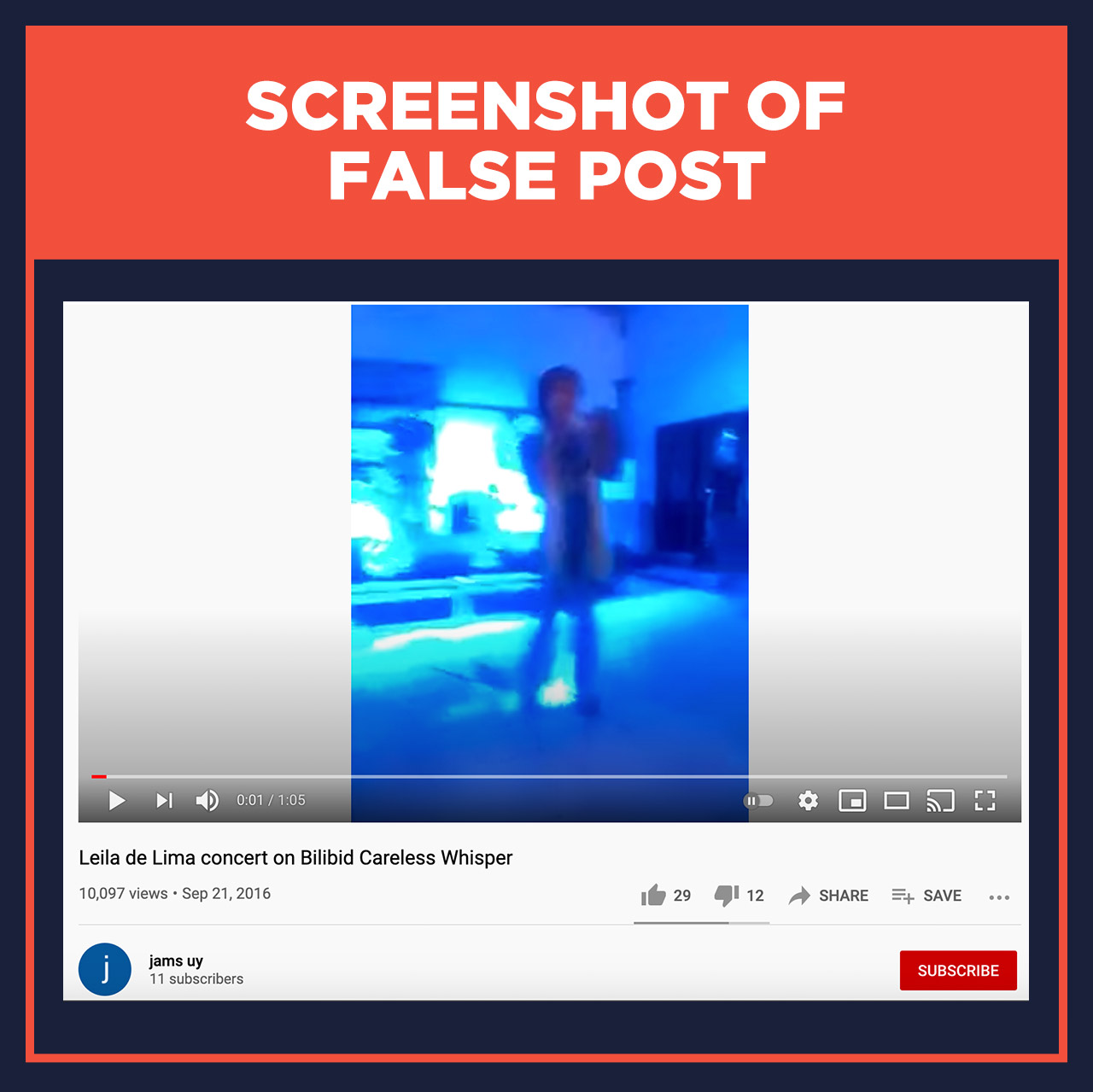 This claim is false. It has been debunked before but it is still being circulated.
The video of De Lima was taken in May 2016, at an election victory party held in the Saint Charbel Executive Village clubhouse and basketball court in Quezon City, according to a fact check by Agence-France Presse (AFP). This was confirmed by De Lima's former spokesperson and the person who originally posted the video.
The original video was posted on Facebook on May 21, 2016, by user Evelyn Tanael Tagoo. The video is no longer available on Facebook, but photos of Tagoo with De Lima at a similar location and on the same date are publicly available on her account as of Friday, February 19. Tagoo told AFP that the party was held for those who distributed flyers for her campaign.
The words "We love you too!" and "Hustisya Volunteers" can also be made out on the tarpaulin behind De Lima in the video. These are the same words on the tarpaulin in Tagoo's photos. De Lima called for "Hustisya Volunteers" (Justice Volunteers) during her 2016 election campaign.
Rappler has fact checked a similar claim in April 2019 about De Lima supposedly "partying" in NBP.
De Lima is often the subject of false claims on social media. In December 2019, Rappler fact checked a claim that alleged she begged then-US president-elect Joe Biden for her freedom. In August 2019, a video that was edited to make her appear as if she was admitting to protecting drug lords in NBP was circulated online. – Vernise Tantuco/Rappler.com
Keep us aware of suspicious Facebook pages, groups, accounts, websites, articles, or photos in your network by contacting us at factcheck@rappler.com. Let us battle disinformation one fact check at a time.