The Department of Finance has repeatedly warned the public about investment scams using names of finance and treasury officials
Claim:
Finance Secretary Carlos "Sonny" Dominguez III is endorsing Bitcoin Revolution, an automated trading program for cryptocurrencies.
Website nitify.com published an article titled, "SPECIAL REPORT: Carlos Dominguez's Latest Investment Has Experts in Awe And Big Banks Terrified." The article had no publication date, but it had an update at the end of the story saying that as of August 13, 2020, spots for new users were limited and fast selling.
According to the article, Dominguez guested on noontime television show Eat Bulaga! "last week" after being invited by Vic Sotto, one of its hosts. During the show, Dominguez supposedly announced a new "wealth loophole" that can transform anyone into a millionaire within 3 to 4 months.
"What made me successful is jumping into new opportunities quickly – without any hesitation. And right now, my number one money-maker is a new cryptocurrency auto-trading program called Bitcoin Revolution. It's the single biggest opportunity I've seen in my entire lifetime to build a small fortune fast. I urge everyone to check this out before the banks shut it down," the website quoted Dominguez as saying.
The website also included screenshots of what looked like Dominguez's money transfers using the platform. It also claimed that this information appeared on other legitimate newspapers and used the logos of the Philippine Star, Manila Times, Daily Tribune, and Manila Bulletin.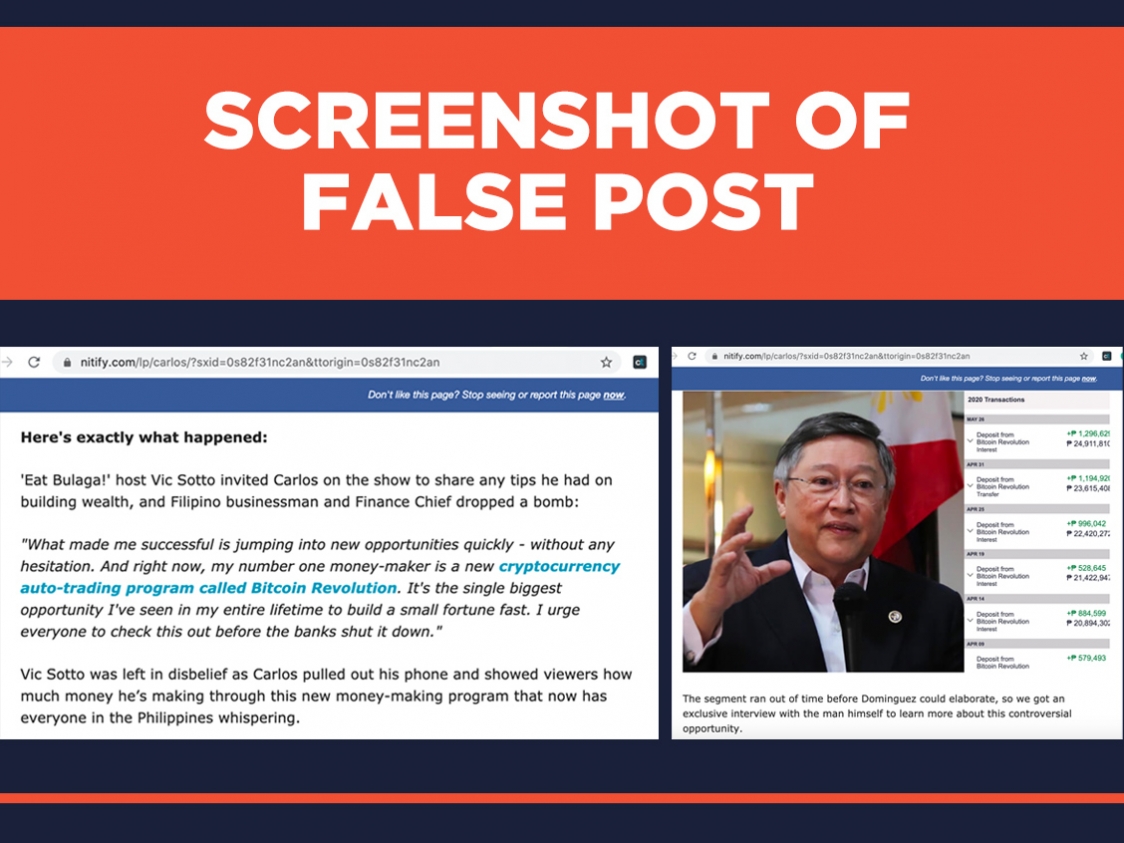 The article was spotted by the Rappler team on Facebook.
Rating: FALSE
The facts:
The Department of Finance (DOF) has repeatedly warned the public about investment scams using names of Finance and Treasury officials. The videos uploaded on the official YouTube channel of Eat Bulaga! also do not show Dominugez ever guesting in the noontime show this year.
In a press release in May, the DOF refuted the claim that the government has created a platform for bitcoin trading. "There is no such effort by the government," Finance Assistant Secretary Antonio Joselito Lambino II said.
On June 21, the DOF again released a warning about "false information fraudulently using the name of Secretary Carlos Dominguez III to promote a fake cryptocurrency auto-trading platform called Bitcoin Revolution."
"We warn those behind these unscrupulous and unauthorized investment schemes that the government is monitoring the public space for such schemes, and will take appropriate legal and regulatory action," the DOF said in a statement.
On July 28, Dominguez also sought help from the justice department through a letter addressed to Justice Secretary Menardo I. Guevarra. Dominguez asked for assistance in stopping investment ploys that use his name and other officials "in an attempt to dupe the public into falling for the scam."
There is also no report about Dominguez's supposed endorsement of the bitcoin platform from the newspapers mentioned in the article. Instead, the Philippine Star, Manila Bulletin, and Manila Times all published articles citing the DOF's warning against bitcoin investment scams. – Pauline Macaraeg/Rappler.com
Keep us aware of suspicious Facebook pages, groups, accounts, websites, articles, or photos in your network by contacting us at factcheck@rappler.com. Let us battle disinformation one Fact Check at a time.