Some parts of the Israeli population and the South Korean male population are excluded from mandatory military service because of age requirements and exemptions
At a glance
Claim: Israel's entire "9 million" population are all military reservists or veterans, and South Korea's "more than 25 million" males are not only reservists, but have also served in the military.
Rating: FALSE
The facts: Some parts of the Israeli population and the South Korean male population are excluded from mandatory military service because of age requirements and exemptions.
Why we fact-checked this: The claim was made in the "Duterte Youth Party-list" Facebook page, with about 2,500 reactions, 254 comments, and 369 shares, as of writing.
On May 25, two claims were made in a post in the "Duterte Youth Party-list" Facebook page: that the entire nine million population of Israel are military reservists or veterans, and that the more than 25 million males in South Korea, including artists and billionaires, are not only reservists but have served in the military.
As of writing, the post has about 2,500 reactions, 254 comments, and 369 shares. Another page that contained the claim is "SARA Duterte for President Movement." The post used Israel and South Korea as examples for why mandatory Reserve Officers' Training Corps (ROTC) should be brought back in the Philippines.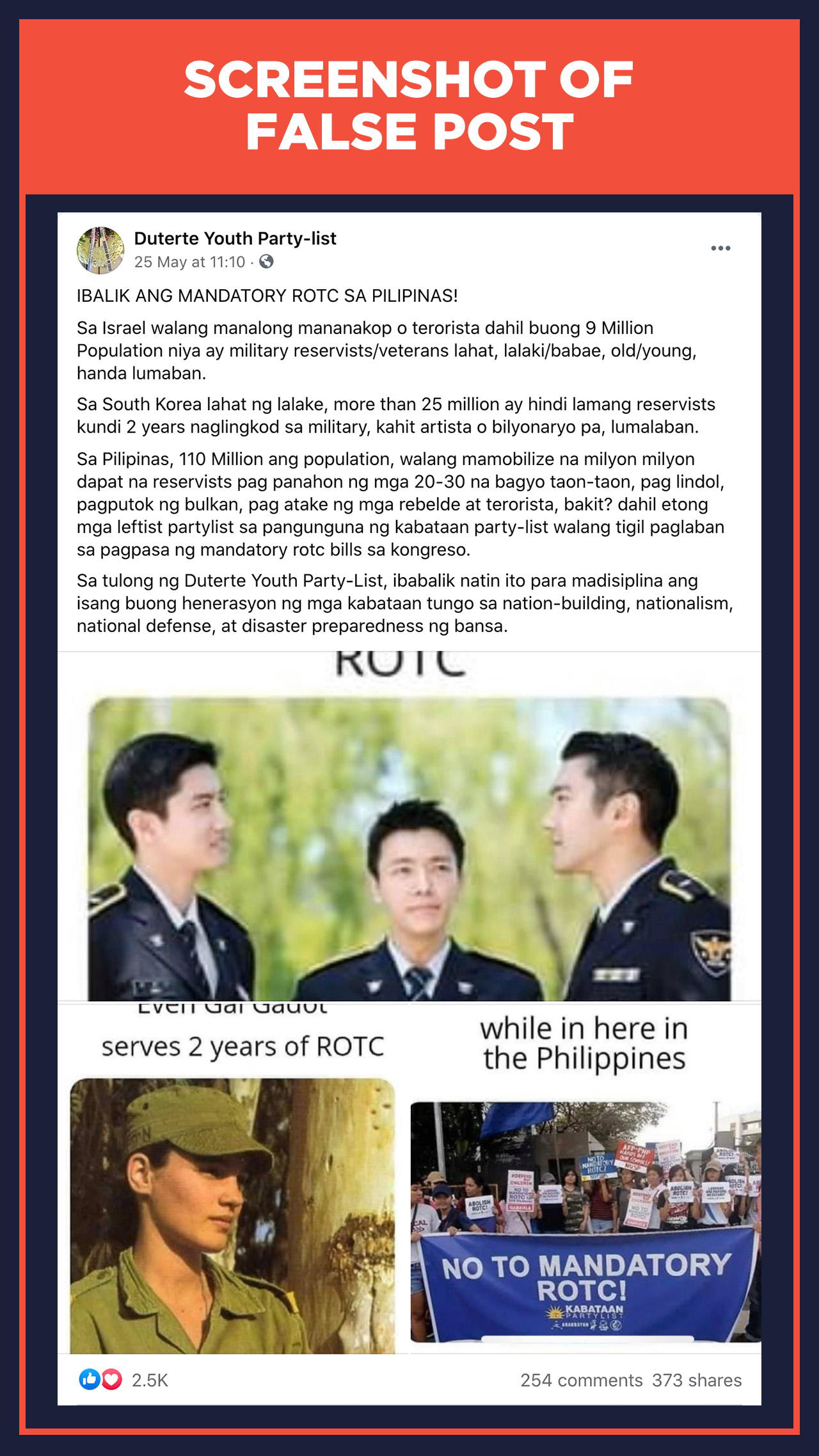 Both claims are false.
In Israel, the Defence Service Law generally allows the drafting of males aged 18 to 29 or females aged 18 to 26 to the military (Article 13), with special provisions for those who have reached age 17 (Article 14).
According to Israel's Central Bureau of Statistics (CBS), the average total population of Israel in 2019 is 9,054,000, from which 2,843,900 would have been excluded from military service for being below age 17. If all those up to age 17 are also excluded, the count becomes 2,985,500.
Certain exemptions provided in Israel's Defence Service Law also further increase the number of excluded from military service. Articles 39 and 40 cover statutory exemption from service and exemption for reasons of religious conviction, respectively.
A November 2019 report by the Law Library of Congress titled "Israel: Military Draft Law and Enforcement" also states that, by tradition, Haredi Jews and Israeli Arabs in Israel get exemptions. According to a January 19, 2020, article in The Jerusalem Post, 32.9% of men and 44.3% of women were exempted from military service, with 15% of men dropping out during their service.
Meanwhile, South Korea calls for every able-bodied male to undergo mandatory military service starting from age 18 to 28 for a period of almost two years, with exemptions given to exceptional athletes, musicians, and artists, and an allowance for pop culture icons like BTS to defer the beginning of their military service for two years.
The Korean Statistical Information Service (KOSIS) has a section on their website which shows that the total male population of South Korea as of May 2021 is 25,775,853. Of this total, at least 3,197,982 males aged 0-14 would be excluded from service for being below age 18. (Males aged 15-17 would also be excluded for being too young, but the next age group shown is 15-19 and data for individual ages are not shown.)
Proponents of mandatory ROTC in the Philippines, including President Rodrigo Duterte, cite patriotism, love of country, and the need for military reinforcement in dealing with the South China Sea issue as reasons to restore it. Opponents, meanwhile, cite cases of hazing and abuse, most prominently the death of Mark Welson Chua in 2002 for exposing alleged corruption in the ROTC unit of the University of Santo Tomas, and add that there are other options for the advancement of nation-building and civic engagement in the country aside from ROTC.
The current representative of the Duterte Youth Party-list in Congress is Ducielle Cardema, who was proclaimed as a result of a 4-1 vote by the Commission on Elections en banc. The Duterte Youth Party-list has been consistent in its calls for the revival of mandatory ROTC. – Percival Bueser/Rappler.com
Percival Bueser is a graduate of Rappler's fact-checking mentorship program. This fact check was reviewed by a member of Rappler's research team and a senior editor. Learn more about Rappler's fact-checking mentorship program here.
Keep us aware of suspicious Facebook pages, groups, accounts, websites, articles, or photos in your network by contacting us at factcheck@rappler.com. Let us battle disinformation one Fact Check at a time.