Death penalty is not allowed in the Philippines, though there are calls for its restoration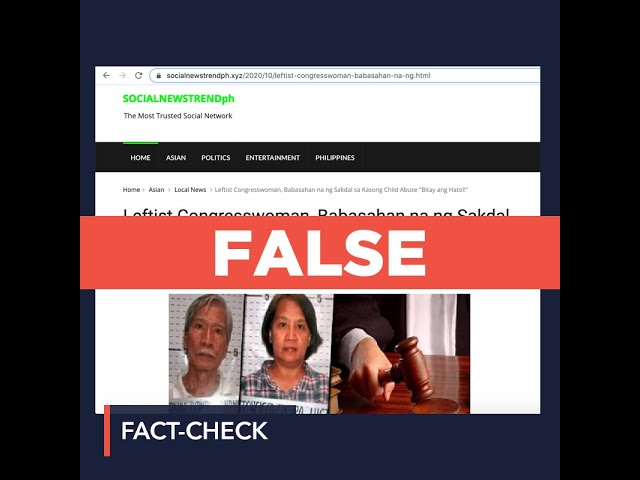 At a glance:
Claim: ACT Teachers Representative France Castro and former Bayan Muna representative Satur Ocampo are sentenced to death for child abuse.
Rating: FALSE
The facts: There is no death penalty in the Philippines as of October 2020.
Why we fact checked this: A reader sent the claim to Rappler for verification. The link also had over 4,100 engagements on Facebook.
Complete details:
Website socialnewstrendph.xyz posted an article on October 20 with the headline, "Leftist Congresswoman, Babasahan na ng Sakdal sa Kasong Child Abuse 'Bitay ang Hatol!'" (Leftist congresswoman to be arraigned for child abuse. 'Sentenced to death!')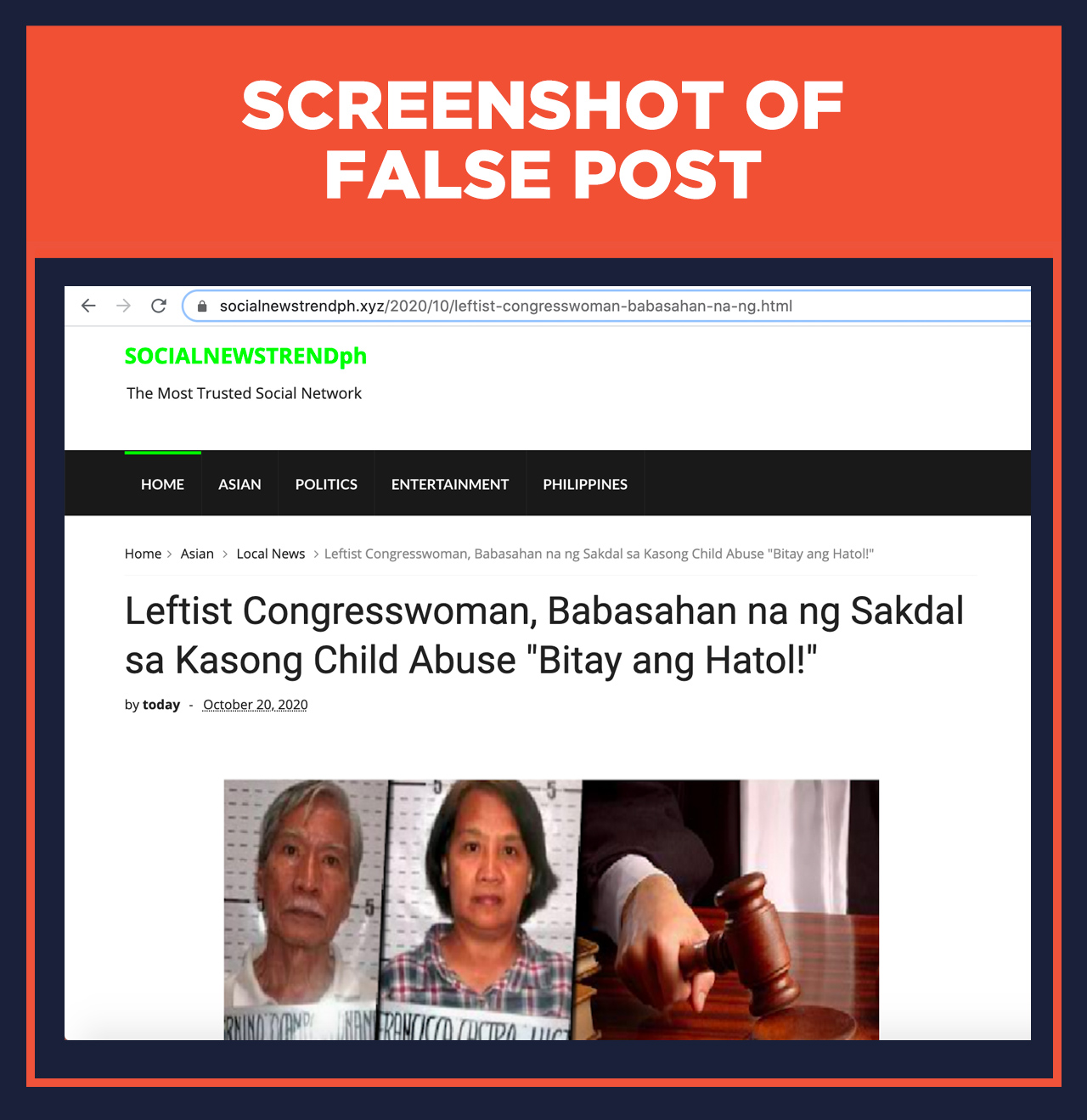 The article was referring to the kidnapping and human trafficking complaints filed against ACT Teachers Representative France Castro and former Bayan Muna representative Satur Ocampo in November 2018.
This claim is false. There is no death penalty in the Philippines. And the kidnapping and human trafficking cases against Castro and Ocampo are still at the pretrial stage in court.
The Philippine Constitution abolished capital punishment, but it allows Congress to reinstate it for heinous crimes. For heinous crimes, it was restored under the Fidel Ramos administration in 1993 but was abolished under the Gloria Arroyo government in 2006.
President Rodrigo Duterte has repeatedly called for the reinstatement of the death penalty in the Philippines, but this has not been acted upon by Congress.
Castro and Ocampo were arrested at a checkpoint in Talaingod town in Davao del Norte in November 2018 over the alleged transport of 14 minors. They were accused of violating the Expanded Anti-Trafficking in Persons Act of 2012, in relation to the Special Protection of Children Against Abuse, Exploitation, and Discrimination Act. They were released from jail 3 days later after posting bail.
In January 2019, Ocampo and Castro sought the dismissal of the complaints. They said that the minors were students in Lumad schools who they evacuated due to alleged harassment by state forces.
In a text message to Rappler, Castro confirmed that they were arraigned for these charges on October 20 at the Tagum City Regional Trial Court Branch 2 in Davao del Norte. "But we did not plead 'not guilty' because we do not recognize the trumped-up case vs us in the first place. The court just pleaded for us," she said.
The content of the article from socialnewstrendph.xyz also just lifted word-for-word the post of Presidential Communications Undersecretary Lorraine Badoy on October 20 about the arraignment, but there was no mention of the supposed death penalty in Badoy's post.
A reader sent the article from socialnewstrendph.xyz to the Facebook group Fact-checking in the Philippines for verification. As of writing, the link had over 4,100 combined Facebook engagements according to data from CrowdTangle, a social media monitoring tool.
At least two posts that contained the same claim were also flagged by Claim Check, Facebook's monitoring tool that identifies potentially dubious posts. One of them was Facebook user Lovell Paras Canceran, an account that Rappler previously fact checked. – Pauline Macaraeg/Rappler.com
Keep us aware of suspicious Facebook pages, groups, accounts, websites, articles, or photos in your network by contacting us at factcheck@rappler.com. Let us battle disinformation one Fact Check at a time.