The video used in the claim pertains to an entirely different robbery incident in Britain in 2014. Meanwhile, the article's thumbnail image misuses a photo of a medical operation done on the TV host in 2010.
Claim:
Television host Kim Atienza is in critical condition after he was shot by robbers who intruded intohis home. The incident was supposedly caught on security camera or CCTV.
The website gmatodayupdatesnews.blogspot.com posted an undated story with the headline, "Kuya Kim Atienza Kritikal Ngayon matapos Barilin ng mga Magnanakaw sa Kanyang Bahay. Nakunan ng CCTV." According to Facebook's Claim Check dashboard, it was first shared around July 11, 2020. Another website, newsupdatestr3ndingtoday.blogspot.com, also posted a similar story and was first shared on Facebook on July 16.
The Claim Check dashboard also shows that the first website's article has been reported by Facebook users 363 times as of posting.
The supposed CCTV video of the incident is embedded in these articles. However, only a few seconds of the video would play, after which users would be asked to share the article first before they could watch the rest of the video.
A Facebook user also shared the thumbnail or featured image of these articles on a public Facebook group on July 12. His post was shared only a few times, and received around 100 reactions and comments as of posting.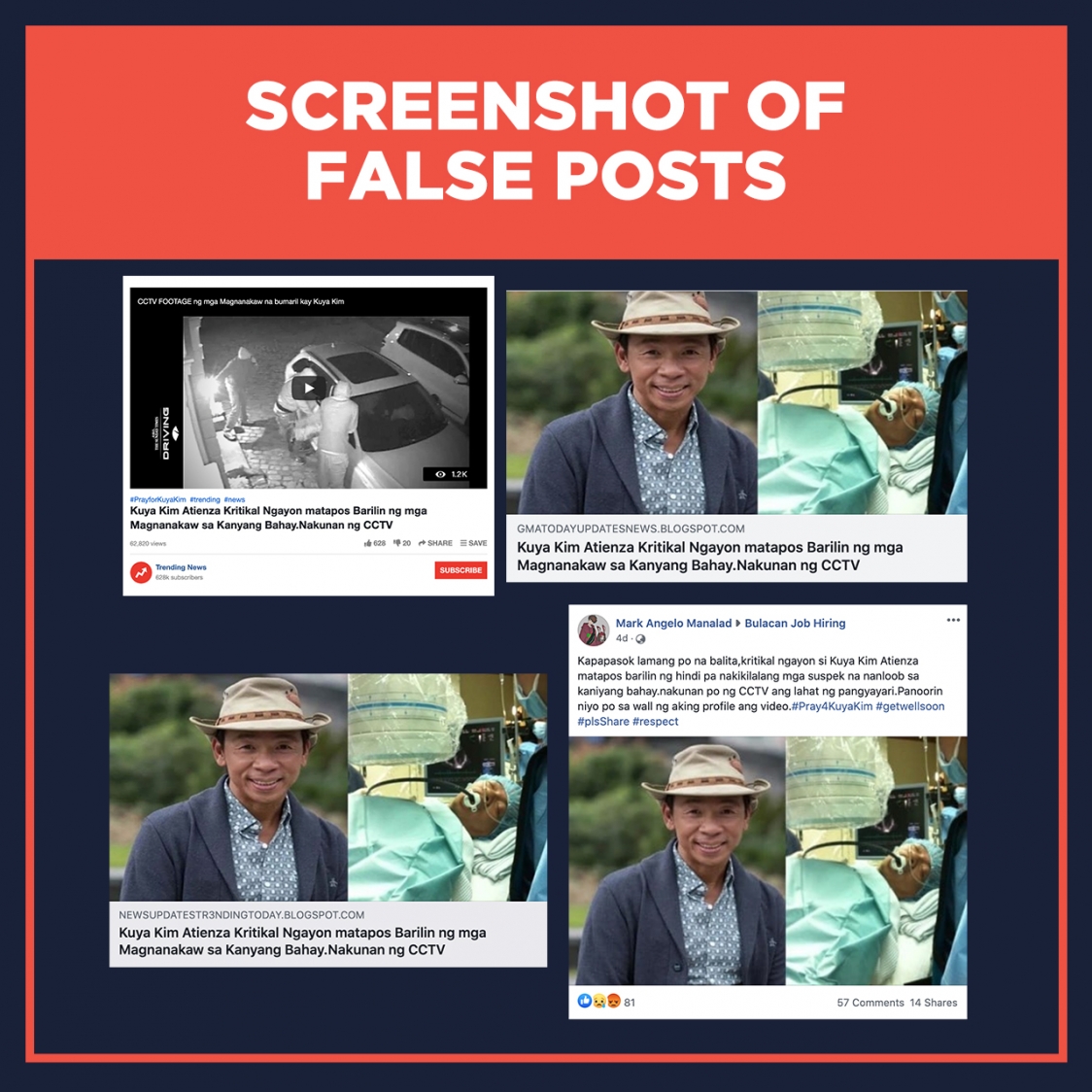 Rating: FALSE
The facts:
The video used in the claim is unrelated to Atienza, who is alive as of posting. Meanwhile, the article's thumbnail image misuses a photo of a medical operation done on him in 2010.
The embedded video in these articles is about an entirely different robbery incident. The security footage, uploaded on March 28, 2014, by the YouTube channel Sunday Times Driving, is entitled, "Caught on CCTV: thieves steal Audi RS4." It shows how thieves broke into a Sunday Times reader's vehicle in around 90 seconds. Sunday Times Driving is the motoring section of The Sunday Times newspaper in the United Kingdom.
Meanwhile, the thumbnail image that shows Atienza undergoing an operation was actually taken in 2010. It was part of the photos Atienza posted on his Facebook page in November 2018 to mark the 8th anniversary of a heart surgery done on him "to seal a hole…that caused a stroke."
Atienza continues to provide weather updates every night at the TV Patrol newscast on cable and online platforms as of posting.
After clicking on the link to open these articles about Atienza, users will actually be redirected to a different website, randomnames.club, which has hosted death hoaxes and false claims about famous personalities, newsmakers, and current events. These false claims had been rated as false in previous Rappler fact checks.
The websites that carried these claims exhibit the same behavior pointed out by Rappler in multiple death hoax articles. – Michael Bueza/Rappler.com
Keep us aware of suspicious Facebook pages, groups, accounts, websites, articles, or photos in your network by contacting us at factcheck@rappler.com. Let us battle disinformation one Fact Check at a time.