This is AI generated summarization, which may have errors. For context, always refer to the full article.
Contractualization started during Ferdinand Marcos' regime, when the strongman signed the Philippine Labor Code in 1974
At a glance
Claim: Labor contractualization did not exist during the Ferdinand Marcos era.
Rating: FALSE
The facts: The practice of contractualization was adopted in the Philippine Labor Code in 1974 through Presidential Decree 442 signed by Marcos.
Why we fact-checked this: The video has over 6.5 million views, 201,000 reactions, and 15,000 comments on Facebook, as of writing.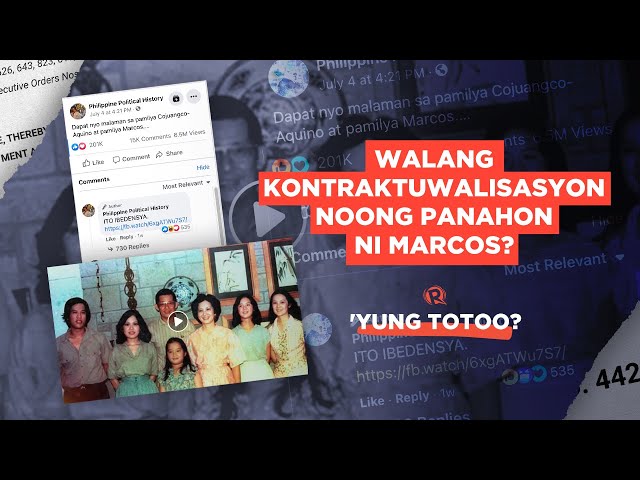 Complete details
A video posted on July 4 by Facebook page "Philippine Political History" falsely claims that labor contractualization did not exist during the Ferdinand Marcos administration.
The video is titled, "Dapat nyo malaman sa pamilya Cojuangco-Aquino at pamilya Marcos." (What you need to know about the Cojuangco-Aquino family and Marcos family.)
At the 9:13 mark, the narration in the video says, "Noong panahon ni Marcos, walang contractual employee. Pero nung pag-upo ni Cory, ipinasa niya ang bill para magkaroon ng contractual employee."
(During Marcos' time, there were no contractual employees. But when Cory became president, she passed a bill allowing contractual employees.)
Data from social media monitoring tool CrowdTangle show that the video has over 6.5 million views, 201,000 reactions, and 15,000 comments on Facebook, as of writing.
Several readers sent the video to Rappler for verification. Claim Check, Facebook's monitoring tool that identifies suspicious posts shared on the platform, also flagged the post.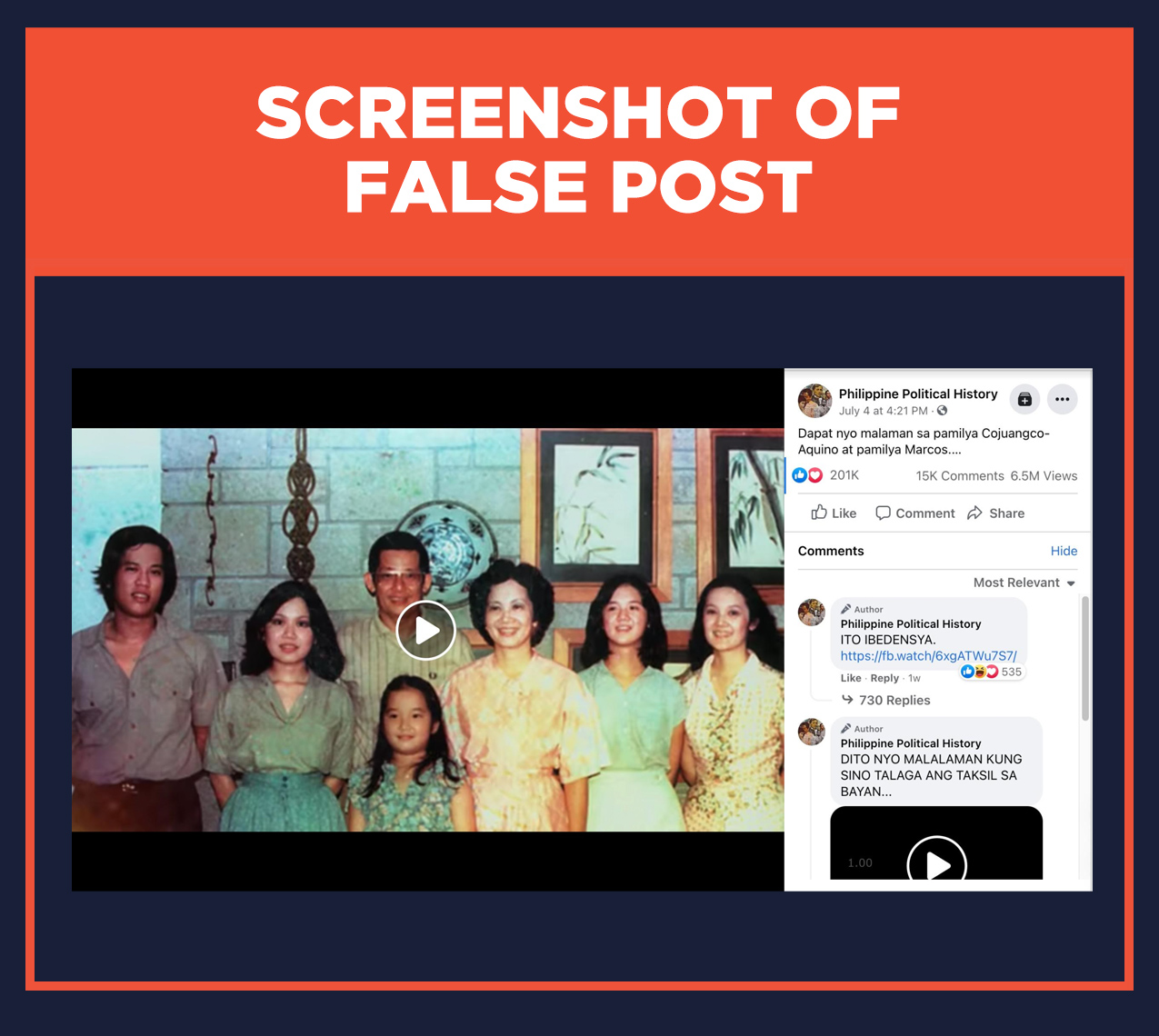 This is false.
Labor contractualization was first adopted in Philippine law when Marcos signed the Philippine Labor Code in 1974.
The Labor Code of the Philippines allows employers to hire people under a probationary status not exceeding six months. Under the contractualization system, workers sign contracts for a period not longer than six months and, as the contracts expire, employers just renew them. This way, companies can avoid regularizing employees and giving benefits such as paid leaves and bonuses.
"Marcos signed a decree that allowed the hiring of temporary workers because the economy was unstable and unemployment was high," Cid Terosa, senior economist at the University of Asia and the Pacific, said in a previous Rappler interview.
Since then, Philippine presidents have attempted to end the labor practice, all ending in vain.
The Civil Service Commission said that the government had over 600,000 contractual employees as of August 2020. However, Labor Secretary Silvestre Bello III earlier explained that the Department of Labor and Employment needed to hire 5,000 labor inspectors to inspect more establishments and keep track of the actual number of contractual employees.
Having only executive powers, Duterte urged Congress to amend the Labor Code. On December 1, 2020, the House of Representatives passed the anti-endo bill on third and final reading, but some lawmakers opposed this version because it still allowed legitimate job contracting and fixed-term employment.
Rappler debunked a similar claim in 2019 that said former president Corazon Aquino "removed" labor regularization during her term, which led to the increase of overseas Filipino workers. – Lorenz Dantes Pasion/Rappler.com
Lorenz Dantes Pasion is a Rappler intern. This fact check was reviewed by a member of Rappler's research team and a senior editor. Learn more about Rappler's internship program here.
Keep us aware of suspicious Facebook pages, groups, accounts, websites, articles, or photos in your network by contacting us at factcheck@rappler.com. Let us battle disinformation one Fact Check at a time.