Soberano gave a talk at a Gabriela Youth webinar, but there is no proof that she is a communist or a member of the NPA.
Claim:
Actress Liza Soberano is a member of the New People's Army (NPA) and has joined the organization Gabriela Youth, which is "a front of the Communists."
This claim was made on a YouTube livestream by the channel "MAUI BECKER" on Wednesday, October 14. It was spotted by Rappler being shared on Twitter. Becker's video has 50,514 views, as of posting.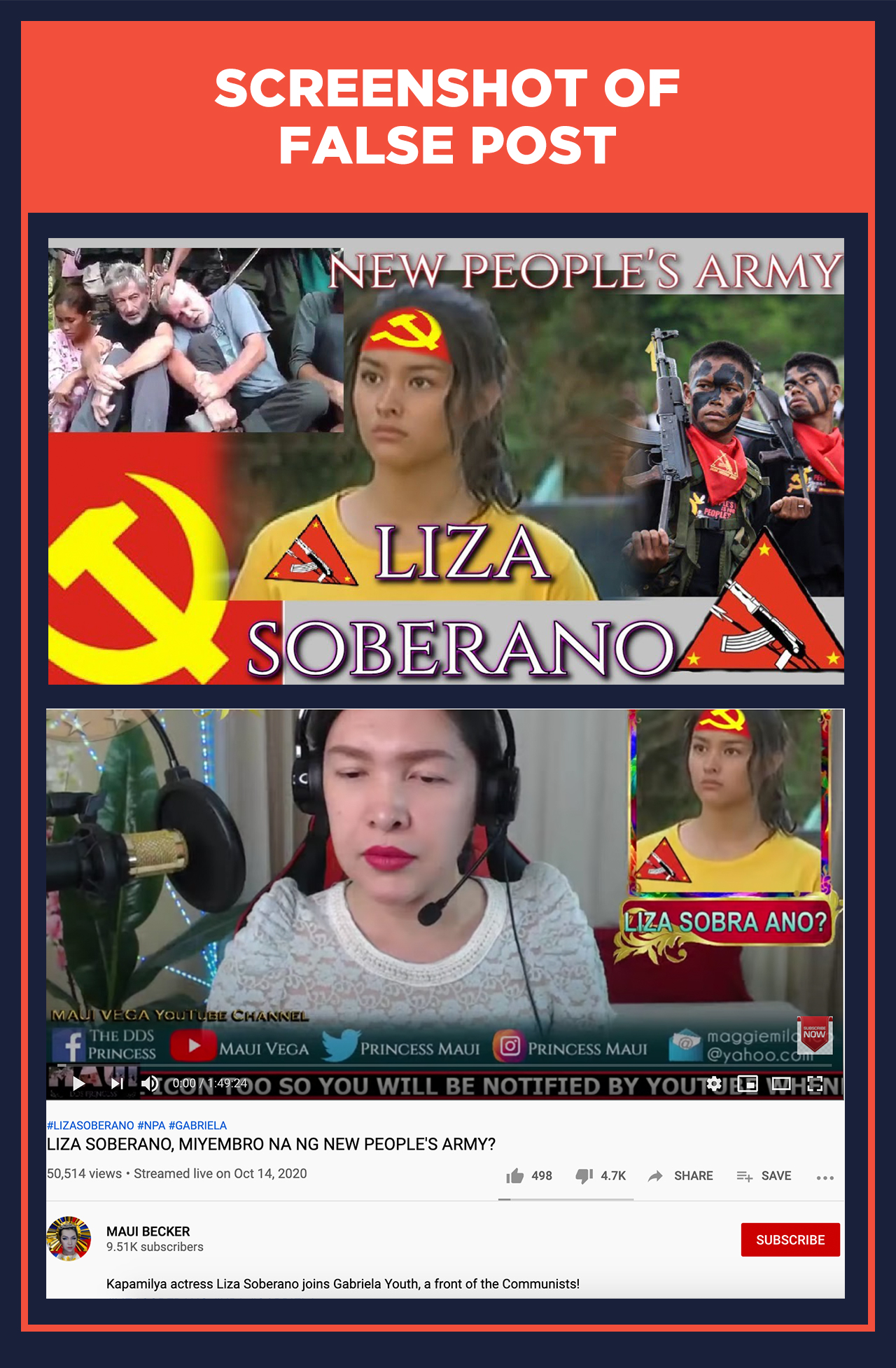 Rating: FALSE
The facts:
There is no proof that Soberano has joined the NPA or that she identifies as a communist.
On October 16, Soberano's manager Ogie Diaz alluded on Twitter to a video posted by Maui Becker, calling it out as "red-tagging" or the labeling of a person as a communist, regardless of actual affiliations.
The video with this unproven claim was posted by Becker after Soberano spoke at a Gabriela Youth webinar titled, "Mga Tinig ni Nene: Reclaiming Our Voices" on the International Day of the Girl Child on Tuesday, October 13.
Following the Gabriela Youth webinar, Soberano was criticized by netizens and supporters of the President for attending the event.
The description of the video said, "Kapamilya actress Liza Soberano joins Gabriela Youth, a front of the Communists!" The video thumbnail also featured an altered image of Soberano wearing a bandana with a hammer and sickle, a symbol of communism. It also said "Liza Soberano" and "New People's Army."
However, a reverse image search showed that the image was mirrored and altered to show her wearing the bandana. An original version of the photo appeared on Pep.ph in a May 2015 article citing ABS-CBN as the source.
Apart from this, Becker did not provide anything to further prove that Soberano had supposedly joined the NPA. She spoke under the assumption that Soberano joined the group because Gabriela Youth was supposedly a front for the NPA.
The Gabriela Women's Party is part of the Makabayan bloc, which has been accused of being a front of the Communist Party of the Philippines (CPP) and its armed wing, the NPA.
Gabriela Youth is part of the General Assembly Binding Women for Reforms, Integrity, Equality, Leadership, and Action (Gabriela), an organization that advocates for women's rights. The Gabriela Women's Party works and lobbies with Gabriela and its member-organizations when they push for legislative reforms. – Vernise Tantuco/Rappler.com
Keep us aware of suspicious Facebook pages, groups, accounts, websites, articles, or photos in your network by contacting us at factcheck@rappler.com. Let us battle disinformation one Fact Check at a time.