While the rehabilitation project has helped, reports and studies show that the area has been teeming with marine life even before the project started in 2019
At a glance
Claim: Manila Bay has been healed because of the Duterte government's rehabilitation project, as shown by marine creature sightings in the area.
Rating: MISSING CONTEXT
The facts: While the rehabilitation project helped in cleaning up Manila Bay, reports and studies show that it had been teeming with marine life even before the project started in 2019. A study from 2017 recorded 146 fish and invertebrate species in the area.
Why we fact-checked this: The video containing the claim has over 34,000 likes on Tiktok, as of writing.
Complete details
A video uploaded on May 21 by TikTok user "mangyanpadyakero" claims that the rehabilitation project of the Department of Environment and Natural Resources (DENR) has finally healed Manila Bay. It shows a video clip where shrimp and a group of small fish are swimming in the bay.
The video includes the following statements: "Aquarium ba kamo? Manila Bay naghilom na talaga!" (Did you say aquarium? Manila Bay has finally been healed!) 
The video was spotted via social media monitoring tool CrowdTangle. It has over 34,400 likes, 1,296 comments, and 263 shares on TikTok, as of writing.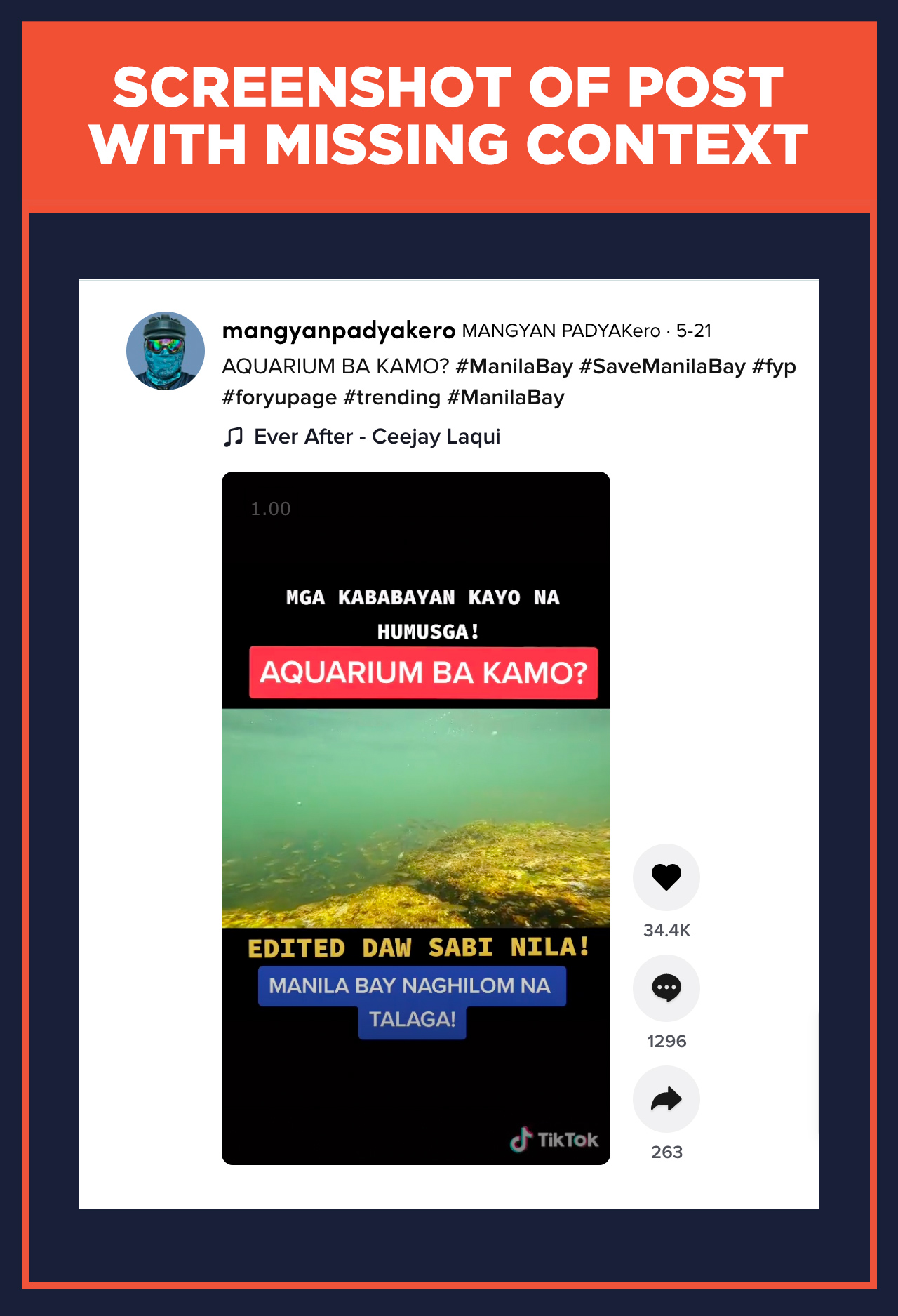 This claim is missing context.
Though polluted and in really bad shape in some areas, the entire Manila Bay ecosystem was never declared biologically dead prior to the start of the rehabilitation project in 2019, according to environmental group Oceana Philippines.
The group also says the entire Manila Bay "actually covers eight provinces": Tarlac, Bataan, Nueva Ecija, Pampanga, Bulacan, Rizal, Laguna, and Cavite.
It is not clear where exactly in Manila Bay the clip in the TikTok video was taken.
The DENR Environment and Management Bureau states on their website that Manila Bay is a major fishing ground beyond the port area. "Commercial, municipal and artisanal fisheries are common in the bay," the agency says.
A research published in 2017 in the Philippine Journal of Fisheries recorded a total of 146 fish and invertebrate species from an experimental trawl fishing survey conducted in Manila Bay from 2014 to 2015, with species of anchovies and sardines consisting most of the catches. However, the research also pointed out that six dominant species showed signs of overfishing.
A photo taken in 2017 by the Philippine News Agency also shows that traditional fishing in the area was already common even before the government started the rehabilitation project. The photo shows a local fisherman selling his catch along the Roxas Boulevard shoreline.
Residents were also reported in 2017 to be fishing in the bay's breakwater at the tip of Roxas Boulevard, where threadfin salmon, grouper, mullet, croaker fish, red snapper, and rockfish were caught.
The Manila Bay rehabilitation reinforces a Supreme Court continuing mandamus, obliging government agencies and local government units to make a concerted effort to clean up the bay. (READ: Manila Bay cleanup kicks off)
The DENR said in January 2019 that the Manila Bay rehabilitation would have three phases: cleanup/water quality improvement, rehabilitation and resettlement, and education and sustainment.
In 2019, DENR Undersecretary Benny Antiporda acknowledged that the cleanup, which was the first phase of the rehabilitation, would not be completed during Duterte's term. He said that the next administration would have to "carry on the current efforts." – Lorenz Dantes Pasion/Rappler.com
Lorenz Dantes Pasion is a Rappler intern. This fact check was reviewed by a member of Rappler's research team and a senior editor. Learn more about Rappler's internship program here.
Keep us aware of suspicious Facebook pages, groups, accounts, websites, articles, or photos in your network by contacting us at factcheck@rappler.com. Let us battle disinformation one Fact Check at a time.
More fact checks on the Manila Bay rehabilitation project: