The Comelec has not announced a disqualification case filed against the senator
At a glance
Claim: Senator Manny Pacquiao cannot run in the 2022 elections after a disqualification case was filed against him in June 2021 for premature campaigning.
Rating: FALSE
The facts: There are no news reports from official sources stating that Pacquiao is barred from running in the upcoming elections. Current election laws do not penalize premature campaigning.
Why we fact-checked this: The video has over 120,000 views on YouTube, as of writing.
Complete details
A video uploaded on Saturday, June 12, by the YouTube channel "Banat News TV" falsely claims that the Commission on Elections (Comelec) has disqualified Senator Manny Pacquiao from running in the 2022 elections on the grounds of premature campaigning.
The video is titled: "JUST IN BALITA : CONFIRMED! PRES DUTERTE , SAWAKAS! DISQUALIFY na PACQUIAO PINAKAKASUHAN" (JUST IN: Confirmed! President Duterte, at last! A disqualification case has been filed against Pacquiao.)
A campaign tarpaulin of Manny Pacquiao installed near retired ABS-CBN broadcaster Jay Sonza's property is shown in the video as evidence of premature campaigning.
Data from social media monitoring tool CrowdTangle show that the video has over 120,000 views and 460 comments on YouTube, as of writing.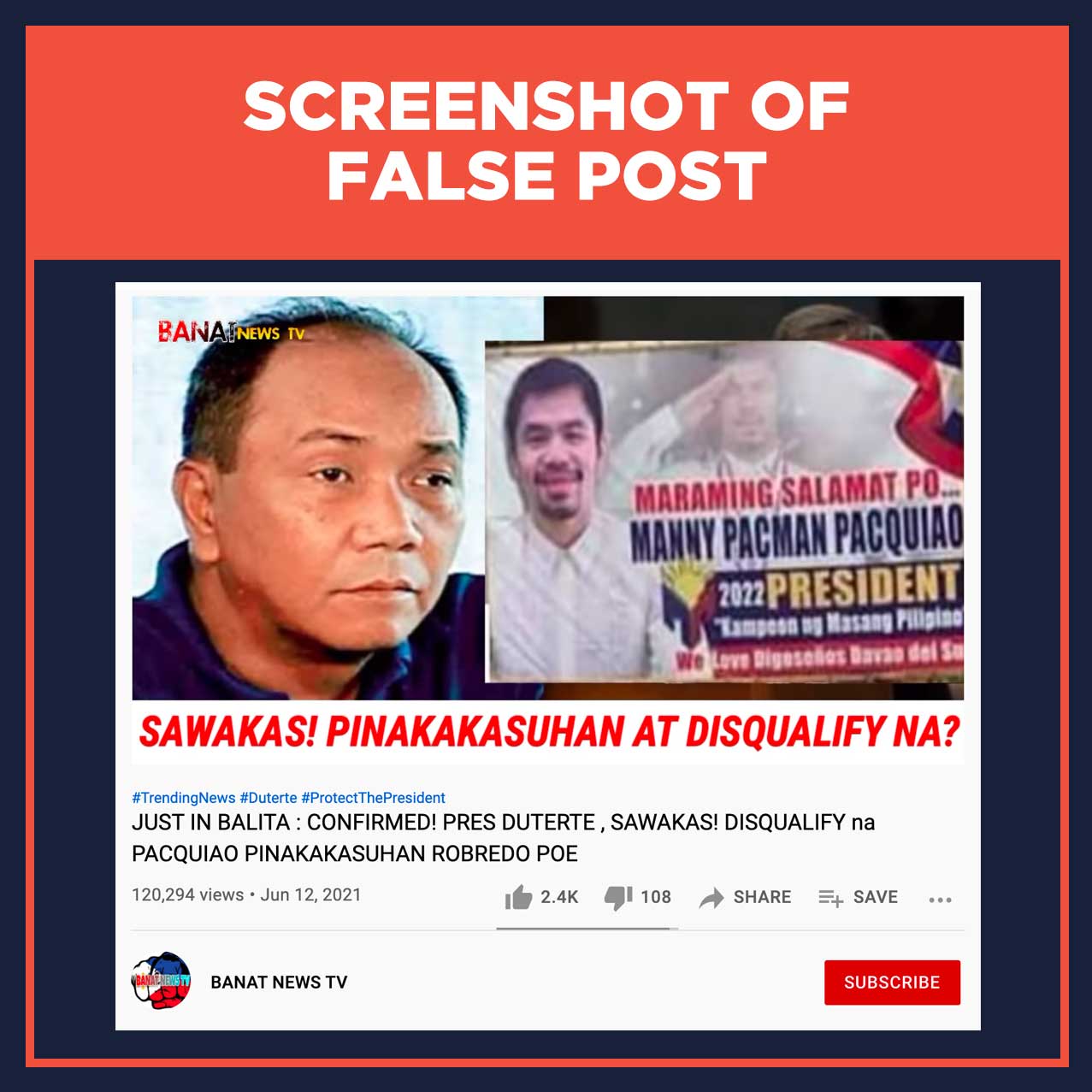 This is false.
As of writing, there are no announcements from the Comelec nor official news reports that Senator Pacquiao has been disqualified.
Even if a complaint is filed with the Comelec, it doesn't automatically disqualify a politician. Hearings will have to be conducted before the commission decides.
The Omnibus Election Code includes premature campaigning as grounds for disqualification of official candidates. Section 80 prohibits any election campaign outside the election period.
However, Republic Act No. 9369 or the amended automated election law, states that a person is only considered an official candidate once the campaign period starts. This means that even if a person conducts early campaigning, he or she cannot be held liable since no one is considered a candidate yet anyway.
Comelec Spokesperson James Jimenez calls this a "loophole," which skews the playing field and gives premium to those who have the means to campaign early.
There have been efforts to amend the law. In 2018, Senator Richard Gordon filed Senate Bill No. 100, which sought to amend the automated election law by considering a candidate the moment he or she files a certificate of candidacy or COC. The Comelec supported this bill, but it did not get past the second reading.
In 2019, Senator Leila de Lima filed Senate Bill No. 777 that seeks to penalize premature campaigning. It also remains pending in the committee.
Pacquiao is yet to confirm his political plans despite showing interest in running for president in March. He is currently training for his upcoming fight against undefeated champion Errol Spence Jr. set for August 21 in Las Vegas, Nevada. – Lorenz Dantes Pasion/Rappler.com
Lorenz Dantes Pasion is a Rappler intern. This fact check was reviewed by a member of Rappler's research team and a senior editor. Learn more about Rappler's internship program here.
Keep us aware of suspicious Facebook pages, groups, accounts, websites, articles, or photos in your network by contacting us at factcheck@rappler.com. Let us battle disinformation one Fact Check at a time.