At least eight major news outlets have reported on the project
At a glance
Claim: The mainstream media did not report on the Leyte Tide Embankment Project.
Rating: FALSE
The facts: At least eight major news outlets have reported on the project, with reports dating as far back as 2015.
Why we fact-checked this: A post making this claim has garnered over 1,450 reactions and 530 shares.
Complete details
A post by Facebook page "Federal Philippines" claimed that the ongoing Leyte Tide Embankment Project has not been reported on by the mainstream media. At the time of writing, the post has garnered over 1,450 reactions and 530 shares.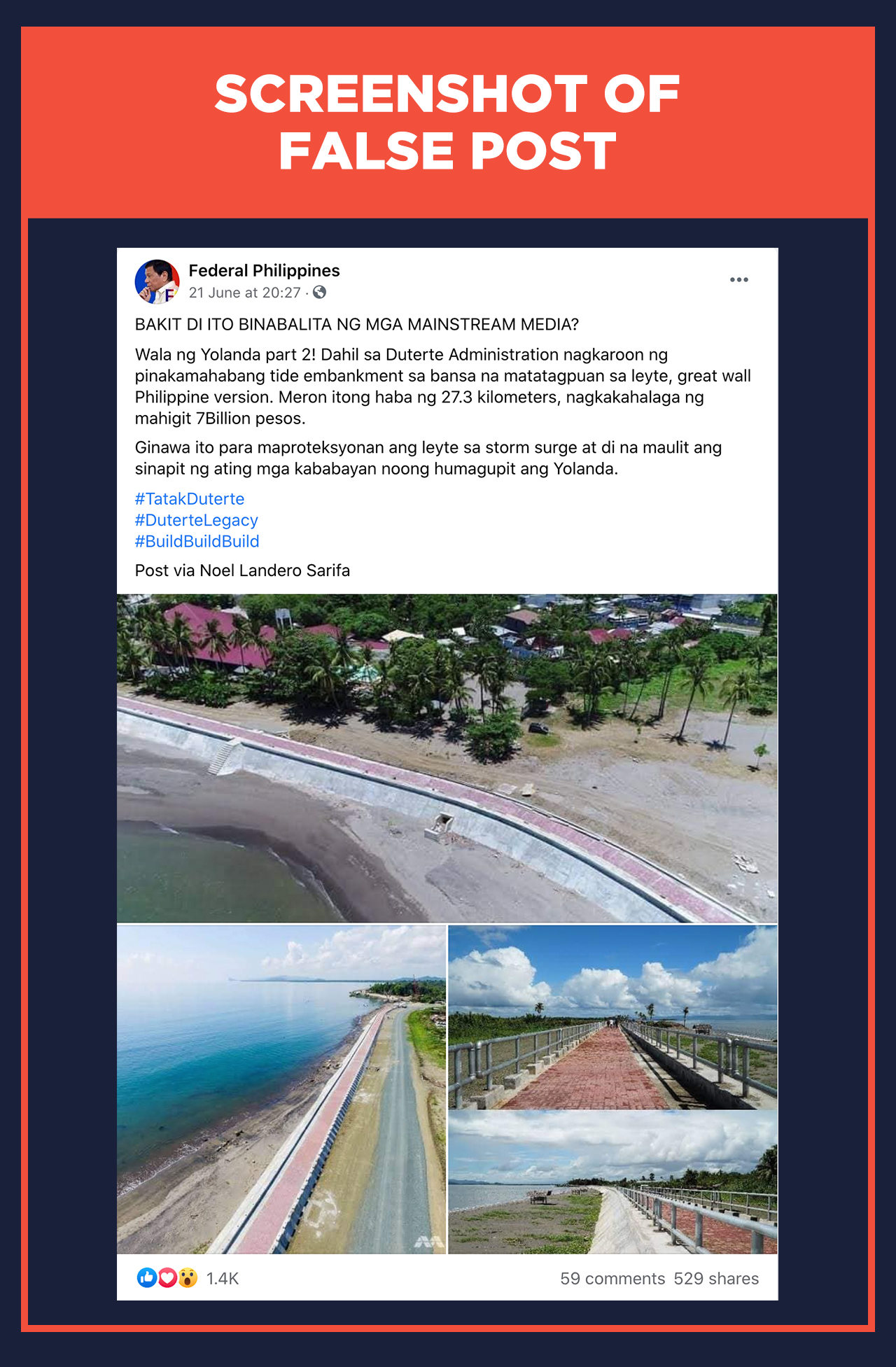 This claim is false.
Dubbed the "Great Wall of Leyte," the Tide Embankment Project will stretch 27.3 kilometers and is touted to protect at least 33,185 houses and an area of 33.7 square kilometers.
At least eight major news outlets have reported on the project, with articles dating back as far as 2015. These news outlets include:
According to the reports above, the Leyte Tide Embankment Project was initially slated for completion in 2020 and the Department of Public Works and Highways (DPWH) previously announced that it would be completed by 2019, a year ahead of schedule. The project, however, was pushed back to 2020. At the time of writing, the project is expected to be completed at the end of 2022.
"While we are working to fast track the project, there are many challenges that hinder civil works such as right of way acquisition and property owners changing their mind," then-DPWH Eastern Visayas (Region VIII) regional director Edgar Tabacon said in an interview with the Philippine News Agency.
The tide embankment project has received widespread criticism for disregarding the impact it will have on local communities. ABS-CBN reported that 14,000 families will lose their homes when the project is completed.
Furthermore, fishing communities argue that the project will devastate their industry by blocking access to the sea. Lozanto Castillo Jr., the chairperson of the Tacloban Fisherfolks Urban Association, estimated that the project will affect up to 18,000 fishermen. – Jose Atienza/Rappler.com
Jose Atienza is a Rappler intern. This fact check was reviewed by a member of Rappler's research team and a senior editor. Learn more about Rappler's internship program here.
Keep us aware of suspicious Facebook pages, groups, accounts, websites, articles, or photos in your network by contacting us at factcheck@rappler.com. Let us battle disinformation one fact check at a time.