Health workers in contact with COVID-19 patients are entitled to benefits through Bayanihan 1 and 2
At a glance
Claim: Healthcare workers have not received their hazard pay because COVID-19 is a "scam" of the Department of Health (DOH).
Rating: FALSE
The facts: Under Bayanihan 1 and 2, health workers in contact with COVID-19 patients are entitled to special risk allowance (SRA) and other benefits. While DOH Assistant Secretary Maylene Beltran said that around 360,000 healthcare workers received their SRAs, stringent eligibility criteria marred the distribution of benefits.
Why we fact-checked this: As of writing, the video with the claim has gained over 2,200 reactions and 17,000 views.
Complete details
In a Facebook live video on August 31, physical therapist Ron Samaniego claimed that health workers had not received their COVID-19 hazard pay because COVID-19 was a "scam" of the DOH.
At the 5:33 mark, he told health workers, "The reason why hindi 'binibigay ang inyong hazard pay is alam din nila mismo ng gobyerno na ito (COVID-19), wala naman talaga. So ba't kayo babayaran ng hazard pay?"
(The reason why your hazard pay isn't being given is because the government knows that there really isn't COVID-19. So why would they pay you hazard pay?)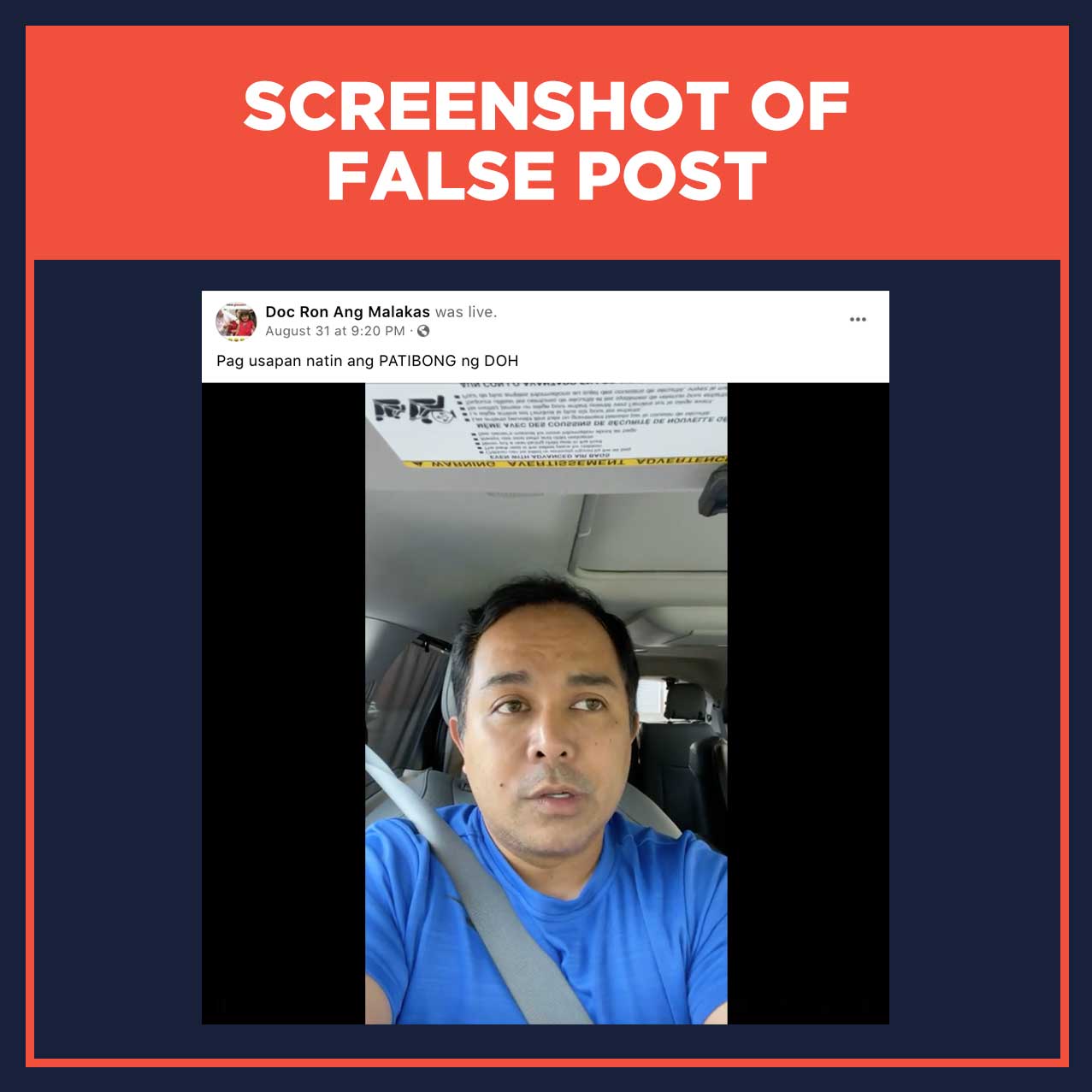 "Kung noon pa lang, hindi tayo binabayaran, ngayon din hindi tayo babayaran. Kasi nga alam ng gobyerno na totoo naman na wala. Walang COVID sa Pilipinas. Puro karantaduhan ng gobyerno 'yan. Scam ng DOH," he said.
(If they wouldn't pay us before, they won't pay us now. It's because this government knows that it's true that there isn't COVID-19 in the Philippines. It's the government's nonsense, the DOH's scam.)
This is false.
During the Senate blue ribbon committee hearing on August 18, DOH Assistant Secretary Maylene Beltran said that around 360,000 out of 1.8 million healthcare workers nationwide had received their special risk allowance (SRA). 
In another Senate hearing, on August 25, Department of Budget and Management Officer-in-Charge Tina Canda also said that they aimed to release benefits to 20,000 more healthcare workers.
However, various healthcare workers' unions said several of their colleagues were yet to  receive their SRAs, COVID-19 active hazard duty pay (ADHP), and meal, accommodation, and transportation allowances.
The SRA and ADHP are limited to "frontline human resources for health (HRH)," according to President Rodrigo Duterte's Administrative Order (AO) No. 35. These include "medical, allied medical and other personnel in the public sector" who are involved in the country's pandemic response.
While the SRAs were expanded to cover health workers in the private sector through Bayanihan 2 and AO 26, the COVID-19 SRA remains limited to healthcare workers who cater to, or are in contact with, COVID-19 patients.
During the August 18 Senate hearing, senators said all healthcare workers – regardless of whether they directly treat COVID-19 patients – should be entitled to SRAs since they are all at risk of contracting the virus.
Senator Francis Pangilinan also filed a bill seeking to grant SRAs, ADHPs, and four other benefits to public and private health workers.
Although Bayanihan 2 lapsed last June 30, DOH Secretary Francisco Duque III said that the government would continue collating a list of eligible health workers to receive the SRA.
As of writing, Samaniego's video has over 2,200 reactions and 17,000 views.
Rappler has fact-checked multiple posts by Samaniego:
– Tatiana Maligro/Rappler.com
Tatiana Maligro is a Rappler intern. This fact check was reviewed by a member of Rappler's research team and a senior editor. Learn more about Rappler's internship program here.
Keep us aware of suspicious Facebook pages, groups, accounts, websites, articles, or photos in your network by contacting us at factcheck@rappler.com. Let us battle disinformation one Fact Check at a time.