No reference to the claim that two-thirds of the world's gold is in the Philippines can be found from the said issue, as confirmed by The Wall Street Journal
At a glance
Claim: A November 15, 1985, issue of The Wall Street Journal said that two-thirds of the world's gold was in the Philippines.
Rating: FALSE
The facts: The Wall Street Journal has confirmed that no reference to the claim can be found in the said issue.
Why we fact-checked this: A YouTube video from the channel "Filipino Future" has made the claim. It has 271,085 views, as of writing. The claim is also found in Facebook posts on the pages "Filipino Future" and "PSSAP Underground Media."
Complete details
A YouTube video posted by the channel "Filipino Future" on June 1, 2020, claimed that a November 15, 1985, issue of The Wall Street Journal stated that two-thirds of the world's gold was in the Philippines. This claim was made alongside other allegations about the so-called "Marcos gold."
The video said: "The [Wall] Street Journal in its November 15, 1985 issue wrote that two-thirds of the world's gold is in the Maharlika. One-third is divided among the rest of the countries in the world. Very few Filipinos know this." The word "Maharlika" is used by "Filipino Future" to refer to the Philippines.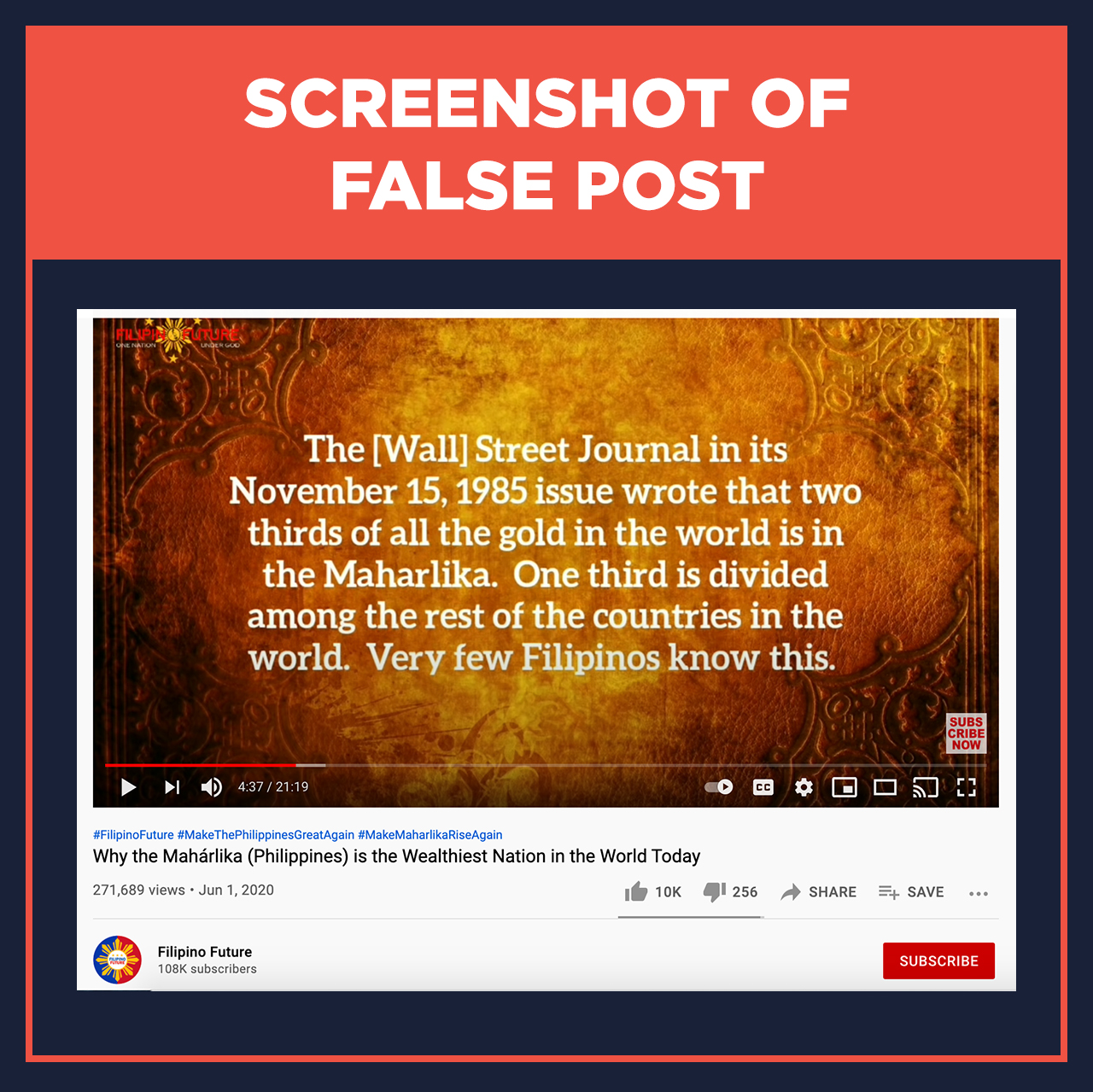 As of writing, the video from the YouTube channel "Filipino Future" has 271,085 views. The claim is also found in posts on the Facebook pages "Filipino Future" and "PSSAP Underground Media."
This claim is false.
The Wall Street Journal confirmed to Rappler in an email that they found no reference to the claim that two-thirds of the world's gold was in the Philippines in their November 15, 1985, issue.
A search using ProQuest didn't yield such article either. ProQuest is an information-content and technology company that provides libraries and researchers with journals, newspapers, reports, and other resources. It can show the titles of all articles containing keywords from all issues of The Wall Street Journal from January 2, 1984 onwards.
A search using sets of keywords – like "gold philippines," "gold maharlika," "gold Philippines thirds" (in reference to the "two-thirds" measure cited in the claim) or similar – along with limiting the search to the source types "newspapers" and "historical newspapers" and the date range up to November 15, 1985, yields no suitable result from The Wall Street Journal.
The video from "Filipino Future" also mentioned the existence of amounts of gold that were more than one million metric tons, a claim that was fact-checked by Rappler before.
The video also mentioned names of purported historical figures in "Marcos gold" claims that Rappler fact-checked before, such as the Tallanos and Jose Antonio Diaz.
Rappler has also fact-checked claims on the so-called "Marcos gold" many times. It has also fact-checked the YouTube channel "Filipino Future" and the Facebook pages "Filipino Future" and "PSSAP Underground Media" multiple times. – Percival Bueser/Rappler.com
This article was written by a volunteer of Rappler's fact-checking mentorship program, a 5-week exclusive and hands-on training on detecting, investigating, and verifying online misinformation and disinformation.
Keep us aware of suspicious Facebook pages, groups, accounts, websites, articles, or photos in your network by contacting us at factcheck@rappler.com. Let us battle disinformation one Fact Check at a time.