Ordinance No. 38 series 2020 is implemented in Pampanga province only
Claim:
An ordinance that punishes minors and their parents for violating quarantine rules took effect on Monday, July 20.
According to Ordinance No. 38 series (S.) 2020, minors who break quarantine rules such as not wearing face masks, loitering in the streets, or violating the curfew will be taken into custody by barangay officials and local police.
The parents of minors will be given penalties that range from P2,000 or 3 months in jail or both for the first offense, to P5,000 or 6 months jail time or both for the third offense.
Multiple pages and accounts shared either text posts or graphics about the ordinance, or screenshots of those posts on or around July 20, according to Facebook's Claim Check dashboard.
A reader also sent Rappler a graphic about the ordinance for verification.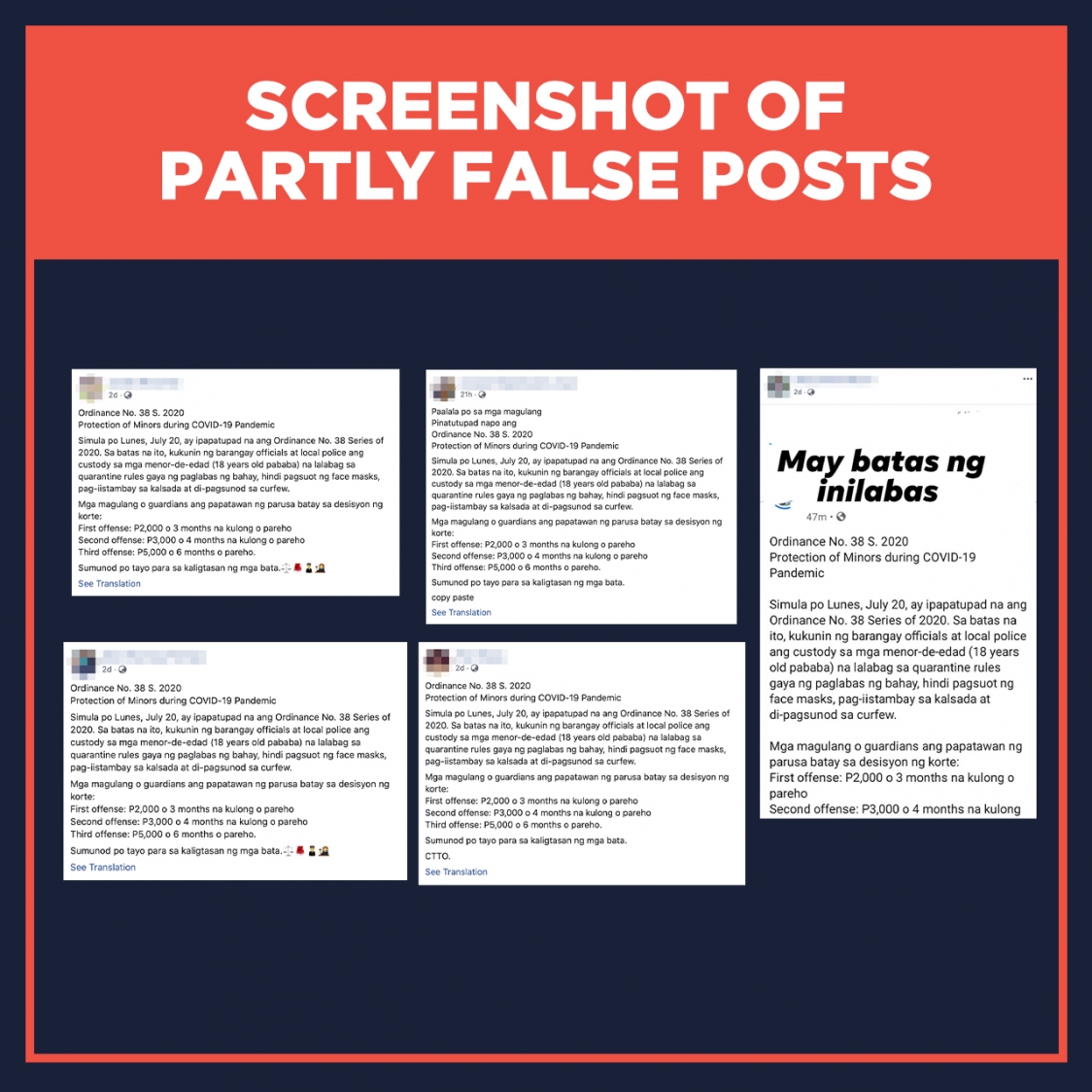 Rating: PARTLY FALSE
The facts:
While Ordinance No. 38 S. 2020 was really issued, it was implemented in Pampanga province only.
It was later renumbered to Ordinance No. 765 S. 2020. A copy of the provincial ordinance was uploaded on the Facebook page of Pampanga Governor Dennis Pineda on Tuesday, July 21.
Pineda announced the ordinance in a video posted on July 18 on the same Facebook page. It was given the short title, "Protection of Minors During COVID-19 Pandemic."
The caption of Pineda's video is similar to the posts being shared on Facebook that carry the claim.
Like the original video, these posts failed to mention that this ordinance covers Pampanga province only. – Rappler.com
Keep us aware of suspicious Facebook pages, groups, accounts, websites, articles, or photos in your network by contacting us at factcheck@rappler.com. Let us battle disinformation one Fact Check at a time.