The US Office of Foreign Assets Control has no record of economic sanctions imposed on the Philippines
At a glance
Claim: A Facebook video claimed that the Philippine economy crashed in 1983 because the United States imposed economic sanctions on the country.
Rating: FALSE
The facts: The US Office of Foreign Assets Control (OFAC) has no record of economic sanctions imposed on the Philippines. Experts say the economy crashed in 1983 due to the Marcos administration's excessive borrowing.
Why we fact-checked this: The video garnered 10,000 views in less than 24 hours.
Complete details
Facebook page "Maharlikan atin toh" posted a video on September 12 claiming that the economy receded in 1983 after the United States imposed economic sanctions on the Philippines.
At the 4:12 mark, a narrator said, "Ito ang dahilan kung bakit noong taong 1983 hanggang 1986 biglang bumagsak ang ekonomiya ng Pilipinas. Bakit? Dahil sa mga alipores ng deep state sa Amerika ay agad na nagpataw ng economic sanctions o parusa sa taripa sa ating bansa."
(This is why the Philippines' economy suddenly crashed in 1983. Why? Because of the deep state's henchmen in America, economic sanctions were immediately imposed on our country.)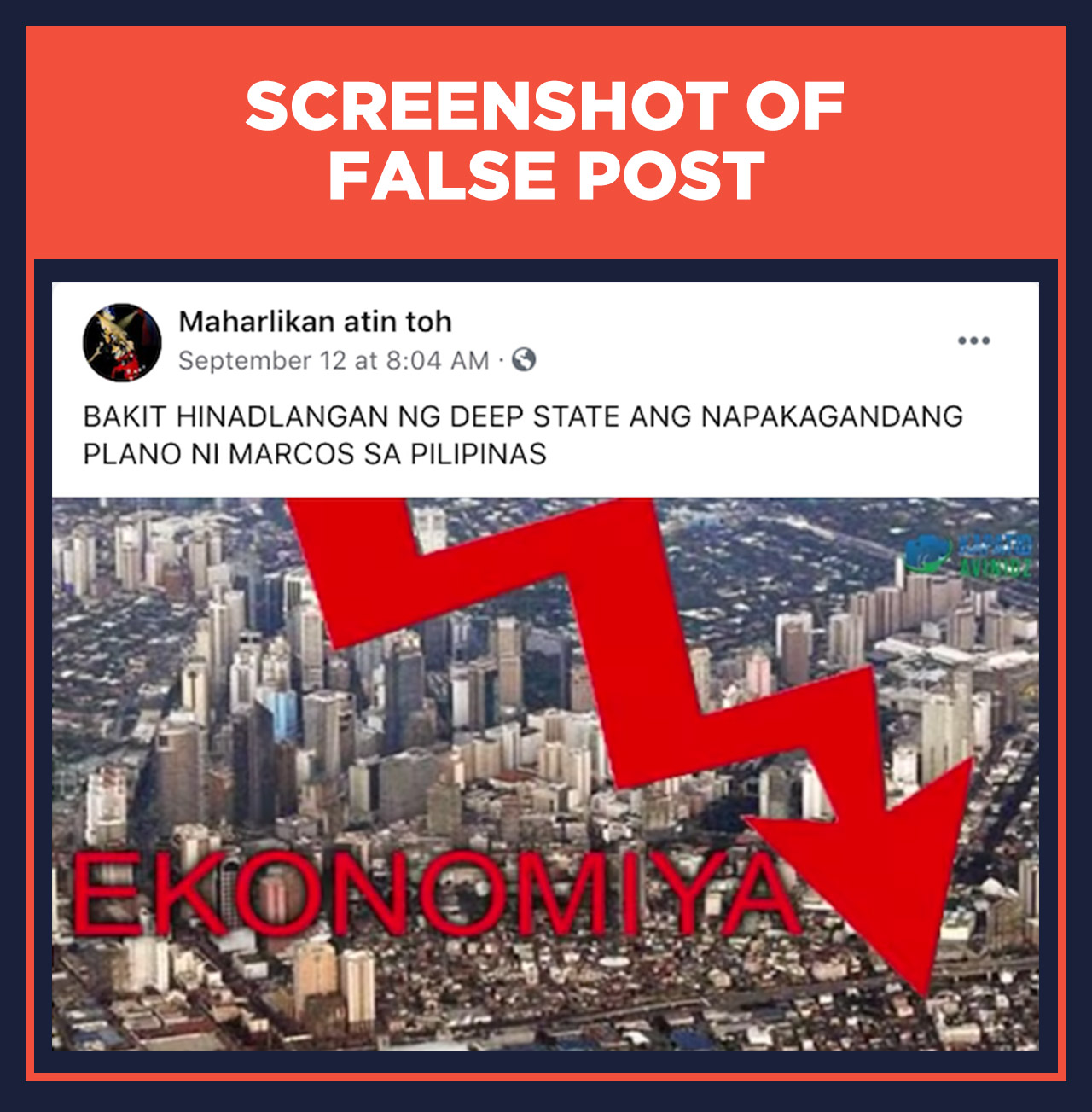 This claim is false.
The OFAC Sanctions List Search has no record of the economic sanctions imposed on the Philippines.
The US imposes economic sanctions on individuals, groups, or countries to counter the development of weapons of mass destruction, foreign terrorist group activities, and other national security threats.
Assets of designated entities that are within US jurisdiction are frozen and can only be retrieved with OFAC's permission. They are also prohibited from conducting business with the US.
As of writing, the US has placed economic sanctions on the Communist Party of the Philippines-New People's Army (CPP-NPA) and the Islamic State of Iraq and Syria (ISIS)-Philippines, both designated Foreign Terrorist Organizations by its State Department.
According to Rosalinda Pineda-Ofreneo's The Philippines Debt and Poverty, the Philippine economy receded during Ferdinand Marcos' term because of excessive borrowing.
Public debt ballooned from $8.2 million in 1977 to $24.4 billion in 1982 to fund infrastructure projects. However, the National Bureau of Economic Research said that projects such as "luxury hotels, cultural centers, and some of the notorious projects of Imelda Marcos such as the villa made entirely of coconut products" were unable to generate enough income to pay off the loans.
During this time, the world was also grappling with higher interest rates after the US Federal Reserve raised their key interest rate to battle inflation. The Philippines was severely affected by rising prices brought by the second oil crisis.
In response, Marcos' economic advisers were forced to issue a three-month debt moratorium, impose import restrictions, and devalue the peso. The three-month postponement on principal payments extended to a year, causing international creditors to lose confidence in the country's ability to pay off its loans.
The video also reiterated a claim already fact-checked by Rappler. (READ: FALSE: Ferdinand Marcos' Letter of Instruction for Bagong Lipunan Currency)
As of writing, the video has 823 reactions and over 12,000 views. – Tatiana Maligro/Rappler.com
Tatiana Maligro is a Rappler intern. This fact check was reviewed by a member of Rappler's research team and a senior editor. Learn more about Rappler's internship program here.
Keep us aware of suspicious Facebook pages, groups, accounts, websites, articles, or photos in your network by contacting us at factcheck@rappler.com. Let us battle disinformation one Fact Check at a time.