The Philippines ranks 129th out of 163 countries in the 2020 Global Peace Index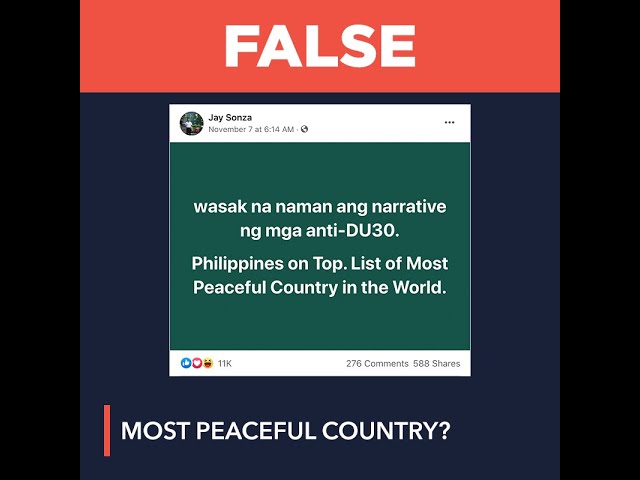 At a glance:
Claim: The Philippines was ranked as the most peaceful country in the world.
Rating: FALSE
The facts: The Global Peace Index for 2020, which measures global peacefulness, gave the Philippines a low rank of 129th out of 163 states and territories.
Why we fact checked this: A Rappler reader sent this claim to the Facebook group Fact-checking in the Philippines for verification. It had around 11,000 reactions, 588 shares, and 276 comments.
Complete details:
On November 7, former broadcaster Jay Sonza claimed in a Facebook post that the Philippines was at the top of a list of the most peaceful countries. His post read: "[W]asak na naman ang narrative ng mga anti-DU30 (The narrative of those against [President Rodrigo] Duterte is ruined). Philippines on Top. List of Most Peaceful Country in the World."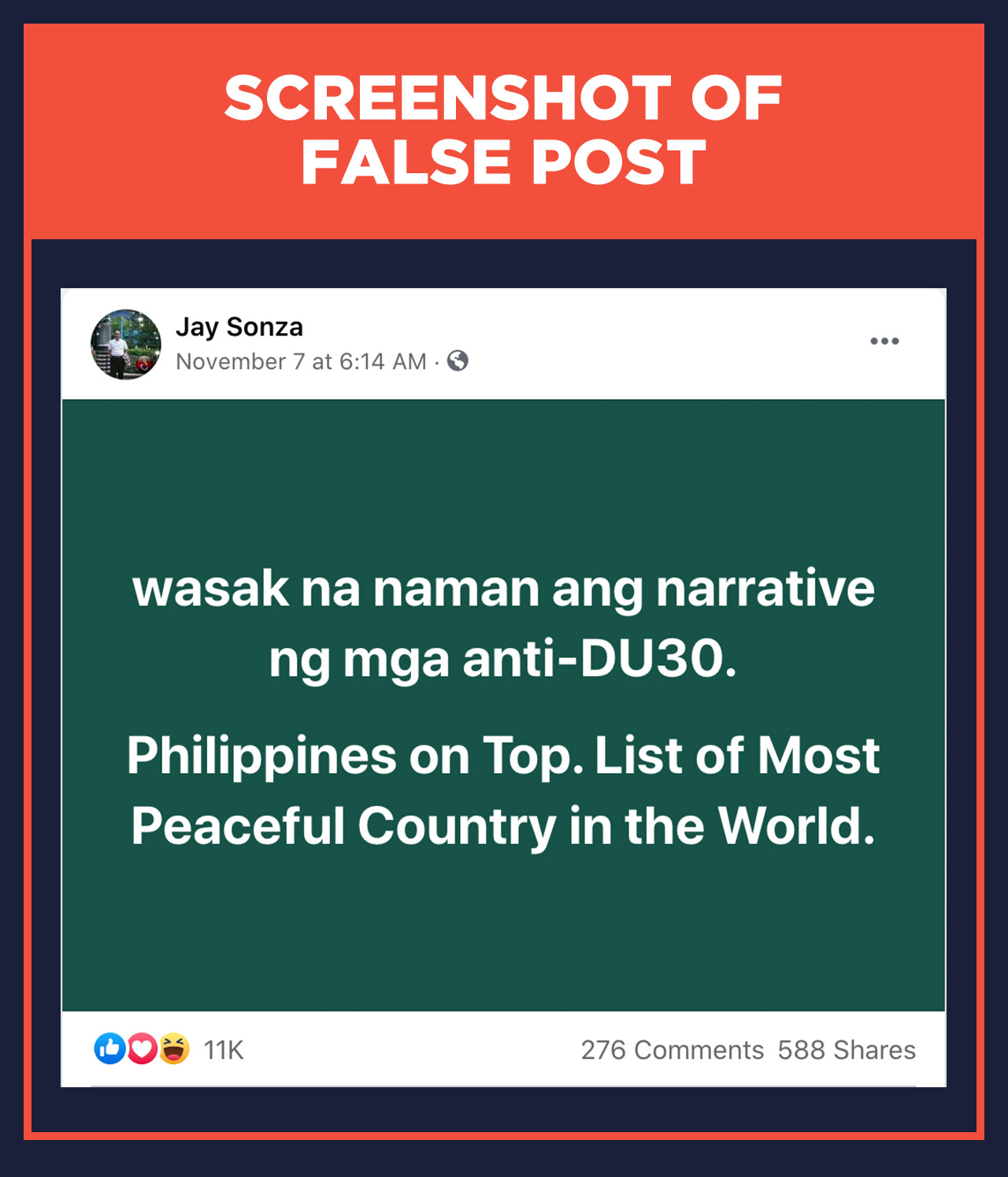 This claim is false. The Institute for Economics and Peace's Global Peace Index (GPI) for 2020, which is considered the leading measure of global peacefulness, did not list the Philippines as the most peaceful country in the world.
Instead, the Philippines obtained a rank of 129 out of the 163 independent states and territories studied by the GPI each year. According to the index, a rank of 129 falls under a "low" state of peace.
The GPI uses 23 qualitative and quantitative indicators to measure the absence of violence or the fear of violence across 3 domains: safety and security, ongoing conflict, and militarization.
Under the Duterte administration, the Philippines ranked 138th, 137th, and 134th in 2017, 2018, and 2019, respectively. Though the Philippines' GPI ranking slightly improved from 2017, it is consistently classified as having a "low" state of peace.
Sonza may have been referring to the Global Law and Order report for 2020 released on October 27, a few days before the claim was made. The Philippines received an index score of 84 out of a possible 100.
Though the Philippines ranked in the upper half, tied with Australia, New Zealand, Poland, and Serbia in the 37th to 41st places, there were still other countries at the top of the list. Moreover, this study focused on people's "personal security and their personal experiences with crime and law enforcement," not peacefulness.
Rappler had debunked other posts by Sonza in the past. In July 2019, a false claim from his account said drug overdose is the leading cause of death in Iceland. He also posted an altered photo of an ABS-CBN van supposedly tipping over while covering the situation of the dolomite in Manila Bay during Typhoon Ulysses (Vamco). – with reports from Margarita Gonzalez and Pauline Macaraeg/Rappler.com
Keep us aware of suspicious Facebook pages, groups, accounts, websites, articles, or photos in your network by contacting us at factcheck@rappler.com. Let us battle disinformation one Fact Check at a time.