The photo was taken in Japan, not in the Philippines
At a glance
Claim: A photo showed what was supposed to be a business district with a bullet train located in the Philippines, supposedly constructed during President Rodrigo Duterte's term.
Rating: FALSE
The facts: The photo was taken in Tokyo, Japan.
Why we fact-checked this: As of writing, the claim has 2,300 reactions, 375 comments, and 420 shares.
Complete details
In a post, Facebook page RDB TV shared what was supposed to be a photo of a Philippine business district with a bullet train.
The page implied that the establishments and the bullet train seen in the photo were constructed under President Rodrigo Duterte's term. The photo was captioned, "Yan anh (sic) resulta sa palamura na Presidente!!! CTTO…emerging Philippines (That's what a foulmouthed President delivers! Credit to the owner… emerging Philippines)."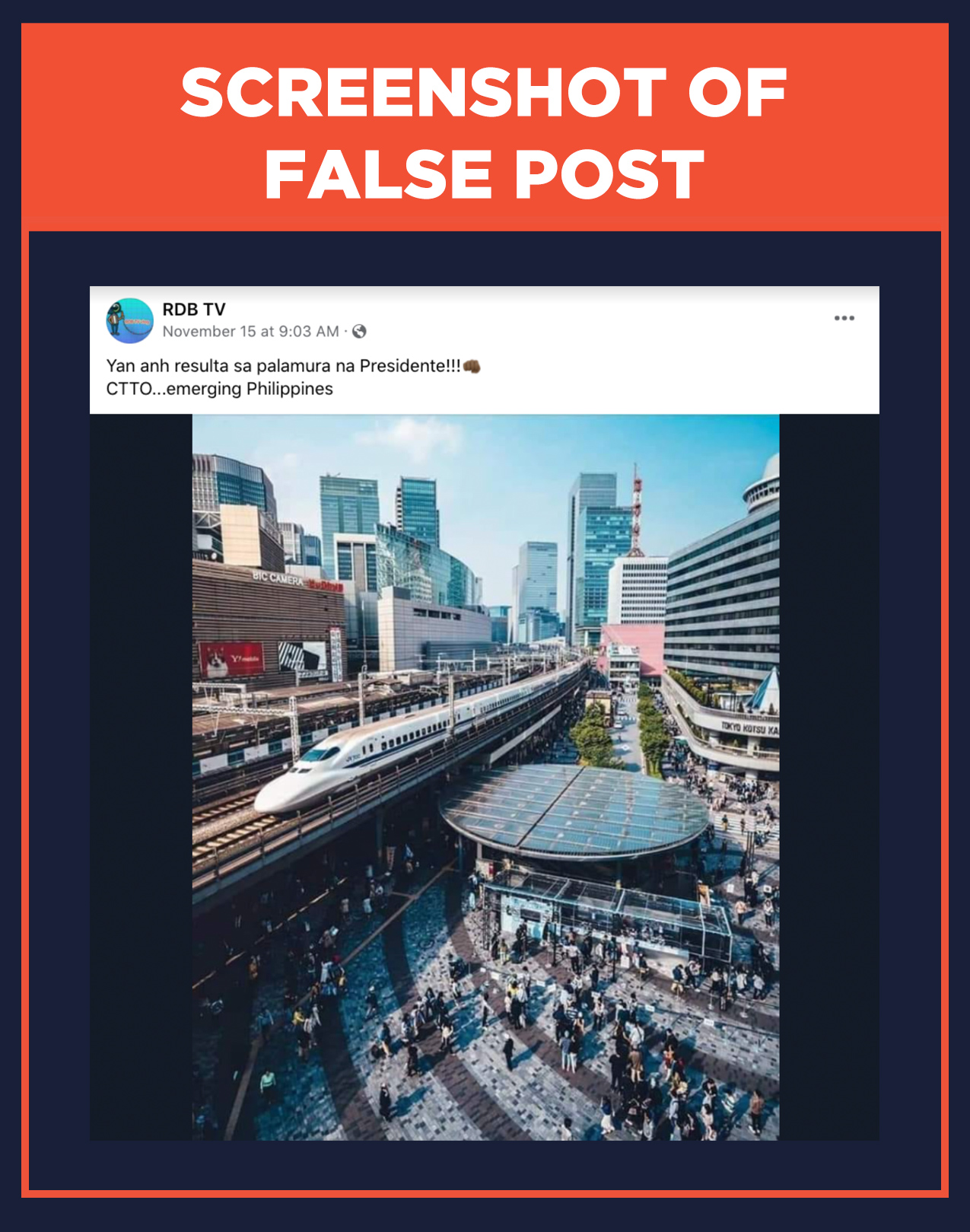 As of writing, the post has accumulated over 2,300 reactions, 378 comments, and 430 shares.
This claim is false.
The photo was taken at the Yūrakuchō business district in Chiyoda, Tokyo, Japan.
Google Maps show that the photo was taken near the Tokyo Kotsu Kaikan mall center . The exterior of the building on the middle right corroborated with Tokyo Kotsu Kaikan's official photo released by Go Tokyo, a Japan-based travel guide website run by the Tokyo Convention & Visitor Bureau.
The bullet train in the photo is part of Tokyo Metro Yurakacho Line, a Japanese subway system owned and run by the Tokyo Metro.
Upon a quick reverse image search, it was also discovered that the photo was originally posted on Twitter in 2019 by user YULILY (@Yullily_K), a photographer based in Japan.
As of 2021, there were only four operational rail transportation lines in the Philippines: the Philippine National Railway (PNR) Metro Commuter Line, the PNR Bicol Line, the Manila Light Rail Transit System (LRT), and the Manila Metro Rail Transit System (MRT). None of these subway lines use bullet trains.
In 2010, San Miguel Corporation proposed to build a bullet train system that would connect Laoag City in the northern part of Luzon to the southern parts of the island in the Bicol Region. The project was put on hold during the same year. – Hyacinth Estrada/Rappler.com
Hyacinth Estrada is a graduate of Rappler's fact-checking mentorship program. This fact check was reviewed by a member of Rappler's research team and a senior editor. Learn more about Rappler's fact-checking mentorship program here.
Keep us aware of suspicious Facebook pages, groups, accounts, websites, articles, or photos in your network by contacting us at factcheck@rappler.com. Let us battle disinformation one Fact Check at a time.