There have been no official reports and statements indicating that any sort of license that Tulfo owns will be removed
At a glance
Claim: TV5 broadcaster Raffy Tulfo's license is to be revoked.
Rating: FALSE
The facts: No official report has been released regarding the revocation of any license belonging to Tulfo. There is no regulatory board granting licenses to journalists in the Philippines.
Why we fact-checked this: This video was reported numerous times by Facebook users as potentially misleading, based on Facebook's fact-checking tool. As of writing, it has garnered over 1.1 million views, 28,000 reactions, and 10,000 comments.
Complete details:
Facebook page "Duterte News Info" posted a video entitled "Matapos Traydorin si Pres Duterte, Raffy Tulfo harapang tinuldukan Mayor Isko" (After betraying President Duterte, Raffy Tulfo ended upfront; Mayor Isko).
The video asserts that the license of TV5 broadcaster Raffy Tulfo has been revoked. The video does not specify what kind of license it was.
As of writing, the video has garnered over 1.1 million views, 28,000 reactions, and 10,000 comments. The same video has been posted on the YouTube channel "Banat News TV," with over 500,000 views. The channel has already been fact-checked previously by Rappler.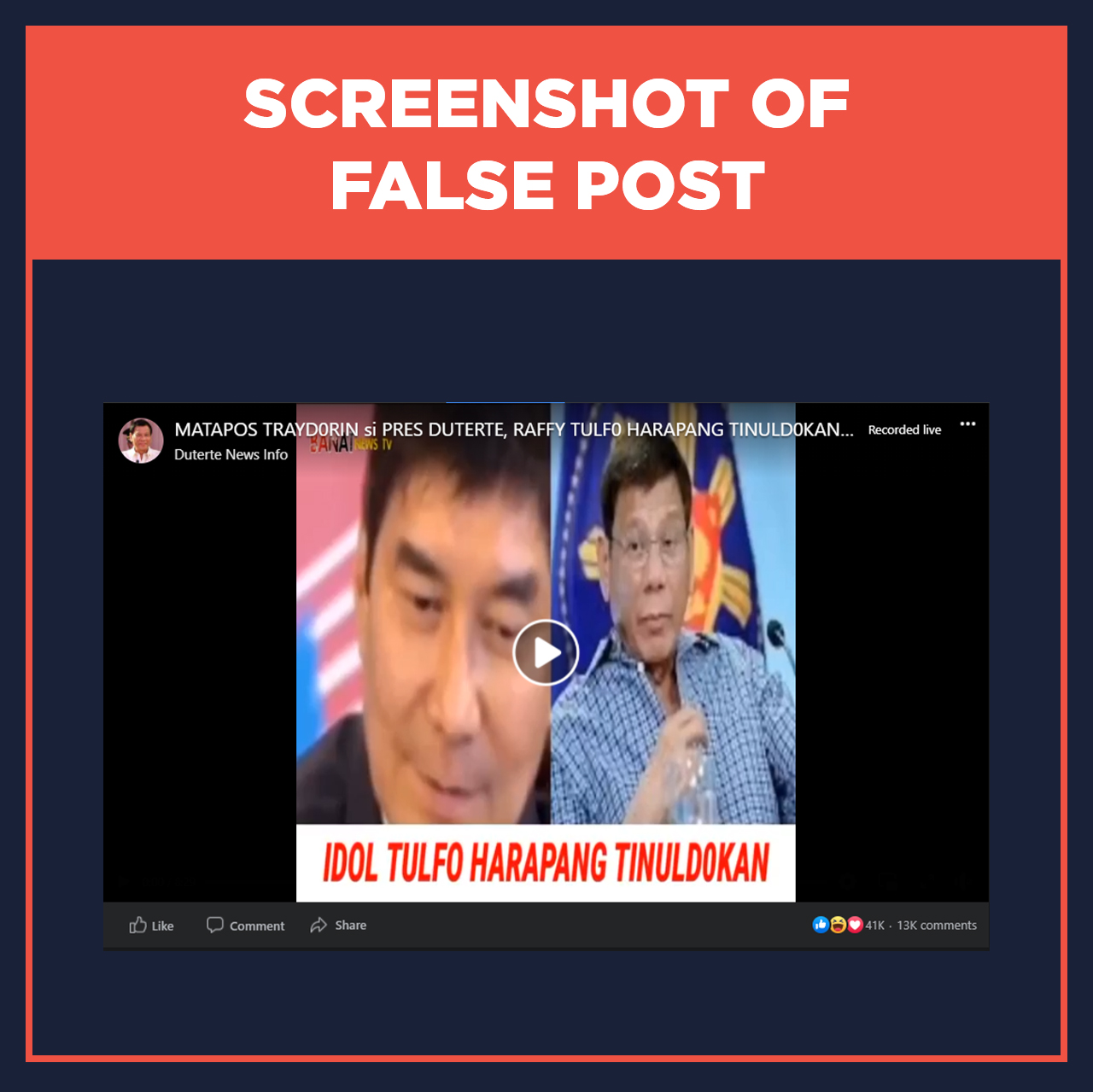 This claim is false.
There have been no official reports and statements indicating that any sort of license that Tulfo owns will be removed.
Moreover, the Philippines does not have any regulating body that grants professional licenses for journalists and media broadcasters. Only broadcast networks such as TV5 and ABS-CBN need to obtain a license to operate. With TV5's franchise renewal being granted in December 2019, it would be 25 more years before its license expires.
In 2013, a Magna Carta for Journalists was proposed in the Senate. The bill calls for an examination to accredit journalists in the Philippines, which was opposed by various media groups. Currently, the bill is archived and only passed the first reading.
Tulfo has been subject to online criticism and was accused of being a traitor to President Rodrigo Duterte after allegedly saying he would grant the franchise renewal of media giant ABS-CBN should he be elected into a national position in the coming 2022 national elections. His Facebook page, "Raffy Tulfo in Action," lost 150,000 followers in a span of 5 days.
In a video on his YouTube channel, Tulfo clarified that his statements on franchise renewal were merely hypothetical, and reassured viewers of his loyalty and support to Duterte. – Dylan Salcedo/Rappler.com
Keep us aware of suspicious Facebook pages, groups, accounts, websites, articles, or photos in your network by contacting us at factcheck@rappler.com. Let us battle disinformation one Fact Check at a time