The latest bid to revert Ninoy Aquino International Airport's name to Manila International Airport was junked by the Supreme Court on September 8, 2020
At a glance:
Claim: The bid to rename the Ninoy Aquino International Airport (NAIA) to Manila International Airport (MIA) has been confirmed. 
Rating: FALSE
The facts: The Supreme Court junked the latest petition to rename NAIA in an en banc session on September 8, 2020.
Why we fact-checked this: The video containing this claim has about 455,900 views, 37,000 reactions, 6,400 comments, and 6,400 shares on Facebook as of writing. An identical YouTube video has over 147,890 views.
Complete details:
Facebook page "Showbiz Fanaticz" posted a video on Saturday, February 13, that falsely said: "BREAKING NEWS: Rename ng NAIA to ng MANILA INTERNATIONAL AIRPORT APRUBADO NA NOYNOY AQUINO NAIYAK!!" (The renaming of NAIA to Manila International Airport already approved; Noynoy Aquino cried!)
As of writing, the video has about 455,900 views, 37,000 reactions, 6,400 comments, and 6,400 shares on Facebook. An identical video uploaded on YouTube by channel "Showbiz Fanaticz" has over 147,890 views to date.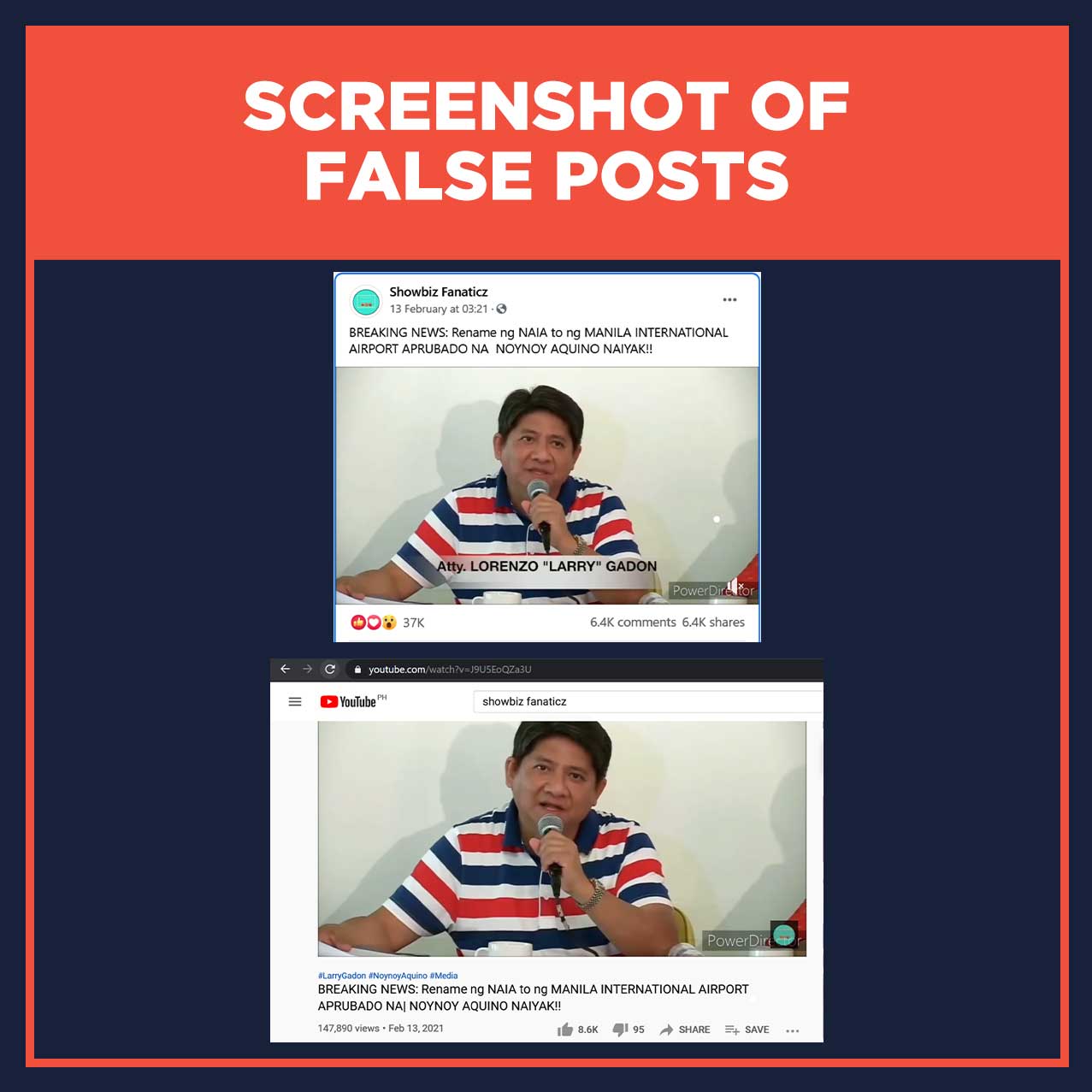 The claim that the renaming of the NAIA to MIA has been confirmed is false. 
As of Friday, February 18, there were no recent news reports that confirmed the renaming of NAIA. The details presented in the false video also do not support the claim.
The Supreme Court on September 8, 2020, already junked a petition by lawyer Larry Gadon to revert NAIA's name to MIA. Gadon filed the petition on August 27 that year. This was the latest public bid to rename the airport as of February 2021.
Prior to this, Gadon had also filed a petition on May 8, 2018, to change NAIA's name back to MIA. It was directly addressed to President Rodrigo Duterte, with copies furnished to the Senate and the House of Representatives. There was no action taken then.
The video by "Showbiz Fanaticz" also discussed a change.org petition to rename NAIA to MIA, started by a certain Roy Domingo on October 27, 2016. The video said the petition's target of 150,000 signatures had almost been met as of February 2021. However, the video erred in saying that this confirmed the renaming of the airport.
From the 1:22 to 1:38 mark, the video falsely said: "Ito ang balitang gumulantang sa mga panatiko ng Liberal Party matapos ang kumpirmadong balita na maaari nang tanggalin ang pangalang Ninoy Aquino International Airport bilang pambansang paliparan at ibalik sa Manila International Airport."
(This is the news that shocked Liberal Party fanatics after it had been confirmed that the name Ninoy Aquino International Airport can now be removed as the national airport and revert it to the Manila International Airport.)
In the Philippine setting, achieving a target number of signatures in an online petition such as those submitted to change.org does not guarantee that it would be implemented as a policy or enacted as a law. The formal process for citizens to directly enact legislation by means of placing signatures can be found in Republic Act No. 6735 or "The Initiative and Referendum Act." (READ: What you need to know about people's initiative)
The petitions by Gadon and Domingo aimed to nullify Republic Act No. 6639, the law that changed the name of the airport from MIA to NAIA. It was enacted on November 27, 1987.
Vera Files and Agence France-Presse have also debunked this claim, but the videos remain on the YouTube and Facebook accounts of "Showbiz Fanaticz.'" The posts continue to accumulate engagements as of Friday, February 19.
Rappler has fact-checked posts and videos by "Showbiz Fanaticz" multiple times in the past. – Percival Bueser/Rappler.com
This article was written by a volunteer of Rappler's fact-checking mentorship program, a 5-week exclusive and hands-on training on detecting, investigating, and verifying online misinformation and disinformation.
Keep us aware of suspicious Facebook pages, groups, accounts, websites, articles, or photos in your network by contacting us at factcheck@rappler.com. Let us battle disinformation one fact check at a time.
More fact checks on YouTube channel "Showbiz Fanaticz":