(UPDATED) The photos of PNP chief Debold Sinas that circulated in December 2020 were actually taken in January 2020, before COVID-19-related lockdowns were imposed
At a glance:
Claim: Philippine National Police chief General Debold Sinas attended a party in December 2020.
Rating: FALSE
The facts: The photos of Sinas were from a video taken in January 2020, before the World Health Organization declared a pandemic and before precautionary measures against COVID-19 were put in place.
Why we fact-checked this: This was posted on the Facebook group "Fact-Checking in the Philippines" for verification. It has over 9,000 reactions, 1,300 comments, and 16,000 shares as of posting.
Complete details:
Photos of Philippine National Police (PNP) chief General Debold Sinas at a party circulated online around Christmas 2020, implying that he did not follow COVID-19 safety protocols during the holidays. In the photos, the floor had the PRO2 – or Police Regional Office 2 – seal.
The photos were accompanied by a caption that said, "Sabi mo bawal ang party!" (You said parties weren't allowed!) Sinas had said in November that the PNP would have no Christmas parties due to the pandemic. On December 15, he warned the public that partygoers during the holiday season would be arrested.
This claim was posted in the "Fact-Checking in the Philippines" Facebook group for verification. A post with the photos by user Treb Rotnac on December 26, 2020, has over 9,000 reactions, 1,300 comments, and 16,000 shares as of posting.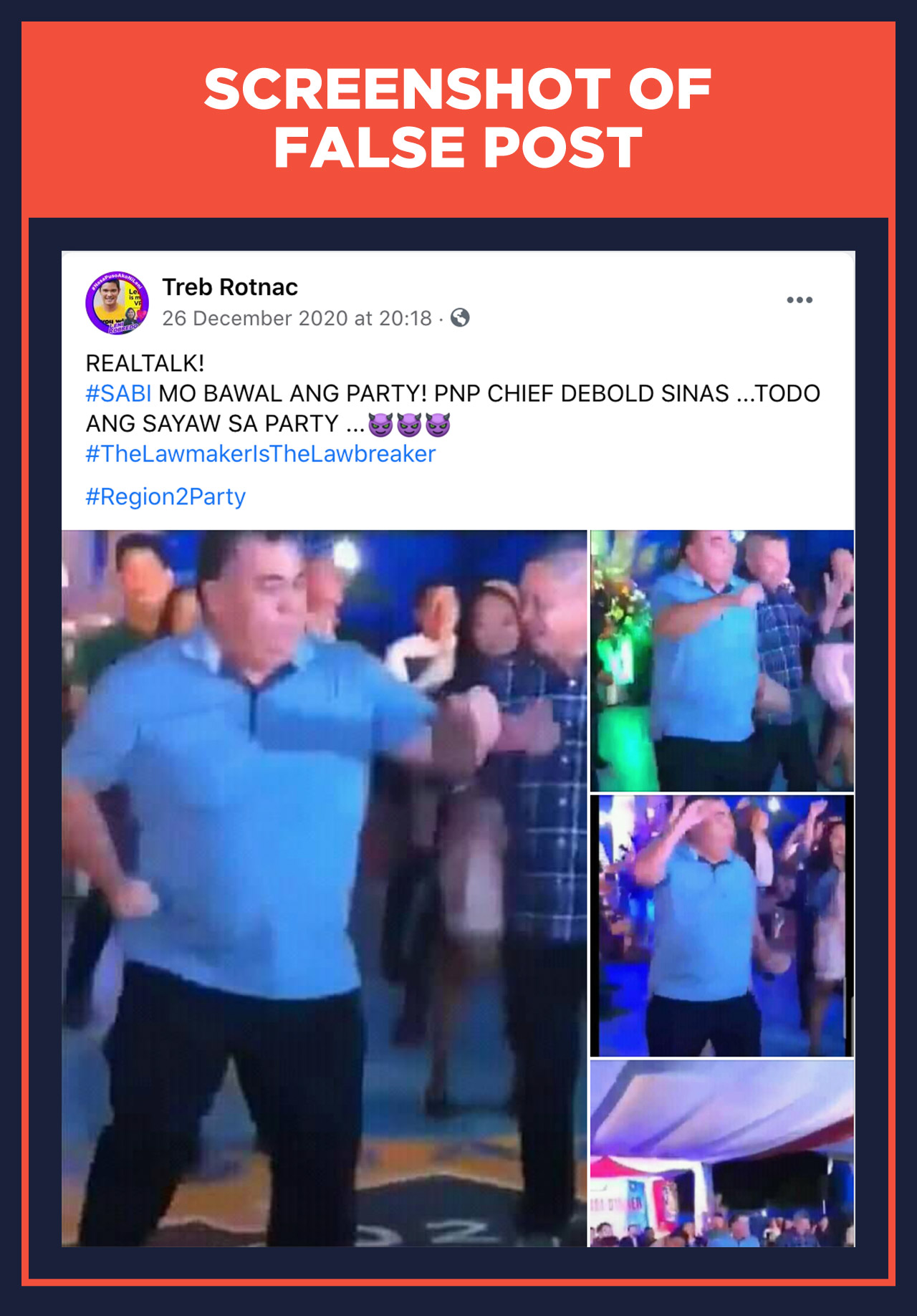 This is false. The photos of Sinas that circulated online were taken in January 2020, before the World Health Organization (WHO) declared a pandemic.
Sinas addressed the rumor at a press conference on December 28, 2020. He called the photos "fake news" and said that they were taken at a retirement party of a classmate in January 2020.
The WHO called the coronavirus outbreak a "public health emergency of international concern" on January 30, 2020, and then later labeled it a pandemic on March 11, 2020. The island of Luzon was placed under lockdown on March 17, 2020.
In a phone call with Rappler on Wednesday, January 6, PRO2 said that the party was held for the retirement of Brigadier General John Cornelius Jambora, who was the regional office's deputy director for administration.
According to a release published on February 3, 2020, on the PRO2 official website, Jambora retired on January 31, 2020, after serving the PNP for almost 37 years. The release noted the presence of Sinas at Jambora's retirement ceremony. Sinas was the National Capital Region Police Office (NCRPO) chief at the time.
Sinas sparked controversy in May 2020 when photos of his birthday celebration with dozens of NCRPO cops circulated on social media. Sinas was still NCRPO chief at this time and Metro Manila was under a lockdown.
Facebook user Treb Rotnac told Rappler over Facebook Messenger that many others had posted the images on social media but did not provide proof that the photos were taken in December 2020. – Vernise Tantuco/Rappler.com
Keep us aware of suspicious Facebook pages, groups, accounts, websites, articles, or photos in your network by contacting us at factcheck@rappler.com. Let us battle disinformation one Fact Check at a time.