The Vaccine Adverse Event Reporting System or VAERS received reports of 7,899 deaths after vaccination as of September 20, but it does not necessarily mean that the vaccines caused the deaths
At a glance
Claim: A graph from Vaccine Adverse Event Reporting System (VAERS) published on July 30 shows that 12,366 people died after receiving COVID-19 jabs. 
Rating: FALSE
The facts: The graph came from a private organization that is not affiliated with VAERS. According to the United States Centers for Disease Control and Prevention (CDC), VAERS had received 7,899 reports of death among COVID-19 vaccinated people as of September 20. These reports from VAERS alone cannot be used to prove that the vaccines caused the deaths.
Why we fact-checked this: The Facebook video containing this claim has over 23,000 views, 3,800 reactions, and 2,300 comments, as of writing. 
Complete details
In a one-hour live broadcast on August 23, Facebook user "Lynn Agno" made dubious claims about the pandemic, including the COVID-19 vaccinations. She claimed that 12,366 people died upon getting the COVID-19 vaccine in the U.S and that most of them were Pfizer-vaccinated and males.
Agno showed a screenshot of the results of mortality after being vaccinated against COVID-19. The graph shows that 8,508 people died from getting the Pfizer vaccine; 3,167 from Moderna; 657 from Janssen; and 34 unknown results. Agno said 6,247 reported deaths were males, 5,561 were females, and 558 were unknown.
The video containing the claims has over 23,000 views, 3,800 reactions, and 2,300 comments, as of writing.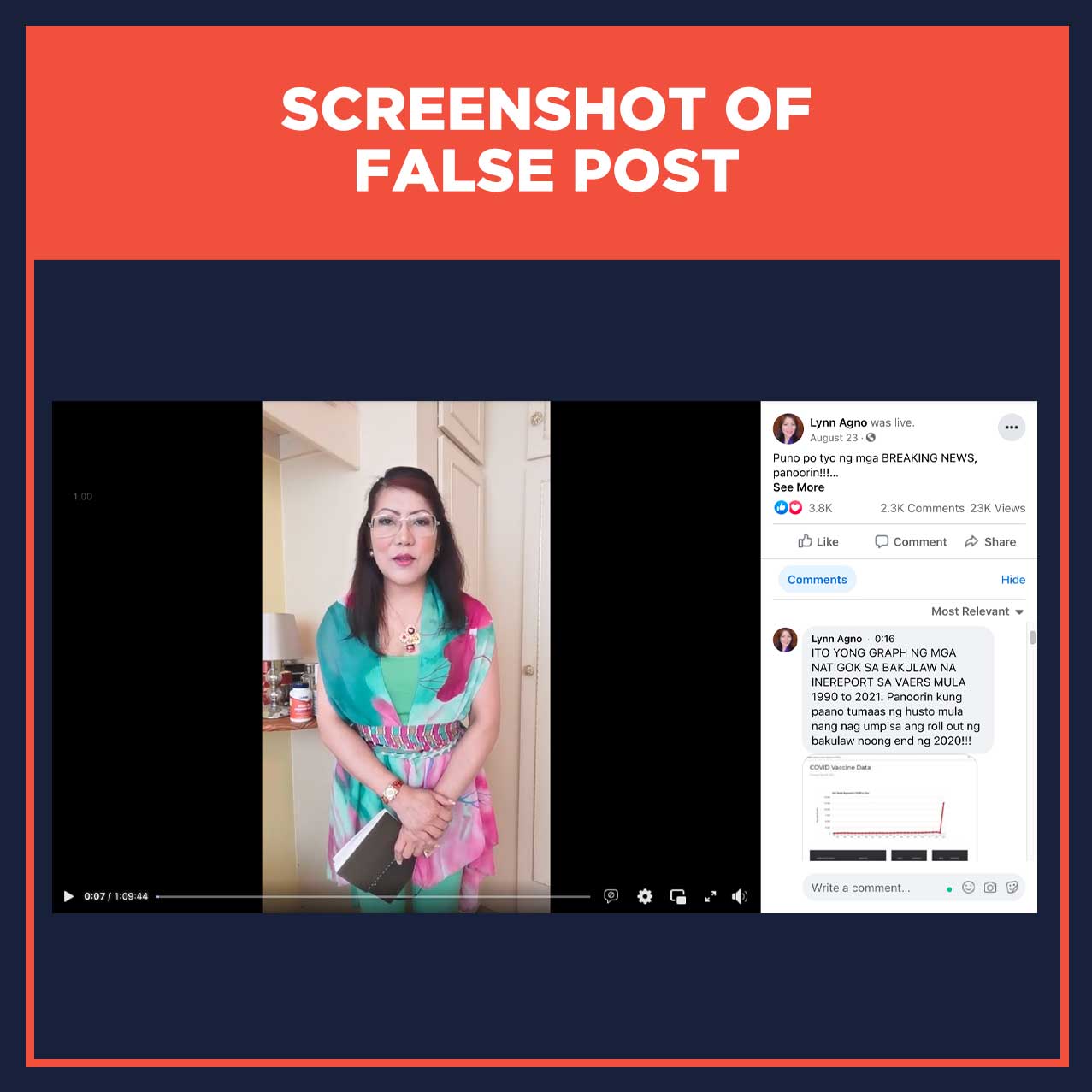 These claims are false.
The CDC says that VAERS had received reports of 7,899 COVID-19 deaths following vaccination as of September 20. This figure is lower than the data shown by Agno.
Moreover, both VAERS and the CDC do not necessarily conclude that the COVID-19 vaccines caused the deaths. The CDC says that "a review of available clinical information, including death certificates, autopsy, and medical records, has not established a causal link to COVID-19 vaccines."
Agno said the graph she showed came from openVAERS, a private organization that is not officially affiliated with VAERS nor the CDC. According to the website, it attempts to provide accurate numbers to the public as the data from VAERS can be misunderstood by users. Its disclaimer also says, "reports are not proof of causality."
VAERS, co-managed by CDC and US Food and Drug Administration, was established in 1990 and serves as America's early warning system where anyone can report effects after getting a vaccine. It does not determine whether a vaccine causes health problems, but it is known as a "safety signal," designed to detect patterns from reported unusual or adverse effects.
VAERS also relies only on individual and voluntary reports, so they may be incomplete, inaccurate, biased, or unverified. It only publicizes initial report data to the system since the government uses the updated version from follow-ups containing medical records for analysis.
There are also no official reports or statements from America's healthcare forces that say the reported deaths were proven to have been caused by the COVID-19 vaccines.
From December 14, 2020, to September 20, 2021, about 386 million doses of COVID-19 vaccines were administered in the US. The CDC says vaccinated people may experience adverse effects, such as chills, nausea, fever, swelling, pain, and redness at the injection site, while serious health problems are rare. 
Rappler has written several fact-checks about similar claims from the same Facebook user, and her two other pages: Lynn Channel, and Lynn Channel Warriors of Truth. – Dianne Sampang/Rappler.com