The preprint of the study cited in this claim is being investigated and has been removed from the website that published it
At a glance:
Claim: Vitamin D treatment for COVID-19 patients can reduce deaths by up to 60%. 
Rating: FALSE
The facts: The study cited as a source for this claim has not been peer reviewed. It has also been removed from the preprint website that published it due to investigations into its research methods and results. No clinical trials have conclusively recommended Vitamin D as treatment for COVID-19. 
Why we fact-checked this: The page "Lynn Channel" on Facebook posted a video with this claim, and the video has garnered over 2,500 reactions, 1,600 comments, and 30,000 views as of writing. 
Complete details:
A video on Facebook page "Lynn Channel" claims that Vitamin D treatment on COVID-19 patients can reduce deaths by up to 60%.
Lynn Agno, the United Kingdom-based owner of the Facebook page, quoted British politician David Davis in her claim. In a series of tweets on February 14, Davis cited an inconclusive study on Vitamin D as a treatment for COVID-19 patients. The study, titled "Calcifediol Treatment and COVID-19 Related Outcomes," was published on the "Preprints with The Lancet" website on January 22. The site is an online archive by medical journal The Lancet where pre-printed studies, or studies that have not been peer-reviewed, may be submitted for viewing.
Agno cites the same study in her video to support her claim.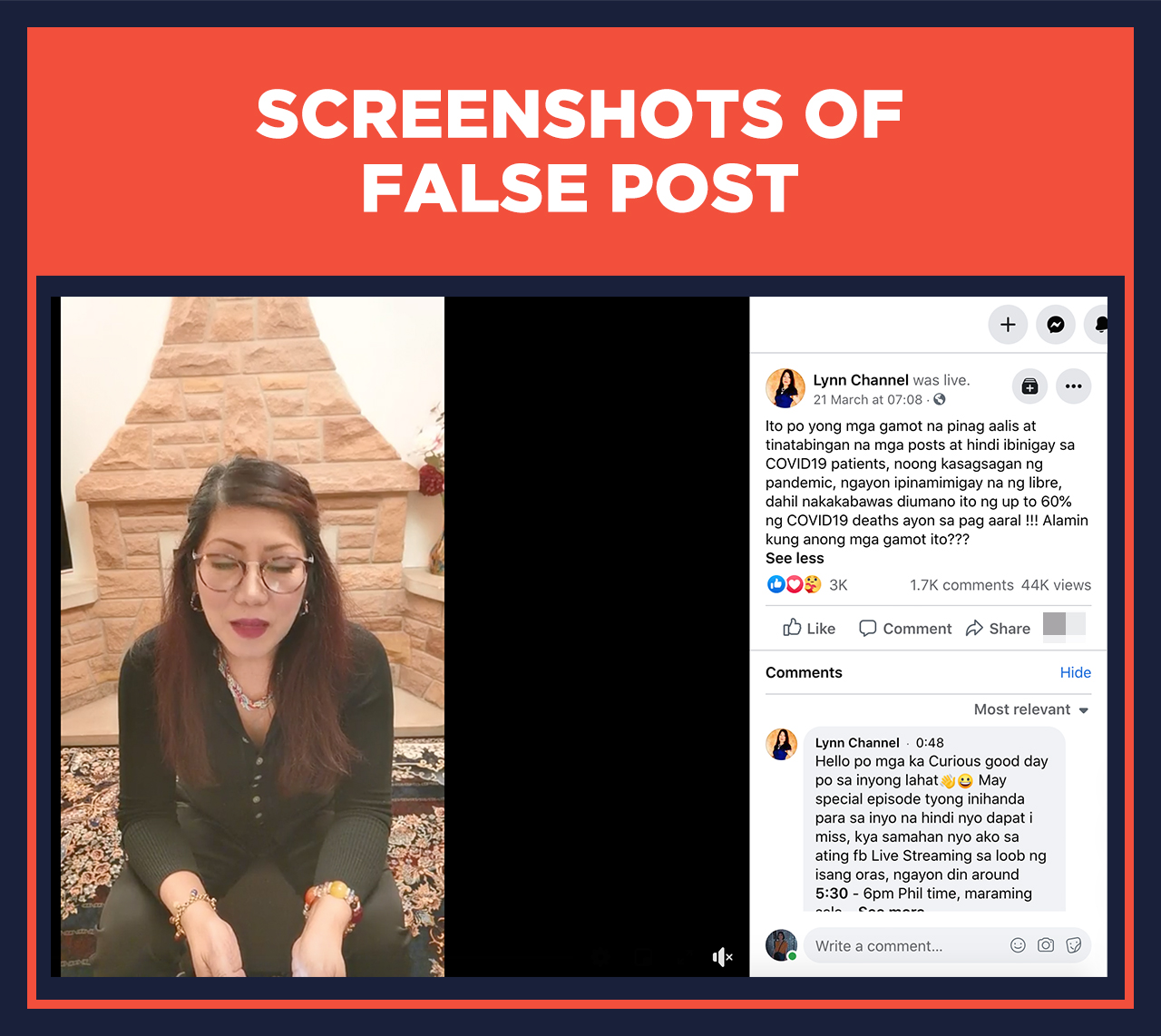 The video was published on March 21 and has garnered over 2,500 reactions, 1,600 comments, and 30,000 views as of writing. Agno also reiterated the claim in a video posted on March 23, which currently has over 3,500 reactions, 2,200 comments, and 43,000 views. 
This claim is false.
As Vitamin D has been found to boost immune systems and prevent respiratory tract infections, multiple studies have been conducted to determine whether Vitamin D may be effective for treatment or prevention of COVID-19, a respiratory disease. So far, no clinical trials have conclusively recommended it. 
The study cited by Agno in her video has since been removed from the "Preprints with the Lancet" website "due to concerns about the description of the research in this paper." The concerns have led them to initiate an investigation into the study, they said.
Health experts have also criticized the study and its researchers, urging caution when interpreting the results. Medscape Medical News cited the opinions of experts from Queen Mary University of London, the University of Glasgow, and Yale School of Medicine who say that the study had many limitations.
Adrian Martineau, the chief investigator of the CORONAVIT trial, – the UK's national clinical study of vitamin D supplementation to reduce risk and/or severity of COVID-19 – also told Medscape Medical News that the study had methodological flaws.
Moreover, "Preprints with the Lancet" also gives the following warning on all their published preprints: "These preprints are early stage research papers that have not been peer-reviewed. The findings should not be used for clinical or public health decision making and should not be presented to a lay audience without highlighting that they are preliminary and have not been peer-reviewed."
Agno did not specify that this study has not been peer-reviewed and removed from the website due to ongoing investigations on its results.
Agno also referenced an article by The New York Post published on October 27, 2020, that cites another study about how 80% of COVID-19 patients who participated in the research had Vitamin D deficiency. However, this study did not find a difference in death rate between patients who had Vitamin D deficiency and those who did not. "No difference was found regarding the composite severity endpoint nor mortality," it stated.
Rappler has fact-checked Agno multiple times before. Read more about claims by Agno that we've debunked:
– Sofia Guanzon/Rappler.com
Sofia Guanzon is a Rappler intern. This fact check was reviewed by a member of Rappler's research team and a senior editor. Learn more about Rappler's internship program here.
Keep us aware of suspicious Facebook pages, groups, accounts, websites, articles, or photos in your network by contacting us at factcheck@rappler.com. Let us battle disinformation one Fact Check at a time.