WHO says it does 'not advocate lockdowns as primary means of control' of the virus, but also does not call for the lifting of all lockdowns across the world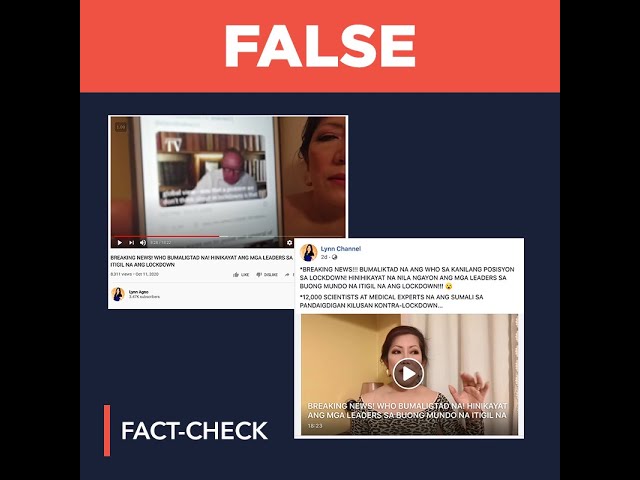 Claim:
The World Health Organization (WHO) reversed its stance on imposing lockdowns to curb the spread of COVID-19. It is now urging world leaders to lift all quarantine restrictions across all countries.
YouTube channel Lynn Agno made this claim in a video uploaded on Sunday, October 11. The same video was also uploaded to Facebook by the Facebook page Lynn Channel.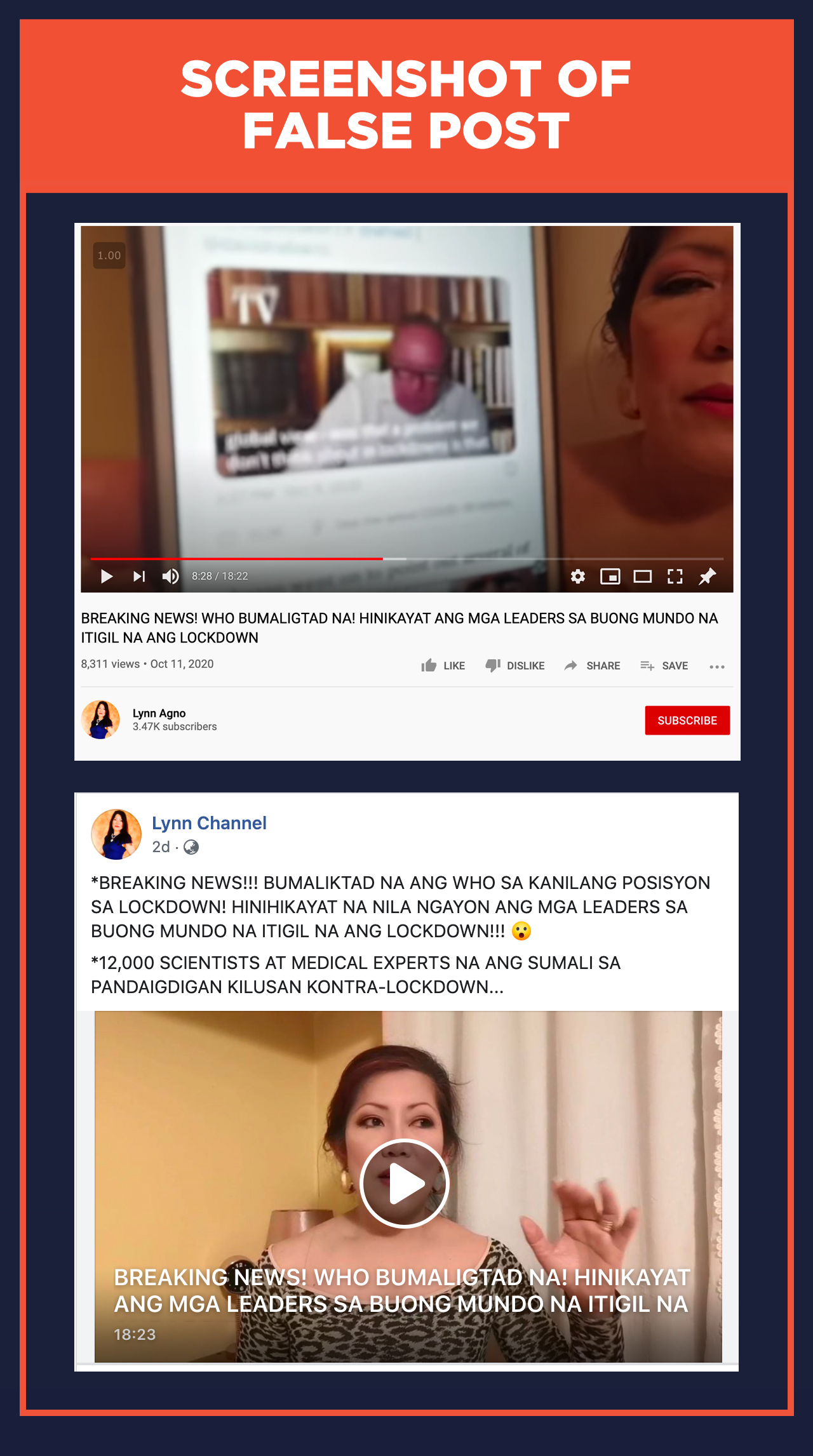 Facebook's monitoring tool flagged the videos for fact checkers to verify after it was reported at least 190 times for containing false information. As of writing, the YouTube video had 8,311 views, while the Facebook video had over 22,000 reactions and 4,900 comments.
Rating: FALSE
The facts:
The video incorrectly interpreted the Washington Examiner's report on Saturday, October 10, which the video cited as its source. WHO did not say that all lockdowns should now be lifted, but instead just reiterated its earlier stance that lockdowns shouldn't be the primary virus control method of countries.
The Washington Examiner report was about the interview with David Nabarro, WHO special envoy on COVID-19, on the British magazine The Spectator.
It quoted Nabarro as saying, "I want to say it again: we in the WHO do not advocate lockdowns as the primary means of control of this virus. The only time we believe a lockdown is justified is to buy you time to reorganize, regroup, rebalance your resources, protect your health workers who are exhausted, but by and large, we'd rather not do it."
In reaction to this, Lynn Agno's video incorrectly said: "Ngayon mag-u-urge na stop na, world leaders, sinabi niya, na tigilan na 'yung lockdown dahil hindi 'yun daw ang best solution? My god, ewan ko anong nangyayari dito sa mundo."
(Now they urge world leaders to stop the lockdowns because it's not the best solution? My god, I don't know what's happening in the world.)
In the interview, there was no mention of WHO calling for the lifting of all lockdowns. What Nabarro suggested was to "develop better systems for doing it [controlling the virus]. Work together and learn from each other, but remember lockdowns just have one consequence that you must never, ever belittle – and that is making poor people an awful lot poorer."
It was also not the first time WHO raised concerns about the negative impact of lockdowns on the economy. In the COVID-19 strategy update released in April, the agency said that while lockdowns can slow down virus transmission, they also "can have a profound negative impact on individuals, communities, and societies by bringing social and economic life to a near stop."
The agency also said in its interim guidance on restriction measures in April that until there are specific and effective pharmaceutical interventions such as therapies and vaccines, countries "may need to continue to loosen or reinstate measures throughout the pandemic" – as long as the adjustments are made based on scientific evidence and real-world factors such as economy, security, human rights, etc.
Rappler previously debunked another false video by Facebook page Lynn Channel in the past, which said that Tanzania kicked out WHO after goat and papaya samples sent to the agency tested positive for COVID-19. – Pauline Macaraeg/Rappler.com
Keep us aware of suspicious Facebook pages, groups, accounts, websites, articles, or photos in your network by contacting us at factcheck@rappler.com. Let us battle disinformation one Fact Check at a time.