Data from the World Bank show that its lending interest rate to the Philippines is not necessarily 0%
At a glance
Claim: The World Bank's interest rate when loaning to the Philippines is 0%.
Rating: FALSE
The facts: Data from the World Bank show that its lending interest rate to the Philippines is not necessarily 0%.
Why we fact-checked this: The claim was found in a YouTube video by "KAPATID AVINIDZ" uploaded on July 2, 2021, with 4,980 views as of writing. It can also be found in a video by Facebook page "Kapatid Avinidz" on July 2, and a post by Facebook page "Filipino Future" on October 15, 2020.
Complete details
On July 2, a video that was uploaded on the YouTube channel "KAPATID AVINIDZ" claimed that the interest rate the Philippines got when borrowing from the World Bank was 0%. The video was promoting the so-called "Marcos gold," a rumor that had been fact-checked in the past. As of writing, the video has 4,980 views.
At the 6:44 mark of the video, it said: "Kaya nga nabanggit ni Senator Imee Marcos na huwag matakot sa pag-utang sa World Bank dahil bukod sa zero [percent] interest tayo, alam kasi ni Imee na may mga collateral gold assets tayo sa World Bank."
(That's why Senator Imee Marcos had said that we should not hesitate from borrowing from the World Bank because, aside from us getting a zero [percent] interest, Imee knows that we have collateral gold assets with the World Bank.)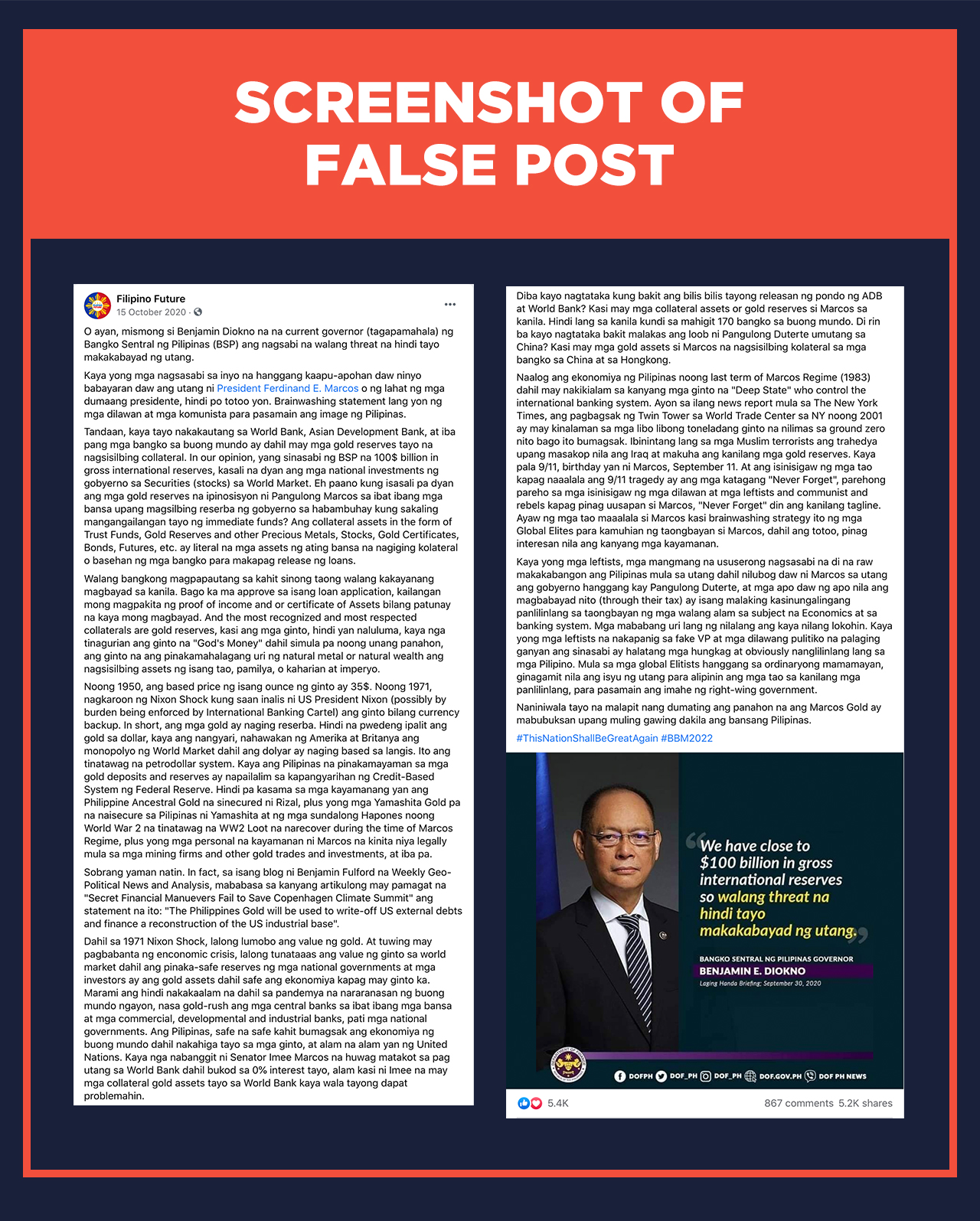 The Facebook page "Kapatid Avinidz" posted the same video. As of writing, the post has 648 reactions, 80 comments, and 559 shares, and about 5,300 views. The Facebook page "Filipino Future" also posted the same claim on October 15, 2020. Its post has about 5,400 reactions, 866 comments, and 5,200 shares as of writing. 
The claim is false.
Data from the World Bank website show that, ever since the Philippines' first World Bank loan issued on November 23, 1957, it has taken out loans whose interest rates are above 0%.
Also, a zero in the "Interest Rate" column of the World Bank data does not necessarily mean that the interest rate for the loan is actually 0%. According to the Data Dictionary for the International Bank for Reconstruction and Development's (IBRD) Statement of Loans, "for loans that could have more than one interest rate (e.g. FSL [fixed-spread loans] or SCL fixed rate loans [FSCL or fixed-rate single currency loan]), the interest rate is shown as '0.'"
Interest rates for the IBRD Flexible Loan – which, according to the World Bank, is the "leading loan product of the World Bank for public sector borrowers of middle-income countries" – are also available on the World Bank website.
For this loan, starting July 1, 2018, the interest rates that each country gets depends on its pricing group. The Philippines belongs to pricing group B, and none of the rates on the World Bank website are at 0%. The reference rates used are LIBOR (London Interbank Offered Rate) and EURIBOR (Euro Interbank Offered Rate). Examples of World Bank loans for the Philippines under this arrangement involving variable spreads are the Philippines COVID-19 Emergency Response Project (project ID P173877) and the Philippines Emergency COVID-19 Response Development Policy Loan (project ID P174120).
Fixed spread terms are also offered under the IBRD Flexible Loan, but they have been suspended as of April 1, 2021. The rates that appear when Philippines is selected as the country are not 0% either.
Bizarre claims involving both former president Ferdinand Marcos and the World Bank have been made before, with one even going so far as to state that Marcos established the World Bank along with Jose Rizal. (READ: FALSE: Ferdinand Marcos, Jose Rizal established World Bank) – Percival Bueser/Rappler.com
Percival Bueser is a graduate of Rappler's fact-checking mentorship program. This fact check was reviewed by a member of Rappler's research team and a senior editor. Learn more about Rappler's fact-checking mentorship program here.
Keep us aware of suspicious Facebook pages, groups, accounts, websites, articles, or photos in your network by contacting us at factcheck@rappler.com. Let us battle disinformation one Fact Check at a time.