1

The au pair recruitment business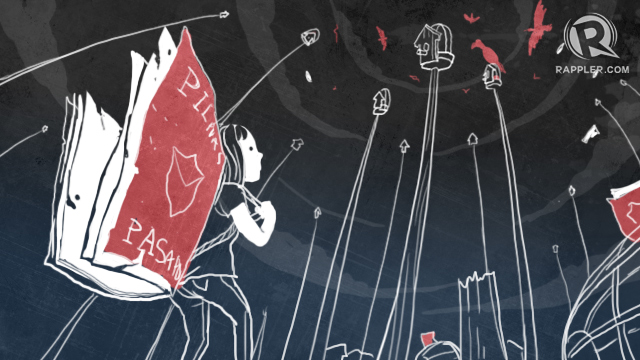 First of two parts
MANILA, Philippines – For many girls like Elena (not her real name) who want to be an au pair in Europe, the road starts here at a research and consultancy office in southern Philippines.
The office, no bigger than a room, has walls that scream of Europe in all its splendid glory – posters with pictures of tourist spots in Norway, France, and Denmark were plastered all over. The room does not have the sheen of elegance, but it gets the message across to applicants – once you step in this office, you get to go to all these places and live your dreams.
There is a lone table in front and a business license conspicuously posted on the right side. Other than these, however, the office is filled with mementos showing the lives of family members – a daughter who got married, graduation, a picture of a baby.
This is because recruiting au pairs is a family affair. It's a practice that starts with having one family member as an au pair, and then two. The au pairs return, their relatives learn how it is done, and then the business is born.
Au pair, a French term for "on equal terms", is a cultural exchange where a young person could go to certain European countries for a cultural and language immersion. It's a rather simple arrangement: the au pair does part-time babysitting and light housework and the host family provides room and board plus a monthly allowance.
Take the case of Gloria (not her real name). The 65-year-old mother of 4 said she began her company in 2006, a year after one of her own daughters went to Denmark to be an au pair.
"My daughter's friend referred her to the host family as her replacement. Then my daughter paid her friend (for the referral). It was just an honorarium – around P20,000 in today's money," she said in an interview late July.
Gloria said it was a "discounted" payment and saw nothing wrong with it even if during the time – it was 2005 – there was a ban on sending Filipina au pairs to Denmark. For finding someone to replace her as an au pair, the friend of her daughter got to earn P20,000.
The former manager in an insurance firm saw a business opportunity out of that – especially after the word had spread and girls began coming to her asking for advice on how to be an au pair. She then started a research and consultancy business with her friend, Janet (not her real name).
Janet, on the other hand, came to know about the au pair program after she visited her sister in Denmark in 2005.
Their services included looking for a host family, chatting with them on Skype, and preparing all the necessary documents needed for the visa application and training applicants for the embassy interview. Gloria would take care of the clients while Janet would take charge of matching them with host families.
"That's why it's research," Gloria explained.
Dream come true
With a total price tag of P70,000, her dream to go abroad came true.
Elena thought that the P20,000 downpayment required of her was a lot of money, but she convinced herself it would all be worth it.
With the downpayment, the recruiter would start the search for a host family and she would be one step closer to her dream of going abroad.
And not just any place abroad – she would go to Europe to be an au pair.
"Madami siyang ini-explain na hindi ko naman maintindihan. Ang sa akin, gusto ko lang makapag-abroad," said Elena in an interview in July 2016, referring to her recruiter. (She was explaining a lot of things but I couldn't really understand. I just wanted to go abroad.)
It took 8 months, but the recruiter finally found Elena a host family. However, "meeting" her prospective host mom via email required another P10,000.
Money changed hands and Elena was given access to an email account that the recruiter had previously set up using her identity to communicate with prospective host families.
"Basahin ko na lang daw yung mga email para may background ako doon sa napag-usapan nila," said Elena. (I was told to read the email trail so I would have a background on what they had earlier talked about.)
After email exchanges and more paperwork, Elena was set to go to Denmark in 2010 – but more money was needed before the recruiter could release the contract with the host family.
Elena paid the recruiter a total of P50,000. But there was even more.
"Magbayad daw ako ng P20,000 sa airport, sa immigration para makalusot ako," Elena narrated. (I was told to pay P20,000 to the airport authorities so they would let me through.)
With a total price tag of P70,000, Elena's dream to go abroad came true in 2010.
Lucrative cultural exchange
Gloria and Janet did almost zero promotion about their service – they did not have to. The girls kept on coming, from nearby provinces in Southern Philippines to as far as Manila – all throughout the Philippines – they all sought the assistance of Gloria and Janet.
Some came in groups "usually the nurses", some came alone, some were office workers, others factory workers – the one thing they had in common was their desire to go to Europe and their belief that Gloria and Janet could get them there.
"These young girls want to explore Europe, they want to be independent, away from home. They want to learn the language and the culture, have their own money," said Gloria.
She estimated that she has sent about 150, mostly girls, to Denmark and Norway to be an au pair since she started her business in 2006.
It can take any time between a few weeks to a few months to find a host family, but prior experience can speed up the process.
"If they have experience working abroad in Saudi Arabia or Singapore as domestic helpers, they will only have one week and then they have the visa and the host family," Gloria explained.
"...If au pairs want to go to Europe, they must have the financing. They must be ready with the money. They can never fly if they don't have the money."
Business was so good that Gloria and Janet had to split operations into two separate companies. As demand increased, so did their consultancy fees. From P30,000, fees gradually increased to P50,000 and then P65,000 to its current P80,000 per au pair applicant.
"I will not raise (the fees) because the au pair cannot afford to pay," said Gloria, who claimed that with about 4 applicants every month, she could barely make a profit to cover the cost of signing up on au pair websites, internet fees, phone and electricity.
Janet, on the other hand, charges her clients P50,000 – there's an application fee of P10,000 and another P40,000 when the contract with the host family is ready.
Janet claims to have sent more than a hundred au pairs to Denmark in the course of doing her business for almost a decade. The company is run by the family – two of her daughters work for her. In Gloria's case, her daughter and her son also help run their research and consultancy firm.
Both are aware, however, that those who want to be au pairs can just sign up on websites and look for host families on their own for free.
But they can make things much easier.
"Meron din kaming mga au pair na ganyan. Nag-back out kasi gusto nila sila na lang. Possible man din pero hanggang ngayon di pa sila nakaalis. Kasi strict din sila e, especially embassy. The way you file your documents, maganda din. Hindi man nila masabi, i-deny ka na lang. In the end, nagabalik din sa 'min," one of Janet's daughters explained.
(There are au pairs like that, they back out because they want to do it on their own. That happens but until now they have been unable to leave. Because they are also strict, especially the embassy. The way you file your documents should be well done. They can't say it, they'll just deny you. In the end, they end up coming back to us.)
Gloria said if government authorities question the nature of her business, she would tell them that it's only expected of au pair applicants to be ready to pay up.
"I will say to them that if au pairs want to go to Europe, they must have the financing. They must be ready with the money. They can never fly if they don't have the money." (To be concluded) – Rappler.com
This story is a collaboration between the Pulitzer Center on Crisis Reporting and Rappler.