These two special education centers equip their students with skills needed for livelihood opportunities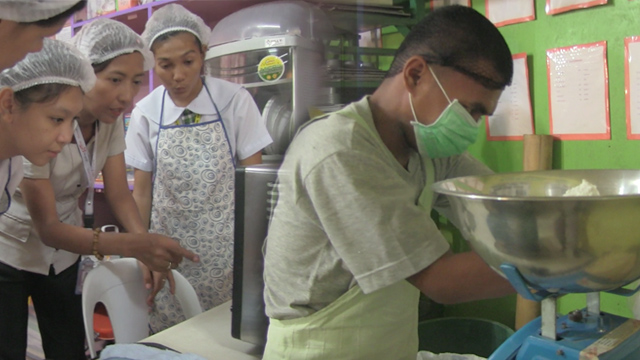 MANILA, Philippines – Just a year ago, high school student Bernadette Levardo would tuck herself in the corner of a room, all quiet.
But now, the young lady joins her friends after school to hang out. These bonding activities would sometimes worry Bernadette's mother, who would call the girl's teacher: "Ma'am, nasaan na po si Bernadette? Kasi po 8 [pm] na." (Ma'am, where is Bernadette? It's already 8 pm.)
Bernadette is among the persons with intellectual disabilities (PWIDs) enrolled in the special education (SPED) program of Carmona National High School (CNHS) in Cavite province. PWIDs have limitations in terms of intellectual functioning or learning practical skills.  
Bernadette's teacher Estie Manguiat said her student's quick transformation from being shy to outgoing is because of their school's socialization activities for SPED learners.
Over in the province of Cebu, security guard Lorenzo Fernandez has always feared for his daughter Loribeth's future ever since he found out that she has autism.
"I thought she could only study until Grade 6. I was worried. If she won't be able to study, she will only stay at home while my wife and I work. I feel sorry for her," said Fernandez in Filipino.
But Loribeth, now a senior high school student, started to learn entrepreneurship in the technical-vocational course offered by the Mandaue City SPED High School.
Bernadette and Loribeth are two success stories of SPED learners who were able to rise above their limitations. Their schools have provided ample guidance and well-structured programs, allowing them to develop their skills and interact independently.
Carmona's pride
If there's one thing the small town of Carmona could boast of, it is its sensitivity to persons with disabilities (PWDs), an oft-neglected sector in the Philippines.
"Hindi namin itinatago ang mga [estudyanteng may] IDs (intellectual disability) dito," said CNHS principal Teresita Silan. (Here, we do not hide our students with intellectual disabilities.)
In fact, the school beefed up the Department of Education (DepEd) transition program for PWIDS by launching socialization activities.
First implemented in pilot schools in 2006, the DepEd transition program gives practical skills training to PWIDs.
"Through the transition program, Bernadette was trained, she improved her social skills, and it boosted her confidence," said Manguiat. "I was even amazed she was able to deliver a speech just recently in senior high school."
SPED learners in CNHS are not separated from those attending mainstream classes. Senior high school teacher Glenn Aragoncillo said they did not find the need to separate these students, including those with intellectual disabilities.
The SPED learners are seated in front and assigned a seatmate who will help them catch up with the lessons. Non-SPED educators are also regularly trained by the local government's Persons with Disability Affairs Office (PDAO) to be sensitive to the students' needs and pace of learning.
The social skills that Bernadette learned helped her be more confident to go to college and study Hotel and Restaurant Management.
"I want to become a successful chef someday," she shared. "I want to buy a house and lot [for] my family and own a restaurant."
Tech-voc training
Bernadette learned to love cooking because of their technical-vocational training in school, which is focused on baking breads and pastries.   
Even before the DepEd launched senior high school, CNHS was already providing technical-vocational training for its students.
Senior high school, recently added to the country's secondary education system, aims to prepare students for college or for employment in case they do not wish – or are unable – to continue school. It offers 3 tracks: Academic, Sports and Arts, and Technical-Vocational-Livelihood (TVL).
In the SPED center at CNHS, technical-vocational training has been available for the past 6 years, particularly for PWIDs and those with autism. (READ: LGU empowers persons with autism through employment) 
"Often, the problem with them is that they have difficulties understanding lessons in Math, English, and Science. [This training] is important for them because not all companies can accommodate hiring them," said teacher Aileen Solaon, who specializes in teaching PWIDs.
Students practice the skills in a SPED room where there is a small oven and basic baking equipment such as spatulas, a mixer, and pans. Funds for these equipment were given by the local government when the program started in 2010.
The students also sell their products inside school, to let them experience how to run a business.
Since the TVL track requires an on-the-job training component, the school has also forged partnerships with fast food chains and factories in their town. (READ: Job matching site promotes employment for PWDs)
Cebu model 
Mandaue City SPED High School, just like its counterpart in Cavite, also offers TVL training. It chose to offer senior high, however, without integrating PWDs in mainstream classes.
Last year, their students who were graduating from junior high school were supposed to be transferred for senior high to the city's comprehensive public high school.
SPED High School head Delia Miñosa appealed that they be allowed to offer senior high school instead.
"My concern was the other schools are not ready for inclusive education because they need teachers specialized in SPED… There are teachers in non-SPED schools that are frustrated with having SPED learners in their classrooms because they already have a full plate," she said.
In fact, at the Bangkal National High School SPED Center in Lapu-Lapu City, Cebu, there are teachers having difficulties about the mixed set-up, because they need a modified curriculum or a different pace of teaching for integrated students but they do not have a module to follow.
Focus on students  
After lobbying with the regional office, Mandaue City SPED High School was allowed to offer senior high school.
Budget is among the primary concerns why the school wanted to keep SPED learners under its wing. Miñosa said they know how can SPED be neglected given schools' tight budgets, as Mandaue City SPED High School was previously just a school unit.
With the proper funding and help from an aid group, the high school now has a workshop almost double the size of a usual classroom. Like in Carmona, this is where students practice techniques.
The workshop has heavy-duty ovens, wide tables, a weaving machine, some tools, and a sari-sari (variety) store, managed by student Loribeth.
"I love shopping at Colonnade Grand Mall and Metro Gaisano for the sari-sari store," Loribeth, 24, said with a smile.
She knows she is in charge of making sure the store has enough stocks for SPED learners, as well as grade school and high school students who are her suki (patrons).
"She is very good at giving the exact change. She is very good at remembering also those who are not able to pay… her dream is to open a sari-sari store," said Loribeth's teacher July Lasaca. "Everyone here knows her as the tindera (vendor) of our small store."
Aside from TVL, the senior high school also teaches functional literacy to PWID students and those with pronounced autism.
"For students with [intellectual and behavioral disabilities], we teach them functional academics in junior high school. These include occupational and guidance, personal and social skills, and daily living skills. Those subjects are carried over to senior high school," said Miñosa.
The inclusive route  
"Mainstreaming" or integrating special learners in the regular school system is based on the DepEd's policy and guidelines for SPED.
Student Inclusion Division head Nancy Pascual of the DepEd central office said development and social adaptation of these learners are much faster if they interact with their "typical" counterparts. 
That is why the DepEd is taking the route of promoting inclusion instead of establishing separate senior high school sections in SPED centers.
There are already some SPED schools which are senior high school-ready but Pascual said they are currently working on "upgrading" SPED centers into learning resource centers (LRCs).
"Specialized equipment are lodged in the learning resource centers. Any school that has PWD enrollment will be able to access it anytime of the year," she said in an interview.
In this way, mainstream schools can accept PWD enrollment.
"This addresses the financial side. Instead of going to SPED schools far from their homes, they could just enroll in the nearest school to their residence, which is not necessarily a SPED center," Pascual explained.
Once this initiative rolls out, the "upgraded" SPED centers will serve as guide to schools accepting students with special needs.
Pascual said ideally, regular schools would also be boosted with more SPED teachers specializing in specific conditions such as visual impairment, hearing impairment, intellectual disabilities, learning disabilities, and autism.
"There is a proposal that as much as possible there are specialized teachers, but for now, teachers in regular schools must be trained and learn how to handle these students when they enter senior high school," she said. 
Institutionalizing these proposals and incorporating SPED centers' best practices may take a long time. But these schools in Cavite and Cebu could hopefully inspire other educational institutions to push the current limits of SPED in the Philippines. – Rappler.com
This story was produced under the 'Media & PWID: Covering Stories on Capabilities and Contributions Media Training and Fellowship Program' by Probe Media Foundation and Unilab Foundation.