This is AI generated summarization, which may have errors. For context, always refer to the full article.
9,563 of the 109,322 road crash incidents recorded by the Metro Manila Development Authority (MMDA) in 2016 involved buses.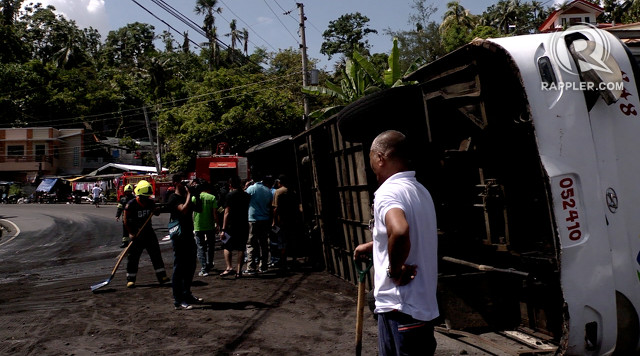 MANILA, Philippines – University professor Roland Simbulan remembers how his life turned upside down in just one night, back in May 2011.
His wife, journalist and professor Lourdes "Chit" Estella-Simbulan, was riding a taxi on her way to a reunion with friends when a bus – racing with another bus to get more passengers – hit the taxi she was riding along Commonwealth Avenue in Quezon City.
Roland learned of the tragic news from a text message sent from his wife's number. They tried to rush her to the hospital, but she was declared dead on arrival.
The loss of his wife came just several months shy of their 30th wedding anniversary.
While he has filed a case in court against the two bus drivers, the trial is still ongoing.
Almost 6 years since that fateful day, he shares how he still vividly remembers the tragedy, especially when he hears stories of victims of road crashes.
The latest deadly incident that made headlines was the bus crash in Nueva Ecija last April 18. At least 26 people died when a Leomarick Trans bus traveling from Isabela to Ilocos Sur fell into a ravine, leaving behind grief-stricken families who will now have to cope with the immense loss.
Deadly buses
Buses in the Philippines can be deadly. In Metro Manila alone, 9,563 or 8.75% out of the 109,322 road crash incidents recorded by the Metro Manila Development Authority (MMDA) in 2016 involved buses.
Last year, bus crash incidents caused the deaths of 31 out of the 426 fatalities. (READ: IN NUMBERS: Road crash incidents in the Philippines)
According to data from the Land Transportation Franchising and Regulatory Board (LTFRB), there were 135 decided cases on reported violations of bus operators nationwide from the year 2015 to February 2017.
Data below show the names of operators that received complaints:
Of the 135 decided cases, 129 cases or 95.5% stemmed from reckless driving that led to damage to property, physical injuries, and homicide.
The bus operators with violations resulting to homicide were Alabang Metrolink Bus, GV Florida Transport, Joannajesh Transport Corporation, Santrans Incorporated, Raymond Transportation, and Universal Guiding Star Bus Line Corporation.
The case involving Alabang Metrolink Bus was dismissed, while Universal Guiding Star Bus Line Corporation, Santrans Incorporated, and Joannajesh Transport Corporation were suspended for 6 months and issued cease and desist orders. GV Florida Transport was asked to surrender license plates and was issued a 6-month suspension order. Raymond Transportation was also suspended for 6 months.
Penalties and fines imposed on violators ranged from a stern warning, 30 days to 3 months' suspension, a fine of P5,000 to P20,000, and a cease and desist order of the franchise.
Some of these bus operators have been repeat violators. GV Florida was the bus company involved in the road crash that killed comedian Arvin "Tado" Jimenez in 2014, while the Universal Guiding Star Bus Line Corporation was involved in the crash that killed Chit Estella-Simbulan in 2011.
LTFRB records also showed that Nova Auto Transport Incorporated, the other bus involved in Simbulan's death, was issued a preventive suspension order for a road crash in 2014 that injured 47 passengers in Commonwealth Avenue, Quezon City. It was also involved in a 2013 incident that left one dead and 10 injured along EDSA in Makati City.
The data provided by the LTFRB on preventive suspension orders issued from 2015 to March 2017 showed 66 fatalities caused by bus crash incidents nationwide. It includes the number of fatalities and/or injuries and the corresponding initial penalties.
These preventive orders are given to bus operators involved in crashes.
Bus operators with preventive suspension orders are required to undergo inspection of units, surrender of plates, and explain their cause in court. The court then decides on the actions to be taken against the bus operators.
Roots of the problem
In 2012, Roland Simbulan created an advocacy group called Families of Road Victims and Survivors (FRVS), a group of people who shared similar experiences on road crashes. More than just being a space for "therapeutic" company, the group has also been active in pushing for legislation concerning road safety.
But Simbulan believes that the problem is not in the law, but in its implementation.
"For me, the problem is not the law or legislation because we already have existing laws. The problem is, we are very weak in enforcement. Even if we only have half of the existing laws [strictly] implemented or enforced, we will have [fewer] road crashes," he explained. (READ: What laws help keep road users safe in the Philippines?)
Simbulan said part of the problem lies in corruption and lack of good governance. He said this then leads to a lack of consciousness among road users.
For him, people need to recognize that "anyone who is a road user is a potential victim of road crashes."
"What is weakening enforcement in this country is corruption. Many agencies in this country selectively enforce laws. We have very good, existing laws on road safety but [these] are selectively enforced," he said.
"Minsan if may nangyaring incident, they become strict. Hanggang doon lang. After a few months, wala. (Sometimes, if an incident happens, they become strict. But after a few months, they stop.) It is as if the law does not even exist. It keeps on recurring," he added.
Simbulan also said authorities' lack of enforcement is "contagious," affecting road users who then choose not to follow the rules at all.
"It is contagious in a sense that when they see that the government is not strict in enforcing it, they will not dare [obey]. That is why the drivers also dare to violate rules and regulations, because how can you respect the law enforcement system if you see law enforcement themselves violating the law? The drivers can see that they can get away with it when no one is watching," he said.
To help prevent fatal road mishaps in the future, Simbulan and his group have been proposing road safety measures such as safer bicycle lanes in the country.
He hopes for zero road crash casualties someday, so that no one would experience the grief and loss that he felt. – Rappler.com
Rappler will hold a roundtable discussion on Philippine road safety on Monday, May 8. Let us know what you think using the hashtag #SaferRoadsPH! Bookmark this page for updates.