The actor turned Senate leader attributes his rise to 'Eat Bulaga,' the popular noontime show that helped propel him to power and which critics use against him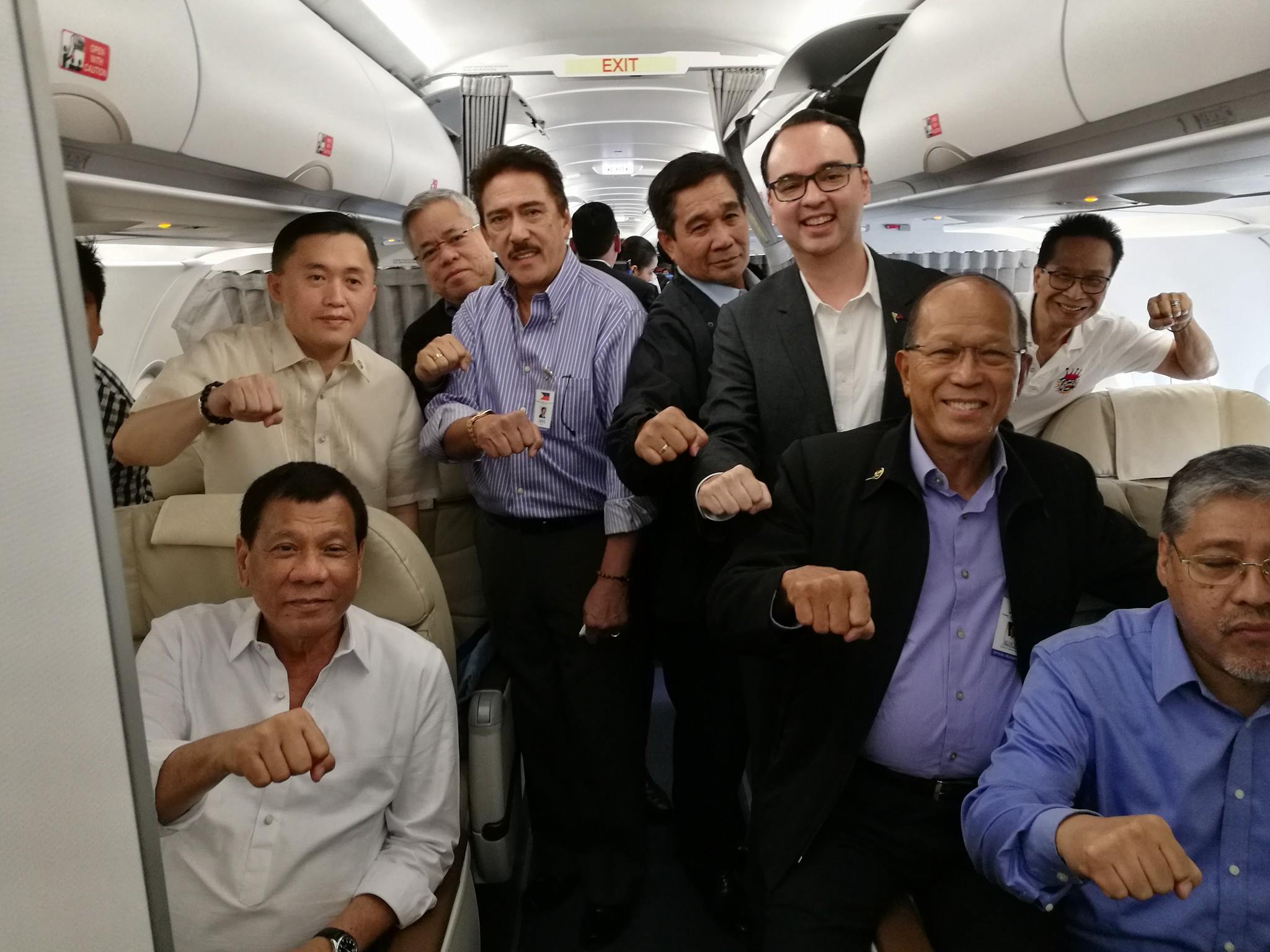 MANILA, Philippines – With a noontime show that propelled his political career, Senate Majority Leader Vicente Sotto III has come a long way from popularity to power.
In fact, he continues to juggle both worlds. On Thursday, April 20, Sotto discussed his politics amid the noise and revelry in the backstage of the Eat Bulaga! studio in Broadway Centrum. The collision of the two earned him the monicker Tito Sen, a conjugation of his nickname and his title as senator.
Sotto's world has always been a mixture of show business and politics. His grandfather Vicente Yap Sotto and granduncle Filemon Sotto both served as senators while his brothers, wife, and daughter are celebrities. He also has two politician children.
The man attributes his "practical" thinking to the show that propelled him to power. He would not have been the politician that he is today, he said, if not for Eat Bulaga!.
An irony of sorts, it is the same connection perennially used against him. Online criticism were so common that he already called himself social media's "favorite whipping boy." (READ: Sotto slammed for 'na-ano' comment, called 'sexist', 'basura')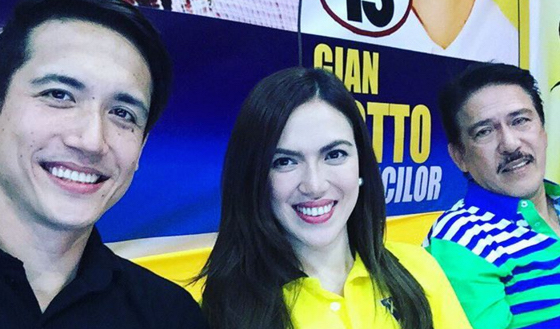 After a major loss in the 2007 polls, Sotto made a whopping comeback when he became the Senate whip in 2010. To this, he said his political career "could not get any better."
Now, he's the most senior member of the Senate and is openly supporting President Rodrigo Duterte's administration, primarily the deadly war on drugs. He even calls himself a "Duterte ally."
Illegal drugs: The common enemy
Why would he not rally after him, he said, when it's the first time a sitting president listened to his call against illegal drugs?
"Precisely because this is the first time there is a President, parang (it's like), not saying he did, nakinig sa akin (listened to me). This time I have a President 100% hands on with what I have been saying all along. Why will I not give him my 100% support?" Sotto told Rappler in an interview.
Long before Duterte rose to the presidency, Sotto has been pushing the battle against drugs. He authored the Comprehensive Dangerous Drugs Act of 2002 and headed the Dangerous Drugs Board in 2008.
The connection between "golf buddies" Duterte and Sotto dates back to 1988, when Sotto was Quezon City vice mayor and Duterte was Davao City mayor. Sotto then just formed the Vice Mayors' League of the Philippines.
"Mayor Duterte was one of our major supporters in the vice mayors' league. I was in the drug council. As early as 1988, we were already in the fight against illegal drugs. Aside from the fact that we have the same advocacy, I've known how he is as an executive. I really want him to succeed," Sotto said.
But during the 2016 campaign, Sotto did not support Duterte and instead rallied behind then front runner Senator Grace Poe. Still, the senator maintained he would have supported Duterte if Poe, the daughter of his best friend, the late Fernando Poe Jr, did not run for president.
"As a matter of fact, if Grace didn't run, I would have supported him [Duterte] without knowing he will win because of [our] old background," he said.
Duterte, for his part, seems to support Sotto's son Gian, who is reportedly eyeing the Quezon City vice mayoralty in 2019.
"He has a son I think, tatakbo ng konsehal sa (running for councilor)…is it? Vice mayor sa Quezon City. Kasing-husay rin ng tatay niya (As good as his father)," Duterte had said in one of his speeches.
The President, who has been bringing allies to his foreign trips, invited Sotto to join his official trip to Myanmar in March.
Long-lost party mate?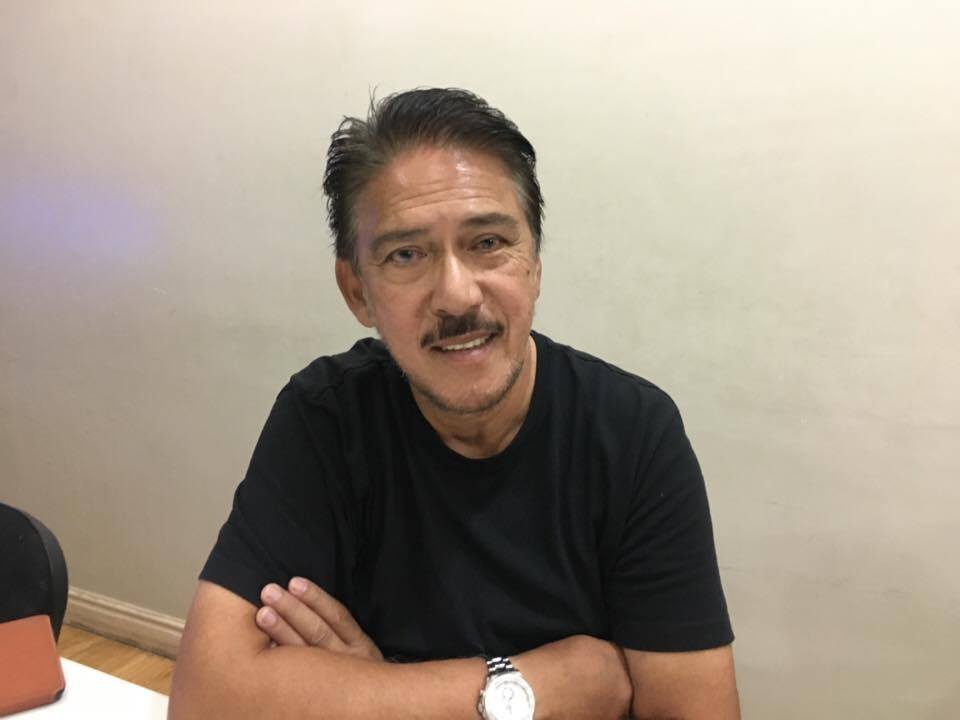 Another "link" between Sotto and the President is Duterte's party, PDP-Laban.
Sotto, a member of the Nationalist People's Coalition (NPC) for a decade now, said his "PDP color" has always been there, as his first run for public office was under the party.
With a weak political party system, Sotto is banking on technicalities to somehow still connect him to the President.
The ruling Partido Demokratiko Pilipino (PDP) and Lakas ng Bayan (Laban) merged in 1982. The party, however, was split into two factions: the Pimentel Wing of former senator Aquilino Pimentel Jr and the Cojuangco Wing of Jose Cojuangco Jr. Sotto was associated with the latter, which eventually became Laban ng Demokratikong Pilipino (LDP).
He joined NPC in 2004 and remains a member of the party founded by the influential and affluent Eduardo "Danding" Cojuangco Jr.
"I never left PDP-Laban. Supposed to be PDP-Laban was dissolved with Lakas ng Bansa of [Ramon] Mitra but Nene Pimentel and Binay had a falling out with Mitra. The two of them walked out of our convention and retained the PDP-Laban. But us, we were already LDP then. If you think about it, my PDP-Laban color was never erased. I never resigned," Sotto said in a mix of Filipino and English.
"It's just informal but I really still have a color. [Senate President] Koko Pimentel knows that," he added.
Pimentel, in response, told Rappler: "That is water under the bridge. He is most welcome to rejoin his first political party."
Whether or not Sotto will do that remains to be seen. What is certain is his support for Duterte amid controversies against the President.
"I have never known him to be a corrupt [politician]. 'Di mahilig sa pera eh (He doesn't like money), that's one thing I like about him," he said of Duterte, who is accused of hiding billions of pesos in secret bank accounts. 
Senate's chief operating officer, workhorse
As the Senate's Majority Floor Leader, Sotto steers the day-to-day operations of the floor, especially the legislative agenda. His is a powerful post – without his nod, any bill, no matter how small or big, will not make it to the agenda, much less to the plenary.
"[You are the] workhorse of the Senate. With a lazy majority leader, you will not be able to accomplish anything," he said when asked to describe his role. "Yes, [it's very powerful]."
Wtih his experience, one senator who refused to be named said Sotto seems to be more in control than the relatively new Pimentel. But Sotto quickly downplayed this observation. (READ: Koko Pimentel: His father's son, the President's 'protector')
"Hold is too strong a word. Probably I have the trust and confidence of senators that I know my job and I'm delivering my job, I'm doing my work. I think of it that way," he said.
Asked how he came to earn his colleagues' "trust," he said: "Outside work, outside plenary session, 'di ako nakikipag-away kahit kanino (I don't fight with anyone). I try to be accommodating to everyone," he added.
Sotto is a member of the so-called macho bloc in the Senate, originally composed of former senators Juan Ponce Enrile and Jinggoy Estrada and senators Gregorio Honasan II, Panfilo Lacson, and Loren Legarda.
Sotto's bloc gave the first 7 votes that helped Pimentel clinch the Senate presidency. They were also the ones who began talks of ousting Liberal Party members from key posts in the chamber, as earlier admitted by Lacson.
Asked if he would be the next Senate President, Sotto only dismissed it as "gossip."
Social media's 'favorite whipping boy'
For critics, the name Tito Sotto is synonymous to "anti-RH bill" and "plagiarist" – criticism that, according to him, came from international pro-abortion organizations. He knew then he reached a new status: "social media's favorite whipping boy."
At the time, he was the majority leader, a known critic of the measure, practically delaying its passage. (READ: Kennedy to Sotto: 'This is a clear case of plagiarism')
"I was the favorite whipping boy on social media. How can it be plagiarism when first of all I'm not a doctor, not a scientist? Where will I get my statistics on abortifacients, on medicines? 'Di syempre sa (of course from ) books, internet sources. So there is always a blanket line, I always mention it on the floor: 'Mr President, I'm not a doctor, scientist, 'di galing 'tong statistics na 'to sa akin (these statistics did not come from me).'"
In 2012, Sotto included parts of a blogger's post in his turno en contra speech against the RH bill without proper citation. He was also found to have translated parts of a speech of Robert F. Kennedy. An ethics complaint was filed against the Senate leader but it did not prosper.
That episode, Sotto said, taught him to just ignore the noise. The less he knows, the better.
"Sawa na 'ko, 'di na [ako apektado] (I've grown tired of it, I'm no longer affected). I've found a good way of going about it. I don't read it. What you don't know won't hurt you. Basta ako 'di ko na tinitingnan, binabasa, wala (I don't read it, I don't look at it; nothing)."
Just recently, Sotto drew flak anew for his controversial statement about single mothers in a Commission on Appointments hearing. It was the same joke he and his co-hosts make in their noontime show. Sotto apologized publicly, saying it was meant to be a joke and should not be taken seriously. (READ: Sotto insults single mother DSWD chief Taguiwalo: 'Na-ano lang')
In an apparent contradiction to all this, Sotto's mother, the late Dr Herminia Castelo Sotto, was the first medical commissioner of the Workmen's Compensation Commission and was a women's rights advocate. But for the senator, there is no such inconsistency.
"I will be the last person in this country to disrespect a woman because my mother was one of the founders of the women's rights movement and president emerita of the Kababaihang Rizalista," the senator said after apologizing for the remark.
"I have two daughters who are separated, who are single and have children. So I don't think there should be any big fuss about it," he added. 
Sotto also clarified he was only against the RH bill in 2012 because of population control measures.
He really wanted it to pass, he insisted, despite the speeches and the long debates he led in 2012. (READ: Sotto on RH law: No gain, all pain for PH)
"It passed beause we allowed it to pass. I voted against it but we allowed it to pass. If I didn't allow it to pass, it wouldn't have passed under me as majority leader. All I have to do is to not put it in the agenda but, you see, we are for RH," Sotto said.
While other politicians would scramble to fix the mess, Sotto need not panic. Unlike the rest, he still had the masa behind him. In fact, fast forward to 4 years later, Sotto still topped pre-election surveys.
Eat… Bulaga!
Sotto has nothing but good words for Eat Bulaga!, saying he would not be the person and politician he is today if not for the show.
It has influenced his way of dealing with issues. While others would look at matters from a legal perspective, Sotto said he finds the balance between practicality and legality.
"I balance between practical and what is necessary. And then I have this additional factor. Siguro that is one thing na puwede ko ipagyabang (that I can brag about) , out of many politicians. Because of my association with Eat Bulaga!, ang lakas ng feel ko sa pulse ng masa, nakakarating sa 'kin ang pulso nila (I have a strong feel of the pulse of the masses). It's important," he said.
Time and again, he is criticized for being a comedian and a "showbiz" personality. While he admitted getting affected in his early years in politics, Sotto said it is no longer a big deal now, citing his "achievements and work."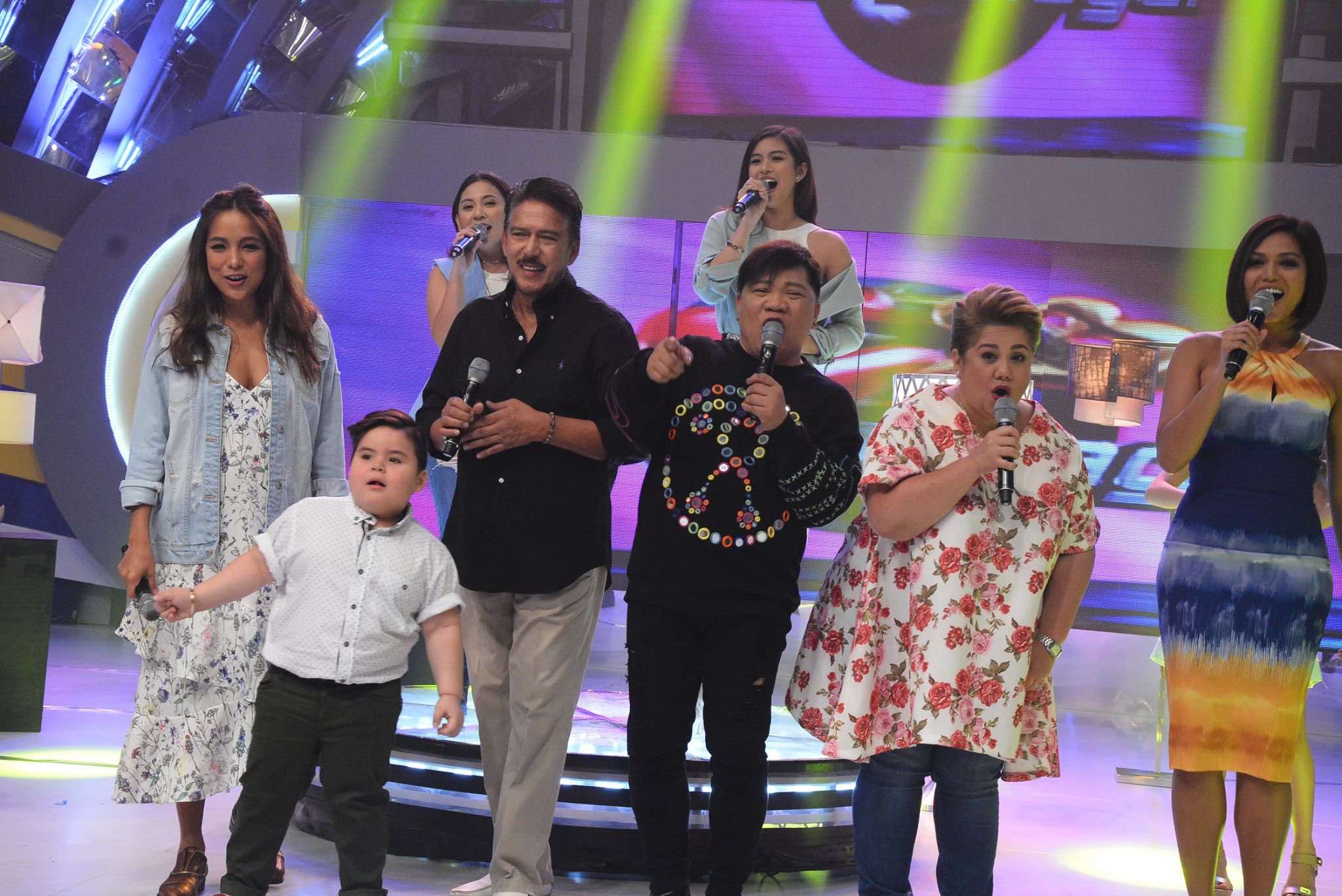 Sotto takes pride in never being absent and late in Senate sessions – something that he is known for among his colleagues and the media covering the chamber. He still co-hosts the noontime show but only during Thursdays, Fridays, and Saturdays, and when Senate sessions are in recess.
"That means Senate is the priority. My family is priority but they understand my work. One thing they did not notice, when I came in the Senate in 1992, I did not go back to Eat Bulaga! until 2004. Popular lang talaga si Vic [Sotto] (Vic is really just popular.)  I concentrated in the Senate. Para akong nag-aral ng law ng 12 years (It's like I studied law for 12 years)," he said.
He is not keen on leaving the limelight just yet. After all, for him, showbiz is therapeutic. It is his respite from the world of politics. 
"Therapy sa akin ito. Enjoy ako rito tuwing weekends. 'Di nakakaabala sa trabaho. Trabaho ko nga ang nakakaabala rito. Dito naa-absent at late ako but sa trabaho ko hindi," Sotto said.
(This is therapy for me. I enjoy my weekends here. This does not interfere with my work. In fact, it is my work that interferes here because here, I get absent, late but in my Senate work, no.)
Between his two worlds, Sotto said he prefers the "honesty" of the entertainment industry to politics.
"Between showbiz and politics, show business is more honest. Sa showbiz 'pag ayaw ka 'di ka panonoorin, 'di magbibigay advertisement, 'di panonoorin pelikula mo. Wala ka na. Nalalaos ka. Sa pulitika, talo ka na, 'di ka binoto, makakaupo ka pa. Aba'y may boto pa rin," Sotto said in between short laughs, as he prepared to go live on air as comedian and host.
(In showbiz, if people don't like you, they won't watch you. They won't put advertisements, they won't watch your movies. You're nothing, you're a has-been. In politics, you already lost because people did not vote for you, but you still sit in office as if you have the votes of the people.) – Rappler.com