This is AI generated summarization, which may have errors. For context, always refer to the full article.
Iloilo City's successful coronavirus response was not devised in a day. Neither can it be credited to only one person.
BACOLOD CITY, Philippines – As the number of coronavirus cases in the Philippines continues to soar, Iloilo City in Western Visayas is considered a sanctuary far from reach of the contagion. "The Wakanda of the Philippines," observers describe it, comparing it with the utopian country in the Black Panther cinematic universe.
The label has basis: as of June 29, Iloilo had only 8 active cases of COVID-19 among its population of around half a million – a ratio admittedly desirable for other cities in the country. 
Most of its people have been spared from the hunger that the disenfranchised in other cities suffered from. Slowly and surely, too, the city has begun to reinvigorate its economy. 
The so-called Wakanda, however, was not built in a day. Neither can it be credited to only one person.
"If there's one thing I learned about governance and leadership, it is that alone I cannot do everything, but together with everyone in the community, everyone in the city, we can do a lot of things," Mayor Jerry Treñas told Rappler in an interview.
How did they do it?
A sense of urgency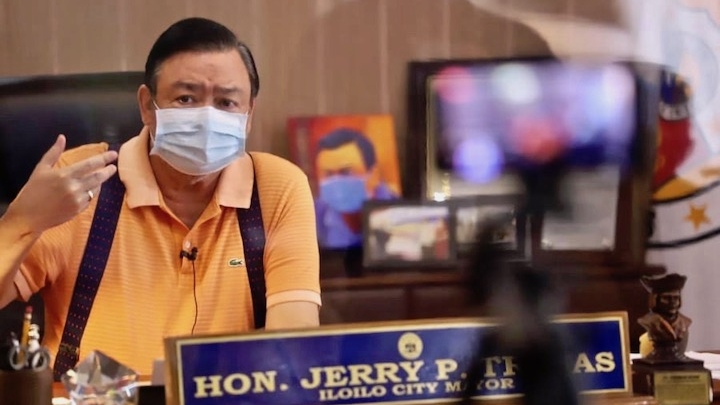 When Iloilo City was placed on lockdown on March 20, Andrea Guanco thought it was an exaggerated response. 
Guanco runs a blog, which contains news and feature stories focusing on Iloilo, while occasionally covering national and world news. She needed to go out to gather material.
Back then, she thought people had been dying of illnesses other than the coronavirus disease. She also thought that COVID-19 seemed to have a low mortality rate. There were no cases recorded in the city yet.

"At first, there was no struggle in terms of supplies and finances at home, as I really thought the lockdown wouldn't last that long. In the long run, it was draining – financially and psychologically," she told Rappler in a phone interview.
Months later, she now said she was thankful for the local government's proactive response. Since then, she has produced dozens of stories on how the city manages the pandemic.

"If the government wasn't effective in handling the outbreak, we would still be in enhanced community quarantine until now. Or, worse, we all have COVID," Guanco said.
Iloilo was one of the first cities to place itself under lockdown. It shut its borders on March 20, or just 5 days after Malacañang ordered the enhanced community quarantine of Metro Manila and the entire Luzon.
It was not out of panic.
In an interview with Rappler, Mayor Treñas said he had been monitoring the virus' spread in the country even before a first case was confirmed. He also conferred with local experts on what the city should do.
Treñas particularly praised the city's health office for ringing the alarm as early as February so they had a head start in the preparations.
To keep constituents informed, the Iloilo City government uses its Facebook page for updates, holds regular press conferences, and participates in a radio program on mental health amid the crisis.
Mass testing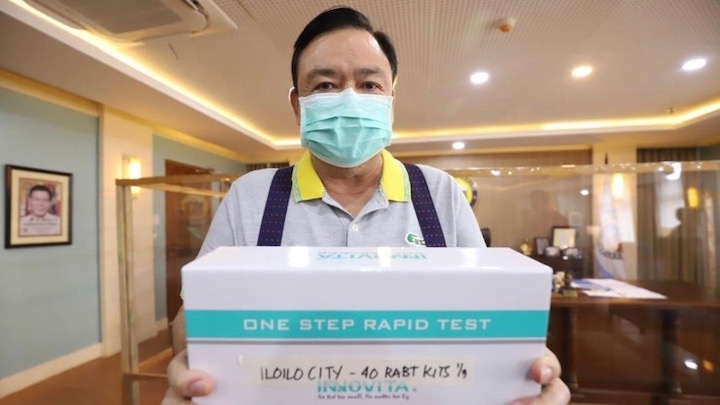 While the national government was downplaying the virus outbreak at the outset, Treñas stood with health experts in calling for mass testing. 
"Why did we push for mass testing? We pushed for mass testing because this was the only way that we would be able to find out if a person was infected and infectious . And we continued to do so," Treñas said.
Seeing that the national government could not accommodate their residents, the Iloilo City government started localized testing in late March after the Department of Health (DOH) licensed the Western Visayas Medical Center to conduct tests.
The testing center was a joint effort of Treñas, Representative Julienne Baronda, and Ilonggo doctors and health experts.
The next problems were the test kits. Like local government units in other regions, Iloilo initially counted on the DOH to give them test kits as the national government had promised.
The DOH, however, gave them only 500 reverse transcription-polymerase chain reaction (RT-PCR) kits when their testing center opened. The city government turned to business groups to donate 2,500 kits worth around P5.5 million from South Korea.
They have since procured more. As of June 21, Iloilo City has conducted over 6,100 swab tests, and they are expected to test more as the virus cases continue to rise.
The city has also begun construction of a COVID-19 laboratory and an isolation dormitory with a 1,000-bed capacity.
Help for all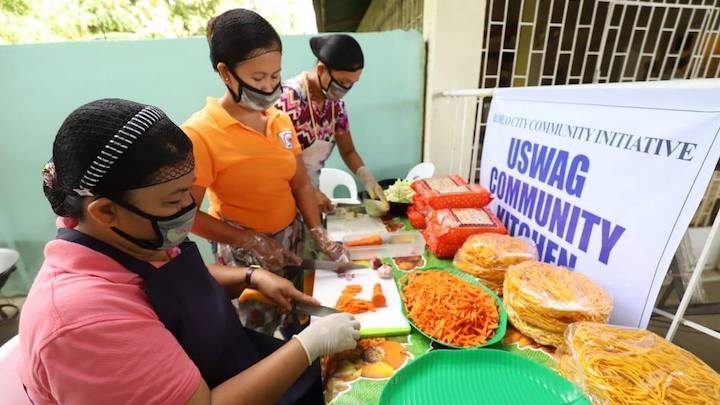 "Daw wala nabatyagan ang gutom (We didn't go hungry) because Ilonggos took care of each other during the pandemic," urban poor leader Vivian Asong said.

Asong, chair of Katilingban sang Imol sa Syudad, said the impact of the crisis was mitigated following the support of the city government and the "bayanihan" spirit of the community.

During the 11-week lockdown, the city government provided for the urban poor's sustenance every week.
The city government organized community kitchens, which served around 1.9 million meals. It also distributed around 69,000 sacks of rice, 30,000 canned goods, and around 6,600 boxes of noodles, milk, coffee, and sugar.
Frontliners and workers were fed as well. A mobile kitchen, dubbed "kitchen patrol," served around 92,000 meals from March to May. Some 60 market vendors received cash assistance worth P5,000.
"I witnessed that every house in my village was able to get relief packs from the city. All the houses, big or small, they were able to receive help," she said.
Asong said each family received food packs. "We got two because there are two families living in our house," she added.

There were families who waived their share of the food packs so the city government could give them to those who needed the assistance more.

Aside from the community kitchen initiated by the city government, the residents in her village started their own feeding program.

"Families, rich or poor, chipped in for the feeding program. Those who did not have a lot even donated P50 and rice," she said.

The community's role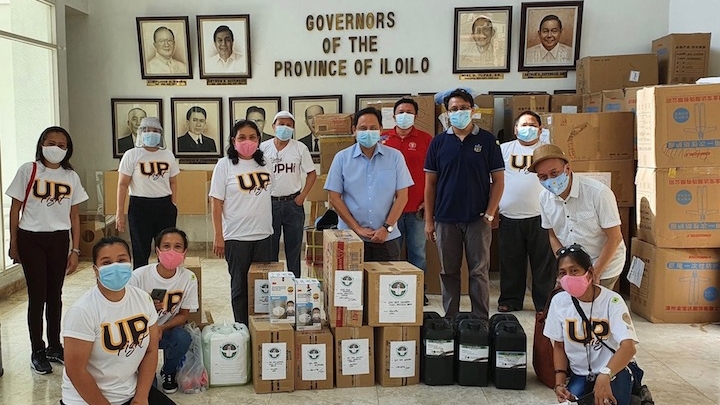 What was supposed to be a basketball charity game turned into a donation drive for an alumni group from the University of the Philippines Visayas (UPV) as they helped the local government's initiatives in the fight against COVID-19.

Dr. Marovi Celis of IAmUPHi, a group of alumni of the UP High School in Iloilo, said their group and partner organizations were bringing the UP Men's Basketball Team and the San Beda Red Lions for exhibition games on March 14 to 15 in the cities of Passi and Iloilo, but they had to cancel the event.
In early March, Celis said they received calls to help medical workers in the city, who were in dire need of masks and personnel protective equipment (PPE). 
They also received an appeal to assist a group of UPV students who had just returned from a conference in Manila. They had to be quarantined in a dormitory in the Miag-ao campus because one of them exhibited flu-like symptoms.

This prompted Celis' group to respond to the calls for help in the fight against the coronavirus, she said.

In mid-March, they were able to raise funds and distributed masks, gloves, PPE sets, face shields, alcohol, and sanitizers to hospitals, medical workers, LGUs, government agencies, and those who were in need of protection, she added.
This was only one of the initiatives of Ilonggos that have helped the city respond to the coronavirus outbreak. Treñas said the city would not be as successful without them.
"Very important is the understanding of everyone that governance is a shared responsibility of the governors and the governed," Treñas said. "As long as we never forget this fact, then people will just come out and will do their share to make life a little better for everyone during this pandemic." – Rappler.com
OTHER STORIES IN THE 'PEOPLE VS PANDEMIC' SERIES: 
BOOKMARK THIS TO HAVE THE LINKS TO THE STORIES IN ONE PAGE: