It's only in November when task force officials find a way to reserve vaccines without violating the procurement law. Now they're playing catch-up in the global rat race for a vaccine.
The Philippines has joined the global rat race for COVID-19 vaccines, a race fraught with worries about safety and efficacy and limitations of a 3rd world country pitted against the mighty and wealthy.
President Rodrigo Duterte and his delegated pandemic response officials blame procurement laws for the delay in making advance payments critical to securing vaccine doses.
While the United Kingdom, Canada, and United States are snapping up hundreds of millions of doses of Western-developed vaccines and jumpstarting mass vaccinations, the Philippines has, so far, secured only around 3 million doses of the Oxford-AstraZeneca vaccine set to arrive in June 2021 yet.
Even its neighbors in Southeast Asia have managed to secure more doses and are set to begin inoculations much sooner. Indonesia, the only country in the region to surpass the Philippines coronavirus tally, has already received 1.2 million doses of the China-developed CoronaVac (from Sinovac), even if it is yet to secure local regulatory approval.
Indonesia has secured a total of 338 million doses from a variety of vaccine developers – AstraZeneca, US firm Novavax, and China's SinoVac, CanSino Biologics, and Sinopharm, according to the Duke Global Health Innovation Center's tracker of global vaccine pre-purchases.
Another neighbor, Malaysia, has secured 14 million doses, 12.8 million of which are to come from Pfizer, whose vaccine is said to be 95% effective.
But though Duterte's Philippines first signed a deal for a Western vaccine, that of AstraZeneca, officials expect a Chinese or Russian vaccine to arrive on Philippine shores first.
Rappler speaks with various pandemic task force officials to piece together a picture of how the Duterte government is trying to bring a vaccine to the Philippines and why it's pinned its hopes on China vaccines in particular.
Why China
Duterte's spokesman Harry Roque phrased it quite bluntly in a press conference on Tuesday, December 15.
"We're buying from Sinovac because we won't be able to get vaccines right away from Pfizer, AstraZeneca, or Moderna," he said in Filipino.
Sinovac is a private Chinese firm that has developed CoronaVac, which has already been administered in China after the country granted it limited use approval in July. However, Sinovac is yet to release efficacy results and its Phase 3 clinical trials in different parts of the world have not yet concluded, as with many other vaccines.
Despite this, CoronaVac is the frontrunner vaccine for the Philippines, with no less than vaccine czar Carlito Galvez Jr saying 25 million doses could arrive in the Philippines in March 2021.
Why the optimism when it comes to Sinovac? It's because the Chinese company is the most active in engaging with Duterte officials, thanks to the Chinese government.
"They are making commitments and they're responding positively to us. That's why Sinovac is one of the most active vaccine suppliers that's negotiating with our country, because they have the imprimatur of China itself," said Budget Undersecretary Lloyd Christopher Lao, who is part of the government team in charge of procurement.
At this point, with the urgency of getting Philippine hands on a vaccine, officials will entertain any firm with a promising product.
It's not clear how much government will need to pay China or Sinovac itself. But Lao said "cost is secondary" and that, cost or no cost, Sinovac has, at least, reserved a "huge supply" specifically for Southeast Asian countries, according to Galvez.
Apart from Sinovac and the Russian vaccine, the government expects vaccines of two other Chinese companies, CanSino Biologics and Sinopharm, to be available in the first 3 months of 2021.
But if Foreign Secretary Teodoro Locsin Jr were to be believed, the Philippines' first COVID-19 vaccine would have been US-made.
He claimed a deal for the January 2021 arrival of 10 million Pfizer vaccine doses had been in the works, but was botched by Health Secretary Francisco Duque III. Duque has denied this accusation and provided a timeline of events. The timeline suggests a back-and-forth between government agencies led to the months of delay in signing a confidential disclosure agreement with Pfizer.
Malacañang still expects the Pfizer vaccine to arrive sometime in the "2nd and 3rd quarter" of 2021.
The struggle to pay in advance
Most pharmaceutical companies ask for an advance payment, termed advance market commitment (AMC), to reserve a supply of their vaccine for a buyer.
This can come in the form of a country investing large amounts of public funds into research and development of that firm's vaccine.
The US did this with its Project Warp Speed, pouring in nearly $500 million into Moderna for vaccine development. As early as July, it also signed a nearly $2 billion deal with Pfizer and German firm BioNTech to secure 100 million doses by end-December. Several countries had also given AMCs even in the early stages of vaccine development, phase 1 and 2 trials. 
The Philippines did no such thing, and officials, including Duterte, said this was due to limitations imposed by the Government Procurement Act (Republic Act No 9184).
"It's really difficult for us because RA 9184 does not allow us to do advance commitment and only with approval of the President," said Galvez when asked by Rappler last Monday, December 14.
"We already talked with the COA (Commission on Audit)… So we are the only country that has that difficulty. Other countries, they have a liberal law on procurement. But we are very limited with [RA] 9184," he added.
The vaccine czar said laws allow the government to give a 15% advance payment whereas pharmaceutical firms and other vaccine supply initiatives required "at least 50%" AMC.
But not everyone in the Cabinet took this view. Roque, a lawyer, told the President that international procurement of vaccines is exempted from the procurement law.
"I was one of those that voiced opinion that there is no bar because, number one, there is an exception under the RA 9184 that procurement pursuant to international agreements shall not be covered; and number two, there is express authorization vested on the President under Bayanihan 1 and 2 to resort to extraordinary procurement in relation to COVID," he said when asked by Rappler.
Justice Secretary Menardo Guevarra, though not asked by Duterte specifically about the legality of advance payments for vaccines, said that in a memo to the President about PhilHealth payments to Red Cross for swab testing, he "pointed out that under auditing rules, advance payments for goods or services not yet delivered are not allowed, unless with prior approval of the President."
On September 14, in remarks aired on television, Duterte castigated "Western" vaccine companies for asking for advance payments, calling them "crazy" and "all profit" for proposing such an arrangement. He also echoed the thinking that pre-payments for goods that are "non-existent or to-be-produced" violates procurement laws.
Two months later, Duterte reversed his position. On November 19, Roque announced that Duterte had decided to release advance payments to private vaccine developers and secure Advance Market Commitments (AMCs).
The game changer
What led Duterte to change his mind on the critical move of paying in advance for urgently-needed vaccines?
The game changer was Galvez's discovery of the Asian Development Bank's new vaccine program for developing countries. The program, Asia Pacific Vaccine Access Facility (APVAX), makes a total of $9 billion available to countries like the Philippines for procuring, transporting, and manufacturing COVID-19 vaccines.
"So what we did, we made a research and we saw that the ADB offers what we call a loan for advance market commitment. And it does not limit us when we sign a contract with a vaccine company. We can elevate it to an international negotiation," said Galvez in Filipino.
"So with that, when we saw that we can use ADB as a financing strategy, we made a presentation to him (President Duterte) early November and he approved it immediately," Galvez continued.
The ADB funds make vaccine procurement a part of an international agreement, which, according to Roque, is not covered by the strict procurement law. This now gives the government more flexibility in giving advance payments.
It comes at a critical time because Galvez said AMCs have to be secured in December or January. Paying any later would move the Philippines even lower down the line in vaccine orders. For this reason, the over P70 billion for vaccines in the 2021 national budget bill will come too late. Galvez said these funds will instead be used to buy syringes and other equipment needed for mass vaccination and vaccine storage.
Apart from AMCs for private firms, an AMC is also required by the COVAX Facility, an equitable vaccine access initiative that could provide the Philippines with 20% of its vaccine needs from a variety of vaccines that will join the program.
What now?
Apart from locking down reservation fees for vaccines, how early Duterte can get vaccine jabs into Filipino arms will depend on two things: when the Food and Drug Administration (FDA) can authorize use of a vaccine and how fast developers of those vaccines can manufacture doses for the Philippines.
Galvez said the frontrunner for FDA emergency approval is the Pfizer/BioNTech vaccine because it's been given emergency approval by the most number of countries.
But in terms of which vaccine developer is most ready to ensure a supply of doses for the Philippines, the frontrunners are Sinovac and Russia's Gamaleya Institute, creator of the vaccine Sputnik V.
"Sir, if we look at our projection for a potential rollout, if we will be successful with Sinovac and Gamaleya, their initial commitment is, they can supply doses in the first quarter [of 2021]," Galvez told Duterte on Wednesday, December 16.
Sinovac vaccines could arrive in March, Galvez had previously said.
But for this to happen, Galvez and Domingo have made it clear that the Sinovac vaccine and Sputnik V have to pass the safety and efficacy assessments of the government's vaccine experts panel.
From all negotiations with vaccine makers that Galvez is pursuing, he expects potentially 60 million doses for the Philippines from AstraZeneca, Pfizer, Johnson and Johnson, and Sinovac to arrive in 2021.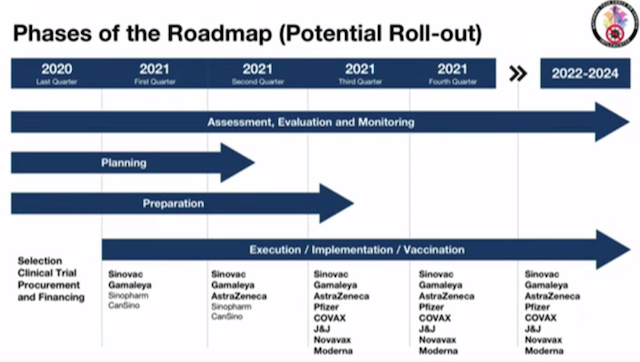 But most of these doses have not been secured for the Philippines in terms of signed agreements.
Of the 60 million doses, 10 to 15 million could arrive in the months of May to July next year, at the earliest, said Galvez on Wednesday.
All 8 vaccine sources the government is talking to, including COVAX Facility, Pfizer, and Moderna will only be able to provide doses for the Philippines in the 3rd quarter of 2021 or the months of July to September, at the earliest.
Galvez attributed the relatively long waiting time to the limited production capacity of vaccine manufacturers, given global demand.
Meanwhile, Duterte is acutely aware of the pressing need to show Filipinos that a vaccine is on its way. He knows that 2021, his last full year in power, could be defined by how well his government deploys vaccines to protect people and revive the ailing economy. – Rappler.com