PART 2: The Philippine government declared a 'war' against the coronavirus. Its soldiers tasked to track down the enemy are left overworked, underpaid, and underequipped.
Marc Nicole Mercado found himself in the middle of a math problem that meant life or death.
Marc was a contact tracer in the 2nd District of Quezon City. The day was March 30. They had 2,446 active cases, 286 new. They had 3 days worth of backlog. They were only 26 field contact tracers, divided into 10 teams.
The questions: If they had only 4 cars, who should get them to reach the patients that needed them the most? Upon arrival at the locations, they have only 200 testing kits. Of the thousands of close contacts they have to test, who should be tested?
These are just a couple of the daily questions contact tracers face in the Philippines, where cases have risen at record-breaking speed, while the number of contact tracers has dropped, after the national government slashed their budget for 2021.
Rappler spoke with contact tracers from 5 different cities in the so-called "NCR Plus" bubble. For contact tracers who got to keep their jobs, they were left with limited resources and technology to work with.
The Philippine government declared a "war" against the coronavirus. Its soldiers tasked to track down the enemy are left overworked, underpaid, and underequipped.
Not all contacts tested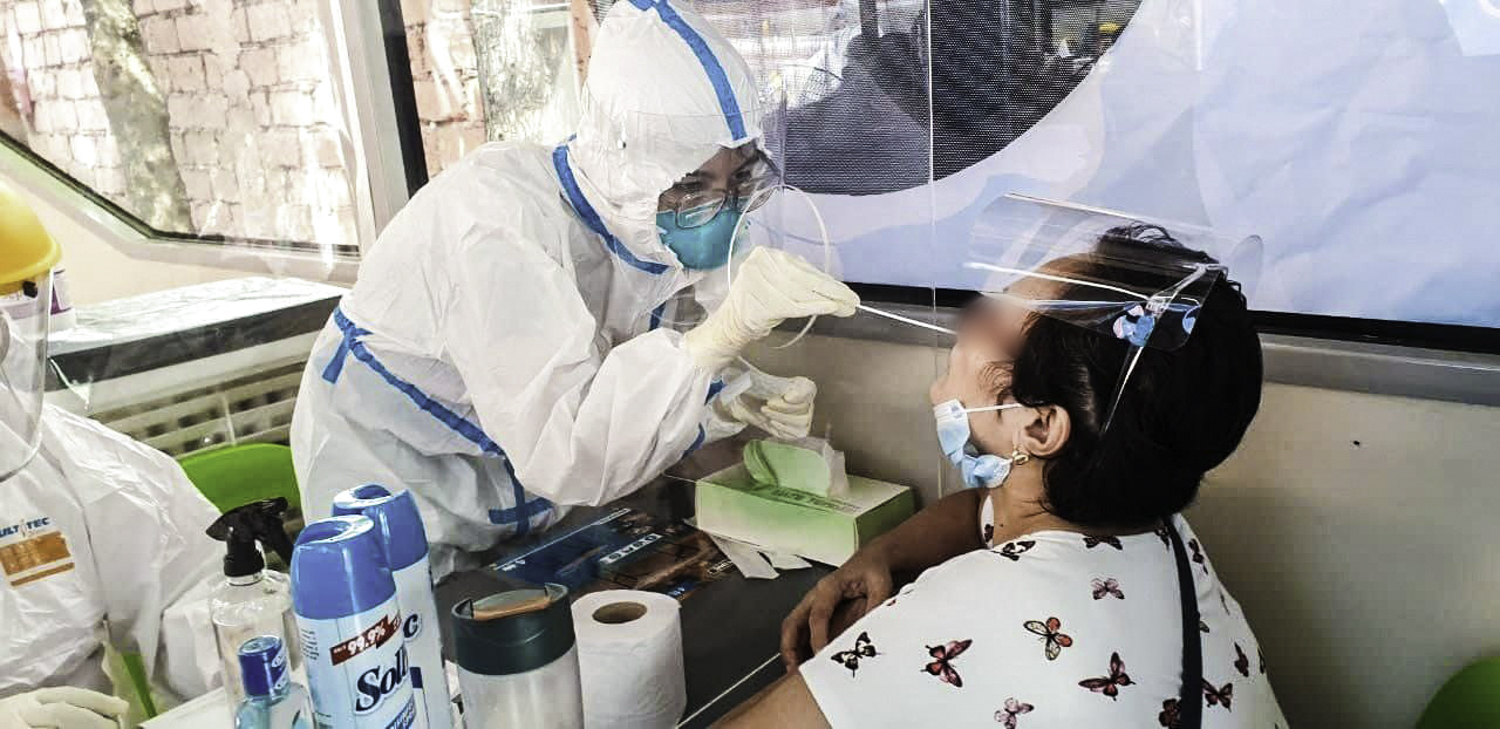 The stories of untested contacts haunted Marc daily.
In the first week of April 2021, one person they skipped testing died after experiencing days of "DOB" – their acronym for difficulty of breathing.
Laila (not the person's real name) was tested only after dying at the hospital, where there was more supply of test kits. She tested positive.
Laila was a close contact of another patient. She was not a senior citizen and had no comorbidities. Marc and his team decided to test those who needed it more.
"Kulang na kulang. Gustuhin man namin magawa nang maayos ang aming trabaho, meron pa ring mga factors na kailangan na nawawala sa ngayon. Due to lack of manpower and equipment, 'di namin magawa nang maayos at mabilisan ang trabaho namin," Marc said.
(There are many things lacking. Even if we want to do our jobs well, there are factors that are needed but are still missing. Due to lack of manpower and equipment, we could not do our jobs well and quickly.)
In Manila, doctor Jonathan Laya said that while they believe they have enough test kits, they do not have enough people to use them. This also entailed skipping people who could have been infected already.
"We also have a vaccination rollout, so the workforce has been divided," Jonathan said.
Where is the tech?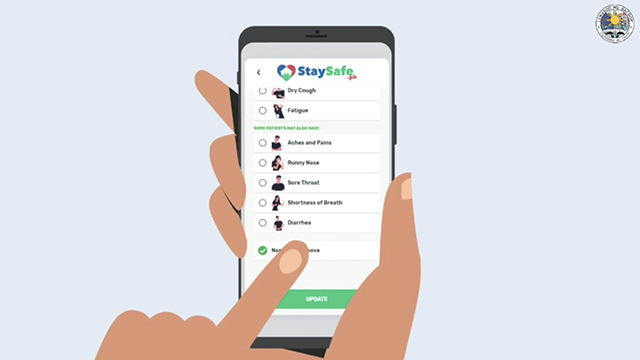 "What's that?" Marc said, puzzled mid-interview.
"Hindi kami gumagamit ng ganun (We don't use that)," he said.
In Malabon City, 25-year-old EJ delos Santos said he has heard of it in the news, but they have never used it.
EJ pulled out his cellphone and scrolled to see if it held any information for him.
"I'm checking it now. Does this information collected reach us? No. We still have no information. I have not encountered information from the StaySafe app," said EJ.
The item that puzzled the contact tracers was the national government's contact tracing application, StaySafe.
Launched in September 2020 – 6 months after the pandemic was declared – the application was envisioned to unify contact tracing efforts across the country.
On the ground, StaySafe has barely been used.
Contact tracers said their teams and communities have not been briefed enough about it. They have heard of calls from the government's top officials, like Palace Spokesman Harry Roque, and Interior and Local Government Undersecretary Jonathan Malaya, but their orders have not been coupled with training.
Roque, in fact, declared on March 12 that the application would be ready for use in 10 days. A month has passed and almost all patients and close contacts met by tracers in Manila, Malabon, and Quezon City know nothing about the application.
The app is inaccessible to Filipinos who do not have mobile phones, access to stable internet, and the tech savvy to scroll through online forms. Many of the places that need StaySafe's bird's eye could not be covered as the virus has penetrated many poor communities
"For it to be functional, at least 70 to 80% of the population should have it. If they don't, it won't work," said Jonathan of the Manila health department.
Local governments have developed their own contact tracing systems around their communities, but they are not synchronized with the StaySafe system. In Quezon City, residents have the KyusiPass (a play on its QC acronym). In Pasig, they have the Pasig Pass, complete with a QR code system. Manila and Malabon, along with most local government units, do not have their own applications.
Not all barangays have also shifted to digital. They lack the computers and the people who know how to use their programs.
The result is this: Local governments have a faint idea of how the virus is spreading in their communities, although belatedly, with the slow testing, but when it comes to a national picture, the national government is blindsided in many areas.
Overworked, underpaid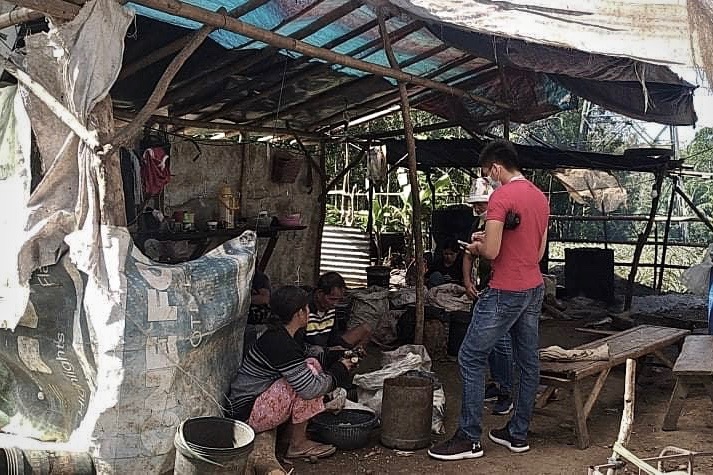 Every day, 21-year-old Justin Chino Requillas from Mendez, Cavite is required to collect data in 4 rural barangays. At the end of the day, he travels 3 kilometers to report to their municipal rural health unit.
Contact tracers hired by the national government are entitled to receive a monthly salary of P18,784. However, Requillas said he has been working free as he still has not received his salary since his contract began in February.
He has been spending his own money, around P150 a day, to commute to the barrios.
"Until now, I haven't received my salary since February because of my problem with my contract. My other workmates have already received their salary except me," he said.
His savings from his previous work as a safety officer in Ninoy Aquino International Airport has been sustaining him.
Requillas was also entitled to have a transportation allowance worth P1,000 (down from P1,500 last year) for his travel activity and a load allowance worth P400 in the form of a loaded card.
"Abono po muna kaysa naman po hindi kami makapagtrabaho. Hindi naman kami puwede dumuty sa bahay lang, eh. Ang instruction po kasi namin ay nasa field at nagco-contact trace," he said.
(For now, I shoulder all of my travel expenses rather than not doing my work. We cannot do duty at home because the instruction is for us to be in the field doing contact tracing.)
Requillas said they cannot always expect to use the barangay vehicle for transport since it is also being used for giving assistance to patients and their close contacts.
When contacts lie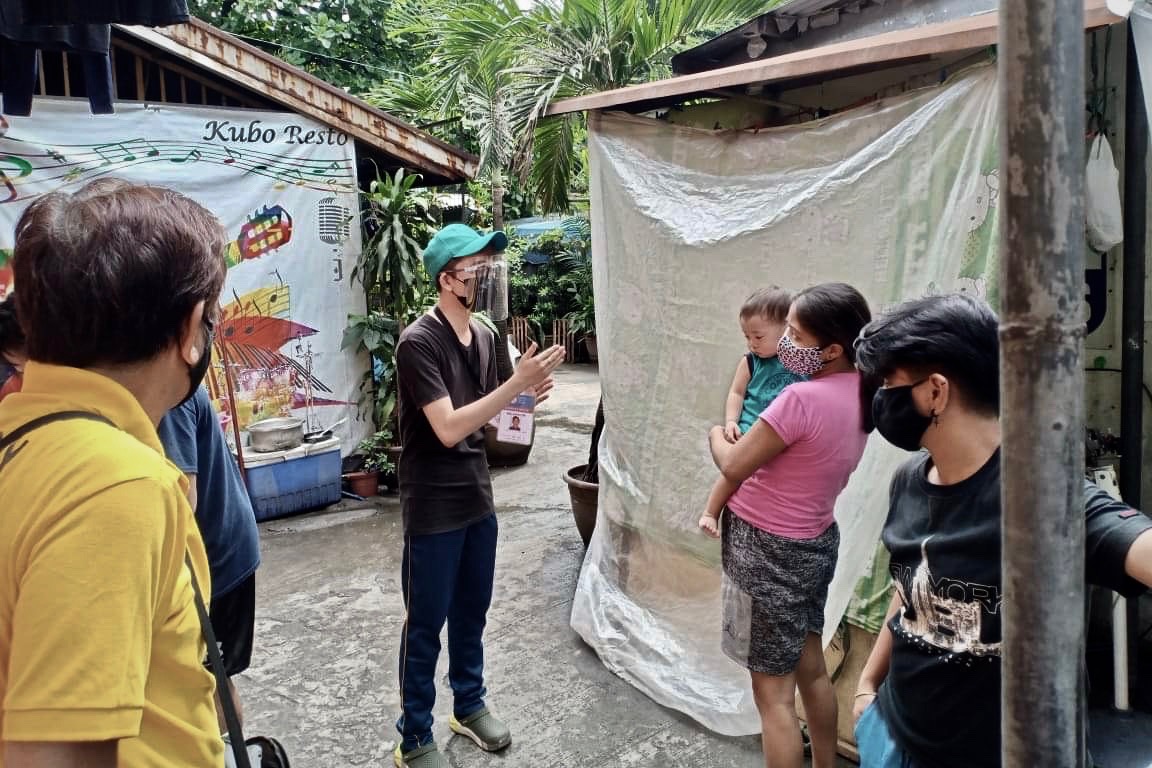 The work of contact tracers hinges on the cooperation of the patients and their close contacts. A year on, contact tracers still find themselves misled by the people in their communities.
"Aside from them hiding information, most of the time, they are lying. They don't want their employers to know. They are thinking that we would report them to their employers," a frustrated Mikko Padasas, 22, of San Jose del Monte, Bulacan, said.
Marc shared that their team in Quezon City has wasted countless hours looking for patients in addresses that turned out to be fabricated. In Malabon, EJ said some patients underreported the number of people staying in their household, surprising tracers who saw only 3 names in their forms, but saw 4 people in the household when they visited.
"Napakaraming nasayang na oras (There was so much time wasted)," Marc said.
When they found their patients and insisted on more information and testing, Mikko's team in Bulacan faced outrage.
"Minsan namumura pa ang mga kasama ko (Sometimes, they even curse my teammates)," said Mikko.
In Malabon, EJ no longer insists. He said he understood the patients.
"The question there is, why they are not cooperating. It's because they fear hunger. It's because if they cannot leave their homes they wouldn't be able to feed their families. In these cases, I could not respond," EJ said.
For many contact tracers, they find themselves in an impossible impasse. The Duterte government has declared a "war" against the virus, but has failed to fill the ranks of its foot soldiers with enough people, enough training, and enough arms.
For Marc, they can no longer turn back from the battle.
"Sinasabi namin dito na ayaw na namin. Parang ayaw na naming bumangon, pero sa bawa't paggising namin, walang ibang gagawa kundi kami lang," he said.
(We keep saying here that we want out. We don't want to rise anymore, but every time we wake up, we know no one else will do this but us.) – Rappler.com
Co-author Jezreel Ines is a BA Journalism student at the University of the Philippines in Diliman. He writes for Tinig ng Plaridel, the official student publication of the College of Mass Communication.