PART 1: Rappler speaks with contact tracers from 5 cities in the so-called 'NCR Plus' bubble. They are exhausted and overwhelmed.
"Deteriorating."
Baguio City Mayor Benjamin Magalong spoke on March 30 before rows of muted lawmakers on his screen, reporting with his calm voice on contact tracing – the effort that he had been named a "czar" of, and an effort that he was reporting to be failing.
A table of dizzying numbers popped up on the screen as evidence: while confirmed cases shot up at record-breaking speed, contact tracing had slumped.
The national average ratio was down to 1:3 – for every confirmed case, only 3 close contacts were found. The ideal ratio is 1:30 and 1:37, at least in urban areas.
"Technically, there is no contact tracing there," he said, referring to some regions, including the soon-to-be locked down Metro Manila.
Contact tracing is one of the pillars of pandemic response. It involves looking for all the people infected and all the people that could be infected, reaching out to them, and telling them to isolate.
If done properly, contact tracing cuts as many paths of the virus as possible, before it could branch out to other people. This keeps the cases low.
If contact tracing is done with surgical precision, like in Vietnam and South Korea, region-wide lockdowns that are cratering economies would not be needed. Confirmed and potential cases are the only ones that are made to stay at home, not entire populations.
Contact tracers: Flooded on the ground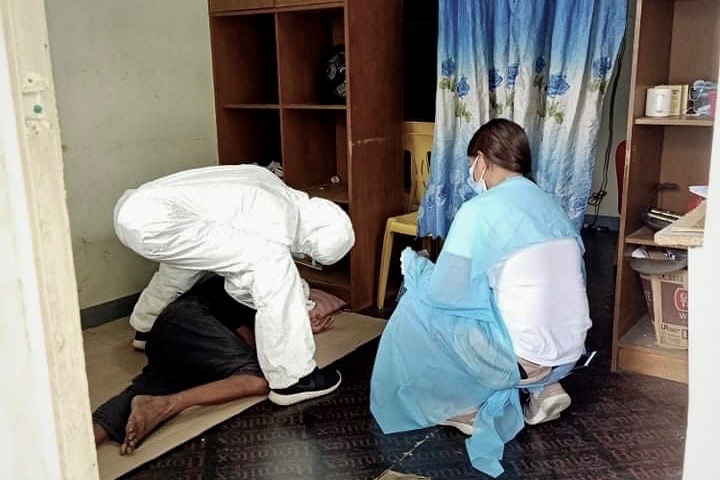 As Magalong gave his briefing from his Baguio City office, 27-year-old Marc Nicole Mercado was zipping across Quezon City's 2nd district aboard a Suzuki S-Presso.
That day, they counted 2,446 active cases in their district alone. Of these, 286 were new cases that they had to visit. Marc knew they could not reach them all until days later.
Somewhere in Malabon City, 25-year-old EJ delos Santos pressed his ear on his cellphone.
"Kumusta, may na-develop na po ba na symptoms (How are you, have you developed symptoms)?" he asked, calling from their barangay hall in Tañong, repeating a line he has said over a hundred times as a contact tracer.
EJ was exhausted. He just came from a 6-hour mass testing program where he had to handle the swab samples. He needed rest, but he still had 5 other patients to reach out to. He breathed in, reached for his phone, and texted the next one: "Kumusta?" (How are you?)
At the Manila City Hall, doctor Jonathan Laya, the city's contact tracing chief, moved about in his office of tracers as the city confirmed 776 new active cases.
For each new case, Laya's team sought to track at least 10 close contacts. They weren't always successful. With 3 days worth of backlog in encoding, they had no choice but to keep calling.
There is contact tracing. However, the virus has overwhelmed the foot soldiers to the point of near paralysis.
Rappler spoke with contact tracers from 5 different cities in the so-called "NCR Plus" bubble and found that tracing teams were:
Undermanned – Tracers lack manpower and training to do proper work
Underequipped – Tracers do not have enough cars and computers to complement their tracing efforts
Unsynchronized – Tracers lacked the systems to harmonize their contact tracing data for a national picture of the virus' reach in the country
According to the contact tracers, the problems were rooted in the government's decision to slash funding for contact tracers in 2021, the lack of local funding, and the rise of more infectious variants.
Training?
Before the pandemic, EJ worked as a human resources recruiter. He quit his job after he found it impossible to reach his targets under lockdown. How could people be recruited to their company when they were locked inside their homes? He had to make use of his skills elsewhere, he thought.
EJ applied as a contact tracer under the national government in September 2020 and reported to work in his barangay after a week.
He was only trained with two hours of videos uploaded on Google Classroom.
"I was expecting to have hands-on training. For HR, if you're going to call someone, there is a simulation. Here, it's just videos," he said.
With prior work experience, EJ quickly applied the monotone instructions dictated by the recordings, but on the first few days of work, he found his fellow contact tracers struggling to follow, so he had to step in to intervene. They learned the process days later.
In Manila, many barangay contact tracers – those appointed by barangay captains – could not use Microsoft Excel and email. Laya, the city's contact tracing chief, explained that most of these appointed tracers were barangay tanods (guardsmen), and some were even senior citizens.
These mostly untrained barangay tracers form most of the capital's contact tracing team as each barangay was required to set up a tracing squad. They make up around 2,000 of Manila's 2,500 tracers.
Most of the time, they are only called for directions to confirmed virus cases.
"Sa barangay talaga wala talaga kaming maaasahan kundi inavigate kami (In barangays, we really expect nothing but to help us navigate and get to the cases)," Jonathan told Rappler in an interview.
Aside from the lack of training, Marc from Quezon City pointed out that the barangay contact tracers are not fulltime contact tracers, so they are often unreachable.
He also said that some barangays also appoint barangay councilors, who, on their own, spend most of their time legislating and distributing aid to their starving constituents.
As for training in Quezon City, locally hired contact tracers were made to complete a course on the website Coursera. They were trained as they were deployed in the field.
The result is a patchwork of contact tracers who hold varying levels of competence.
There are contact tracers who spend their entire day reaching out to patients, encoding, and following the process set by the local and national government. These are mostly the tracers organized by the local governments and tracers hired by the national government.
Then there are contact tracers, mostly those appointed by the barangays, who are either too busy to contribute to the tracing effort, or too incompetent to contribute, in accordance with their processes.
Tracers are breaking down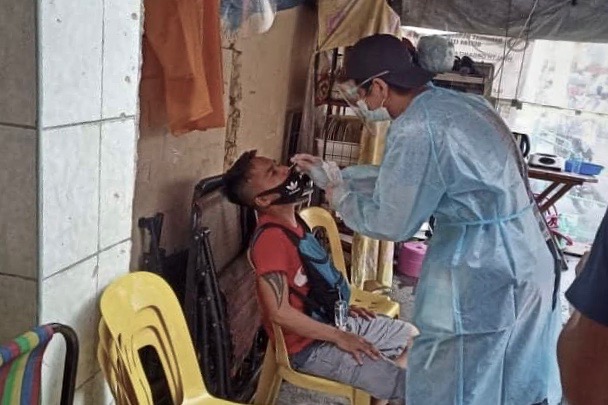 "All problems go back to this," said EJ delos Santos, when asked about the lack of personnel.
Up to December 2020, EJ and his team were able to track and isolate with ease. He recalled a time when they were 20 national government-hired tracers in their barangay and they had 10 cases to monitor. Each case had two tracers.
By February 2021, the thought of having more tracers than cases had become a long-gone luxury.
They were down to 5 tracers, with each of them handling around 10 cases at a time.
"From February up to now, cases have been non-stop," EJ said.
The ballooning of cases has pushed contact tracers to work overtime without pay. On average, they are paid only P20,000 a month. For 27-year-old Gene Matt Bautista from Barangay Sto Tomas in Biñan, Laguna, this meant taking midnight calls for patients with worsening symptoms.
From two to three persons per day when he started his job as a contact tracer in October 2020, he began handling 12 to 16 confirmed patients and almost 90 close contacts by April 2021 – a span of six months.
"Even if we say that the work is 8 am to 5 pm, when you arrive home, work is still there. Even if they say we are just contact tracers, we still hold the life of the patient. Anytime, something can happen to them and we need to be there," he said.
In Quezon City, field contact tracers have gone as far as working on Saturdays, even without pay, to fend off accumulating a backlog of cases.
The 2nd District of Quezon City has only 26 field contact tracers. Unlike remote contact tracers who call patients, the field contact tracers of Quezon City visit the homes of the confirmed cases and track the close contacts then and there. Before they leave, they offer free testing.
As of April 7, their district counted 1,388 active cases. This means that for each field contact tracer, there are 53 active cases.
"That is too much to handle…They are piling on top of each other," Jonathan said.
Because of this, they could not visit all of the new cases on the day they test positive. Most of the time, the visit comes 3 to 4 days after.
On these trips, Jonathan's team often needs to go to the next household for tracing.
"Dahil kulang, kailangan na naming magprioritize (Because there aren't enough of us, we really need to prioritize)," Marc said.
Police escorts only
And where are the police investigators who have been ordered to help out in tracing? Their help has not been significant, Rappler was told.
In Manila, Jonathan recalled speaking with police officials about their contribution, only to be told, "I cannot give you people. I can only give you escorts."
This meant police only accompanied contact tracers in Manila but did not apply their touted probing skills to search for cases and close contacts. EJ said they had the same experience in Malabon, where police helped in security and logistics, but not in tracing.
In his briefing before lawmakers, Magalong said contact tracers must at least go to the third level of contacts – from the case, to the family, to the people the family interacted with.
"If they go to up to the 3rd generation they will be able to accomplish 1:30 contact tracing ratio for urban areas," Magalong said.
For contact tracers on the ground – ill-equipped, undermanned, and overwhelmed – the question is not whether they will, but whether they can.
"We are very exhausted. It has come to a point that I have been breaking down. Sometimes, it really is not okay anymore. We are just lifting each other's morale. Our strength comes from each other. Sometimes, we lose patience, but we need to rest a little, then return to the field again," Marc said. (To be concluded) – Rappler.com
Co-author Jezreel Ines is a BA Journalism student at the University of the Philippines in Diliman. He writes for Tinig ng Plaridel, the official student publication of the College of Mass Communication.