PART 1: Positive feedback about vaccination drives in Metro Manila cities are a ray of hope in the virus-hit Philippine capital
Vida Cruz, 29, came home hungry, with a headache and desirous for a cold shower after spending her Easter Sunday morning getting vaccinated against COVID-19.
Despite what she suspected were symptoms from her first Sinovac shot, she felt relieved.
"It was actually better than I thought it would be," she told Rappler on Monday, April 5, the day after her vaccination at Pinyahan Elementary School, Quezon City.
"When you see pictures of vaccinations pre-pandemic times, it's all in a center, everyone is standing everywhere. I thought it would be much the same with some slight social distancing and this was much better than I expected," she said.
After arriving at 6:30 am for an 8 to 9 am appointment, she was out past 10:30 am, raring to order fastfood.
She described the process, from confirming her slot to getting observed for side effects as generally smooth and orderly.
There was just a few snags, like when the vaccination center staff couldn't find her appointment in their system and when she was asked for her doctor's clearance to get vaccinated when she had only brought a document certifying her condition.
It was a stroke of luck that her father, who was ahead of her in line and had the same chronic kidney condition, had text messages from their doctor telling them to get inoculated.
Many other people Rappler spoke with about their vaccination experience said the same thing: Though there some hiccups, the process was generally smooth and orderly.
This is in contrast to the first few days of the country's vaccination drive when some government officials outside of the government's priority list were administered shots. Malacañang termed the incidents breaches in protocol. Yet the Palace, too, had been accused of this after members of President Rodrigo Duterte's security detail were illegally administered with Sinopharm vaccines.
Roberto Laguna, 47, a barangay kagawad in Caloocan City, could not get vaccinated on his first try because the site was besieged by so many other barangay frontliners.
The next day, they enforced a numbering system which made things more orderly. Number 82 in line, Roberto got his jab on March 24 in City Hall.
He says he decided to get vaccinated for his safety and that of his family.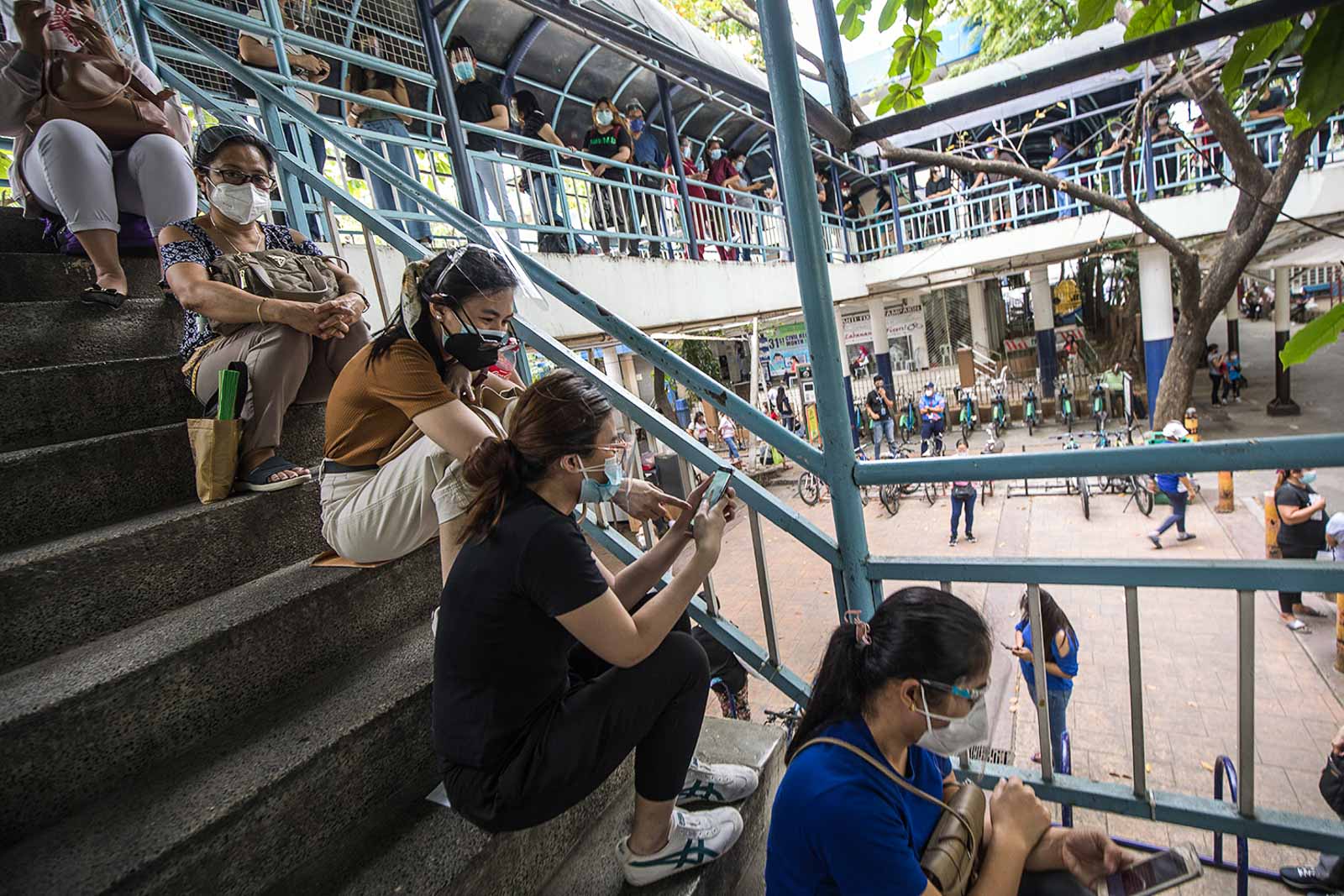 A few days later, April 3, it was Nelson Velasco's turn to get vaccinated in Liparo Elementary School, also in Caloocan, as a 59-year-old with hypertension and diabetes.
He spent 4 hours in line. But his daughter, Irene, who also had comorbidities, wasn't able to get her shot despite arriving at 7 am.
"I lined up because I'm in the list of people with comorbidities. But I didn't have a prescription. In their [social media] post, it said to bring a medical certificate or prescription. So I understood it to mean 'bring any of the following,' then when I got to the site, many people were rejected for lacking a prescription," she told Rappler in Filipino.
Similar complaints are found all over social media of inconsistencies between announcements on what documents to bring and what staff at vaccination sites actually ask for.
Praise for health workers
Manileño Angelo Abellon, meanwhile, described the vaccination process in Emilio Jacinto Elementary School as "systematic" and "efficient." He spent less than an hour in the site.
He had especially good words for the health workers at the school who helped ease the anxiety of vaccines, especially among those nervous about the injection.
Vida, who has a phobia of syringes, attested to this.
"The lady administering the vaccine, two other health workers came to me and made me laugh, asked how I am. So I would say that their service is pretty good. They really know what they're doing," she said.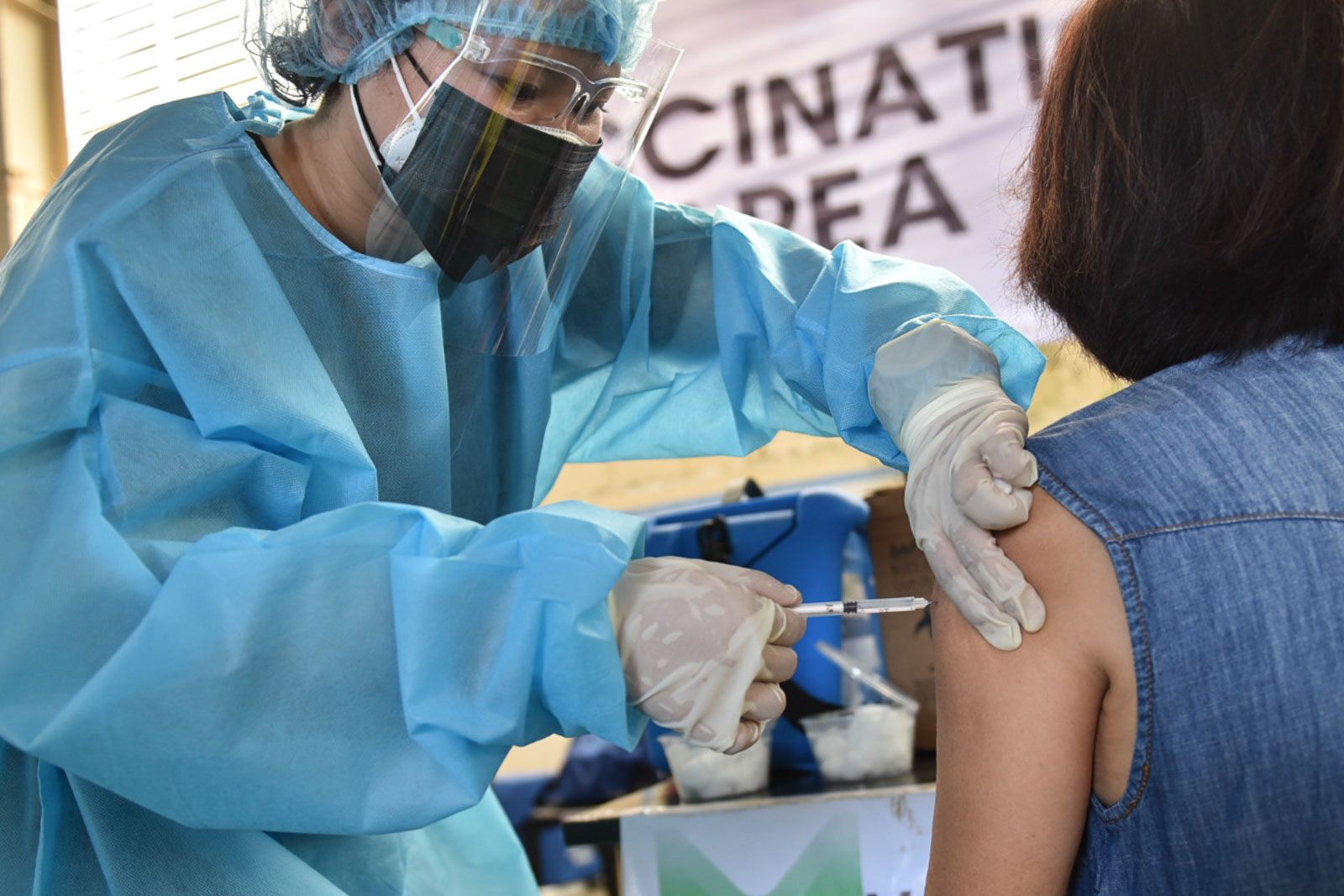 Though she praised the Department of Health workers who were on site, she said staff members who appeared to be affiliated with the Quezon City government were more lax with health protocols.
"They would forget about social distancing, for example. Some had masks but no face shield," said Vida.
All interviewees noticed many people lining up to get vaccinated. Roberto estimated that around 300 must've gotten injected on the day he went. Vida also recalled many senior citizens arriving, only to be told they could not get vaccinated because the only shots left were Sinovac jabs which are not recommended for the elderly.
Key to curbing country's outbreak
Over a month after the Philippines received its first vaccine shipment, all local governments in virus-hit Metro Manila have begun vaccinating their constituents, according to Metropolitan Manila Development Authority General Manager Jojo Garcia.
Inoculations of local government medical frontliners began in March. By late March to the first week of April, many cities had started opening vaccination sites for the elderly and people with comorbidities.
A third, or 831,470 doses in the country, were allocated to Metro Manila, the region with the most number of COVID-19 cases, according to health department figures.
Of this, a quarter or 211,054 have been administered.
Vaccine czar Carlito Galvez Jr, as well as medical experts, say stemming transmissions in Metro Manila is key to ending the country's outbreak. Not only is Metro Manila the capital and a source of a significant chunk of economic activity, its an entrepot and convergence zone for people and goods in different parts of the country.
For this reason, the government has "recalibrated" its immunization drive and will now "focus limited vaccine supplies" in Metro Manila and other provinces with high infection rates, said Galvez on Tuesday, April 6.
Challenges: Vaccine hesitancy, access for the poor
While vaccination sites get plenty of visitors and positive feedback is encouraging, vaccine hesitancy looms as a real stumbling block.
"Sa totoo lang, maraming ayaw (Truth be told, many don't want it)," said Nelson, admitting that he was in the small minority of people in his office who said they would get vaccinated.
Their main fear are the side effects. Nelson said he doesn't try to convince them because the debate will be endless.
He himself used to be unsure about whether or not to get vaccinated.
"Only my daughter convinced me," he told Rappler in Filipino.
Roberto also observed that many people in his community don't want to get vaccinated. There are even some who don't believe COVID-19 is real.
"Mahirap kumbinsihin, lalo na 'yung hindi mga naniniwala. Kasi may mga kaibigan ako hindi sila naniniwala. Ba't sila magpapabakuna kung hindi sila naniniwala sa COVID?" he said.
(It's hard to convince them, especially those who don't believe it. I have friends who don't believe it's real. Why will they get vaccinated when they don't believe in COVID?)
Joseph Juico, head of Quezon City's vaccination task force, said he noticed that most people lining up to get vaccinated are those from middle to upper-income households.
The challenge for the city government is to make sure the lower-income individuals also get vaccinated.
There could be many reasons why the poor are not going to vaccination sites, he said. It could be lack of access to the apps or webpages for pre-registeration. It could be the lack of mobility and transportation.
Quezon City is trying to address this by partnering with tricycle associations to transport people from poor communities to the vaccination centers. They've also asked barangay personnel to conduct information drives in their areas.
In Navotas, Mayor Toby Tiangco said that during enhanced community quarantine, residents can text the city so that personnel can come to their houses to help them with online registration. They've arranged tricycles to pick up senior citizens from their homes on vaccination day.
Juico thinks there could be another reason why the poor aren't getting vaccinated.
"There are other things more important to them, the poor, than being vaccinated. What's important is to provide 3 meals a day, finding a job. Poverty has risen. I have a feeling that's the main issue," he said.
Past surveys already showed that many Filipinos are not keen to get vaccinated.
A poll conducted by Pulse Asia in late February as the vaccination program started showed that 6 out of 10 Filipinos didn't want to get vaccinated.
Back in late January, an Octa Research Group survey found that a majority of class D and E Filipinos were concerned with the safety of vaccines compared to a little under half of wealthier Filipinos who had the same worry.
Medical experts and government officials say vaccine hesitancy among the poor grew after the controversy surrounding the dengue vaccine Dengvaxia which was administered mostly in poor communities.
Yet others, like those in Roberto's circle, are getting vaccinated precisely because they are suffering from the pandemic and see it as one way to help solve the problem.
"Sobrang pahirap na sa ekonomiya. Lalo na mga nadedepress dahil walang makain, walang trabaho. Isa na rin ako sa mga nadepress dati last year. Nadepress na rin ako dahil walang kita," he told Rappler.
(It's a great burden on the economy. Many people here got depressed because they have nothing to eat, no job. I was one of those who got depressed last year. I got depressed because I had no income.)
"Dapat matuto tayong lumaban sa pandemic na 'to. Kung ano yung kaya natin ilaban, ilaban para mabuhay."
(We need to learn how to fight this pandemic. We should do everything we can to fight to live.)
(READ: Part 2 |Different strokes: How Metro Manila cities are solving vaccination challenges) – with reports from Gab Dumalag and Mara Cepeda/Rappler.com