Senior Trump official National Security Adviser Robert O'Brien also moves to cement the Trump administration's legacy of aggressively combating China
As the administration of United States President Donald Trump approaches an end, his top security aide, National Security Adviser Robert O'Brien, arrived in the Philippines bearing gifts.
In Manila for an official visit earlier this week, O'Brien made sure to pack his one day itinerary on Monday, November 23, with drummed up statements and firepower to match.
From facilitating the turnover of a new missile package valued at about $18 million (P866.4 million) for counterterrorism efforts, O'Brien capped his trip with pointed words aimed at China's aggressive behavior in the South China Sea, as well as Hong Kong and Taiwan.
O'Brien's stop in the Philippines followed his trip to Vietnam and his participation in recent summits held by the Association of Southeast Asian Nations (ASEAN) and the Asia-Pacific Economic Cooperation (APEC).
His trip to the region comes during a moment of rekindled security ties between Manila and Washington, as the Duterte administration recently decided to extend the life of its Visiting Forces Agreement (VFA) nearly a year after first announcing its termination.
It also comes as Trump's stay in the White House enters its final days, symbolizing what many analysts view as his administration's last push to cement a legacy of combating China in the region.
Asked what message his trip should send, O'Brien affirmed this, saying: "That is one of the reasons I am here in the region: to convey American commitment to our treaty partners, to our allies, to our partners. The United States is a Pacific power."
"Our message is we're going to be here, we've got your back, and we're not leaving. We're not going to be pushed out of the Indo-Pacific region."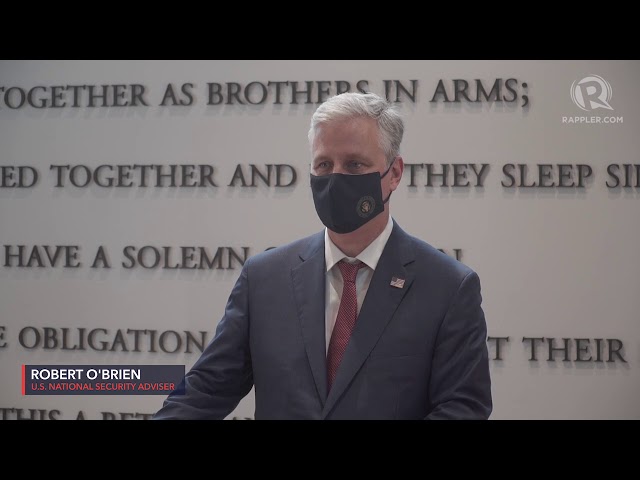 Trump-Duterte highlights
O'Brien's visit made sure to showcase highlights of Philippine-US ties under the Trump and Duterte administrations in what may likely be one of the last trips to Manila made by a senior Trump official.
For one, the Trump adviser made sure to reaffirm Washington's pledge to defend the Philippines in case of an armed attack in the West Philippine Sea. Secretary of State Mike Pompeo had earlier made this clear during a visit to Manila in 2019, where he told President Rodrigo Duterte, "We have your back."
Before Pompeo's planned words of reassurance, the issue had been a point of concern for officials in Manila.
A year later, O'Brien reiterated this almost word for word, making the message stick: "We've got the Philippines' back when it comes to the South China Sea."
He extended to address other Asian countries: "We're here to let people in Asia know, especially our close friends like the Philippines know, America's not leaving, we've got your back," he said.
"We're here and whatever happens in the domestic politics of the United States, this is a critical alliance for us."
O'Brien delivered these words at a press conference at the American Cemetery, complementing an earlier message delivered to top Duterte officials, including Foreign Secretary Teodoro Locsin Jr.
During a brief speech, O'Brien also touched on the contribution of the Filipino community in America, many of whom formed the front lines of hospitals battling COVID-19.
After expressing sympathy for the victims of Typhoon Ulysses and Super Typhoon Rolly, the Trump official also pledged to deliver additional aid for disaster recovery efforts and to continue assisting the country in responding to the pandemic. (The US has so far donated over P1.1 billion in COVID-19 aid.)
O'Brien then thanked the Duterte government for extending the VFA. He also put a spotlight on the US' long overdue move to clarify its position on the South China Sea.
"Earlier this year, the United States formally aligned our position on the South China Sea with the arbitral tribunal's 2016 ruling. We stand with the Philippines in protecting your sovereign rights, your offshore resources, and all of those rights that are consistent with international law," he said.
O'Brien concluded with what would surely be a welcome message among Filipinos: that resources in the West Philippine Sea belong to Filipinos.
"I just want to say those resources belong to the children and grandchildren of the people here. They belong to the Philippine people. They don't belong to some other country that just because might, they may be big, and they may be bigger than the Philippines, they can come take away and convert the resources of the Philippine people," he said, in apparent reference to China.
"That's just wrong," O'Brien said.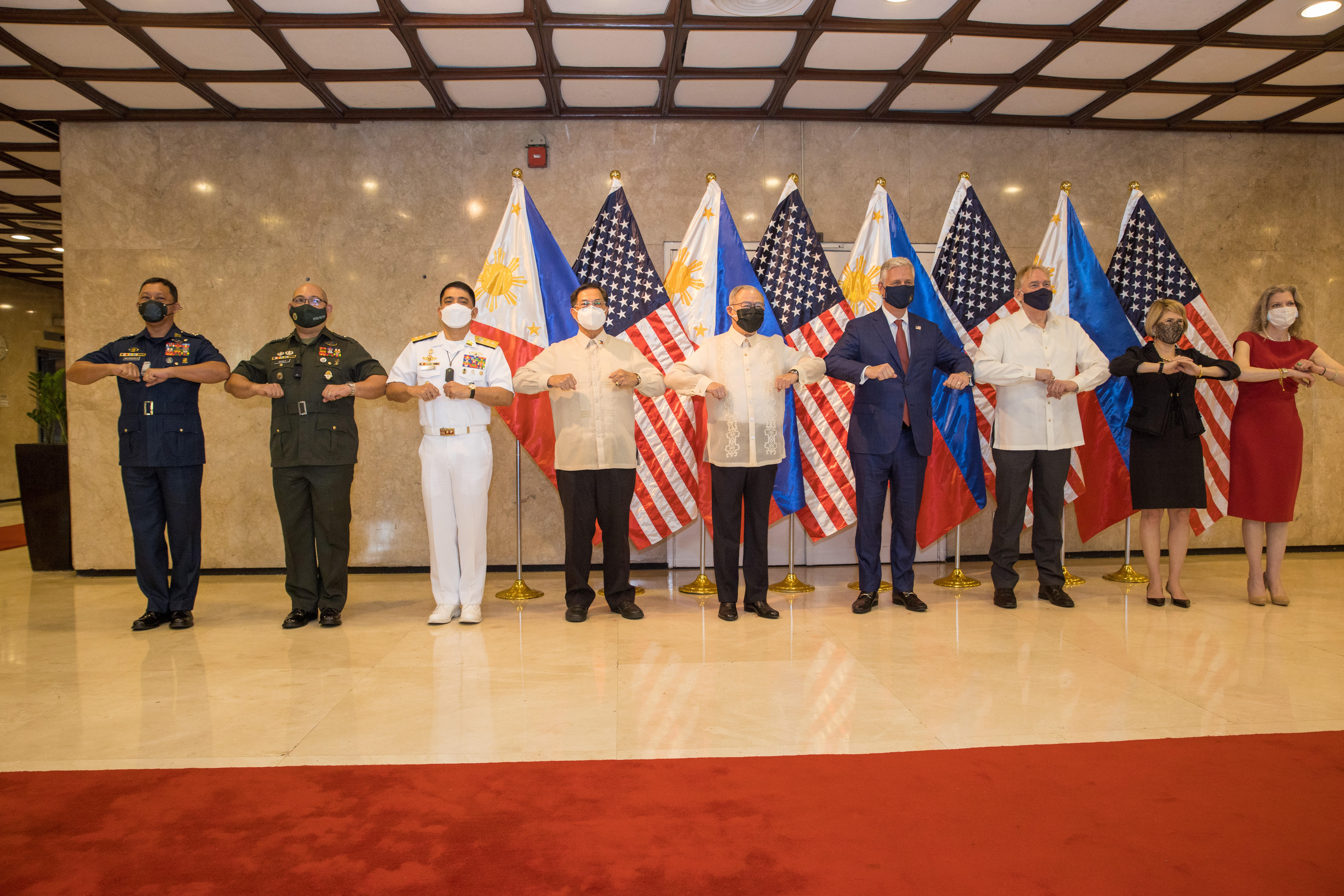 As security ties between the two countries gradually recover, the Trump adviser capped his visit by asking the Philippines to further extend the VFA.
Just at the start of the year in January, Duterte declared he wanted the deal scrapped after the US canceled the visa of Senator Ronald dela Rosa, his ally and first national police chief known as the architect of his controversial drug war.
"We'd obviously like to see that longer and that's something I spoke with Secretary Locsin about, is if we extend it a further period of time so we can have some negotiations to address the important concerns on both sides of that treaty and that agreement and not be up against an artificial deadline," O'Brien said.
Either way, the fresh extension keeps the status of forces agreement alive all the way to 2021, giving the Biden administration some room to take on negotiations. It will also coincide with the 70th anniversary of the Philippine-US Mutual Defense Treaty.
Last-minute gasp
Southeast Asia analyst Greg Poling of the Center of Strategic and International Studies in Washington said O'Brien's visit to the region displayed an effort to stamp Trump's rejection of an aggressive China as one of its lasting messages among countries. 
"I do think this is an attempt to cement the legacy of the Free and Open Indo-Pacific on the way out the door," Poling told Rappler.
O'Brien's trip also aligned with Trump's plan to enact a series of hardline policies during his final 10 weeks in a bid to solidify his legacy on China, US news site Axios first reported.
It was in the Philippines that O'Brien pressed on touchy issues for Beijing, calling out its "attempts to coerce Taiwan" and "extinguish the flame of democracy in Hong Kong." The remarks had angered China, which accused O'Brien of "deliberately exaggerating" regional tensions.
"He'll (Trump) try to make it politically untenable for the Biden administration to change course as China acts aggressively from India to Hong Kong to Taiwan, and the pandemic triggers a second global wave of shutdowns," Axios reported.
Poling said the Trump adviser's visit to the Philippines, in particular, could also be part of an attempt to cement progress made in relations over the last 9 months and to solidify the suspension of the VFA abrogation. The military deal is deemed crucial for the defense partners and is seen as providing stability in the South China Sea.
But while O'Brien may have said words that would resonate in both the Philippines and wider Southeast Asia, officials should be pressed to remember how these were not always matched by necessary actions. 
"It can't undo the damage of Trump, [Mike] Pence, and Pompeo all skipping the ASEAN summits last week. That will be what the region remembers as a sign of the administration's level of engagement," Poling said. 
Message delivered
But to both the Philippines and China, O'Brien nonetheless delivered his message.
Locsin described talks during O'Brien's visit as having had "perfect timing," adding that the Trump official "represented a government of backbone and clarity in the Asia Pacific region after years of muddle since Vietnam." 
Locsin often praised Republican administrations for having been more "firm" and "deliberate" in making decisions.
The DFA chief likewise fondly referred to defense items donated by the US as the "fulfillment of Trump's promise" made to Duterte during a phone call between the two leaders in April.
Locsin said the precision-guided munition coming from the "best and undisputed military power in the world" was also "demonstrative of President Trump's staunch support for the Philippines" and emblematic of the trust between the two leaders. 
China, in turn, did not hide its displeasure with the US as it took offense with O'Brien's "unreasonable remarks" on the South China Sea, Hong Kong, and Taiwan.
A spokesperson for the Chinese embassy in Manila denounced the remarks, saying they were "full of Cold War mentality and wantonly incite confrontation." The embassy also accused O'Brien of sowing "discord" between Manila and Beijing. 
"It shows that his visit to this region is not to promote regional peace and stability, but to create chaos in the region in order to seek the selfish interests of the US," China said.
Biden's chapter
University of the Philippines Political Science Chair Herman Kraft said these factors constitute the landscape of bilateral ties that President-elect Joe Biden will inherit come January 20, when a new American administration begins.
"As Far as East Asia is concerned, China is the principal issue," Kraft told Rappler. 
He added, "It means that even now the US-China rivalry will only intensify, and assuming that Biden may want to dial things back a bit, he won't be able to do so without being seen as being soft on China." 
Between Manila and Washington, however, there are some opportunities Biden can take advantage of from O'Brien's visit. These include strengthening the countries' defense treaties.
"In that sense, it's actually a very helpful move for both sides and sets the Biden administration up well to carry this issue forward….  It's still up to the new administration to try and save VFA, push EDCA [Enhanced Defense Cooperation Agreement] forward," Poling said. 
According to analysts, among the first challenges Biden will have to face is regaining the trust of the US' Southeast Asian allies, including the Philippines, in issues such as securing the South China Sea. 
Bower Group president and CEO Ernest Bower said Biden is well poised to address this with highly competent career officials and experts filling key positions in the US State Department and other defense agencies. 
During the Stratbase ADR's Pilipinas 2020 forum on Wednesday, November 25, Bower said this would come in the form of "strength in diplomacy rather than just strength and blunt words."
Former charge d'affaires of the US mission to ASEAN, James Caruso, said Biden can be expected to build on some gains made, such as Pompeo's reassurance that the Mutual Defense Treaty covered the South China Sea. 
Caruso mentioned this in light of the 2012 Scarborough Shoal standoff where China seized the resource-rich feature – an incident often mentioned by Locsin and Duterte.
The incident took place under the Obama administration where Biden served as vice president, and had been a catalyst in the Philippines' decision to file its historic case against China before the Permanent Court of Arbitration in the Hague. 
"They want to show they learned their lesson," said Caruso, who is also Bower Group Asia Singapore managing director, during the Stratbase ADR forum.
For the Philippines, Locsin has made his expectations clear, declaring, "In Asia Pacific a high bar was set after the muddle preceding it." 
He added in a tweet, "Now we know definitively what we must expect and insist upon…or walk away." – Rappler.com