Virus transmissions are surging in government offices. Employees worry about their safety as some officials violate health protocols.
At a glance:
Government employees claim their own bosses hold birthday parties and other unnecessary gatherings in the office, which have led to COVID-19 transmissions
Numerous government offices have gone on lockdown due to positive cases, affecting their work and public services
Cases in government offices contribute significantly to workplace transmissions, which Quezon City data shows is a major contributor to the recent surge in cases
---
Malacañang has partly blamed lower public compliance with health protocols for the surge in COVID-19 cases, but could it be government offices themselves that are violating rules and contributing significantly to the spike in transmissions?
Three government personnel Rappler spoke with claim lax enforcement of COVID-19 protocols, and in some cases, blatant violations by high-ranking government officials themselves which directly led to transmissions.
The 3 public sector employees spoke with Rappler on condition of anonymity fearing reprisal from higher-ups.
Clara*, a government staff of an office involved in pandemic response, said that officials of the Department of Agriculture (DA) and attached agencies have frequently held non-essential office gatherings and refused to wear masks at events.
The chief of the National Tobacco Administration, a DA-attached agency, held a birthday celebration in their Quezon City office, complete with food and song and dance numbers, said Clara.
NTA Administrator Robert Victor Seares Jr's birthday celebration is confirmed by photos posted on the agency's official Facebook page.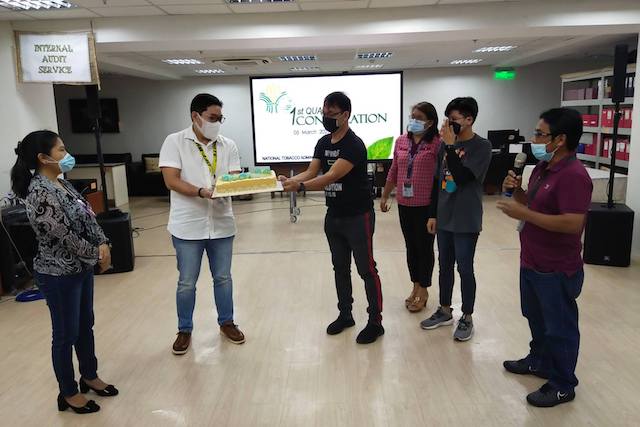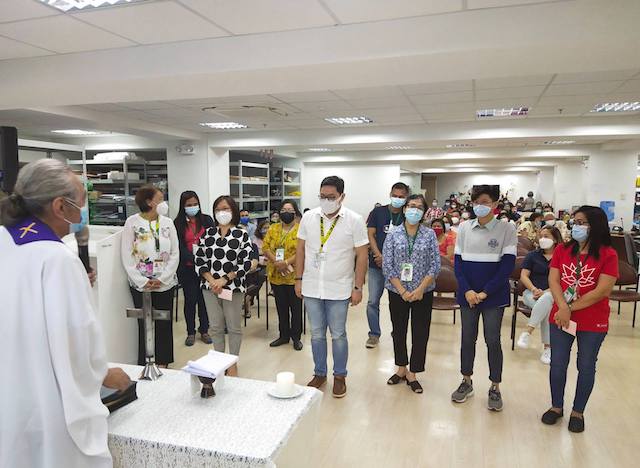 The birthday celebration was held alongside the agency's 1st Quarter Convocation. Branch managers from other parts of the country also attended. It's not clear why the convocation had to be done face-to-face.
"The National Tobacco Administration held its 1st Quarter Convocation on March 5 in Quezon City, as Central Office officials, employees and visiting Branch Managers had a break from work and enjoyed camaraderie for a half-day celebration of fellowship. A highlight of the assembly, preceded by a Thanksgiving Mass, was the celebration of the 41st birthday of Administrator/CEO Robert Victor G. Seares Jr," reads the Facebook post.
The following Monday, some NTA officers experienced symptoms and did not report to work, said Clara. By Tuesday, two of them tested positive. Come Thursday, 9 tested positive out of 18 employees who got tested.
However, the NTA cases are not reflected in Quezon City's official tally of cases detected in government offices there.
One officer from Ilocos Norte who had attended but went home to the province eventually tested positive in Ilocos. The government staff said she is Ilocos Norte's case IN-C810, identified officially as a 64-year-old woman who is a government employee and was exposed to a confirmed positive case in Quezon City.
"These are government offices – they should be serving as role models to the rest of the public, but instead, they are even leading in breach of protocols and non-adjustment of work arrangements to minimize transmission," said Clara.
Rappler reached out to Seares by text and NTA for their response. We also asked them if they reported their coronavirus cases to the Quezon City government. We will update this article with their reply.
Rappler told Agriculture Secretary William Dar, whose agency supervises the NTA, about Seares' office celebration. He said in a message, "There are standing health and quarantine protocols that everyone has to observe. We continue to sustain the proper implementation of such protocols."
The DA itself has 15 active cases, according to Dar.
A March 10 letter from the DA's Service Continuity Planning and Management Team Technical Working Group obtained by Rappler states that positive cases in the department were "causing alarm to the employees" and that the Employees' Association had made numerous recommendations to disinfect the compound.
It was only after multiple such calls were made that Dar ordered decontamination and an office-wide closure.
Clara pointed to officials like Agriculture Undersecretary Ariel Cayanan, seen in photos he publicly posted on Facebook, not wearing a mask while speaking to a conference room of people during official in-person events.
Some photos also show even Dar maskless while near similarly maskless people in official events held in indoor spaces.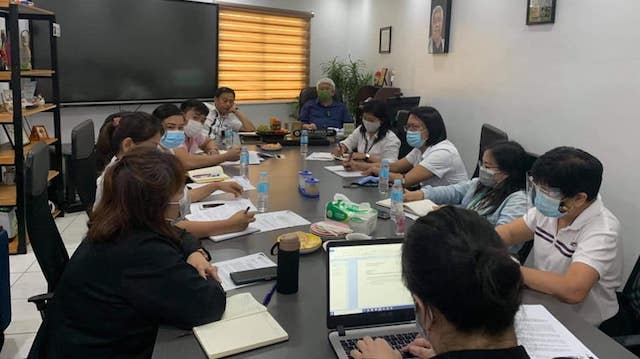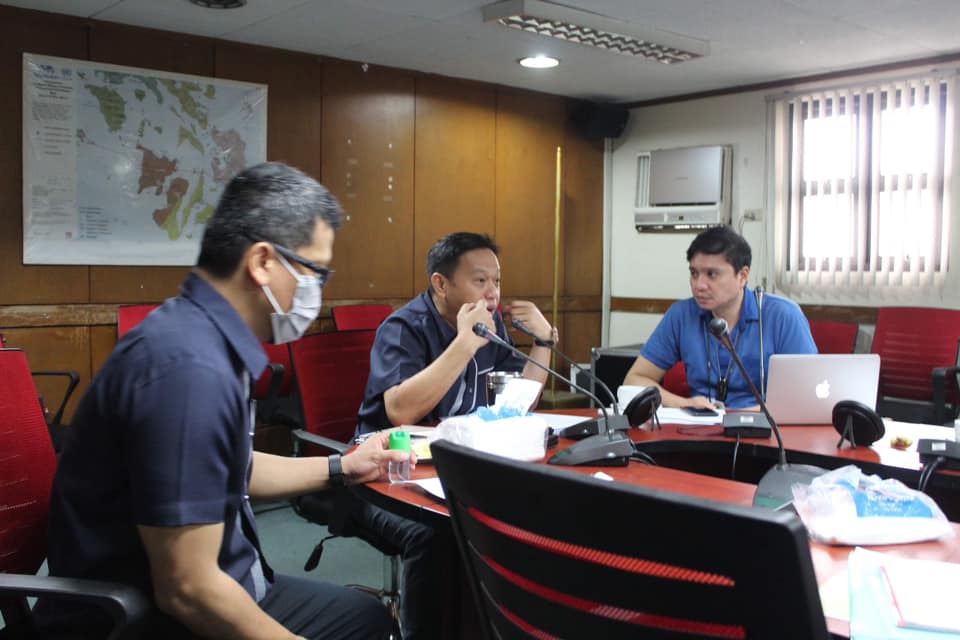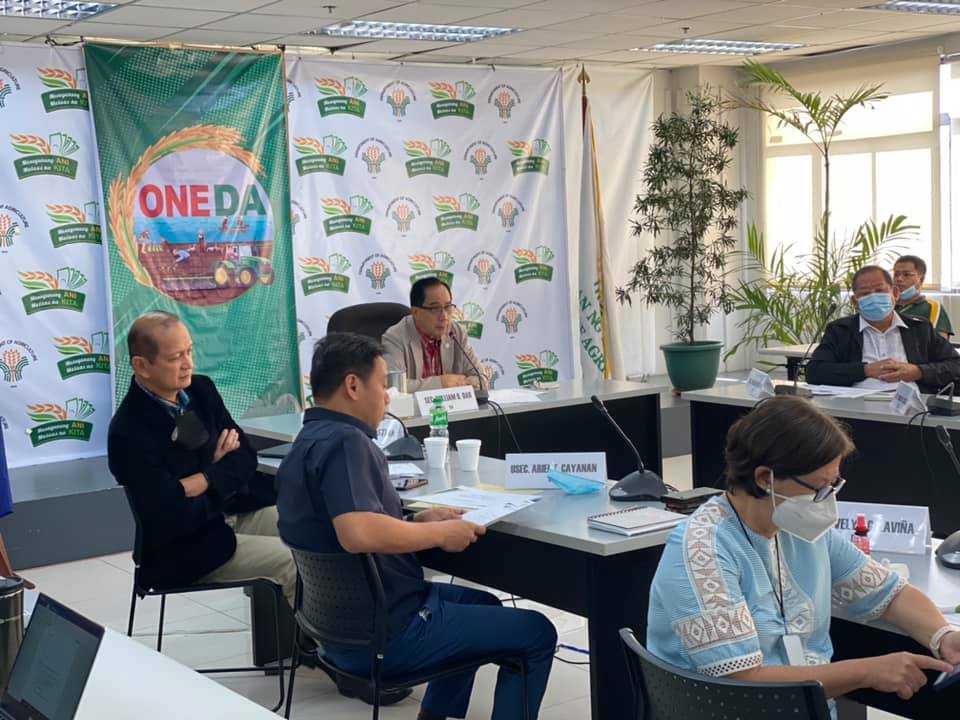 Cayanan has not responded to Rappler's request for comment. But Noel Reyes of the department's public information office defended him, saying, "A speaker takes off their mask to make his or her voice audible, and [makes sure] that he or she is at least one meter away from the nearest attendee who wears a mask."
Photos posted by Cayanan himself on his Facebook account show him maskless while speaking in an enclosed room, at times, even when someone without a mask was beside him.
'Sleep-in' arrangements in PTV office
At government news channel People's Television (PTV), which has its main office in Quezon City, staff were made to sleep in the same room, an office space with poor ventilation.
The intention was to limit their need to take public transportation going to and from their office. But the effect was a violation of COVID-19 protocols that put staff at risk of infecting one another.
A PTV employee complained to the Civil Service Commission (CSC) on the week of March 15 and the practice was put to a stop.
"The employee sent us photos. They were requiring their staff to sleep in quarters that had no windows and foam [mattresses] were close together," CSC Commissioner Aileen Lizada told Rappler on Thursday, March 18.
A PTV staff who spoke with Rappler said there were times when workers spent an entire week sleeping in the same office.
Lizada sought the opinion of the Department of Health (DOH), specifically treatment czar Leopoldo Vega, who said the practice was dangerous for employees because the chances of cross-contamination is high in such a setup.
PTV, in a statement sent to Rappler, admitted that the "sleep-in arrangement" had been in place since the Enhanced Community Quarantine in Metro Manila and was done to "ensure the delivery of news and information to the public."
"However, PTV management has decided to discontinue the practice to heighten safety protocols and minimize the infection risks in the network," said the government station.
As of March 17, PTV had 23 active cases. In the Quezon City government's tally, it had 13 active cases as of March 13.
Presidential Spokesman Harry Roque, who himself has COVID-19, disclosed that a PTV anchor is in quarantine for the virus in the same hotel he is in.
"This is just one isolation [center] but 5 people from the government's communication department are here," he said on Thursday.
Offices closing doors daily
The situation is just as alarming in the Department of Social Welfare and Development (DSWD), an agency critical to pandemic response because it distributes financial aid to poor communities.
Lex*, an employee at the DSWD's Central Office in Quezon City, said there are now 39 COVID-19 cases there. This number, however, is unofficial because the DSWD does not announce the tally to staff.
On Thursday, March 18, the DSWD central office announced it was closing for 3 days for "decontamination."
Data from the Quezon City Epidemiology and Disease Surveillance Unit obtained by Rappler shows they recorded 25 active cases in DSWD Central Office as of March 13.
They top QC's list of government offices with COVID-19 cases. In second place is the House of Representatives with 23 active cases.
Lex, who is in quarantine because he was a close contact of a positive DSWD employee, said that before the closure of the entire building, two to 3 offices had been closing doors daily for disinfection due to new cases. Affected offices include the Policy Development and Planning Bureau, the office handling the Pantawid Pamilyang Pilipino Program, and various offices headed by undersecretaries.
'Knowing friends and workmates who have succumbed to, or suffered from COVID-19, I feel betrayed and disappointed with how fellow workers in government disregard simple health protocols.'
He traces the "surge" to January or February when some officials and their staff held physical gatherings, including birthday and despedida parties.
One possible "superspreader" event was a "visioning workshop" conducted on February 17 and 19 at the central office, said Lex. The workshop, which tackled revisions to the departments vision-mission, could have been conducted completely online. Seven people who attended it eventually tested positive, said Lex.
Some officials, including a director and female mid-level manager, refused to wear masks in the office, even while talking to staff or attending meetings, he said.
One office held a physical Christmas party in an establishment outside the department building.
"Knowing friends and workmates who have succumbed to, or suffered from COVID-19, I feel betrayed and disappointed with how fellow workers in government disregard simple health protocols and rules that we ought to follow," said Lex.
"I thought we're all in this together. This is only a small inconvenience which has a huge impact to protect not only ourselves but also others from contracting and spreading the virus," he added.
Lex criticized a misplaced sense of heroism and sacrifice that he felt some DSWD officials were using to rationalize lax enforcement of rules.
"They're romanticizing the work we do. Sacrifice. They want to be seen," he told Rappler.
COVID-19 cases in the DSWD have such an impact on the department's operations that they have set a target to keep transmissions below 37 in the central office and 173 in field offices, said Lex.
In 2020, there were 75 cases in the central office and 346 cases in field offices all over the country.
Social Welfare Secretary Rolando Bautista has yet to reply to Rappler's request for comment.
Contributing to overall surge
The government office transmissions are contributing significantly to the overall spike in cases in Metro Manila, where most national government agency headquarters are located.
In Quezon City, COVID-19 cases in national government offices accounted for 4% of total active cases – 126 government office cases out of 2,991 total active cases in the city on March 13.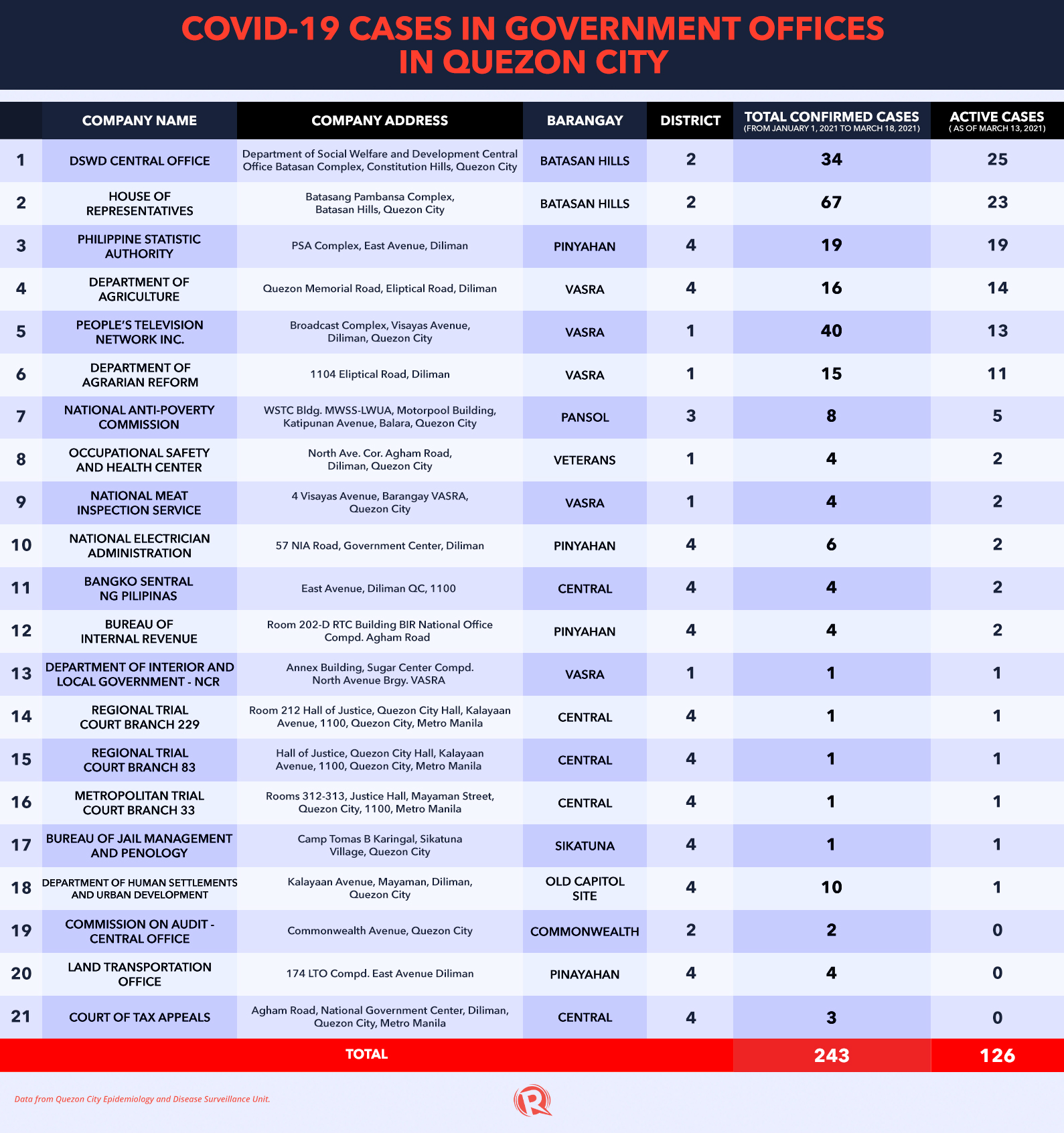 But the picture becomes alarming when comparing the 243 cases in government offices detected from January 1 to March 18, to how the total Quezon City cases grew in the same time period.
Those government cases account for 8%, or nearly a 10th, of the increase in Quezon City's cases from January 3 to March 18 ( from 1,162 to 4,104).
This means that, at least in Quezon City, government offices are contributing significantly to the spike in transmissions.
All over Metro Manila, government offices are closing one by one, falling like domino pieces because of infections.
Others are ordering more staff to work from home.
Department of Agriculture Central Office – lockdown from March 11 to 24
House of Representatives – lockdown from March 18 to 21
Civil Service Commission Central Office – lockdown from March 15 to 19
Commission on Elections offices inside Intramuros – lockdown from March 11 to 21
Department of Social Welfare and Development Central Office – lockdown from March 19 to 21
Department of Justice – lockdown from March 19 to 23
People Television – reduced manpower reporting to office
National Economic and Development Authority – non-essential staff asked to work from home from March 15 to 21
Clearly, infections are affecting government services, making it all the more critical for government workers themselves to strictly follow health protocols.
"If the top government officials fail to observe and follow the minimum health protocols that they themselves laid out, how do we expect ordinary citizens, and rank and file staff to follow?" said Lex.
No one keeping tabs
The national government agencies tasked with monitoring compliance do not even have a ready database of COVID-19 cases among government personnel.
Health Undersecretary Leopoldo Vega said on Thursday, March 18, that the Department of Health has no such list.
The Civil Service Commission, whose mandate is to regulate the working conditions of government workers, said they don't keep track. Ironically, the CSC central office itself is on lockdown due to 5 positive cases.
"Since health and safety protocols like the mandatory mask and shield wearing are IATF directives, we believe it would be best to obtain from said body information on government offices' compliance with cited health standards including the number of COVID-19 positive cases in the government service," the CSC told Rappler in an email.
CSC Commissioner Lizada, however, said that in the last meeting of commission officials, regional offices were instructed "to get a list of all agencies on lockdown or which went on lockdown and how many are now positive."
The CSC also sent Rappler a list of the 13 issuances, mostly memorandum circulars, spelling out COVID-19 protocols and guidelines on work arrangements and leaves.
But Lizada, asked if CSC regularly inspects government offices to check if they are complying with those policies, said, "We are giving the heads of agencies the discretion because they are supposed to know what is best for their employees under their situation."
She said the CSC can respond to complaints of violations if government personnel report them. Concerned government employees can send their complaints to email@contactcenterngbayan.gov.ph or text 09088816565, said Lizada.
But Clara thinks the CSC should be more proactive. If government officials don't follow the rules, who will make them?
The complacency of powerful officials endanger the lives of the rank and file, the workhorses of government who are the ones distributing cash aid to poor families, talking to farmers, inspecting vaccination sites.
"I am scared for my friends and my friends' families in other government agencies, especially since at least one death has resulted from an office outbreak," Clara said.
She added, "I think it is unfair for government to be blaming the public when it cannot even follow its own rules or keep its own employees safe." –Rappler.com