Some political parties are sensitive to the public relations implications of the health crisis while President Duterte has no qualms mixing pandemic with politics
In no other time in Philippine history is electoral politics unfolding amid as deep a crisis as the COVID-19 pandemic.
Months before the campaign season officially begins, Filipinos are already the unfortunate audience of the dynamics between traditional politicking and an unpredictable and swiftly changing health crisis. This is partly due to the fact that, at this time before an election year, parties are typically engaged in coalition-building, alliance-forming, and, for some candidates, party-jumping to set the stage for 2022 candidacies.
The pandemic's effect on 2022 politics comes in many forms. Political camps have postponed political events and muted candidacy declarations, aware of the public's sensitivity to politicking amid a crisis that has left millions of Filipinos hungry and jobless.
Sudden lockdowns and emergence of feared variants have forced government officials to hunker down at a time when they would've been devoting more of their waking moments to planning for 2022.
Meanwhile President Rodrigo Duterte, the country's most powerful political force, can't help but turn his weekly pandemic public addresses into a sounding board and bully pulpit in relation to the 2022 elections.
Sensitive topic
The pandemic is both a douser to loud political declarations and fuel to political messaging on governance and crisis-handling.
On the first, would-be candidates know that any overt and public moves towards 2022, like attacking political rivals or declaring intentions to run, could be seen as ill-timed, inappropriate, and insensitive during a pandemic.
"Politicians also do not want to be accused of capitalizing on the pandemic or seizing the pandemic as an opportunity for them to actually promote themselves, because, of course, we can expect them to maximize opportunities to give out aid, but because of the misery, because of the economic downturn, the pandemic's effect on people is huge," said University of the Philippines political science professor Ela Atienza.
The optics aren't good if officials supposed to be focused, for example, on crafting laws to address the crisis or implementing response programs, are busy wooing supporters.
Hence, the postponement of Senator Panfilo Lacson's and Senate President Vicente Sotto III's candidacy launch from August 4 to September 8. Though the event was really going to be just virtual, Lacson said the move was purely a "sensitivity issue." At the time, Metro Manila was preparing to go back on lockdown amid the rise in Delta variant cases.
"This is something new," said Lacson in a Rappler Talk interview.
"We are in the process of adjusting and adapting. Touching base with supporters on the ground can't be avoided, so how are we going to do that? That's what we're trying to figure out with our campaign staff," he added.
Liberal Party (LP) chairman Senator Kiko Pangilinan admits the pandemic has made it hard, operationally, to organize, since much of party-building is bolstered by face-to-face experiences.
"All have to shift to online spaces which has its advantages in terms of scale and reach, but there are drawbacks in terms of depth," he told Rappler.
LP depends more than ever on its local chapter leaders to "keep the fire burning," he said.
Despite the difficulties, he says, LP has managed to bring their number of local chapters and organizing committees to 160, from 30.
Manila Mayor Isko Moreno's ceremonial oath-taking as Aksyon Demokratiko member was postponed, also due to COVID-19 factors. Crowds – which, according to Moreno, included saboteurs and "political actors" – swarmed some of his city's vaccine sites, leading to a public scolding from Malacañang.
Moreno pushed through with his party switch without announcing it and, days later, was elected president in a virtual meeting – a development his camp also decided to make public only after the fact. Were it not for COVID-19, such major political moves would have played out in the public eye, with much hand-shaking and photo-taking.
Aksyon now conducts its candidates' interviews online, party chairman Ernest Ramel told Rappler.
They're looking at "hybrid" campaign events that would have to be adapted to rules on mass gatherings and pandemic task force and Commission on Elections guidelines. Social media will be a bigger tool than before. Aksyon is considering going on TikTok, a video-sharing app popular among young people.
The National Unity Party (NUP), meanwhile, has instructed its members to expand their reach on social media, as they anticipate further postponement of in-person campaign events. According to NUP deputy secretary-general Reginald Velasco, their members have started hiring social media directors and staffers.
"There are many in our party now using social media. It is also safe to use because nobody goes against you [on your page]," Velasco told Rappler in a phone interview.
The pandemic has also posed a challenge for officials who want to seek out their constituents more. Before, Velasco notes, voters would go en masse to the offices of lawmakers and local chief executives. After they received help, they would tell their communities about the good deeds of their officials.
This time, Velasco says, officials would have to go to the communities themselves, all while keeping the constituents and themselves safe from the virus.
Even Davao City Mayor Sara Duterte, the most preferred presidential contender based on recent surveys, is affected. She's had to stop her consultations with political allies from different parts of the country due to rising cases in her city, Hugpong ng Pagbabago secretary-general Anthony del Rosario told Rappler.
The Mindanaoan urban hub was recently placed under the health department's Alert Level 4, which meant that more than 70% of its COVID-19 health care capacity was occupied.
The United National Alliance, a party led by the Binays, also announced on August 3 it was putting on hold all discussions concerning alliances, coalitions, and other political activities in light of the pandemic.
"Amid the atmosphere of 'Elections 2022,' UNA finds it cold and insensitive to put on the table any electoral agenda while our people are experiencing uncertainties in the wake of the growing Delta variant cases in country," said party president Senator Nancy Binay.
Brazen Duterte
In fact, the only politician gung-ho enough to mix politics and pandemic so blatantly is President Duterte himself. He could be getting that confidence from his high popularity ratings or he is simply not one to censor himself.
The most brazen move so far is his threat to prohibit an unnamed Metro Manila mayor from distributing much-awaited cash aid for locked down poor families, supposedly because of that mayor's incompetence. That mayor is Isko Moreno, who just happens to be the biggest political threat to Duterte and his allies in the 2022 elections, if Pulse Asia's June pre-election survey is to be used as basis.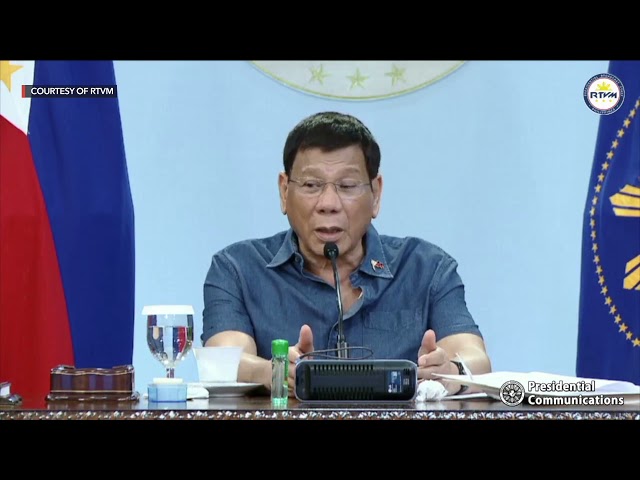 But Duterte's unwillingness to name Moreno is telling. It could be his version of putting the brakes on politicking.
"He knows he is popular, but at the same time he is being more measured because he doesn't want his supporters to get offended with too much politicking…. He also doesn't want to look like he's picking a fight," said Atienza.
To many, though, that's exactly what he is doing, whether or not he names names.
Politicians coming to Moreno's defense, like Vice President Leni Robredo, sharply rebuked Duterte for being distracted by divisive politics when the pandemic called for cooperation.
Senator Ralph Recto even said Duterte's order, if followed through, would only hamper pandemic response since aid distribution would more typically be better conducted by the city government and not by national agencies, as what the President wanted.
These criticisms point to a chief executive so fixated with electoral politics that he would compromise the most pressing endeavor of his own government – helping Filipinos affected by the pandemic.
Duterte has also not hesitated to publicly attack former senator Antonio Trillanes IV, another 2022 contender, and Vice President Robredo herself, all during a pandemic. In all these diatribes, Duterte clearly mentioned elections.
In fact, all these verbal assaults on 2022 political rivals were made during his weekly "talk to the people" address, taped briefings supposed to be dedicated to COVID-19 response. For many, the fact that Duterte can't help but turn these pandemic public speeches into rants about the elections betrays what the chief executive's real concerns are.
On the flip side, the public addresses used as a bully pulpit against enemies have also been used as a sounding board to promote allies. In his most recent "Talk to the People" speeches, Duterte expressed support for the senatorial bids of three Cabinet members: transport chief Arthur Tugade, public works chief Mark Villar, and chief legal counsel Salvador Panelo.
The frequent cuts to Senator Bong Go's face in the heavily edited footage of Duterte's speeches are also seen as linked to the longtime aide's 2022 ambitions. Go is omnipresent at inaugurations of Malasakit Centers and distribution of government assistance all over the country. Duterte's political party PDP-Laban is set to formally endorse Go's presidential bid.
PDP-Laban has also been a lot more open to big, physical gatherings, despite counting as members key people in the country's pandemic response, like Duterte himself and Metropolitan Manila Development Authority chief Benhur Abalos.
It held a big meeting in Cebu City last May 31, then a two-day gathering in Pampanga in mid-July, with less than a hundred people physically present and other members joining via teleconference. Duterte himself attended the second day of the July meeting, which drew party members from all over the country.
In both instances, the meetings were held indoors and antigen testing was provided.
Their September 8 national convention will also likely be hybrid.
But perhaps even more telling for the party is the ugly in-fighting between the faction backed by Duterte and the one led by Senator Manny Pacquiao unfolding against the backdrop of COVID-19 surges, packed hospitals, hunger, and joblessness.
Will this kind of politicking put a dent on Duterte's popularity and endanger the victories of his candidates? That will be up to Filipino voters.
So pervasive is the pandemic that, even as it makes 2022 politicking a radioactive topic, it is in itself already a major political talking point. The pandemic will be a major feature of candidates' platforms. We already got a preview of what Filipinos most want to hear from politicians. Economic recovery from the pandemic was the number one topic Filipinos were hoping Duterte would tackle in his last State of the Nation Address (but which he didn't).
Politicians and Filipino voters will need all their wits to navigate a 2022 elections landscape profoundly influenced by the pandemic. – with reports from Rambo Talabong/Rappler.com