This is AI generated summarization, which may have errors. For context, always refer to the full article.
'The search is not just for Jonas but also for all victims...and if I find him, I will continue working for the disappearance of enforced disappearances'
Edita Burgos found herself confused when asked one afternoon to talk to grieving mothers of victims of the violent war on drugs.
Her son Jonas Burgos, after all, is not a victim of extrajudicial killing. Abducted by alleged military agents in 2007, the farmer-activist is one of the most documented victims of enforced disappearance in the Philippines. (READ: Jonas Burgos: Trapped in web of lives)
"Sa isip ko nga, ano ang masasabi ko kasi hindi naman Tokhang victim si Jonas. But I realized they are also victims (I thought to myself, what would I tell them since my son is not a drug war victim? But they are victims)," the 75-year old mother and widow of press freedom icon Joe Burgos told Rappler.
"I now volunteer my services when it has something to do with enforced disappearances and human rights violations. Even if it just to embrace a mother of a victim, I will go."
Mrs Burgos has devoted more than a decade of her senior years searching for her missing son – with the passion, doggedness, and rigor that's inspired many.
That afternoon in August, in a room where one can hear the chaos of EDSA, she found herself shedding tears, hugging, and giving advice to the women whose husbands, sons, and brothers were forcibly taken away and killed.
From that moment, their grief was hers too.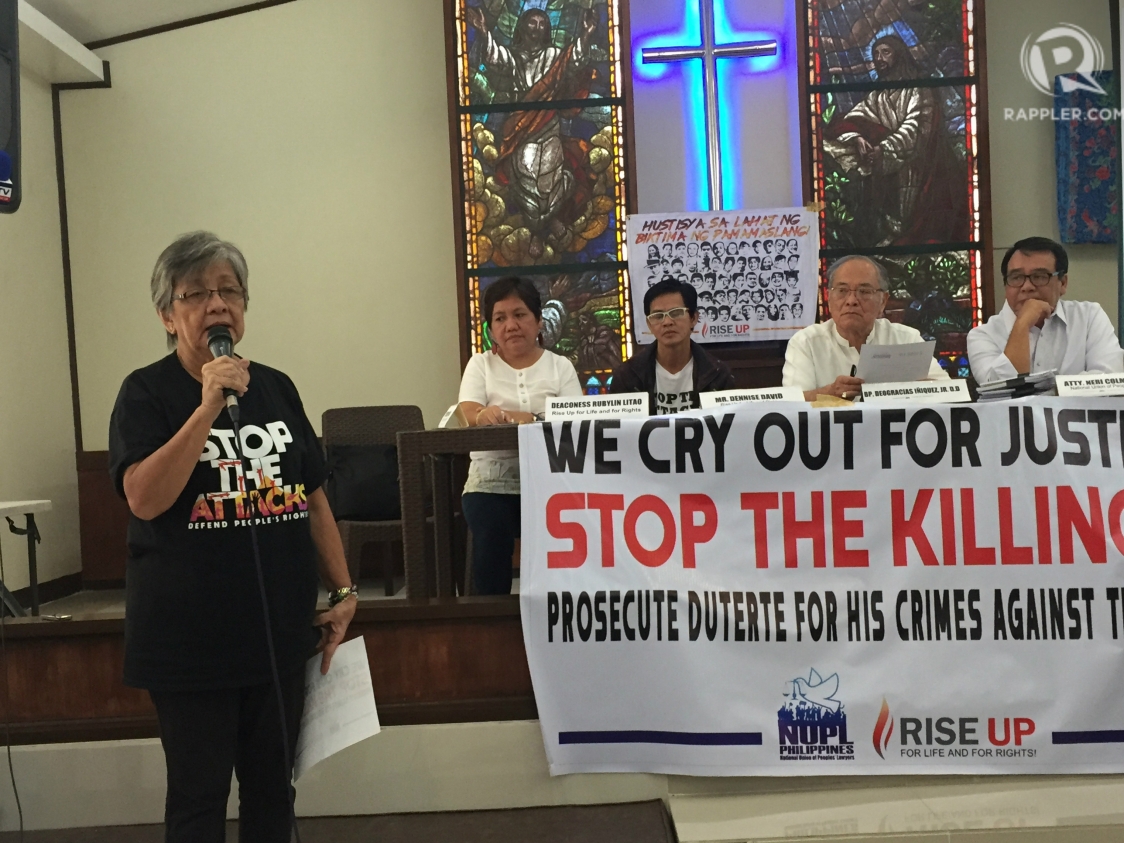 Life of solitude, seeking justice
This has been the life of Mrs Burgos in the past 11 years: she moves to and from their Bulacan farm to attend meetings and forums where she shares her and her family's struggle, on top of seeing to it that the case she filed on her son's disappearance – and her search of him – continues.
Mrs Burgos admits that this was not the scenario she saw herself in at the beginning of her family's ordeal. But fearing for her other 4 children has led her to take on the role of a spokesperson.
Since then, she's been the face of the Burgos family in their search for Jonas. She attended every court hearing, joined protests calling for justice, and spoke at various events, even earning the monicker "Mrs B" among human rights advocates.
She claims she's more talkative now – a jump from her past self who used to wait for prompts to issue statements.
For a member of the secular order of the Carmelites who's supposed to live a life of silence and solitude, Mrs Burgos now takes pride in being able to reintegrate this life with the reality that she is forced to lived in.
"The Lord has been gracious to me as I have been able to reconcile my desire for silence and solitude and also speak out for those who cannot speak," she said. "You cannot be both, but when you ask the help of the Holy Spirit, somehow, you're guided and you talk with charity, without condemning, without being judgemental, and yet still seeking judgment."
The challenges they faced over the years and the seeming deterioration of the Philippine justice system have also left her with no choice but to continue speaking out, slowly shedding her quiet persona.
"This is bigger than Jonas as it made me realize that the search is not just for Jonas but also for all victims of enforced disappearances," she said. "And if I find him, I will continue working for the disappearance of enforced disappearances."
Find him
Jonas Burgos was abducted during the presidency of Gloria Macapagal Arroyo – a period when the military was accused of killing political activists. (READ: Why would the Army abduct Jonas Burgos?)
He is one of the 346 of reported victims and remains to be one of the 146 still missing from 2001 to 2010, as documented by Families of Victims of Involuntary Disappearance (FIND).
Last month, Arroyo, now a lawmaker representing Pampanga, became Speaker at the House of Representatives, to the dismay of human rights groups. For many victims and their families, this move and her rise to power added insult to injury.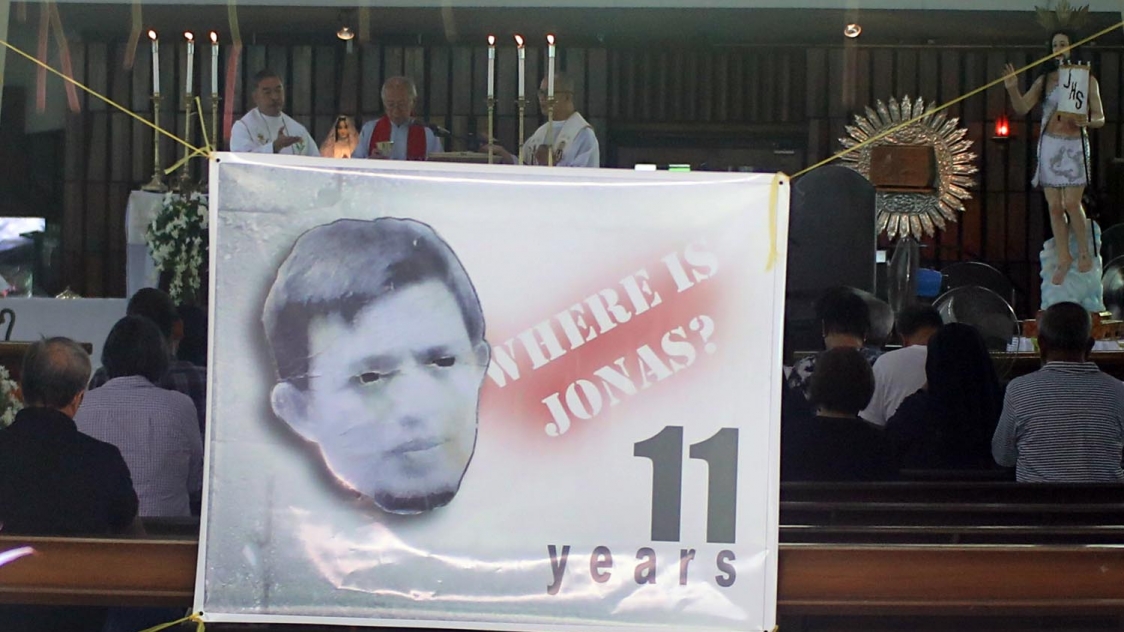 Mrs Burgos is frustrated that the person who "tolerated and encouraged officials to abduct, disappear, and to kill was given a vote of confidence."
"Tumatayo ang balahibo ko sa mga ginagawa niya kasi (I'm having goosebumps with what she's doing), as she was commander-in-chief when my son was abducted and she could have done something because I asked for her help from a mother to another mother. But she did not lift a finger," she said.
In 2011, the Supreme Court ordered the Armed Forces of the Philippines (AFP) to produce Jonas – to no avail. The Court of Appeals in 2013 pinned down the army in the case. But over the years, several criminal charges against military officers have been dropped.
This has not stopped the Burgos family. They will not give up.
"The very fact that we haven't found him is the main motivation but it doesn't mean that we still hope to find him alive. In whatever way, in whatever state he is in, as long as we find him," she said.
Former president Benigno Aquino III signed the Anti-Enforced or Involuntary Disappearance Act of 2012. But the law, the first of its kind in Asia, is yet to be fully implemented, according to FIND.
Mrs Burgos believes there are professional officers in the state forces, but the alleged cover-up diminishes their credibility.
"Ang nakikita ko, ayaw nila na ma-pinpoint na sila nag may kasalanan and this maybe a few people inside an institution, rotten eggs in the military," she said. "Ang sa akin kasi, why not just weed them out and save those better men kasi mas marami sigurong mabuting tao dyan sa loob ng military."
(From what I see, they do not want to be pinpointed as being the ones responsible and they maybe a few people inside the institution, rotten eggs in the military. For me, why not just weed them out and save those better men? Because I know there are a lot more of them in the military.) 
Faith conquers fear
Harassment has been a staple in the life of Mrs Burgos as she continues to call for accountability from the Philippines' security forces. She had also faced threats and received hateful comments on social media.
In the 11 years, Mrs Burgos has been placed under surveillance as unmarked cars and shady men trailed her routines. She has been followed to her meetings, to her visits to the University of the Philippines, and even to the various churches she frequents as a Catholic devout.
Some incidents left her shaking, particularly when one followed her along Katipunan in Quezon City and to the train she boarded to Manila. But in several instances, Mrs Burgos confronted these people, catching them off-guard with her calm and quiet demeanour; she even urged one to join her inside a church to seek refuge from the unforgiving heat.
She wants to let them know that she's aware of what they are doing.
"Tanungin na lang nila ako kung anong gusto nilang malaman, sasagutin ko naman sila eh," she said. "Basta ako, alam ko ginagawa nila, bahala sila kung gusto nila ituloy."
(They should just ask me what they want to know, I'll answer them. I know what they're doing, it's up to them if they'll continue their acts.)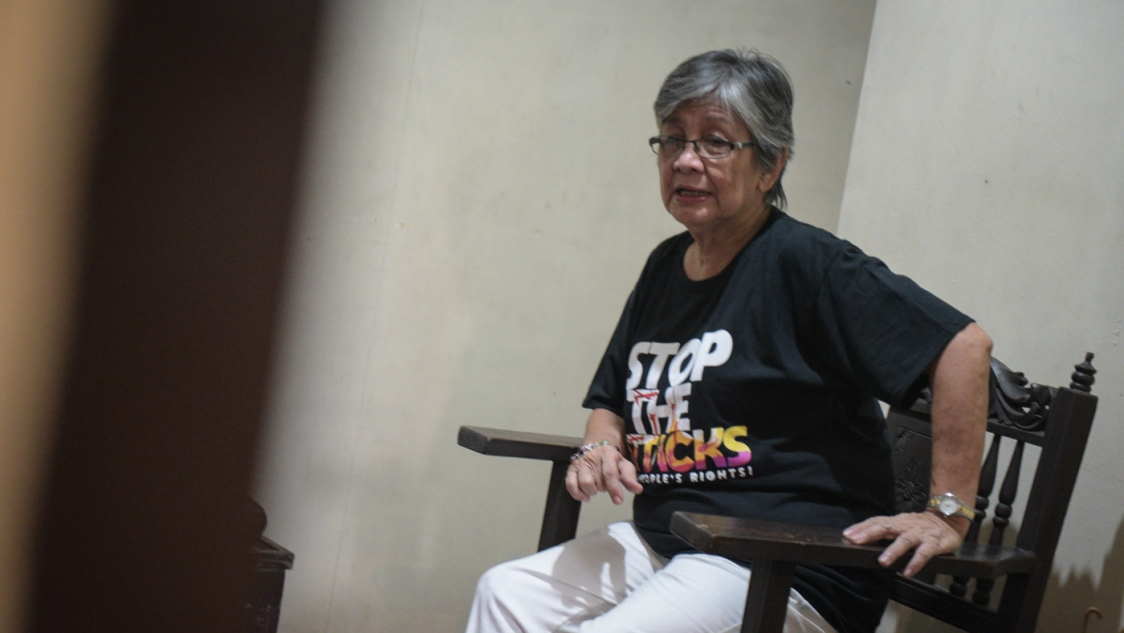 Yet, she's afraid for her family and for what the people she went against are capable of doing.
Her faith makes her endure all that.
"Kailangan itayo iyong dignidad ng anak mo dahil ginagawa ko ang ginagawa ko ngayon kasi naniniwala ako na si Jonas, ginawa niya yung ginawa niya kasi minahal niya ang tao, minahal niya ang bayan," Mrs Burgos said. "So sino ang mas mataas morally? E di ang anak ko? Kaya kaya ko siyang ipaglaban kahit mga naka-uniporme ang kaharap ko."
(I need to raise the dignity of my child because I believe that what Jonas did, he did because he loves the masses, he love his country. So who's better morally? Of course, my child. That's why I can fight even if I'm going against men in uniform.)
The fight now, she said, is between the good and evil in this country. And one way to ward off evil is to "teach them your ways, the way of the Christian, the way of the mother, the way of a good citizen."
"It is not only your son, your daughter, your husband, or your brother who is a victim, but there's a bigger picture," Mrs Burgos said. "The picture is that the whole Philippines is the victim." – Rappler.com
TOP PHOTO: Edita Burgos in her home. Photos by LeAnne Jazul