This is AI generated summarization, which may have errors. For context, always refer to the full article.
Under the Duterte government, the blueprint is 'search warrant and plant evidence,' says Salem
"I've always been [an activist]," said Lady Ann "Icy" Salem without any hesitation.
In the Philippines, it's still a continuing debate if journalists can be activists. For Salem, it is advocacy journalism, or the alternative press, whichever you want to call it.
"It means having a declared bias. And we do have a declared bias. For the people, for the marginalized in the country," said Salem, the 36-year-old editor of Manila Today, an alternative news website founded in 2014 borne out of the combined idealism and frustration of young journalist-activists like her.
Manila Today is among an endless list of established organizations – may it be a news organization, a lawyer's organization, or even a group of nuns – red-tagged by the Philippine police and military, who also have no qualms about publicly accusing people – even without proof – of having links to armed communist rebels.
Salem was arrested on December 10, 2020, along with trade unionist Rodrigo Esparago for allegedly keeping firearms and explosives in their one-bedroom unit at a popular condominium tower – the common charge against activists in a country where being a communist is not a crime.
Salem and Esparago were among the 7 activists arrested that day, International Human Rights Day, in an intensifying crackdown by President Rodrigo Duterte's government. The other 5 remain in jail.
Salem and Esparago were released by a judge who dared void the warrant of a co-equal judge – a peculiar action which even became a topic in the interview screening for the next chief justice of the country.
Conflicting rulings in the lower court, viewed together with Duterte's consistent wins in the Supreme Court, had negatively affected public perception of the judiciary, such that Salem was ready to stay in jail until after June 2022.
"We were even expecting that maybe, the earliest that we can attain our freedom is after the Duterte administration," said Salem.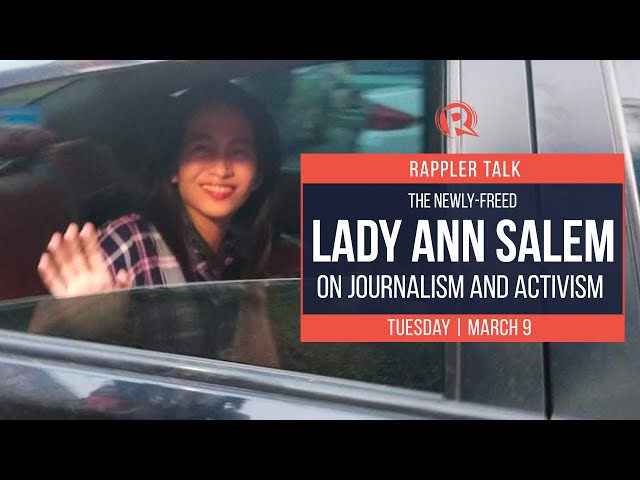 Feminist, activist, journalist
Salem knew she was a feminist at a very young age, when as a young girl she was asked why she was playing basketball, when it was supposedly a man's sport.
Salem has the height for it. People would say that she also has the face to be a team muse. Except she didn't want to be a muse.
"Kapag babae ka muse ka, ganun? Hindi ka puwede maging player. Eh during that time, parang 'yung height ko maganda para sa ganung sport. So parang naiisip ko, bakit kaya hindi pantay, 'no? Bakit kaya kailangan na may discrimination?" she said.
(If you're a woman you're a muse? You can't be a player? I had the height for that sport. So I thought, why aren't we equal? Why is there discrimination?)
In the premiere state-run University of the Philippines (UP), tagged now as a safe haven for communists by the defense secretary, Salem was shaped to become the activist that she is now.
After getting her degree in Broadcast Communication, she joined Tudla Productions, which produced documentaries on people's issues. She has always been a "journalist for the people," said her colleagues from another alternative news outlet, Bulatlat.
In 2014, they created Manila Today.
Where mainstream news media covers urban poor only when there are demolitions or altercations, Salem and her colleagues spend months embedding in their daily lives and struggles.
The early morning of December 10, 2020
Salem pulled an all nighter spilling into the early morning of December 10, 2020, working on a story for the global consortium International Association of Women in Radio and Television (IWRT).
She had just barely slept when the condo's security guard knocked on her door at 2 am. The guard wasn't specific, just that something was up.
She caught something in her periphery and before she could figure that out, fully armed state agents barged into their unit and ordered her and Esparago to lie on the floor face down.
She regretted not calling anyone before opening the door. She and Esparago were quickly handcuffed with the use of cable wires.
They were eventually allowed to rise and sit down, but facing only the wall, their backs turned to what was happening in the condo.
"Ah, alam ko na 'to. Na deja vu ako. Tataniman ako. Ganitong-ganito ang blueprint," she said.
(Ah, I know what was going to happen. It felt like deja vu. They would plant guns and explosives. This is the exact blueprint.)
In her estimate, policemen did a raid on the unit an hour before serving the search warrant. They indeed seized guns and explosives. But in court, Judge Monique Quisumbing-Ignacio of Mandaluyong said the informants kept making conflicting testimonies. She voided the search warrant from the notorious Judge Cecilyn Burgos-Villavert of Quezon City.
In the police version, their informants had been coming and going from Salem and Esparago's unit, taking guns and delivering them to other people. These accounts were voided by Judge Ignacio for inconsistencies.
"I've never heard of [him]," said Salem, who recalled donating blood to a friend's relative on the day the informant said she was in their unit doing an inventory of the guns.
Salem appeared very calm during the interview, like she had already processed everything that had happened in her 3-month detention.
"A lot worse could have happened," she said.
She could have died. She very well could have been ticked off as another nanlaban case, or a case of suspects allegedly resisting arrest and getting killed in an encounter.
This is what happened to 9 activists in the Calabarzon region on March 7, the first Sunday after Salem was released. Families and witnesses claim the 9 activists weren't armed and were even trying to cooperate with policemen doing the search.
Salem, among a handful of activists winning their cases, wondered how the charges would have panned out in court for the Calabarzon 9. If they would have also been cleared and freed like her.
"Isipin mo kung ma-crush 'yung warrant pero nakapatay na ng siyam? Di ba napakalaking travesty of justice? Hindi naman ma-re-remedyuhan talaga 'nung magiging posibleng legal victory 'yung nawalang buhay," said Salem.
(What if their search warrants were also voided, but the 9 were already killed? Isn't that a travesty of justice? No possible legal victory can really remedy the loss of lives.)
To be a journalist under Duterte
The usual comparison is between Duterte and former president Gloria Macapagal Arroyo, as during the latter's term, there was also a spate of killings and violence against dissenters.
Salem, though, does not gloss over former president Benigno "Noynoy" Aquino III.
The Aquino term, for her, was an illusion of a good thing.
"There was an idea of conciliation or peace or an idea even in mainstream, dominant media as if everything is okay, walang mali (nothing wrong)," said Salem.
Until the likes of the Kidapawan rallies, where at least 3 farmers demanding rice were killed in a violent dispersal, an issue Salem also covered from the ground.
Over his 6 years in office, the Aquino government charged 1,817 human rights defenders, a number surpassed by Duterte as early as his 3rd year.
The blueprint is still there, said Salem, just that it has gotten so much worse.
According to Salem, the Aquino government usually charged activists with murder whenever there was an encounter between the military and alleged New People's Army (NPA) rebels.
Under the Duterte government, the blueprint is "search warrant and plant evidence," said Salem.
"You shouldn't have to suffer, or you shouldn't be punished for your beliefs, your association, or your profession," said Salem.
Now that she's free, what is she planning to do? Many things, maybe go after her arresting agents, she's not sure yet.
What she's sure of is she will continue to report.
"If we back down, no person, no office, no news organization, would be safe," said Salem.
Although it would help if they could get a little help from friends in mainstream media, for big newsrooms to devote resources to people's issues, and take the time to tackle them in-depth, and not just report a rally like a traffic story.
But Salem is an optimist. She sees the positive side going forward.
"Nakakatuwa rin talaga kasi nga habang mas lalo tayong inaatake mas lalo nating kayang paghusayan 'yung ginagawa natin. 'Yun naman talaga siguro ang effect sa atin sa media industry, na kapag mas inaatake, mas lumalaban kasi wala ka naman ibang weapon eh. 'Yun ang ating weapon of choice, hindi granada."
(It's good to see that the more we are attacked, the more we become better at our jobs. Maybe that's really the effect on us in the media industry, the more we are attacked, the more we fight back, because we really don't have any other weapon. This is our weapon of choice, not grenades.) – Rappler.com