In the country's busiest and largest maternity hospital, overcrowded mothers and health workers hold their breath as the coronavirus penetrates their walls
The coronavirus pandemic is pushing Filipino frontliners to a breaking point in what they have called a "losing battle." At the Dr Jose Fabella Memorial Hospital in Manila, which is not a COVID-19 referral hospital, health workers are calling for help, too, as they accuse the hospital administration of mishandling the outbreak.
Employees of the maternity hospital took to the street in front of the complex to stage a silent protest on Monday, August 3, calling on hospital director Esmeraldo Ilem to resign. They complained about the lack of physical distancing among the patients, inadequate personal protective equipment (PPE) sets, the dangers of not knowing who carriers are, and raised the need to disinfect the whole hospital.
By then, 120 health workers had already contracted COVID-19. Seven mothers also tested positive and were active cases.
The Department of Health (DOH) has named pregnant women as one of the most vulnerable to the novel coronavirus.
Inside Fabella, the sights and sounds are all too familiar. Mothers who had just given birth share beds in wards. Employees and mothers say up to 7 patients – and their babies – share two single beds put together.
Overcrowding has been a long-standing problem in the decades-old public hospital, but it becomes frightening when a virus is on the loose, and threatens a crowd of pregnant and peripartum mothers and their children.
With the non-stop need for maternal health services, and numbers of COVID-19-positive workers rising in the facility, both mothers and workers brace themselves for the worst in the country's busiest and largest maternity hospital.
Anxious, away from baby
Ana* gave birth on June 27. Up to the present, she has not been able to bond with her baby who came out premature at 31 weeks, and is in the neonatal intensive care unit while she stays at the ward with the other mothers.
Ana would not have minded the crowding, if only it were normal times. An invisible virus however, has made her more anxious. Being away from her baby and disallowed visits from family have not made it any better.
Because of so many sharing beds, sometimes the mothers cannot lie down properly, and use the limited space to let their babies sleep.
Ana complained to Manila Mayor Isko Moreno by posting on the mayor's public Facebook page on July 25.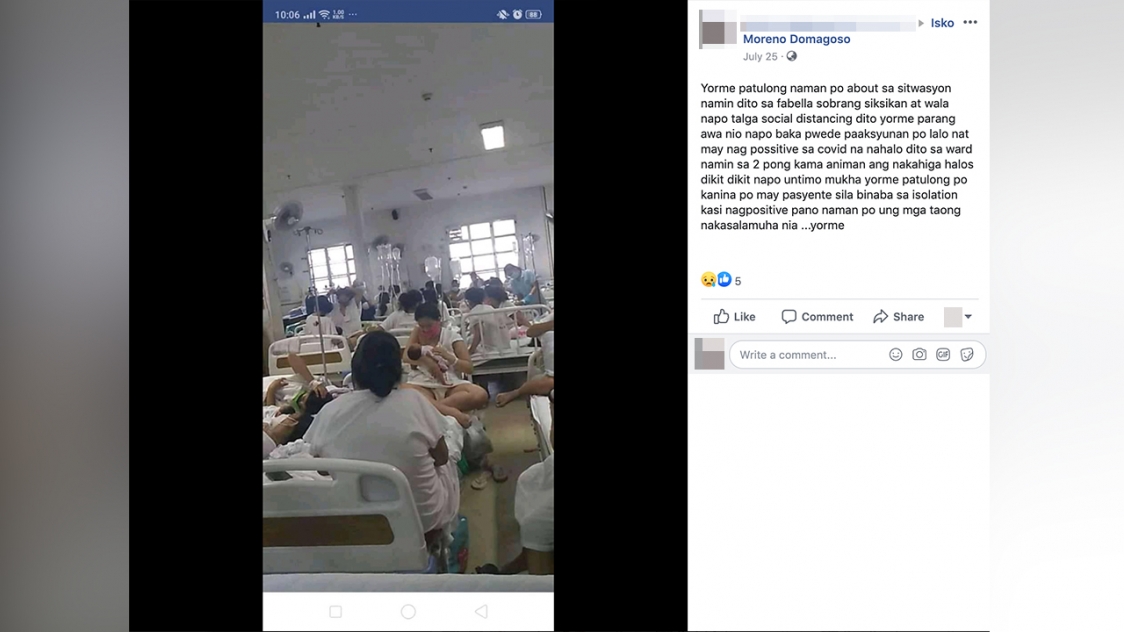 The page responded to Ana asking for more details about the situation, but she said they have yet to respond again.
While acknowledging how well she is taken care of by her attendants, Ana observed how tired they are.
"Grabe po. Nagkukuwento sila na sobrang pagod na sila. Nakakauwi naman 'ata 'yung iba, pero 'yung iba talaga, nagkukuwento sila na hirap na hirap na sila sa sitwasyon. 'Di daw kasi puwedeng tumanggi sa mga nanganganak. Kada araw po may inaakyat na mga pasyente, minsan sampu, bente. Kada oras may mga bagong nanganganak kasi," she said in a July 30 phone interview with Rappler.
(It's very bad. They tell us how tired they are. Some of them get to go home, but the others talk about how difficult the situation is. They are not allowed to refuse patients. Every day they bring up to 10 or 20 patients. Every hour, more mothers give birth.)
All asymptomatic mothers give birth in the normal ward, while symptomatic mothers go to the isolation ward. Ilem said they only test mothers who show symptoms, at a current 20-tests-per-day capacity. The hospital receives an average of 40 patients each day.
Workers' plight
In April, healthcare worker Andrew* appealed for mass testing of staff at Fabella in an interview with CNN Philippines. He claimed the facility poorly handled patients suspected of having COVID-19 by mixing them with patients who do not have symptoms of the virus.
The health worker also said there was no isolation area for suspected COVID-19-positive staff. The management, however, denied this and said they had designated a separate building for both patients and staff.
Karen*, another employee of the hospital, told Rappler in a July 30 text message that the conditions from April are still the same and "have gotten even worse." She said when the country recorded its first coronavirus case in end-January, the hospital kept admitting patients.
"Okay lang sana kaming mag-admit pero sana, siguraduhin nilang maayos din naman 'yung lagay ng mga health workers… Full-time lahat, at saka full force ang inirerekomenda ng namumuno ng ospital," Karen told Rappler in a phone call.
(It would be fine if we kept admitting [patients] but they should also make sure the health workers are okay… Everyone is full-time, and the hospital management recommends a full force.)
Ilem said they began testing their employees in May. However, up until recently, the hospital kept the policy of non-stop admission. The workers appealed to the management for a hospital-wide lockdown of at least two weeks for disinfection.
Ilem said it would be a "great disservice to the people" if they were to stop admissions.
Eventually, the employees and the management came to a compromise in the last week of July: they would limit admission for the time being. It was not enough, however, as employees staged their silent protest the following week.
In Fabella's 500-bed capacity, 120 are isolation beds. Ilem said around 100 of the isolation beds were occupied as of Thursday, August 6, but that they earlier reached capacity on Monday, August 3.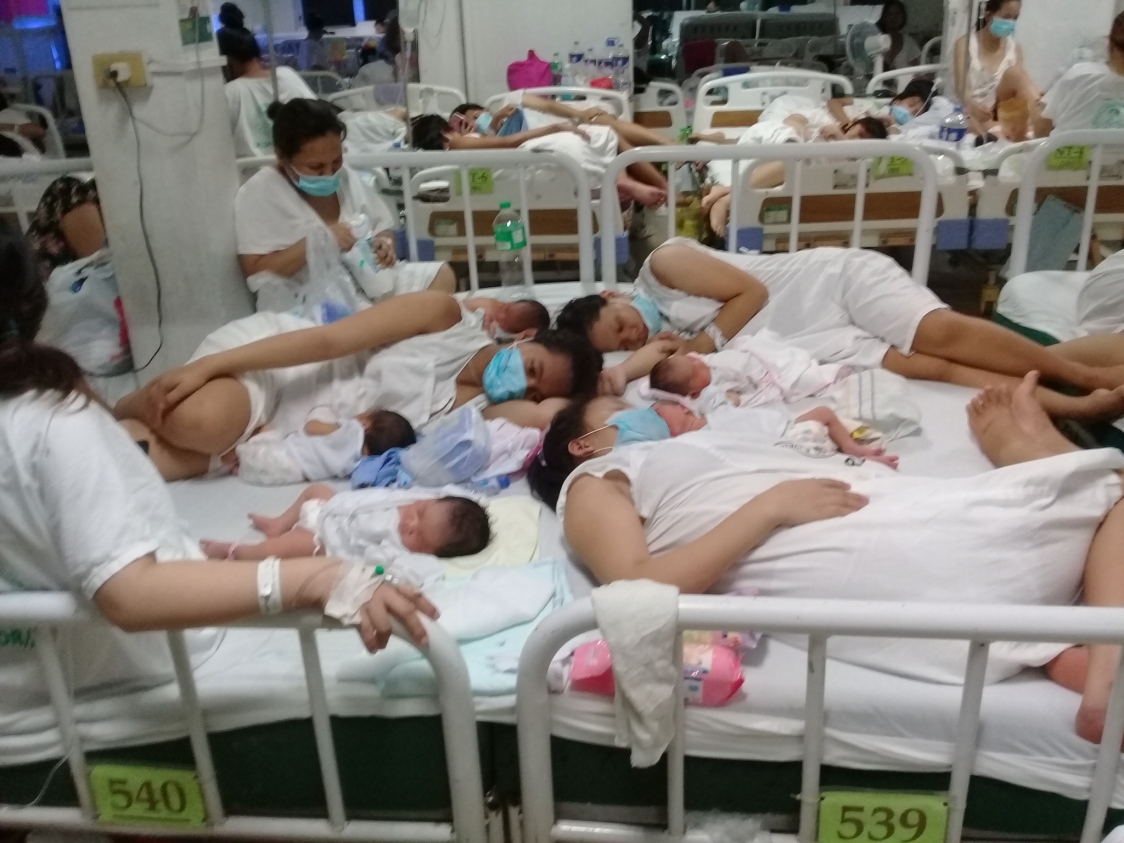 Conflicting stories
The DOH has often claimed that healthcare capacities are still holding up in the country, but the medical community cried otherwise. Such can also be seen in how the official statements from Fabella differ from what employees say is really happening.
Ilem said 65% of the infected employees acquired the virus from communities they go home to. However, nursing attendant Marco* said some may still be getting the disease from treating patients suspected of having it, because they are not donning adequate PPE.
An official statement from Fabella said PPE sets are adequate as of August 5, but Marco said otherwise. Some workers do not have face shields, and sometimes have to supply their own personal goggles.
The Fabella management also disclosed there are designated areas for COVID-19 suspects and confirmed cases. Ilem said suspected cases are treated "as if confirmed." While Marco confirmed there are separate delivery areas of suspect and non-suspect mothers, sometimes they end up mixing in the same wards if there is no more space in the COVID-19 designated areas.
On August 6, Ilem told Rappler they were coordinating with the Philippine Red Cross to increase their testing capacities so they would soon be able to test all incoming patients regardless if they showed symptoms. Fabella is also already providing free mandatory testing for all employees.
'Dismayed'
When the Philippine medical community made a distress call to President Rodrigo Duterte on August 2, the President granted their need for a lockdown, but dared them to stage a revolution.
Marco, who has been a nursing attendant for years at Fabella, was deeply dismayed at what the President said.
Dismayadong-dismayado ako sa sinabi niya – magkakaroon daw ng rebolusyon at mangunguna ang health workers. Dati ang taas ng pagtingin niya sa 'min. Ngayon ang tingin niya sa 'min, rebelde na.
Marco*, Nursing attendant
(I am deeply dismayed at what he said – that there would be a revolution that health workers would lead. He used to think so highly of us. Now he thinks of us as rebels.)
Marco also vented his anger at Health Secretary Francisco Duque III and Presidential Spokesperson Harry Roque, saying they should be focusing their energies on the alleged corruption in the Philippine Health Insurance Corporation (PhilHealth).
"Kitang-kita naman sa health worker na sila ay nagpapabaya (You only need to look at the health workers to see that they neglect us)," said Marco in a phone interview with Rappler.
Marco said they are voicing out their concerns not only for their own sakes, but in sheer concern for their hundreds of mothers and babies.
"We are not a COVID-19 hospital. We are a maternity hospital. Kahit sabihin namin ['yan,] 'di maiiwasan na may manganganak na may COVID talaga. Ang protesta namin hindi para sa sarili, pinoproteksyunan din namin ang mga nanay. Baka may mga healthy na pumunta dito, paglabas COVID-positive na," Marco said.
(Even if we say we are not a COVID-19 hospital, we cannot avoid mothers giving birth who also have the disease. Our protest is not just for ourselves, we are also protecting the mothers. Some might come healthy, but may leave already COVID-positive.)
Ana likewise hopes someone will address the situation to help everyone in the hospital.
"Sa kama 5 or 6 kami, sobra pang init [titiisin] eh, kaso 'yung COVID hindi namin kayang tiisin… Sana may tumulong dito sa ospital na mabigyan ng sapat na kagamitan laban sa COVID, para sana lahat kaming mga mommies at babies, pati mga doktor at staff, pati na rin sa mga manganganak pa ay maging ligtas," Ana said via Facebook Messenger.
(We can stand the heat and sharing the beds up to 5 or 6 people, but we cannot withstand COVID. I hope someone helps the hospital and provides enough equipment to fight COVID, so that all the mommies, babies, doctors, staff, and those who will still give birth will be safe.)
Fabella may be a last priority for COVID-19 referrals, but it remains one of the most vulnerable hospitals. – Rappler.com
*Names have been changed at the sources' requests for privacy and anonymity.