'Our system is fragile; it falters in a pandemic like this. We need to establish safeguards, to learn our lesson from this experience so that in the coming years, if we encounter another pandemic, we are ready,' Vergeire says
Maria Rosario Singh Vergeire hasn't had a break since 2020 started.
Familiar to Filipinos as the spokesperson of the Department of Health (DOH) reporting on the status of COVID-19, she has, in fact, become a pivotal figure in the country's pandemic health response through her management roles at the agency.
Prior to handling COVID-19, she was the assistant secretary for public health, which had her overseeing the department's programs on dengue, measles, and polio. Acting as the DOH's spokesperson was only a second responsibility, a temporary stint turned permanent and one that birthed numerous other roles.
On top of appearing before the nation at 4 pm, Vergeire oversees data related to the pandemic, heads the Diagnostics group, which licenses testing laboratories and its operations, and heads a cluster that oversees the licensing of pharmaceuticals.
"I am now the head of the strategic communications team," she told Rappler in an earlier May 28 interview. "Because I am the [communications] head, lahat ng data na kailangan natin sa kagawaran dumadaan 'yan sa 'kin. Ganun kalawak ang ginagawa ko ngayon." (Because I am the head, all pertinent data needed by the department passes through me. That's the extent of my work now.)
Vergeire's job description started expanding immediately after the DOH reported its first confirmed infection at the end of January. Eight months on, the pandemic has brought with it 276,289 infections with 208,096 recoveries and 4,785 deaths as of September 17.
It tested the DOH and Vergeire's mettle as they plowed through the vast disinformation – sometimes encouraged by President Rodrigo Duterte himself – that surrounded the outbreak and the shortcomings of the country's already fragile public health system.
No clinical experience
When Vergeire took on the spokesperson role, she was apprehensive. Relaying information about an unknown, unstudied, and deadly virus was no easy feat.
"At the start, I was really hesitant," she said in a mix of Filipino and English. "The virus is new. It is evolving. I have to read up on a lot of studies every day. Even if you're a doctor, you can get the facts wrong. I was hesitant because I know that's the challenge. I will be moving in the dark."
Vergeire – Rosette to family and friends – has a long track record of public health service. She worked at the Marikina City health office for more than a decade, moved to the DOH in 2007, and eventually became chief of the department's Health Research Division.
By 2015, she was appointed assistant secretary for public health services and held the post until her appointment as undersecretary in 2020, in part due to her role in the COVID-19 response.
While the pandemic was linked to a wildlife source, Vergeire's bachelor's degree in Zoology from the University of Santo Tomas appeared to come in handy. But she admitted that this wasn't the case.
She was never a practicing doctor. After further studies at the De La Salle Medical and Health Services Institute and at the University of the Philippines-Manila, she dove head first into governance and teaching. This lack of clinical background initially made her feel insecure when confronted with a barrage of questions about the pandemic.
"I am a public health expert; I am not a clinician. I am not even a scientist," she explained. "It's tough to talk to the public, especially to discuss COVID-19 with experts, and I'm coming from the perspective of public health. I'm in governance; I am an expert on that and I can always talk to you about that confidently. But when it comes to this virus that always requires scientific backing, it's a challenge."
But as she moved along, Vergeire said she gained more confidence. "Hers is a voice lending reason and sobriety to these anxious times," said a short profile from Inquirer.net, noting her "almost deadpan reaction" to intimidating questions on COVID-19.
Disinformation, errors
Despite having one of the longest lockdowns in the world, the country saw a surge of COVID-19 cases, pushing to the brink testing and hospital capacities – all while exhausting frontline health workers.
Confirmed cases dallied at less than 500 per day, reaching 1,046 on May 28, two weeks after the strict lockdown was lifted on May 15. By July 29, cases reached 1,813 per day with 6,958 new cases on August 10 as the highest-ever addition to a burgeoning national tally.
The novelty of the virus led to numerous myths and disinformation – and as Vergeire heads the DOH's communications unit for COVID-19, she was tasked with correcting these false information, which at times came from Duterte himself.
Vergeire dealt with Duterte's remarks on the pandemic the way the Office of the President would: "Alam 'nyo naman 'pag nagsasalita si Presidente, baka iyong mga jokes lang niya iyon, especially for gasoline," she said in July. (You're familiar with how the President speaks, it might have been a joke, especially about gasoline.)
On the ground, she had to clarify misconceptions about misting and spraying disinfectants, or the use of UV light to eliminate the novel coronavirus. When former presidential spokesperson Salvador Panelo claimed that bananas could prevent COVID-19 transmission, Vergeire had to repeat the usual: "There's no sufficient evidence and we need to further study this."
When Health Secretary Francisco Duque III said the Philippines was already on the second wave of COVID-19 infections – and was met with backlash from all quarters – Vergeire patiently explained this until, eventually, the DOH apologized. When Duque claimed the government had flattened the curve, Vergeire did not publicly contradict her mentor, but cautioned against complacency.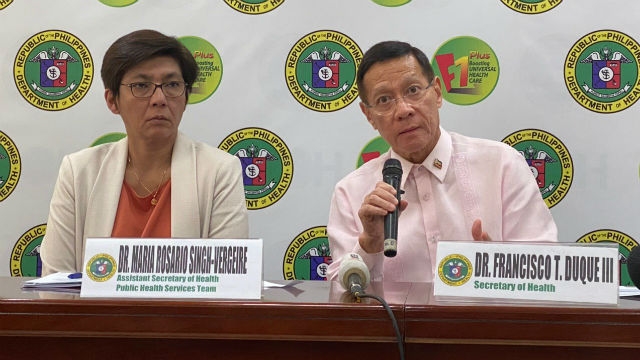 Vergeire herself would face criticism when she mistakenly read an old report that identified Marikina – her home city – as a hot spot.
"Honestly," she said laughing, "sa dami ng trabaho ko araw-araw, 'pag dumating ako sa presser, babasahin ko na 'yun, di ko na 'yun na-review…. Nung hindi pa ganito kasikip ang schedule, napapag-aralan pa nang kaunti, nakakapagbigay pa ako ng inputs ko."
(Honestly, because of the workload, when I arrive for the presser, I just read, and am unable to review…. When my schedule wasn't as tight, I could study [the script], provide inputs and changes.)
She continued: "Now, I can only give inputs through the meeting or through Viber groups. Then when the presser comes up at 4 pm, I just read the script."
Early on, Vergeire knew the value of communicating effectively and said it's one of her biggest realizations as a spokesperson. Effective communication builds trust, which in turn, allays fears about the pandemic and makes it easier for the public to follow protocols and even help implement programs, she said. (READ: May himala? Senators show little faith in DOH data on COVID-19)
Despite these efforts by the DOH, critics have labeled the country's pandemic response a failure, with senators calling on Duque to resign as health secretary in July. The call was revived in September after the scandal involving Philippine Health Insurance (PhilHealth) – where Duque is chairman – erupted. He has stayed on, however, the survivor that he is.
The pandemic also pried open the weaknesses of the country's fragile public health system as it highlighted the lack of health facilities, hospital equipment, and infrastructure such as laboratories and testing centers. (READ: Health care in Philippines, Myanmar 'concerning' – UN report)
"Our system is fragile; it falters in a pandemic like this," Vergeire said in Filipino. "We need to establish safeguards, to learn our lesson from this experience, so that in the coming years, if we encounter another pandemic, we are ready."
Among those learnings, Vergeire said, are the importance of inter-agency discussions, collaborating with the private sector, and establishing open communication with local government units despite varying ways of implementing the DOH's health protocols.
"'Yung local governments, kapag napapansin mo, iba-iba ang paggawa nila ng mga pamantayan natin o mga protocols," she said. "Pero ang isang realization ko, kahit ano pa mang ginagawa nila, kahit hindi aligned sa DOH protocols, makikita mo kung gaano nila pangalagaan at i-take care ang kanilang mga constituents, di ba?"
(Other local government units, if you notice, they create different guidelines or protocols. One realization I've had is that, everything they do, even if it's not aligned with DOH protocols, you'll notice they are taking care of their constituents, right?)
Family matters
Vergeire was reeling from the death of her father, Harry Singh, when she took on the communications job. When she talks about her family, Vergeire shifts, shedding the formal, calm demeanor frequently seen on the screen.
She brightened up when she spoke about her father. Growing up, she was called his "Junior" because they were inseparable. She was the "favorite" third daughter in a brood of 6. Kap Harry was Marikina's "kingmaker," the man who propelled Bayani Fernando to the city's mayorship and, later on, to a failed vice presidential bid. He was a go-to political strategist of Marikina's chiefs.
Her father was her biggest fan; whenever she appeared on television, Kap Harry would post about her on Facebook and proudly mention her accomplishments.
"After one week of his death, pumasok na ako kasi alam ko kulang kami dito (I already returned to work because I knew we were short on manpower here)," Vergeire said. "I don't have time to grieve."
The work had kept the department busy day and night, she said, even eating up their weekends.
Despite her closeness to her late father, though, Vergeire once dreamed of pursuing law, being heavily influenced by her mother, lawyer Clara Singh, and her siblings, specifically her elder sister Monette. (Monette is an associate justice at the Court of Appeals and has been nominated to the Supreme Court.)
But a seemingly minor decision in her youth opened a different path for Vergeire. In college, she passed the entrance exam of the University of Sto Tomas (UST), but instead of taking up Political Science, she opted to pursue Zoology because "the uniform looked better."
After college, she was dead set on entering law school, but her mother persuaded her to continue into the medical field instead. She was brought to La Salle in Cavite to take an entrance exam a day before the opening of classes, she recalled. Her mother had taken care of her dormitory, clothes, even her books, to make sure she would become a doctor.
"Naplano na pala niya lahat (She had already planned everything), and I didn't know," she said. "She left me there, and that started it. I never planned on becoming a doctor. Never." Initially, Vergeire went with it to please her mother, but grew to love the field of study as it introduced her to public health.
"I am a doctor now because she forced her way, but looking back, I owe this to her," she said. "Now that I'm a mom myself, I learned to value everything my mom did for me."
In a day, Vergeire reads and responds to hundreds of messages from co-workers and the media, and studies reports and scientific journals on the evolving virus. She sends messages as early as 6 am, checks daily data from the provinces, and does her pressers late in the afternoon.
But by 8 pm, she tries to leave the office to spend dinners with her family in the Singh compound in Marikina. The daily dinners have been her respite from the grueling task of handling the pandemic.
"I have 3 boys…na nagpapaputi ng buhok ko (who make my hair turn gray)," she said with a laugh. Her youngest followed in her footsteps and just recently graduated from UP Manila and will pursue medicine degrees after.
Her second son is taking up law while her eldest is already working. "I have 3 sons and sila 'yung inuuwian ko araw-araw kasama ng Mommy ko (they, along with my mom, are the ones I go home to every day.)
Growing up, Vergeire said she was closer to her dad because her mom was "the silent, rational type," unlike her father whom she treated as a "kabarkada (buddy)."
"But you know," she said, "my mom is our inspiration when it comes to being dedicated to work. When we became adults, it became easier to talk to her. She taught us mahjong so she doesn't have to go out on Fridays. We also have that special bond with my mom."
Vergeire said she looks forward to traveling with her mom, whom she promised to take around the country once the pandemic blows over. For now, she has to focus on the task at hand.
"At this time, there's no more personal life," she said. "My family understands it. I always bond with them, especially during dinner time. Even when I work over the weekends, I make sure we eat together. That's the only thing I have…. Aside from that, I don't have time for anything else." – Rappler.com