This is AI generated summarization, which may have errors. For context, always refer to the full article.
'I was able to provide one cellphone for the three of them. The problem comes when their classes happen all at the same time'
Luz Dejarme, 51, helps send to school the three children of a friend who died of thyroid cancer. She does this, despite her family's meager income and own child to support.
Dejarme's husband is the only one providing for the family, working as a company driver. Dejarme lost her job as security officer when the pandemic hit in 2020. (READ: As COVID-19 cases surge, cautious Filipinos give up looking for work in July 2021)
When tight on budget, Dejarme said she would borrow money from neighbors and relatives.
"Their grandmother is the only one providing for them. She is accepting laundry services. I'm supporting them. When their mother was still alive, she asked me to look after them," Dejarme said in Filipino.
Dejarme provided the three kids one cellphone so they could attend their online classes. The problem arises when they have to attend Zoom lectures all at the same time.
"I was able to provide one cellphone for them. The problem comes when their classes happen all at the same time, so I let them use my child's cellphone," she said.
All of her friend's three children have now been enrolled: the eldest is a college student, the middle is an incoming Grade 11 student, while the youngest is an elementary student. Dejarme's own child is an incoming Grade 9 student.
For the second straight year, Dejarme is among many Filipino parents who bear the brunt of the distance learning setup. Things are made more difficult, she said, by the government's lack of support for struggling families like hers.
Appeal for gadgets
Dejarme joins other parents who appeal to the government to provide financial support to struggling families so their children can cope with the requirements of remote learning.
Particularly, they are asking for gadget support.
Grace Rosendal, another parent, says gadgets are the only way indigent students can participate in online classes.
"If there will still be no face-to-face classes, I hope the Department of Education (DepEd) or the government will have a program that can provide gadgets to students," Rosendal said Filipino during a press briefing on September 6.
The Alliance of Concerned Teachers (ACT), which organized the press briefing, said a survey they conducted showed that gadgets and internet support for students "remains very scant," especially in regions outside Metro Manila.
The survey was conducted among 2,902 teachers from the National Capital Region (NCR), and 918 from the 16 other regions in the country.
In the NCR, the ACT survey showed, only 4 out of 10 teacher respondents said students would be provided gadgets, but only one among them said the provision would be sufficient.
In the provinces, only 1 in 10 teachers said that students would be provided gadgets, and only 2% said that all their students would be covered.

Remote education has posed a major challenge for students who do not have anyone to facilitate learning at home, or whose parents are not capable of guiding them due to lack of knowledge themselves.
"They didn't learn as much [from home] compared to in-person classes. Not all mothers are educated. We have some knowledge, but unlike the teachers'. We only teach what we can," Rosendal said.
Parents are not the only ones worried about the quality of education during the pandemic. Teacher Grace*, a public school teacher in Zamboanga del Sur, is alarmed by her students' dismal performance in summative tests during the previous school year.
"Some didn't care to collect their modules. We would go to their houses to deliver the modules or we would leave them at barangay centers, so parents didn't have to travel far to pick them up," she said.
Allow face-to-face in low risk areas
If the government cannot give assistance to students who don't have the gadgets needed for online learning, parents say they should think of ways to safely reopen schools.
Fatimah Balangi, a parent from Lanao del Sur, said that students have lost interest in studying due to burnout caused by their classes' workload. They also struggle with the lack of resources that the new system requires.
"The children cannot concentrate anymore. We mothers are the ones adjusting. We help them with the class work because they've lost interest in studying, and this is because of the instructions in the modules are difficult to comprehend," Balangi said.
Balangi said her daughter, a senior high school graduate, told her that remote learning did not help her feel prepared for college.
"She graduated unhappy and discontented with herself. 'I'm going to college, but why do I feel like I don't know anything?' She'll experience culture shock in college because all she had in Grade 12 was modules," the mother said.
To date, only four countries in the world still have not reopened schools since the pandemic began in March 2020. Most countries have either partially reopened schools or reopened schools in phases.
By the end of September, there will be only be two countries where classes are done remotely: the Philippines and Venezuela. Bangladesh and Kuwait will reopen on September 12 and September 27, respectively.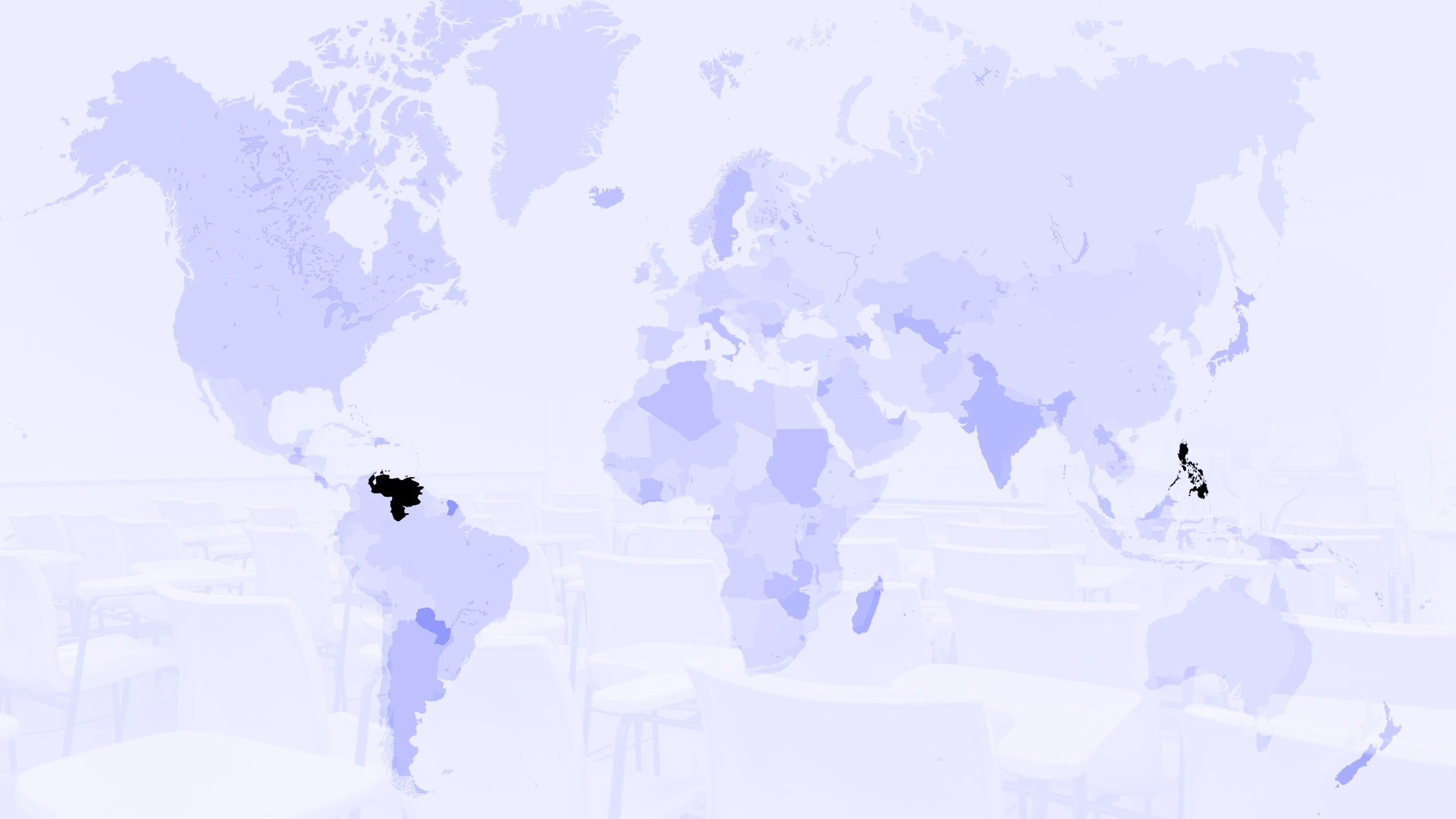 "We have to do this in the best way possible," said Isy Faingold, who heads education work in UNICEF-Philippines, in a forum on September 8.
"We have to do this gradually, on a voluntary basis, and learning from the experience of other countries but adapting to the experience of the Philippines," Faingold added.
No 'sense of urgency'
The DepEd said some 120 schools in areas deemed "low-risk" for COVID-19 would start the pilot run of limited face-to-face classes in the country, should President Rodrigo Duterte give his approval.
The President has repeatedly rejected proposals for limited face-to-face classes due to the threat of the coronavirus. But in a fresh bid to get the President's nod, Education Undersecretary Nepomuceno Malaluan told senators on August 25 that a joint circular crafted by DepEd and by the Department of Health (DOH) had already been approved by the government's coronavirus task force.
The joint circular contains the requirements and parameters for the safe reopening of schools, such as low transmission rate, availability of facilities, and ample space to hold classes while allowing social distancing.
At a hearing by the Senate basic education committee on August 25, senators expressed frustration over what they called a "lack of sense of urgency" on the part of DepEd in pushing for President Duterte to allow limited face-to-face classes in low-risk areas.
"You don't feel a sense of urgency on the part of DepEd. In contrast, the tourism department has been persistent about getting their industry re-opened. They've been coming up with reports [to support that]," Senator Nancy Binay said in Filipino.
The senator said DepEd should have presented its plan to the President first, since he would be making the decision.
"I think the perception of the President is that it will be the same type of opening of classes na 50 sa class, which is not the case," she said.
Over 5 million students have not enrolled
On Monday, September 13, classes will resume in public schools in the Philippines, even as campuses stay closed and face-to-face lessons remain suspended due to the COVID-19 pandemic.
As of September 9, a total of 21,034,472 public and private students have enrolled. The figure is just 80% of last school year's over 26 million students.
Malaluan said the figures would still go up as classes draw near. "[Enrollment] is still on sustained increase, and there is the lag in reporting that we also have to consider," he told senators. (READ: DepEd appeals to students to enroll early ahead of school opening)
The DepEd said students could still enroll until September 13. "Our appeal to learners [and] parents is not to wait for last day of regular enrollment to enroll. [Early registration] will help in the organization of classes by the schools and teachers," he added.
Despite the financial challenges brought on by the pandemic, Dejarme has made sure that her child and her friend's kids would not miss this school year. But help – even the most basic of it – would go a long way for them. This is, after all, the second year of distance learning, and they expect that those in government, and not only the families, have learned from the past year's lessons. – with a report from Julienne Joven/Rappler.com
*Name has been changed for privacy