PART 1: Metro Manila has come to this: entire families are getting COVID-19 and have to choose which member will get admitted in overcrowded hospitals. In some cases, a doctor says, 'It feels like it's really a lottery…because a patient gets a bed because someone has died.'
It was Easter Sunday and Jan Belmonte had been on the other end of yet another call where a health worker was apologizing because the hospital didn't have space anymore for his grandfather, who was sick with COVID-19.
Jan, along with 8 of his family members, had been sleepless for 3 days. Since Good Friday, each one had scrounged Metro Manila for a vacant bed, calling hospital lines non-stop, trying government hotlines that had been busy for hours, and venturing out into virus-laden cities in search of a line for a health facility, where they could join hundreds of others hoping to get their loved ones admitted, too.
"It was like we were racing against time," Jan said. His family's search for a hospital had stretched from Metro Manila to nearby provinces: Quezon, about more than 4 hours away; Nueva Ecija, some 3 hours; and even Zambales, another 4-hour car ride from Valenzuela City.
Since Jan's grandparents had been admitted to a quarantine center on March 28, his aunt had been taking care of the family's elders while admitted in the same quarantine facility for COVID-19.
Assisted by other family members on video call, Jan's family looked after their ailing grandparents. While nurses would drop by every 3 hours or so, Jan said his lolo was never checked by a physician. There was little supervision of patients who were told to stay in quarantine facilities to prevent spreading the virus to other households.
Along with his grandparents and tita, Jan's uncle and another cousin also tested positive for the virus on March 21. But while the rest of them were stable, his grandfather's situation deteriorated in the facility.
"When we saw the oxygen saturation of my lolo, that was the time that we started looking for hospitals," Jan said, recalling the pulse oximeter's reading dropping to 40% at one point. The number was far below normal oxygen levels of 98% for non-smokers, and lower than the 90% which health officials said was an indicator for seeking confinement.
When his grandfater's sickness became "critical," the only facility Jan's family could find was an infirmary that had an ambuvan on standby.
"Doon (ambuvan) nag-aagaw-buhay ang lolo ko (My grandfather was fighting for his life inside that [ambuvan])," Jan said.
A call later came through on Easter Sunday from the Jose Rodriguez Memorial Hospital and Saniturium (Tala) in Caloocan City, informing Jan's family that they had space to take in his lolo.
It took two more hours for the ambulance to arrive. Jan said, "When my lolo finally arrived there, he was in a coma." He passed away two days later, on April 6.
This is what it has been like for many families in Metro Manila and nearby provinces – the heart of the Philippines' pandemic – where, more than a year into the health crisis, cities were on lockdown again. Daily infections were at their highest levels, while hospitals were overwhelmed, at times beyond capacity.
For many Filipinos, social media feeds have read like a wall of obituaries – friends and family members paying tribute to their loved ones who succumbed to COVID-19 in recent weeks. The goodbyes this time around were more painful, as thousands who have died were not given the chance to even seek treatment.
What went wrong?
"In a proper system, we shouldn't be the one looking for hospitals, but I couldn't blame the healthcare workers because, clearly, there were no available facilities," Jan said.
As of April 12, at least 66% of total COVID-19 dedicated beds in Metro Manila were occupied – 6,493 of the 9,794 beds in the region were filled. Fifty-six health facilities were considered to be operating at "critical" levels (at least 85% occupied), while 26 others were "high-risk" (at least 70% to 84% occupied). Another 12 were at moderate levels (60% to 70%), while 61 others were "safe" (less than 60% occupancy).
By official statistics, it appeared as though there was enough space to treat more COVID-19 patients, but, on the ground, the sick and their families knew first-hand that this was rarely the case.
"Whenever we called them (health workers), they were apologetic. The line was very long, and even more were lined up outside waiting. But we didn't take that risk because we might lose my lolo along the way," Jan said.
At a private hospital in Clark, Pampanga, Jan said the line was too long that his grandfather would've been the 256th person to get a bed, if at all.
In a press briefing on April 7, Health Undersecretary Maria Rosario Vergeire said the hospital care utilization statistics being released by the Department of Health (DOH) was not reflective of the current situation of the healthcare systems in the country. She said the available hospital beds include the beds in the infirmaries and other hospitals that didn't cater to COVID-19 patients. (READ: IN NUMBERS: What hospitals need to treat COVID-19 patients)
Like many, Jan's family experienced this as he had also tried calling the government's One Hospital Command Center, which was envisioned to serve as a robust referral system between hospitals.
But the command center – first put in place during the Philippines last spike in cases in July to August of 2020 – also felt the burden of the current surge in cases.
Vergeire said the center had been receiving an average of 300 to 400 calls a day. It was equipped with only two cellphone numbers and a landline.
Hard choices
Nearly every bed, if not all beds, in emergency departments of some of Metro Manila's major hospitals had been occupied for weeks, Philippine College of Emergency (PCEM) president Dr Pauline Convocar told Rappler.
Emergency departments were among the first to feel the wave of patients seeking care in high-level facilities just as the country was beginning to see a drastic increase in cases.
Matching the stories of families who saw entire households sick with COVID-19, Convocar said, of the 4 days she goes on rotation at her hospital, 3 are days where she found herself telling families there was not enough space to take in all of them who needed care.
"Pami-pamilya talaga sila (They really come in families). And when you see patients and you have to tell the family, 'I can only take one of your members because that's all I have in the balance [of beds)….' You talk to the family, several of whom are moderate cases already, and they're faced with [the question], 'Which one of them will you choose?'" Convocar said.
"It can also be very difficult for the family to decide sino 'yung uunahin nilang ipa-admit sa parents nila (which parent they will ask to be admitted first)," she said. "That is painful."
Data obtained by Rappler from PCEM showed that, as of April 12, at least 310 COVID-19 patients needing hospital care were still waiting for beds across all 14 of its training institutions in Metro Manila – the center of the pandemic in the country – and Cavite.
The 14 hospitals, though just a fraction of the 159 health facilities in the region and a neighboring province highlighted the strain under which public and private hospitals operate as infections have yet to significantly decline.
The moment things felt surreal, Convocar said, was when she received calls requesting her to intubate patients who were waiting for beds in their cars or in their homes. She advised against this, as intubating patients in an uncontrolled environment could result in spreading the virus to others present.
Even then, Convocar said she cried thinking to herself what families who could not afford to drive to hospitals, much less call a doctor, were going through.
Even when patients were already admitted in hospitals, the situation for families and the doctors and nurses that treat them were often grim.
Dr Chrystal Leynes, an internal medicine resident at Tala, said she still thought about a pregnant cop from Valenzuela whom she attended to in mid-March. The mother refused to be intubated, fearing for her baby's life, while her husband pleaded with the hospital to let him sign a waiver to enter the ward and see his wife.
Leynes said she remembered staying with the pregnant cop for as long as she could, feeling the heat build up in her personal protective suit.
'Lottery'
On the ground, getting a bed in full hospitals was almost like a matter of chance, Convocar said.
"Sometimes it feels like it's really a lottery – and I apologize for the analogy – because sometimes a patient gets a bed because someone has died," Convocar said.
"There is now a vacant bed and we can take you in, but I just said no to a patient who just left. Now, another arrives and there so happens to be a bed. What is this?" she added, frustrated.
After Jan's grandfather died, his aunt, uncle, and cousin had recovered from COVID-19, but it was his grandmother next who ended up needing hospital admission. This time, they were able to get a hospital for her.
"Apparently, my lolo scheduled weeks ago for a check-up in Fatima Hospital in Valenzuela City, so when they called, my lola filled his scheduled appointment. My lola got admitted and she's been undergoing a lot of procedures. It's costly…. We're selling now the house of my lola to augment hospital expenses," Jan said.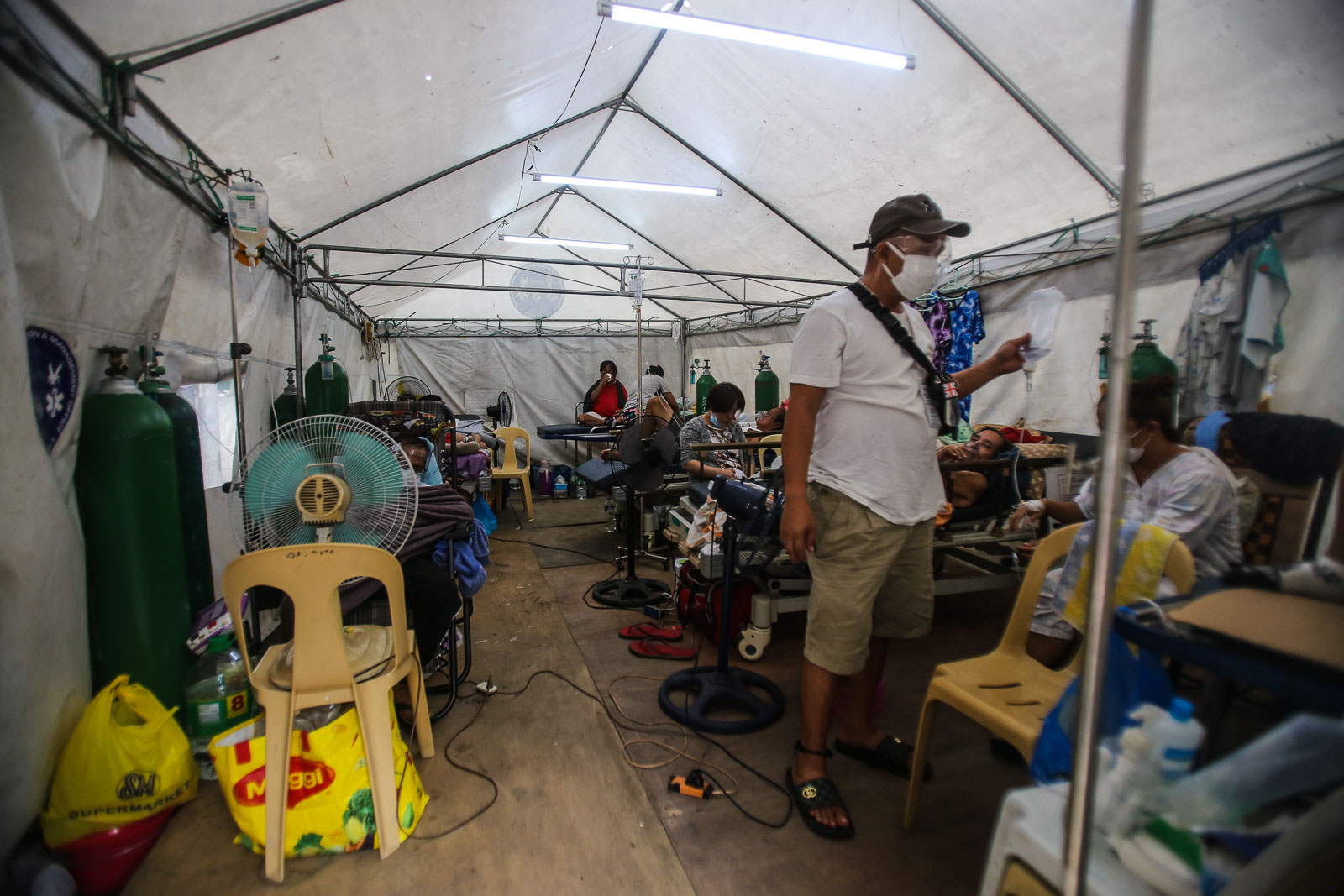 Ceej Tantengco had witnessed the same challenge when looking for hospitals that could take in her mother, father, and grandmother – all while being sick herself with COVID-19.
The youngest one in the household and luckily having medical professionals for relatives, Ceej had her parents and grandmother get CT scans and blood work that would determine whether their cases were moderate or severe – the criteria to be admitted into hospitals.
The test showed they all had pneumonia. From March 31 to April 1, days after feeling symptoms and receiving her family's positive test results, Ceej found out a few slots opened up at the Philippine Heart Center.
The slots, however, were not yet beds, but chairs to wait on in the emergency department.
"They were given chairs in the ER (emergency room), they weren't able to lie down. But, you know, you take it, because at least when you're there you get the remdesivir IV, so we took it," Ceej said. Her dad and grandmother would spend the next two days this way, while her mother had been on a waitlist to get a chair.
"They couldn't sleep. They couldn't shower. But we took it. It's not the fault of doctors, and it's not the fault of the hospitals," she said.
Ceej, who coughed frequently as she spoke, told Rappler she would have tried to get herself admitted were hospitals not strained with COVID-19 cases. "I feel like we're left to our own devices and I understand that I'm speaking from a [place of] great privilege because we're from a family of medical professionals. I cannot imagine how much harder it is for a family who doesn't know what to do."
Each time she brought her family members to an ambulance, Ceej was terrified with what she described as her "worst case scenario": "I know that bringing them to the hospital was the best thing for them. [But] when I put them in the ambulance, I would always be scared na hindi ko na sila makikita ulit (that it would be the last time I would see them)."
"It's really a horrible situation that we find ourselves in the Philippines right now. It is absolutely inexcusable when you look at how our ASEAN (Southeast Asian) neighbors dealt with it. When patients are sitting in chairs right now, there is no way that you can say, 'We're not really overloaded,'" referring to how government numbers showed there were still beds in hospitals.
Lost year
In recent days, relatives of COVID-19 patients have been turning to social media for help with finding available hospitals for admission, some turning to home treatment as there was no space left in hospitals.
A year into the pandemic, the Philippines is still struggling to contain the spread of the deadly disease. For the past days, the country has been logging around 9,000 COVID-19 new infections daily. On April 2, the country's daily caseload was at its highest with 15,310 infections.
As of Wednesday, April 14, the Philippines has 892,880 confirmed cases of COVID-19, with 15,447 deaths and 704,386 recoveries.
Health experts lamented that quarantine restrictions had once again been imposed and eased while case numbers remained "perilously high." Worse, they said, no necessary changes that could impact the surge in cases were being implemented.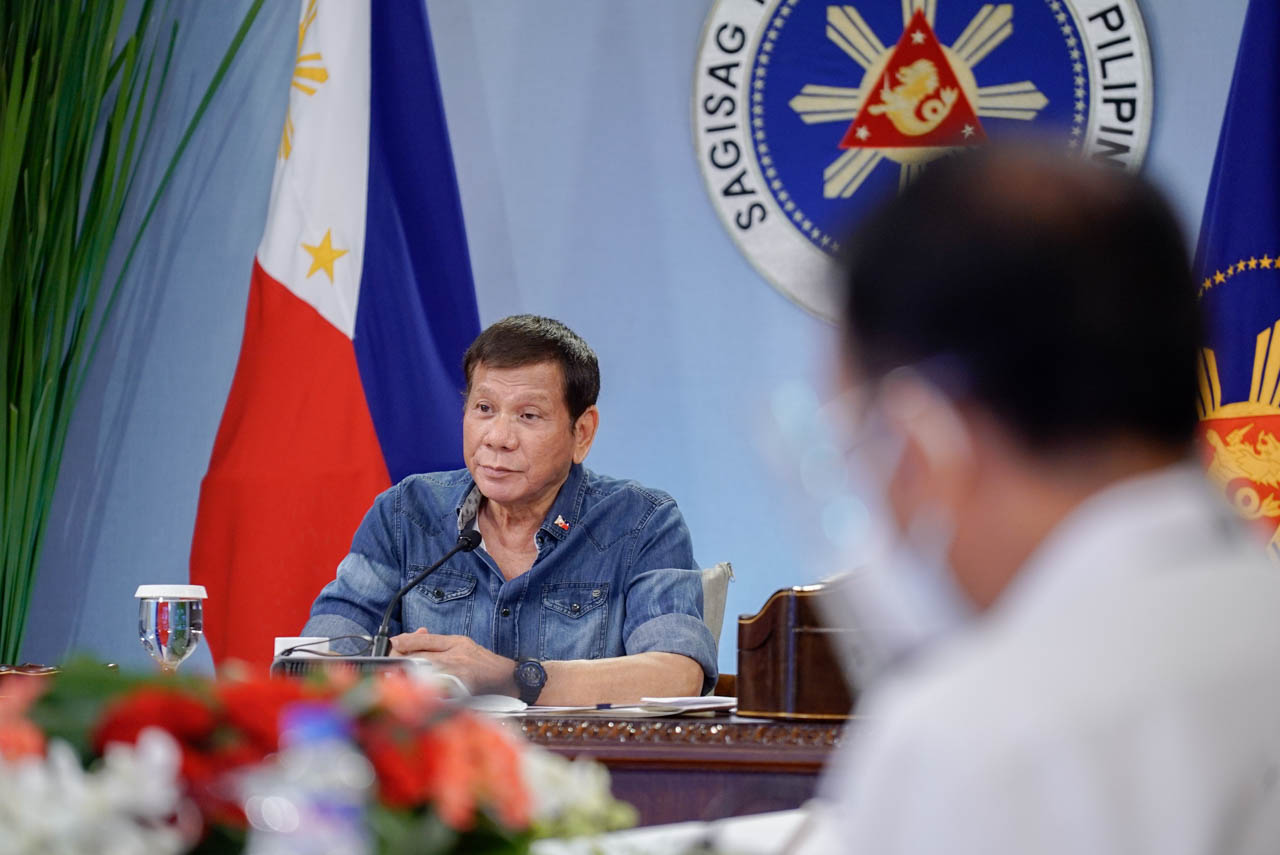 On the same day President Rodrigo Duterte relaxed the quarantine classification in Metro Manila, Bulacan, Cavite, Laguna, and Rizal to a modified enhanced community quarantine, the Healthcare Professionals Alliance Against COVID-19 (HPAAC) said bottlenecks it identified in the government's pandemic response had yet to be acknowledged.
"We have reached out to various authorities to highlight…critical bottlenecks that directly impact the surge. We have outlined proposals – the same ones we have called for since August 2020 – that will allow the safe reopening of the economy," the group said. "These bottlenecks have yet to be acknowledged with the same sense of urgency currently experienced by our colleagues in every congested emergency department."
"The full capacity in hospitals could have been prevented. This is unacceptable that this is happening a year into the pandemic because our government has had a year to fix this," Ceej said.
"If my family had gotten sick last year, I'd [have] felt ang hirap naman nito, minalas kami (this is so difficult, we were hit by bad luck). But right now, with my family getting sick, I'm blaming government incompetence because they had the whole year [to fix this]. What are they doing?" – with research by Razel Suansing/Rappler.com