Lito Banayo, a veteran of many presidential campaigns, now leads Isko Moreno's campaign team
Lito Banayo thought the 2016 Rodrigo Duterte campaign would be the last of his life, the sixth presidential campaign he had been involved in.
But as a pandemic-stricken Philippines lurched towards 2022, he got a call from Cesar Chavez, at whose wedding Banayo stood as sponsor.
Chavez is Manila Mayor Isko Moreno's chief of staff.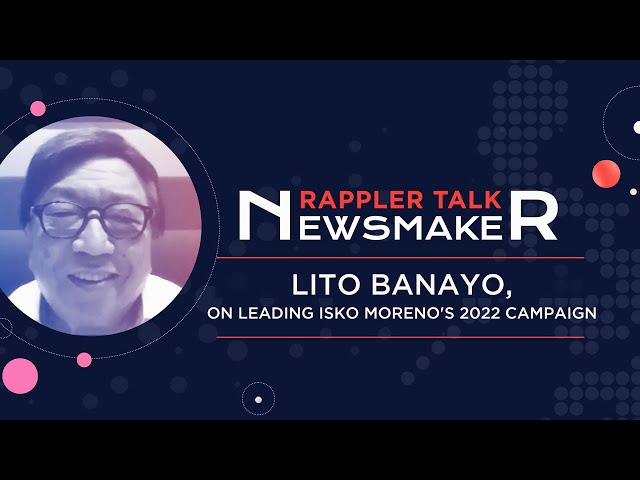 It was November 2020 and Banayo was in Taiwan, working as Duterte's chairman of the Manila Economic and Cultural Office, the Philippines' de facto embassy there.
Chavez wondered if Banayo was flying home for the holidays. His boss wanted to meet. The meeting took place in January. Moreno wanted to know if running for president would be a good idea. Survey results changed hands. Banayo saw potential.
"I liked what I heard. Of course, that time you could already see what he was doing in Manila was really good. And I've always lived in Manila for the past what, since I was Grade 1, so I really saw the change. And then when he explained to me what he was planning to do like the Tondominiums and all of these things, kako, wow! This guy, this guy is development-oriented," Banayo told Rappler on September 13.
He organized a couple of surveys and focus group discussions to get an idea of how people outside Metro Manila viewed Moreno. By May, Banayo was sure. He agreed to be Moreno's campaign manager.
"Sige, go na tayo (Okay, let's do it)," he told Moreno.
That month, he also met with President Rodrigo Duterte and Executive Secretary Salvador Medialdea, to take his leave. Two months later, Banayo's resignation from MECO would be formalized. But by that time, he was neck-deep in preparations for the election season – choosing Moreno's running mate, planning how he would declare his bid, forming a campaign team.
Banayo is not the only Duterte appointee who has shifted sides. Former transportation undersecretary Tim Orbos started a volunteer group for Moreno in June, Ikaw Muna Pilipinas.
"We can let go of these six years, sabihin natin (let's say) it's a learning process, we learned from it, but to move again for another six years, I'm sorry to say, huwag naman sana (let's not)," said Orbos in a Rappler Talk interview.
For Banayo, it was the COVID-19 pandemic response which convinced him he would back new leadership in the elections. Even before his resignation from government, he had already written criticisms in his Manila Standard column, even prompting some in Malacañang to whisper that he was "starting to sound like the opposition."
Isko 'hungry for knowledge,' a 'listener'
One thing that impresses the 74-year-old Banayo about Moreno is the Manila chief's "hunger for knowledge."
He first met Moreno when he was still a young city councilor. Banayo, who was a consultant for Manila Mayor Lito Atienza at the time, was surprised to learn that Moreno was then just a high school graduate and was completing a business administration course at the Makati-based International Academy of Management and Economics.
The twenty-something politician asked many questions of the veteran political strategist, over coffee at Malate's iconic Cafe Adriatico.
This quality, to Banayo, comes hand-in-hand with a narrative arc that has come to define Moreno's life so far – a constant struggle to better himself. From scrounging in the garbage, to using his showbiz money to buy a small home for his mother, to leading Manila City Hall, Moreno prepares to get from point A to B.
"Isko prepares… He has bullet-points in his mind. He studies. That's what's good about him… He sets goals. He has vision and he figures out ways of doing it in quick fashion," said Banayo.
Moreno, a relatively young presidential aspirant at 46, "treasures advice" and listens to others, a boon for any campaign manager.
Banayo recalled the difficulty posed by a candidate like Rodrigo Duterte to his campaign team back in 2016.
"Mayor Duterte was someone whom you could not really control what came out of his mouth. I mean, he can never read the prepared speech except I think the inaugural address…. So, what comes to mind, goes out. And I think, in this day and age, communication ability is very, very important. And what comes out of the President's mouth is policies, official policies," said Banayo.
'Tapang at Malasakit' vs. 'Bilis Kilos'
Banayo played a critical role in Duterte's sprawling and uncentralized, but ultimately successful campaign machinery. He helped analyze surveys and had a say in messaging and political strategy, even helping come up with the slogan "Tapang at Malasakit" (courage and compassion).
In campaign sorties, he would often walk into the venue alongside Medialdea, who was part of a powerhouse group called Champions of Rodrigo Duterte, later called The Guardians, who ran Digong's campaign.
At one point, Moreno could've even been a part of that. Banayo said that in August 2015, he had asked the then-vice mayor if he would want to be Duterte's running mate, but Moreno said he had already committed to run as senator under Grace Poe's slate.
Before the Duterte campaign, Banayo was involved in the 1986 Cory Aquino-Doy Laurel campaign as UNIDO deputy secretary-general, the 1992 Ramon Mitra Jr.-Marcelo Fernan campaign as spokesman, Joseph Estrada's candidate manager in the 1998 polls, deputy campaign manager for Panfilo Lacson's 2004 bid, and deputy campaign manager for the 2010 Aquino-Roxas campaign.
Banayo, when asked why he didn't sign up for Duterte's 2022 vice-presidential bid, said, "I don't believe in dynasties."
In January, he had even advised Duterte, during a meeting, not to field his daughter Sara because two Dutertes in an election would not sell with voters. But the President, at the time, had said he would not let Sara run for president anyway.
Does Banayo regret helping Duterte win the presidency?
"I don't regret that. I think were it not for the pandemic, things would probably have been better. But sometimes you can't predict the future," he said.
The 2016 Duterte campaign and 2022 Moreno campaign will be different in another profound way: this year's election season happens against the backdrop of a health crisis.
The pandemic has hampered people, politicians included, from moving around. It's cut into time that otherwise might have been spent planning 2022 moves and team-ups. Restrictions during the campaign season will make it very hard for unknowns to convert voters.
"Somebody who's not doing well enough in the surveys will find it very difficult to do a Duterte," said Banayo.
What Banayo and his team are working on is presenting Moreno as a viable alternative to the current leadership, one who represents a plan of action, hence the working slogan they have, "Bilis Kilos."
"This time it becomes more important that people are given hope that results will be quick, results will come, you know, getting the economy back to normalcy, getting them back to their jobs, getting investments coming in, and all that. That will be very important in this elections." – Rappler.com